When it comes to a car ride to remember, the tires hold even more pivotal importance than the vehicle itself. Even if you're driving the latest luxury car out there, it won't feel mindblowing if you have crusty tires on it.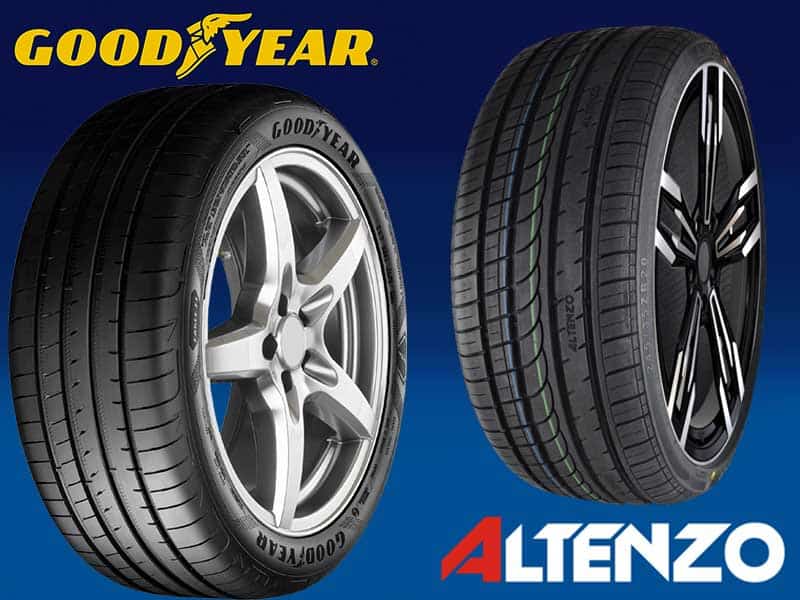 Today we compare two different soldiers of the game. The Goodyear Eagle F1 Asymmetric 5 and the Altenzo Sports Comforter Plus to see which tire takes it home when it comes to actual practicality, efficiency, and quality.
Both the tires in question are UHP (Ultra High Performance) tires and are developed for vehicles ranging from executive and passenger to sports and supercars. Both the tires are well-renowned models from reputable companies so it won't be outstretched to say that both of them are pretty good at what they do. However, wherever two things are involved, competition exists so we're about to debunk what sets both these tires apart in their performance.
The Goodyear Eagle F1 Asymmetric 5 being a notable UHP tire offers excellent grip and maneuverability around the corners. A perfect concoction of superior wet braking and dry handling performance, the F1 Asymmetric 5 is a premium summer tire that will make your trips up north worth remembering. Talk about the miserable curb damage, this tire provides a solution through its built-in rim protectors. Covering a wide range of prerequisites at a reasonable price, this tire has become the first choice for those who strive for excellence and desire a safer and sportier journey. The incorporation of various top-notch technologies including a "specialized tread compound" with "functionalized polymers," "TredLock Technology" and "Traction Teeth," along with an asymmetric tire design makes this tire an easy choice for customers.
The Altenzo Sports Comforter Plus on the other hand, is no less of a competitor too. It is a high-grade summer tire straight from Australia and designed to deliver a dynamite performance for passenger vehicles specifically. Just like the F1 Asymmetric 5, this too has an asymmetric makeup that allows for lower levels of rolling resistance, sharper steering response, and improved tread wear. Perhaps its standout feature is its quiet road noise levels which is quite impressive in UHP tires. Apart from carrying some features of the elite tire category, Altenzo Sports Comforter is by far the most economical of the lot.
A data was formulated using the best high performance summer tires on the same car that was found to be the best for some good old comparison. The tires were tested to evaluate their wet and dry traction, rolling resistance , noise levels, aquaplaning resistance, and some other vital factors using a reliable VW Golf GTI, which even though is quite generic and common, is still a very decent platform to carry this program out on.
Dry Traction Comparison
Talking about dry traction, both the tires have something to brag about in themselves.
The Goodyear Eagle F1 Asymmetric 5 is manufactured with a highly refined silica compound that helps to enhance its grip, ultimately resulting in a short braking distance and an exemplary drag on both wet and dry roads.
The tire's asymmetric tread pattern, coupled with the stiff and rigid framework results in responsive and sporty handling, particularly on dry road surfaces.
The increased stability and good braking and turning amplify its excellent dry traction. With a dry handling time of 95.87 seconds and a dry braking distance of 34.27 meters, it becomes clear that from the composition to the tread design, everything in this tire has been enhanced to provide quality traction and control.
The Altenzo Sports Comforter on the other hand also performed fine during its initial laps when the tire was at a normal temperature. However, with increasing laps, the design was unable to stay firm due to the increased temperature and the tire began to lose its grip.
The dry handling time for the Altenzo Sports Comforter Plus was found out to be 97.97 seconds. With the loss of the tire's grip with the increasing distance traveled, the braking was also compromised as the friction between the tire and road asphalt was reduced.
The braking distance for the Altenzo Sports Comforter was found out to be 39.08 meters when decelerating from 100km/h to 1km/h.
Overall speaking, the Goodyear Eagle F1 Asymmetric 5 is a clear winner in regard of dry traction.
Wet Traction Comparison
Coming in second is another important feature that has the capability to break a tire's game into pieces: wet traction.
Speaking of the Goodyear Eagle F1 Asymmetric 5, it is a high performance tire developed to deliver smooth performance with superior braking in wet conditions.
The tire has contact patch extension while braking, which results in a shorter braking distance in wet and dry conditions. The dual zone, asymmetric tread pattern helps the tire to effectively shed water and slush when it's raining or snowing cats and dogs for enhanced wet grip and all-season performance.
The TredLock Technology introduced in the tire by installing microgrooves helps provide biting edges for commanding wet traction and grip, in turn giving you predictable handling in all directions.
The wet handling time for the Goodyear Eagle Asymmetric 5 is 65.2 seconds and the wet braking distance is recorded to be just 33.71 meters.
When it comes to the competitor, the Altenzo Sports Comforter Plus has a reasonably good wet handling time of 69 seconds. This is possible because of a high wear rubber compound used in the production of the Altenzo tires along with advanced engineered tread patterns.
This also reflects the braking of the tire on wet surfaces. PDW has designed a unique three-line tread pattern that prevents the tire from sliding and facilitates stability on the road particularly under wet conditions.
This pattern successfully increases stability and steadiness during acceleration and reduces braking distance. Consequently, the braking distance for the Sports Comforter on a wet surface is recorded to be 41.06 meters when decelerating from 80 km/h to 1km/h.
In regards to the wet traction, the Goodyear Eagle F1 Asymmetric 5 takes the cake.
Rolling Resistance Comparison
The Goodyear Eagle F1 Asymmetric 5 has a reduced rolling resistance which has been made possible by introducing combinations of materials such as natural and synthetic rubber (refined silica), designing stiffer sidewalls, and reducing the tread depth.
Each of these green innovations help to reduce tire deformation which ultimately leads to fuel savings.
Furthermore, increasing the tire pressure up to the optimum limit without compromising its traction has also resulted in decreased rolling resistance for the GoodYear Eagle F1 Asymmetric 5. The tire has an impressive rolling resistance value of 9.31 kg/t owing to its rigid carcass.
On the other hand, is the Altenzo Sports Comforter with a rolling resistance recorded to be just 7.05 kg/t.
For the Altenzo Sports Comforter, the rolling resistance is one of its better features that attract a lot of customers.
The tire is designed to reduce the energy loss as it rolls while driving, contributing to fuel efficiency by decreasing the required rolling effort. This minimizes friction, which means less energy is expended and less fuel is consumed.
This makes Altenzo Sports Comforter Plus a value for money tire and it wins over the Goodyear Eagle F1 Asymmetric 5.
Aquaplaning/Hydroplaning Comparison
Owing to its asymmetrical tread design and contact patch extension feature, the Goodyear Eagle F1 Asymmetric 5 has good resistance to aquaplaning.
The tire is able to offer good control to the driver and grip in wet conditions at high speeds, making it an ideal choice for rainy seasons. The tread depth and design of the Eagle F1 make it easier to channel the water while maintaining the speed without the risk of slippage.
The inboard All-Season Zone in Eagle F1 Asymmetric 5 helps push water away from the tread for enhanced all-season traction in rain and light snow, while allowing additional biting edges to generate more traction in rain and snow.
The Goodyear Eagle F1 Asymmetric 5 has a float speed of 77.4 km/h in straight aquaplaning conditions and an impressive lateral acceleration of 2.2 m/sec2.
On the other side of the coin, the
Altenzo Sports Comforter is found to have poor handling in wet conditions making it susceptible to aquaplaning. It is unable to retain its speed and traction and is designed to counter aquaplaning at a reasonable level.
For Altenzo Sports Comforter Plus , its float speed in straight aqua is recorded to be 68.7 km/h, and the lateral acceleration in curved aquaplaning is recorded to be a mere 1.7 m/s2.
This means that the GoodYear Eagle F1 Asymmetric 5 wins again with its impressively fantastic features.
Noise and comfort Comparison
The Goodyear Eagle F1 Asymmetric 5 has a very good noise reduction performance which makes the driving quiet and comfortable for the passengers. It comes with Goodyear's Sound Comfort Technology, which involves the manufacturer adhering a layer of sound-absorbing foam to the inner liner of the tire to reduce cabin noise in the vehicle.
The dampening of the sound results in a quiet and pleasant journey for the driver. The external noise is recorded to be 71.1 dB in the Goodyear Eagle F1 Asymmetric 5.
On the flip side, due to its unique composition and effective design, the Altenzo Sports Comforter + is able to execute a comforting journey for its passengers with the external noise recorded to be only 70.2 dB, a close call from the Eagle F1.
The noise reduction tires were developed to enhance 'the quiet in car' experience by adding a layer of sound 'deadening' material attached to the tire's inner liner resulting in a cabin noise reduction of between 3dB to 9dB. The dampening of the sound results in a quiet and pleasant journey for the driver.
Although the Altenzo wins this parameter by a very close call, the Eagle F1 is not a bad option either. Apart from offering top control and sporty drive, this tire is also able to deliver comfort and quietness in a long drive.
Treadwear Comparison
Coming to treadwear, the Goodyear Eagle F1 Asymmetric 5 is a great all-season tire with a 45 000 miles warranty.
Considering the average commute distance, it reflects the superior quality tread wear of the tire.
Other than being equipped with a rigid frame, the tire's internal structure features twin steel belts reinforced by spirally wrapped polyamide cord cap plies to blend high-performance handling and control with high-speed durability.
The excellent tread wear rating of around 300 is a result of the tire's rubber composition as well as its advanced engineering design. The tread design not only offers excellent grip on the road, but is also long-lasting.
The tread wear rating for Altenzo Sports Comforter Plus on the other hand is around 350 with the temperature and traction being rated A.
This means it is expected to take thrice the amount of time to wear out as the control tire. Altenzo Sports Comforter + has a satisfied customer base who consider its treadwear to be worth their money.
However, it must be noted that treadwear also largely depends upon the driver and their driving habits. But regardless of this, the Goodyear Eagle F1 Asymmetric 5 is the winner in this regard too with a rating higher than the Altenzo Sports Comforter +.
Conclusion
Surely, both the GoodYear Eagle F1 Asymmetric 5 and the Altenzo Sports Comforter Plus are productions of two very reliable tire companies.
Looking closely at all their qualities keeping certain significant parameters in mind, it is safe to say that even though both of them do good in their own ways, Goodyear cleanbowls Altenzo in this match, and its Eagle F1 Asymmetric 5 steals the show.