Tires are undoubtedly an essential part of your vehicle as It is the only point of contact between your vehicle and the road.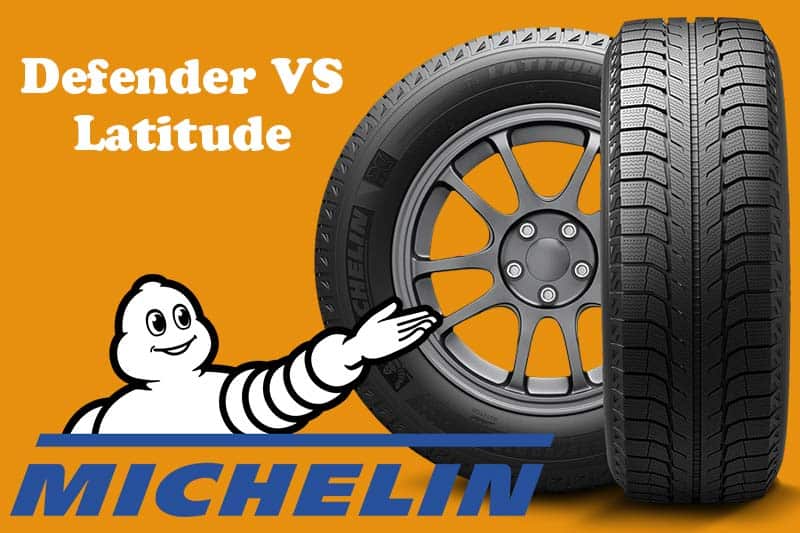 Though it may not seem such a good idea for a shopping spree, the buyer has to pay attention to several characteristics of a tire while buying one.
When buying a tire, you should pay attention to the details to opt for the one suitable according to your driving conditions.
The main characteristics to be considered while buying a tire are Tire width, tire profile, Tire size, speeding limit, manufacturer's warranty, etc.
Tires are mainly divided into three categories, i.e., All-season tires, Winter tires, and summer tires. So, if your turf is more kind of dry, then you can opt for summer tires, or if you have winter season mostly, then winter tires are a better choice.
Michelin Defender and Michelin Latitude are all-season tires manufactured by Michelin, designed for vehicles to drive in all conditions.
Though what makes these two products different from each other is stated as follows.
Michelin Defender VS Latitude Comparison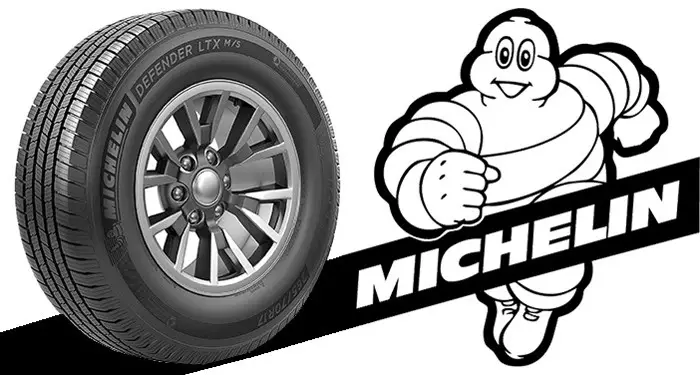 Based on Dry Traction:
Michelin Defender series of tires offer excellent toughness and durability at the expense of an advanced tread compound referred to as 'EverTread.' EverTread has been designed to support extensively in tough conditions while providing proficient performance in all seasons and advanced fuel efficiency.
Michelin latitude tires have an asymmetric tread design enhanced with Michelin's MaxTouch Construction to provide more treadwear miles. Even shoulder blocks and a continuous center rib optimize receptiveness and highway stability.
Moreover, the Michelin Latitude is made up of a special rubber compound that allows a tire to stop 5% short than its predecessors and its other competitor tires.
Based on Wet Traction:
Michelin Defender is composed of a new generation compound, which includes a high silica content to increases wet Traction.
The sideways notches and circumferential grooves effectively channel water away from the footprint to decrease the risk of hydroplaning and maintain stability on wet roads.
Michelin Latitude offers a fantastic, comfortable and stable wet traction even when driving on pools of water. This quality is by virtue of wide groove design and sipes around the tread.
This design maintains the tire stability and resists hydroplaning.
The additional sipes prevent the accumulation of water between the tread and road surface. The special rubber compounds help in improved Traction and handling properties on the wet road.
Based on Snow Traction:
Michelin Defender tire comes with an intellisipe technology that increases its snow traction. It has the biting edges present on tires to minimize the friction.
The sipes provide additional biting edges for extra grip on wet or snow-covered road surfaces, plus the tread lock rigidity, along with the interlocking action, further increases the snow traction.
Michelin Latitude multiple sipes comes with biting edges in snow, which enhances its snow traction. Its Max Touch technology provides maximum contact with the road while lowering the rolling resistance.
Moreover, the wide tread widths help provide a safe ride in light snow, but they are not compatible with the deeper snow.
Environment-friendly Comparison:
Michelin Defender tires comprise 28% ecological materials, comprising 26% natural-sourced materials like Natural Rubber, limonene, sunflower oil, etc.
Michelin Defender comes with the Green X technology. Michelin aspires to invest for a stable future to increase this content up to 80 percent durable materials.
Michelin Latitude comes with 82 gallons of fuel-saving warranty from the manufacturer. It comes with Michelin's Green X standards, which makes it an eco-friendly tire. It is a silica-based all-season tire, which is an eco-friendly compound.
Cornering stability Comparison:
Michelin Defender two steel belts and a polyester cord body along with MaxTouch Construction. This provides increased strength and stability at all speeds by stabilizing the tire's contact with the road while cornering, braking, or accelerating.
It also provides decent tire wear and increased tread life.
Michelin Latitude has rounded, and stable shoulder blocks, which are in combination with a continuous center rib deliver an exceeded responsive steering and increased cornering performance, which is an area that many drivers have mentioned as being exceptional.
Its MaxTouch Construction also augments its cornering stability.
Based on Tread life:
Michelin Defender tires come with the ever tread technology, which helps them last 10% longer in severe conditions. They have proven to be very long-lasting with maximum tread life due to their IntelliSipe technology.
Michelin Latitude MaxTouch construction provides low rolling resistance and wider contact with a path that prolongs its tread life and optimizes the fuel economy. It also comes with special tread compounds, which give it 33% extra miles.
Comfort and Noise level Comparison:
Michelin Defender's comfort control technology gives additional stability and comfort, and it ever treads compound provides exceeded wet Traction right through the life of the tire.
Treads are sturdy and durable, along with a tuned tread pattern that guarantees comfort and quietness in the ride.
The Michelin Defender Tires have a great amount of infused silica, which increases the Traction and lowers the Noise while riding.
Michelin latitude comes with a computer-optimized design and precision construction. These features reduce ­the noise level and vibrations.
Michelin Latitude's symmetric tread pattern, which is modified acoustically, decreases the road noise and creates an excellent ride comfort level.
It has two steel belts that are nylon wrapped for added strength and durability are present inside the tire, whereas the polyester cord body ensures an increased level of ride comfort.
Warranty and Mileage:
Michelin Defender provides 90,000 miles tread life warranty for T & H speed-rated tires, and the V-speed rated tires provide a six-year, or 80,000 miles tread life warranty.
Tire uniformity is assured for the first year of tire wear or the first 2/ 32 inch of tire wear.
Michelin Defender guarantees Materials and workmanship for six years and provides free flat-change during the first year or first 2 /32 inch of tire wear.
Michelin Latitude comes with a 65,000 miles tread guarantee. Tire uniformity is assured for the first year of tire wear or the first 2/32 inch of tire wear.
The warranty guarantees material and workmanship defects for the full six years from the purchase date, while there is also a three-year flat change agreement.
Please note that all warranty claims may differ in the future.
Pros and Cons of Both:
Michelin Defender can fit into family sedans, crossovers, minivans, coupes, and other types of vehicles with the latest in tire technology
Comes with safety irrespective of the weather conditions. The silica tread compounds and Green X standards make it eco-friendly, while Michelin's IntelliSipe technology enhances the no. of sipes on the tire.
Michelin Latitude is manufactured to deliver all-season performance and comfort for drivers of all types of pickups, crossovers, and SUVs.
Using the latest tire technology provides safety, low rolling resistance, and long-lasting tread life. It also comes with a decent tread construction.
It is made up of an all-season silica-based tread compound along with Michelin's Green X technology, and MaxTouch Construction, which provides a wider contact with the road and a lowers the rolling resistance and increases fuel economy.
Michelin Defender Pros:
It has Good all-season Traction
Steering is stable and quite responsive
It comes with a stable, quiet, and comfortable ride
It has a much lower rolling resistance.
Michelin Defender Cons:
An improvement is required in tread life.
Cornering stability and performance can be improvised
Michelin Latitude Pros:
It offers Dry and wet Traction, which is among the very best in this class
Exceptional steering response and stability with a comfortable ride
Ride comfort is exceptional
It provides a decent tread life
Reduced rolling resistance
Excellent fuel economy saving up to 82 gallons of fuel.
Michelin Latitude Cons:
Traction on snow and ice
Tread life could be better.
Michelin Defender Size Available:
Michelin Defender:
13″
175/70R13 82T BSW, 175/70R13 82T BSW
14″
P205/70R14 93T BSW, 175/65R14 82T BSW, 185/65R14 86T BSW, 185/65R14 86T BSW, 175/70R14 84T BSW, 185/70R14 88T BSW, 185/70R14 88T BSW, 195/70R14 91T BSW, 195/70R14 91T BSW
15″
185/60R15 84T BSW, 195/60R15 88T BSW, 195/60R15 88T BSW, 205/60R15 91T BSW ,215/60R15 94T BSW, 185/65R15 88T BSW, 185/65R15 88T BSW, 195/65R15 91T BSW ,195/65R15 91T BSW, 205/65R15 94T BSW, 205/65R15 94T BSW, 215/65R15 96T BSW, 215/65R15 96T BSW, 205/70R15 96T BSW, 205/70R15 96T BSW, 215/70R15 98T BSW, 215/70R15 98T BSW
16″
205/55R16 91H BSW, 205/55R16 91T BSW, 205/60R16 92T BSW, 215/60R16 95T BSW, 215/60R16 95T BSW, 225/60R16 98T BSW, 225/60R16 98T BSW, 235/60R16 100T BSW, 215/65R16 98T BSW, 215/65R16 98T BSW, 225/65R16 100T BSW, 235/65R16 103T BSW, 235/65R16 103T BSW
17″
225/50R17 94T BSW, 215/55R17 94V BSW, 215/55R17 94T BSW, 225/55R17 97T BSW, 235/55R17 99T BSW, 215/60R17 96T BSW, 215/60R17 96T BSW, 225/60R17 99T BSW, 225/60R17 99T BSW, 215/65R17 99T BSW, 215/65R17 99T BSW, 225/65R17 102T BSW, 225/65R17 102T BSW
18″
225/50R18 95T BSW, 215/55R18 95T BSW, 225/55R18 98T BSW
Michelin Latitude Size Available:
16″
P235/70R16 104T BSW, P225/75R16 104T OWL
17″
P225/65R17 100T BSW, P245/65R17 105T OWL, P265/65R17 110T BSW
18″
P235/55R18 99T BSW, 245/60R18 105T BSW, P265/60R18 109T BSW, P265/60R18 109T BSW, 235/65R18 106T BSW, 255/65R18 111T BSW
19″
P255/60R19 108S BSW
Conclusion:
So, this concludes that If your turf is more dry or wet in terms of traveling, you can opt for either of these as both seem to be an accurate choice for your vehicle.
As both of them are an all-season tire while Michelin Defender can be trusted with the quiet and comfortable ride quality to go along with remarkable dry and wet Traction.
On the other hand, Michelin Latitude provides an impressive Dry traction braking with outstanding braking and acceleration. Moreover, the tire's cornering and steering response are equally remarkable.
The Defender's snow and ice performance based on winter traction are quite decent, despite it being an all-season tire. It provides all-season Traction, including snow traction, which quite an exceptional feature considering it is an all-season tire.
While Michelin Latitude needs an improvement regarding Traction on snow and ice, it simply doesn't have the grasp, braking, or acceleration compared to the best tires in this class.
Michelin Latitude's ride is smooth, and road noise is minimal though some drivers may mention a little noise as the tire starts wearing down.
So, if you want to opt for an all-season tire that provides you a smooth ride in winter conditions, then Michelin Defender is a good choice; otherwise, if snow is not an issue for you, then you can choose from either Michelin Defender or Michelin Latitude as they both offer a decent mileage and are a good choice for hazardous trails and construction sites.
Please note here that all warranty claims and prices mentioned here were available at the time of writing this post and may change in the future.