With tougher overall design. All Terrain tires can go just about anywhere, while still keeping things comfortable for you on-road. That's their main purpose of these tires and that's why they are built.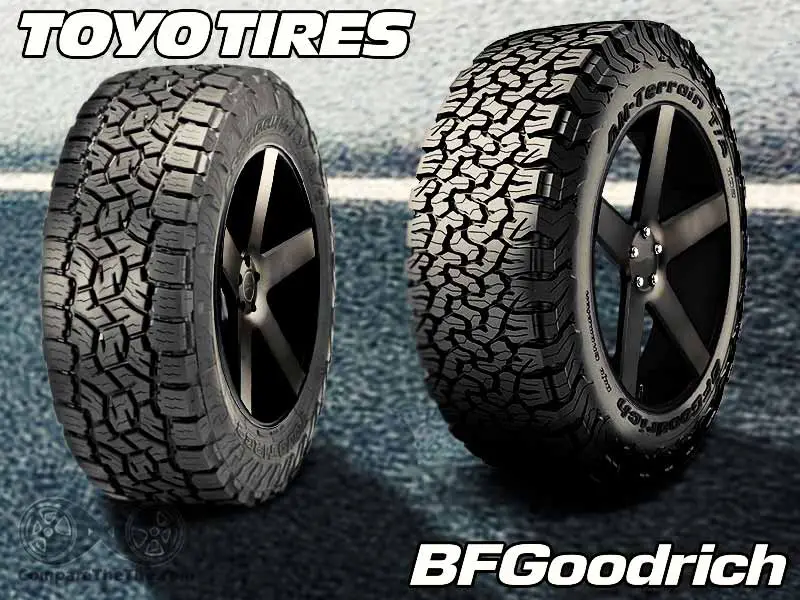 And when it comes to the world of All Terrain tires, the most famous one has to be the BFG KO2. Why it's famous one might ask? Is it because they dropped it from 10 k feet?, O yes, they surely did.
The tire survived the impact and it wasn't just made for the commercial either. They actually performed this test. BF Goodrich says its their toughest tire ever made.
But how would this tire perform against the Toyo's Flagship, the Toyo Open Country AT3? Well the answer lies in their design.
Design of Both Tires: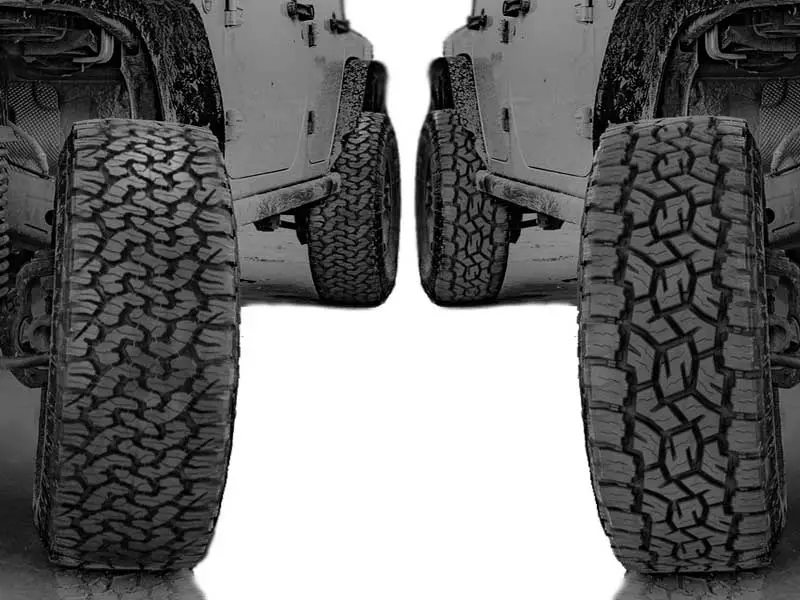 Looking at BF Goodrich KO2, you get to see the serrated shoulder design, with one block having a scoop in it and the other just one edge flowing down and meeting the sidewall lug.
Lateral siping and notches are seen on both of its weirdly shaped shoulder blocks which vary in width and length a lot.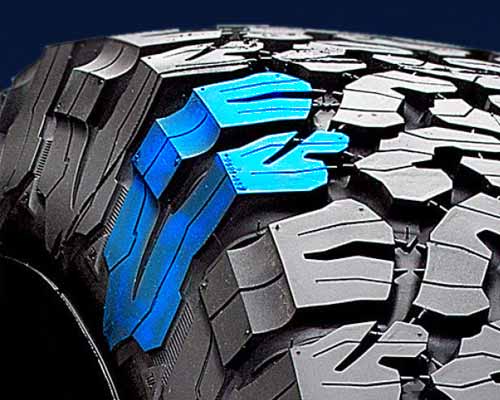 Both of these rectilinear siping and cuts go deep all the way to its base.
Similarly, between these shoulder blocks with wider gaps, bigger stone ejectors are also seen.
On the other side, with Toyo AT3, although you see a very similar serrated shoulder design, with a similar scoop on one block and a simple edged side on the other…
But the overall tire sides are less aggressive.
Here you see a very "blocky" design, without any kind of notches. But you still see wave like siping which go deep and are very effective in wet.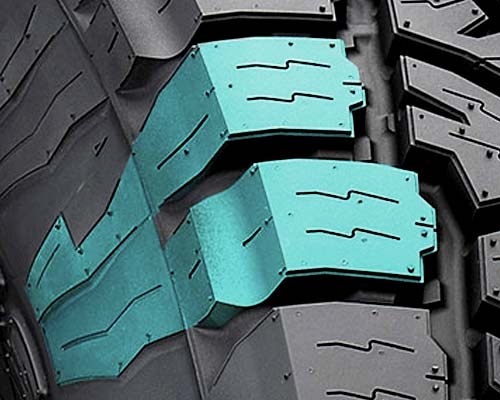 The stone ejectors are also not that bold as we saw in BFG KO2. These blocks also have ridges in between them which further restricts the movement of these blocks.
So, with better siping and more compact shoulder blocks, the tire is able to have more contact on the road during cornering.
If we look at the center of both tire, same trend is seen, with BFG KO2 showing relatively wider grooves.
In the center, the BFG KO2 has worm like blocks with rectilinear siping, which go all the way deep. Notches are also added so that these blocks can give more biting to the ground.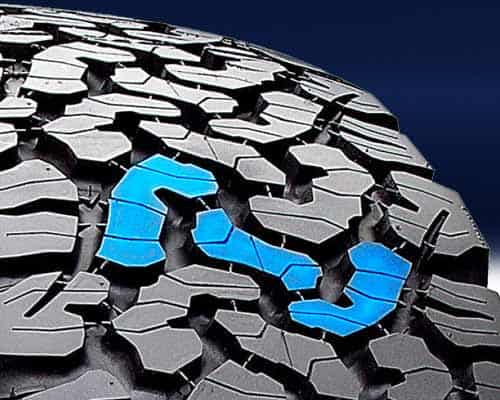 With overall interlocking design of these blocks, the tires gives pretty good enough traction on roads.
In case of Toyo AT3, where it features the prominent S shaped block, which to be honest looks like a rip off from a Superman's logo.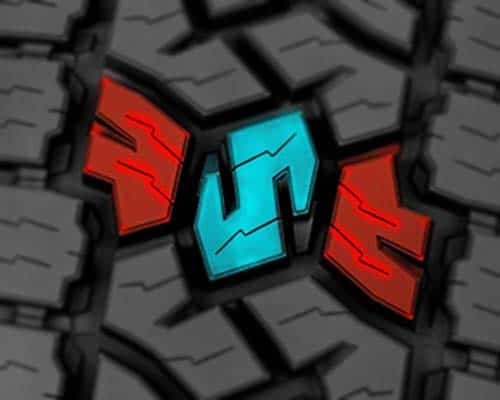 These blocks show sharp edges and are further surrounded by others with incisions in them. These incisions or cuts whichever you prefer, face in all directions allowing this tire to hug the surface firmly.
Note: It's recommended that you watch the below video, before reading rest of the article.
On-Road Traction Comparison
Disclaimer and about the tests: Both tires were tested at different times, and the tires were not completely new so the data can vary. But looking at the design, it makes sense. The following data was calculated for both tires. Braking was done from 60 mph and sopping distance (grip) was calculated. For handling, the total time to complete the laps were averaged. Both tire sizes were same and were used on the same truck.
| | | |
| --- | --- | --- |
| Tests: | Toyo AT3 | BFG KO2 |
| Dry Grip | 123 ft | 133 ft |
| Dry Handling | 71 s | 72 s |
| Wet Grip | 166 ft | 182 ft |
| Wet Handling | 92 s | 94 s |
| Hydroplaning | 50 mph | 52 mph |
With overall interlocking design of these blocks, the tires gives pretty good enough traction on roads.
But compared to AT3, this tire shows greater braking distances in dry. And in wet, the tire performs rather poorly.
That's because the BFG KO2 does not have the siping as seen in Toyo AT3.
But due to BFG KO2's uniformity and consistent block design, combined with its comparatively softer compound, the tire is more quieter on road in comparison.
Off Road Traction:
| | | |
| --- | --- | --- |
| Tests: | Toyo AT3 | BFG KO2 |
| Gravel handling | 59 s | 58 s |
| Dirt Handling | 53 s | 50 s |
| Fuel Consumption | 18 mpg | 19 mpg |
| Noise | 70 dBs | 68 dBs |
But where the KO2 could not perform well in on road traction, it very much made up for it off road.
The tire showed great off road handling, be it mud, dirt, gravel, snow or even rocks.
On rocks with the tire's staggered shoulders, and interlocking design the tire showed great combination of lateral and circumferential traction (much needed on rock). It simply feels more comfortable to drive on rocks. (Toyo AT3 with less aggressive sides wasn't able to have the same levels of lateral traction)
On mud, with the KO2s more aggressive/bulkier sidewall lugs, the tire was able to better get out when aired down deep in mud. The wider grooves also helped it evacuate more mud in comparison. (As the tire is also better in hydroplaning).
And although both tires have serrated shoulders, the scoops on the KO2 sides are more effective.
On snow, both tire with 3pmsf Rating are great. The Ko2 is better with softer snow because it works there just like the way it deals with mud.
On the other side, on hard packed snow, the Toyo AT3 with it's compact blocks with edges and sipes show better performance.
Durability and Treadwear Differences
If you saw the video we added at the start of this article, you must be very familiar with how strong the BFG KO2 is.
Internally, in case of Toyo AT3, the tire has 2 steel belts with 2 ply casing of polyester which is then wrapped with 2 layers of nylon.
And in case of BFG KO2, it consists of twin steel belts reinforcements with spirally wrapped nylon and 3 plies polyester cord.
So you get an extra layer making KO2 a 3 ply sidewall.
Other than this, the tire also have bigger sidewall lugs in comparison.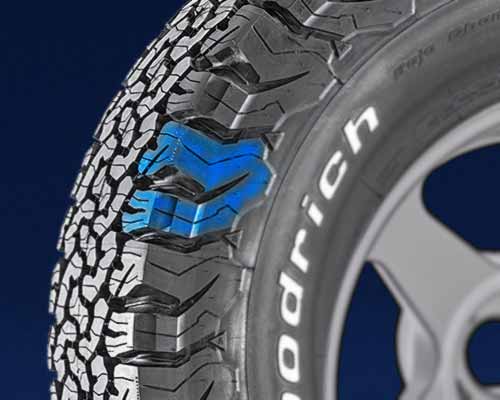 These sidewalls further protects the most vulnerable part of the tire against sharp objects.
Side Note: With the help of 3 ply sidewall, the BFG KO2 provides better protection against sharp rocks and from thorns as they easily puncture through 2 ply sidewalls.
In terms of treadwear, the tire again has an upper hand, with its tread lasting for a long time.
The tire features full depth sipes, these sipes go all the way deep to the base.
Usually after a while, a common tire starts to loose it traction values, as with less sipe depth, they are wiped away quickly, but in the case of KO2, even with wear, the tire does not loose its traction.
| | | |
| --- | --- | --- |
| Tests: | Toyo AT3 | BFG KO2 |
| Fuel Consumption | 18 mpg | 19 mpg |
| Noise | 70 dBs | 68 dBs |
| Avg. Tread Depth | 48.1 lbs | 55.3 lbs |
| Avg. Weight | 15/32″ | 15/32″ |
Verdict?
KO2 is a much expensive option that offers great off road capabilites.
I persoanlly think its price is justified, given how durable these tires are combined with their amazing off road performance.
A true all terrain tire is suppose to be great off road while still giving you a comfortable ride on road. And this tire does exactly that. Although you do face some traction issues on wet, but that can be compromised seeing what other things the tire is good at.
Compare BFG KO2 with other AT tires:
Compare Toyo AT3 with its competitors: