The Geolandar M/T G003 is Yokohama's Off-Road Maximum Traction tire designed for the drivers of pickup trucks, full-size SUVs, Jeeps and dedicated off-road vehicles who want a tire with the traction and durability to travel far off the beaten path, but without the compromises in wet traction, noise, and wear drivers of Off-Road Maximum Traction tires, frequently called mud tires, often experience. The All-Terrain T/A KO2 is an On-/Off-Road All-Terrain light truck tire developed to meet the needs of jeep, pickup truck and sport utility vehicle drivers who want confidence and control on- and off- road. The All-Terrain T/A KO2 was designed to deliver go-anywhere traction along with outstanding durability, great wear, and year-round traction, even in snow. The KO stands for Key benefit On- and Off-road an the 2 identifies for the 2
nd
generation of BFGoodrich's KO tire.
Overall Comparison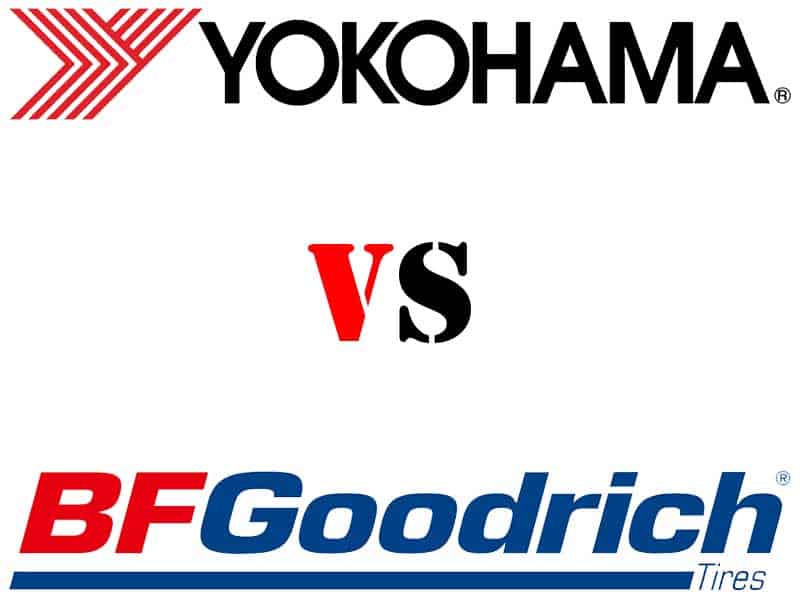 I tested both Yokohama Geolander M/T G003 and BFGoodrich T/A KO2 under certain conditions and I have compared them based on the following aspects:
Dry Performance
Wet Performance
Winter/Snow Performance
Comfort Performance
Treadwear Performance
Fuel Consumptions
Before we dive right in, here is a graph that I have put together that aims to sum up everything, for your convenience:
Wet Performance comparison
The Yokohama Geolander M/T G003 features a high-void tread pattern that has a block orientation and pitch variation along with the in-block siping which further combines with the Triple Polymer Blend compound to deliver confident wet traction. The BFGoodrich's All-Terrain T/A KO2 features a computer optimization that is used to mold the compound and provide an interlocking tread block all terrain pattern. This computer-optimized tread design works to improve driving in wet or icy conditions.
Dry Performance comparison
The Yokohama Geolander M/T G003 has an aggressive, off-road focused tread pattern that is molded from Yokohama's 
Triple Polymer Blend
 compound. this high-density polymer compound is a cut- and chip-resistant with interlocking tread blocks, innovative siping and multiple loose object ejection features which aid in delivering an improved on-road handling and off-road traction. The Geolandar M/T G003 tires also feature Yokohama's proprietary 
Geo-Shield Construction
. This geo-shield construction consists of three polyester body plies that hold on two load range C tires and wrap around a strong, hexagonal bead to form the tire's casing. The two high-strength steel belts support the tread and are reinforced by a full-width nylon cap for added durability. Furthermore, the specially designed 
Sidewall Armor
increases sidewall protection and features optimized tread blocks in addition to an upper sidewall protection and unique tread design. All these altogether give the Geolander M/T G003 a strong grip in dirt, sand, mud and on rocks, that resists punctures, provides protection against jagged rocks and other debris. These group features altogether not only provide the good looks to the tire but also provide a very good on road and off-road traction as well, especially the optimized spies.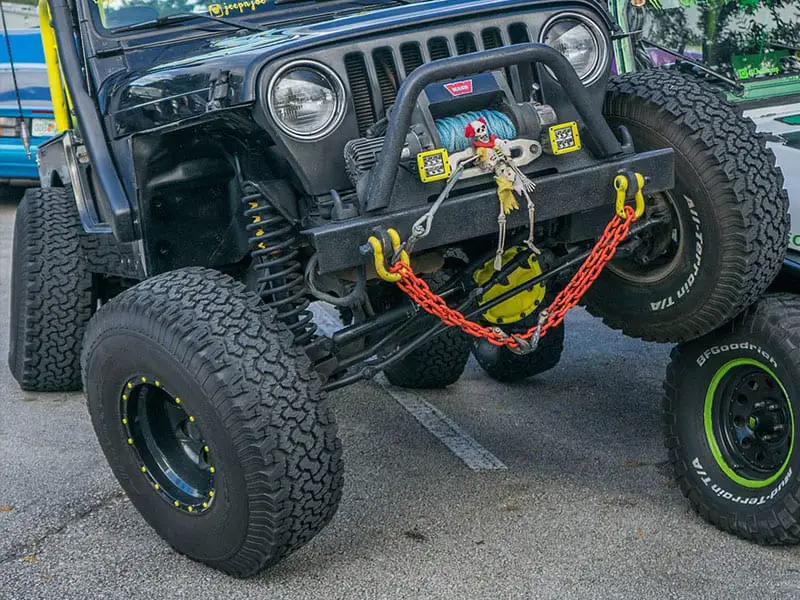 The BFGoodrich's All Terrain T/A KO2 has a deep tread depth that creates the biting edges and aggressive tread patterns on the tire which are capable of delivering traction in extreme conditions because a deep tread depth is a must for traction in harsh conditions. The Core Gard™ technology gives All Terrain T/A KO2 a tough sidewall rubber known as an upper shoulder Sidewall Armor that is two times thicker than before. The Serrated Shoulder Design on the tire delivers an additional traction by providing the clawing action which is important to develop traction and steering control in deep dirt, sand or on rock during off-road driving. Moreover, this serrated design on the KO2 tire works by grabbing onto the terrain providing good grips especially during off road driving hence giving maximum off road traction.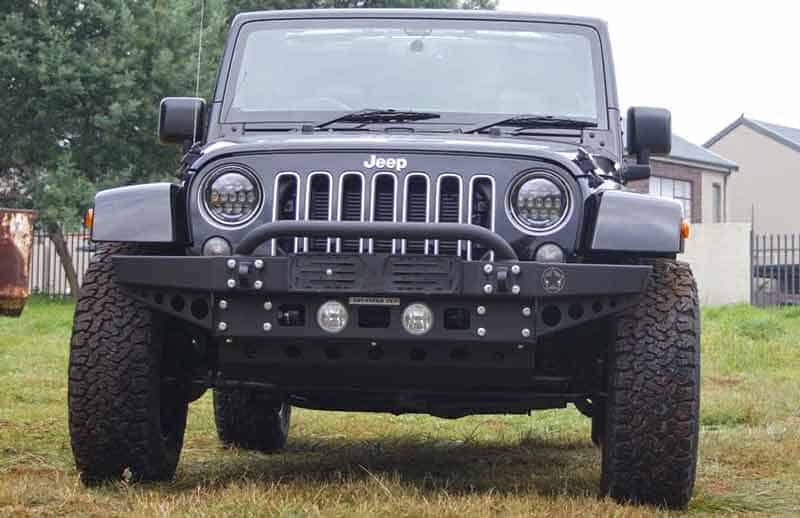 The BFGoodrich's KO2 tires internal structure includes twin steel belts reinforced with spirally wrapped nylon on top of BFGoodrich's TriGard, 3-ply polyester cord sidewall ply construction for strength and durability. The single strand beads enhance the tire's fit to the wheel to improve uniformity and ride quality.
Winter/Snow Performance Comparison
Yokohama Geolander M/T G003 tires are branded with the M+S symbol and are able to churn through deep snow. However, it is worthy to mention that their limited number of snow-biting sipes in their large lugs can challenge their on-road wintertime traction on packed snow and icy surfaces. The BFGoodrich All-Terrain T/A KO2 also tires the industry's severe snow service requirements and are branded with the three-peak mountain snowflake (3PMSF) symbol. The presence of the side biter lugs provides increased mud, snow, and rock traction, especially in aired-down driving situations. The Mud-buster bars are Raised bars in the shoulder tread area of the All-Terrain A/T KO2 help release compacted mud for enhanced traction in muddy and soft soil conditions. In addition, the serrated shoulder design as mentioned earlier have staggered shoulder blocks that provide greater maneuverability in soft soil and deep snow conditions and the presence of the Locking 3-D sipes because of the 3-D active sipe technology provides more biting edges for increased snow and ice traction.
NOTE:
The non-winter tires that feature the three-peak mountain snowflake (3PMSF) symbol provide additional longitudinal snow traction beyond what all-season (M+S) tires not bearing the symbol can deliver. However, they do not match the capability of a true winter tire in all adverse weather conditions.
Comfort Performance Comparison
The Yokohama Geolander G003 has a high-void tread pattern which utilizes a block orientation, pitch variation and a computer aided variable pitch tread sequence that are specifically focused on reducing obtrusive noise and evens out he harmonics during on-road performance.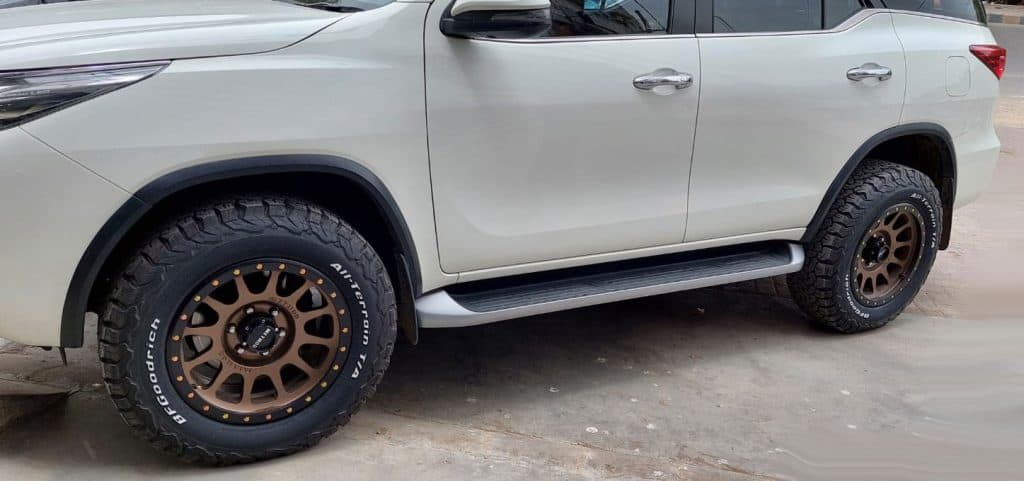 On the other hand, the BFGoodrich's All Terrain T/A KO2 does not fail in this performance too. The noise produced is not a distraction and much quieter than expected all because of its improved design.
Treadwear Performance Comparison
The Yokohama Geolander G003 uses a high-density triple-polymer tread compound to go with their Geo-Shield construction that consists of multiple sidewall plies, steel belts, a full nylon cap, and a high turn-up carcass for added protection. The G003's tread life has been enhanced through the triple-polymer compound, which Yokohama claims is 8% longer lasting. The siping has a depth of 80 percent of the tire tread. Currently, Yokohama offers a range of 16–20-inch sizes in both LT and flotation models, with additional sizes being released throughout the remainder of the year. The wider and flatter contact patches on the Yokohama Geolander M/T G003 allow for more evenly distributed stress throughout the tire because when the stress is more even across the tire, there are fewer hot spots. Heat and friction are the enemy of tire life. BFGoodrich's All-Terrain T/A KO2 tires features a racing derived cut-, chip- and tear-resistant tread compound that delivers longer life. The double tread life on gravel and 15% longer tread life is due to specially formulated tread rubber which is optimally blended to reduce chip and tear for superior gravel road endurance. The advanced tire footprint shape results in more evenly distributed stress for longer more uniform wea and the interlocking tread design on the KO2 increases the tread block stability for more even wear over the long haul. In addition to these features the stone ejectors present on the tires prevent stone retention and provide extra tread cleanout protection against stone drilling. However, All-Terrain T/A KO2 tires labeled "DT" utilize a different tread compound designed to improve wear in high-torque applications and improved chip and tear resistance in gravel. Tires featuring this compound carry a 50,000-Mile Treadwear Warranty and are not branded with the three-peak mountain snowflake symbol.