Both All-Terrain (A/T) tires, are built for both on-road and off-road applications which can serve throughout all seasons.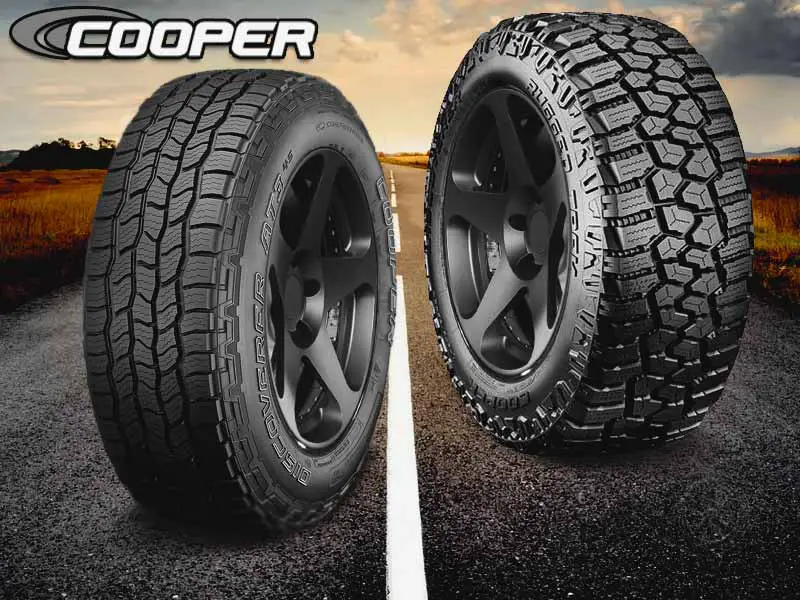 The Cooper A/T3-XLT is uniquely built to withstand heavy loads to give a smooth and comfortable ride on highways while performing a decent job off the road.
Meanwhile, the Cooper Rugged Trek is an aggressive tire that functions better on off-road tracks and gives a good performance on road as well.
Let's learn more about these tires.
Overview of Both Tires:
Cooper AT3 XLT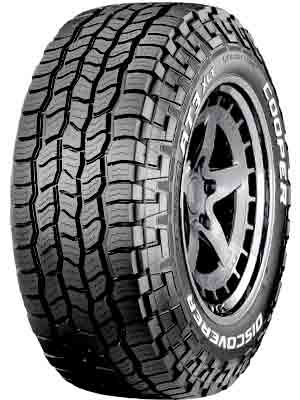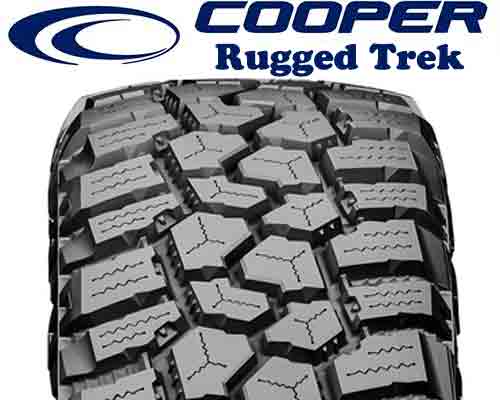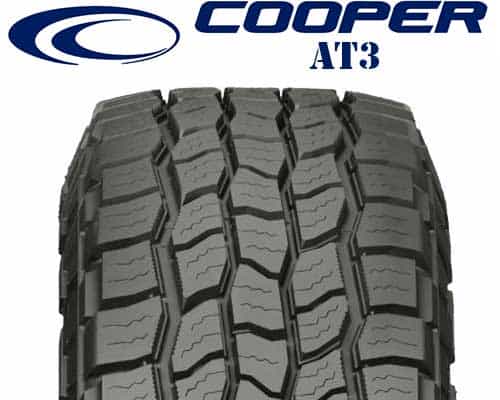 Cooper A/T3-XLT can perform better on highways and dry roads than the Rugged Trek. The reason behind this is its compact tread design with relatively small incisions in its tread that give it an enormous surface area to grip the road, making its on-road traction superior.
Furthermore, it has a decent number of grooves and a considerable quantity of sipes on the tread block that stipulates optimum wet traction. Even so, these grooves fall victim to hydroplaning in extreme weather conditions.
While the Cooper Rugged Trek is also an all-season all-terrain tire, with the difference that its tread design is more aggressive and well-optimized for off-roading. It has a broader tread design with larger gaps between the tread blocks and triangular sipes, which grants it a better self-cleaning ability.
So, it executes a better grip on wet surfaces and off-road tracks than the A/T3-XLT.
On-Road Traction Comparison 
The Cooper A/T3-XLT offers promising on-road traction in dry conditions due to its next-generation silica compound that gives it a considerable grip on the road.
Its tread pattern constitutes a big surface area to make contact with the surface of the road and provides a valid grip by increasing the rolling resistance of the tire.
Therefore, it experiences a stronger grip.
Besides that, its wide shoulders add to its on-road handling.
Moving to on-road wet traction, the A/T3-XLT provides a stable grip on wet surfaces, owning to its circumferential grooves and a considerable amount of omni-direction micro-gauge sipes in the tread blocks that enable it to accommodate water in its treads and avoid hydroplaning.
However, it cannot beat extreme weather conditions because the grooves are not large enough to avoid hydroplaning in those conditions.
On the other hand, the Cooper Rugged Trek is composed of an advanced silica compound that helps it sustain a safe grip on the road.
It features a symmetrical tread pattern that imparts a little bit less surface area than the A/T3-XLT.
Therefore, it has a smaller footprint to stick to the ground and establishes a lighter grip.
As a result, the Trek doesn't perform as well as the A/T3-XLT on dry surfaces.
The tables are turned in the domain of wet surfaces, the Trek has bigger grooves and larger sipes in the tread design that yields exceptional water evacuating ability on wet surfaces.
Therefore, the Trek can perform better than the A/T3-XLT on-road in wet conditions.
It continues to give a good performance even when the weather conditions are extreme, unlike the A/T3-XLT.
Off-road Mud Traction Comparison:
Off-roading requires a tire that is not only agile and sturdy but also flexible and tensile.
The main determinant that decides the performance of the tire on most of the off-road terrains are grooves and sipes of the tire, while a better footprint is required to ensure competent traction on some terrains.
The Cooper A/T3-XLT has 3 narrow but deep circumferential grooves and some lateral grooves in its tread design that works alongside the maximized full depth micro-gauge sipes and rugged shoulders to ensure a noble grip on muddy tracks.
Thanks to these features, the A/T3-XLT can plunge the mud that comes in its path and move across it smoothly and steadily.
However, the A/T3-XLT cannot move across extreme muddy tracks easily, because its narrow grooves lack the self-cleaning ability to tackle deep mud terrains.
Conversely, the Cooper Rugged Trek has even larger grooves in a zig-zag pattern and large shoulder scoops and lugs (called the earth digger technology) that allow it to dig deep into the mud and excavate the mud in its pathway effectively to move across it effortlessly.
What's more, the Trek can even beat extreme muddy tracks, unlike the A/T3-XLT, because of its larger grooves that give it a substantial back-flushing ability to remove the mud from its treads. 
How these tires performed on snow?
For a tire to perform well on snow, winter rating is a necessity, which means the material of the tire should remain flexible even at low temperatures to provide satisfactory grip.
Both the Cooper A/T3-XLT and Trek don't possess the compound material to provide high-grade snow traction, because their compound is temperature-sensitive.
Nevertheless, both of these tires can provide some grip on the snow.
The Cooper A/T3-XLT has narrow grooves but a larger footprint which makes it perform well on light snow by encouraging it to push through the snow.
But when it comes to heavy snow, it cannot perform that well, because grooves are not wide enough.
However, its bigger footprint makes it stick better on hard snow, making it finer on this terrain.
On the other side, the Cooper Rugged Trek can perform better on soft snow than the A/T3-XLT.
Given that, it has wide and deep grooves that let it grab and throw snow in its pathway to execute an improved grip on the snow.
However, it has a smaller contact face than the A/T3-XLT which reduces its traction on hard snow by the virtue of decreased rolling resistance.
Henceforth, the Rugged Trek is better suited for soft snow, while the A/T3-XLT is better suited for hard snow.
Their traction on Rocks and Gravel:
Rugged terrains like rocks and gravel require a tire that is strong, resilient, and robust.
The Cooper A/T3-XLT is made of a strong silica compound that enables it to withstand harsh terrains.
It features rugged shoulders that protect its upper sidewall from puncture and cuts.
Likewise, the tread blocks have anti-stone retention technology that helps to prevent damage from stones and gravel.
In addition to that, the Durable technology steel belts further enhance its endurance.
Conversely, the Trek has a rough terrain tread pattern, made out of a silica compound, similar to the A/T3-XLT.
Therefore, it owns considerable endurance and durability to tackle rugged terrains.
Its deep treads make it cut and chip resistant and its adaptive sidewall makes it more agile, shielding the tire in rough conditions.
It also imparts stone ejecting blocks that further defend the tire against stones and gravels.
Tread-wear and Durability
The A/T3-XLT is made of next-gen silica compound which is specially designed to improve the tire's tread life and mileage.
In the same manner, the wear-arc technology keeps the footprint flat on the road to promote even wear of the tire.
This makes the tire economical and efficient.
On top of that, it has durable technology which consists of deep treads, super tensile light truck steel belt, and High tensile light truck body-ply.
All of these features protect the tire from cuts and chips, stone damage, and sidewall abrasions, making the tire extra durable and sturdy.
In contrast, an advanced silica compound is used in the fabrication of Rugged Trek.
It reduces the rolling resistance of the tire and gives it better tread-wear and fuel efficiency.
Additionally, it contains deep treads and its body is made of high tensile ply which makes the Rugged Trek 20% stronger than most of the tires of its race.
Whether it's rock cuts or impact damage, this tire can defend itself against all odds. This makes the Trek more durable than the A/T3-XLT.
Despite that, the A/T3-XLT has better tread-wear than the Rugged Trek.
What level of Comfort can you expect with these tires?
Comfort is the prime concern of every person.
The Cooper A/T3-XLT has a compact tread design, with a large surface area to connect with the surface of the road.
It gives it additional stability on the ground and makes it more comfortable.
Furthermore, it has whispers grooves technology in its narrow grooves that trap the air within treads and acts as a sound barrier to ensure a peaceful ride.
At the same time, the Trek has a more open tread design with larger grooves in comparison to the A/T3-XLT.
This not only decreases the contact zone of the tire which results in less stability and riding comfort but also increases the noise and vibrations produced by the tire.
Its larger grooves capture extra air which collides in the gaps of the tire to generate higher noise and vibrations.
The Trek also features whisper grooves technology in its treads, but its noise levels are a little bit higher than the A/T3-XLT due to its bigger grooves.
Therefore, the A/T3-XLT has a greater comfort level than the Trek.
Final Thoughts
Both the A/T3-XLT and Rugged Trek are All-Season and All-Terrain tires.
The A/T3-XLT has better road traction and dry traction.
The Trek has superior off-road traction and wet traction.
The A/T3-XLT has greater tread-wear, while the Trek has better endurance.
The A/T3-XLT offers a more refined and comfortable experience.
Both of the tires have almost the same price.