This is a tire that allows you to drive confidently no matter what time of the year it is because its all-season tread polymer resists weather-induced changes and provides traction in both hot and cold weather.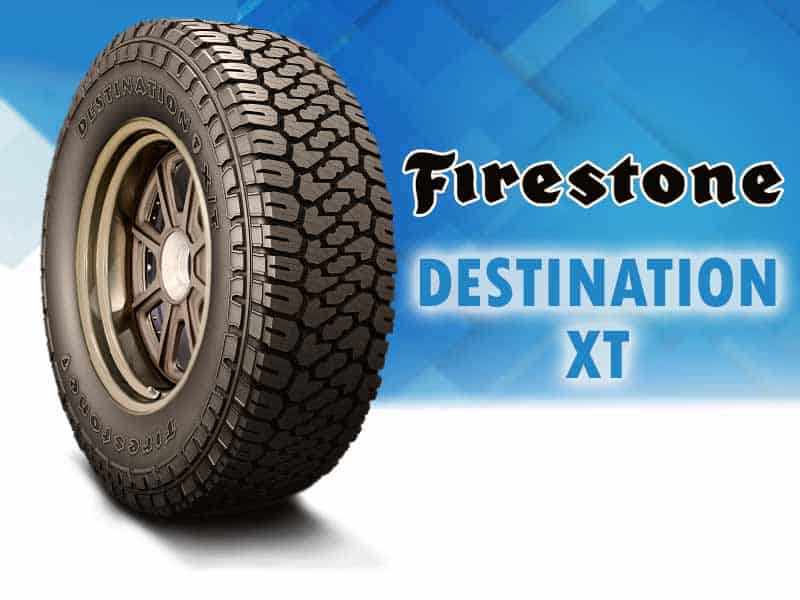 Especially its ability in cold weather makes it very useful as the rubber maintains its flexibility and traction even in low temperatures.
In addition to effective rubber composition, its tread design is optimized with Firestone patented technologies and provides stable dry traction, enhanced performance in mud and snow, and better fuel averages.
Furthermore, it comes with a long-lasting replacement warranty, making it a safe deal from a financial perspective.
Exclusive technologies and features
This is Firestone's patented mechanism for tread designing which specifies 3D zigzag sipes that interlock below the surface, increasing block stiffness and contact patch of the tread.
As a result, the tread's ability to grip on the hard surfaces is increased.
All shoulder lugs of Destination XT have deep open slots on their outer edge.
This design feature not only makes the tire look aggressive but also allows it to dig deeply into snow and mud, resulting in proficient steer management on these surfaces.
XT's central blocks have traction notches on the lateral edges and saw-toothed texture on the longitudinal edges, this design feature increases the biting ability of the tread many folds.
Tread Design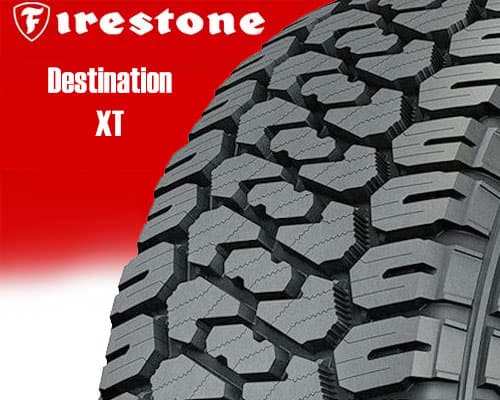 Destination XT shows a rugged look characterizing three rows of multi-edged, independent blocks with prominent lateral and longitudinal spaces among them.
The central blocks are C and S-shaped and their edges are saw-toothed, providing an enhanced biting ability. These ribs are formed in an overlapping manner, making wavy circumferential grooves between them. Plus, the blocks of the middle rib have lateral notches which further improve the biting efficiency.
Its tread specifies a dual siping pattern as the central blocks have zigzag sipes and the shoulder lugs are marked by multiple linear sipes.
Shoulder blocks have relatively less aggressive inner edges but they do have open slots and staggering on the outer margin.
Its sidewall lugs are also large and strengthened, hence, providing lateral stability and improved gravel traction.
The carcass of this tire is multilayered and sturdy. It has a two-ply structure of polyester cords over the twin steel belts with a 1-ply nylon cord reinforcement. Hence, it has a 3-ply tread overall.
Traction of the tire:
On a dry road
Destination performs quite impressively on dry paved surfaces and stops at a short braking distance.
(During our test it stopped at 106 feet while braking from 50 mph. Almost same performace was seen with the General Grabber ATX)
Its high grip is also evident if we take a look at its tread features like 3D interlocking sipes, saw-toothed block edges, and overlapping central ribs.
Its aggressive block design provides numerous biting edges and compact rib placement along with interlocking sipes optimizes rubber-to-road contact of the tire, both these features ultimately lead to enhanced road grip.
Its steering efficiency on a dry road is also good and cornering feels natural and is easily handled.
Side Note: Firestone Destination AT is better than its AT version, in terms of dry traction.
On wet tracks
Wet traction is the area where Destination XT seems to make a sacrifice.
Though it comes with a promise to resist hydroplaning proficiently with the help of 3D sipes and deep grooves, offering enhanced wet traction yet its wet performance is not highly stable.
Its stopping distance on a wet path is quite large and steering performance is also less precise than other major AT competitors.
(Almost 10 feet shorter then the Grabber ATX, its direct competitor).
Winter performance
For winter performance, Destination outweighs many popular all-terrain tires and has three peak mountain snowflake rating for its enhanced snow traction.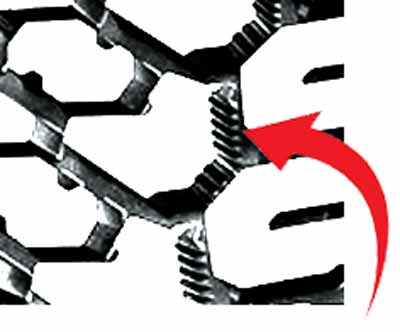 Trationtech 3D sipes and saw-toothed block edges result in a firm grip on the snowy surface.
These edges as shown in the image help bite into the surface of the snow.
In the same way, open shoulder slots and staggered margins result in precise handling.
Full depth voids also ensure that snow is consistently expelled out and you don't get stuck.
Hence, it covers small braking distances and attempts laps quickly on snowy surfaces as compared to other contestants.
Is it good for Off-Road driving?
Yes, Firestone XT is a good option if you are traveling off the paved tracks.
We found these tires trustworthy in all the rugged terrains we have put them on.
On mud and snow, its aggressive lugs bite efficiently and full-depth grooves ensure self-cleaning of tread leading to consistent traction.
Likewise, open slots and staggered edges of shoulder blocks make steering easier and more responsive in the mud or snow terrain.
Being a lightweight all-terrain tire, it is also a good choice for crawling on sandy beaches (but do remember to air it down a bit).
However, we especially like its ability on the rocky slopes.
It clutches over the hard surface firmly as you are moving on steep paths and its textured shoulders make steering response, precise and controlled.
Sturdy sidewalls also add lateral stability and improve load management.
Nonetheless, what we found lacking are stone ejectors in grooves for puncture resistance and protection from gravel choking of the tread.
Driving noise of these tires:
The noise is the major demerit of this Firestone tire because its loud rolling sound can sometimes make your ride quite uncomfortable and tiring.
Its full depth tread is to be blamed for this noise production as deep channels present a lot of free space for sound resonation.
What about Destination XT's mileage?
With Firestone's exclusive all-terrain rubber, Destination tires are going to give you a long mileage.
A sturdy carcass and open tread design improve rolling stability and reduce frictional wear, both leading to long tread life.
That is why its manufacturer backs it up with a limited replacement warranty of up to 80,000 kilometers.
Fuel efficiency:
Destination tires have a good score for fuel consumption as their open tread, lightweight construction and exclusive rubber compound reduce rolling resistance.
Resultantly, the tire rolls easily, using a small amount of energy which makes its fuel average better than many other all-terrain tires.
Pros of the tire:
Improved biting ability on the paved road as well as on off-road terrains like snow, mud, and rocky paths.
It is a highly durable tire with an 80,000 km mileage warranty from the manufacturer.
Also presents the economic advantage of high fuel efficiency.
Has 3PMSF rating and performs well in winter months.
Cons:
Open shoulder slots and deep tread channels make Destination a noisy tire, especially when driving at a higher speed.
Wet traction could be improved.
It has no stone ejectors to deal with gravel fragments on a rocky trail.
So, whats the Take away?
This all-terrain tire is best suited for SUVs and light trucks and can be conveniently used throughout the year.
It works great in rugged terrains and also offers an optimized performance on road.
Being certified for severe winter usage, it gives you reliable traction even in extremely cold weather.
On top of it all, this tire comes with the long-term financial benefits of an extensive replacement warranty and lowered fuel average.