Bridgestone Alenza AS Ultra is coming up with other premiums with it's top of the line performance. The new silica compound provides this tire to now have a greater life, than it's predecessor Alenza Plus.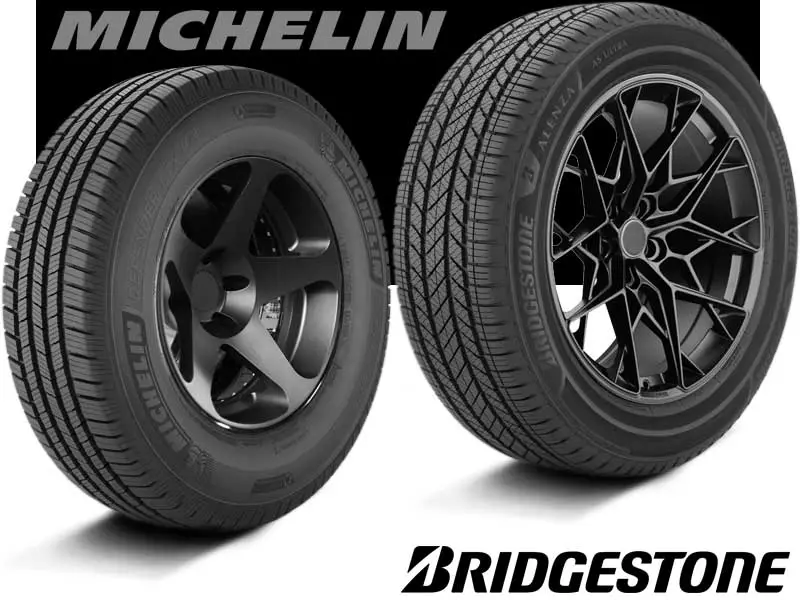 On the other hand, the Michelin Defender as the name suggests, is known for providing durability to the tire so that it can have more life without losing traction values.
So, it's going to be a close one with both these tires. Let's check out their tread pattern first.
Starting with their Designs:
Bridgestone Alenza AS Ultra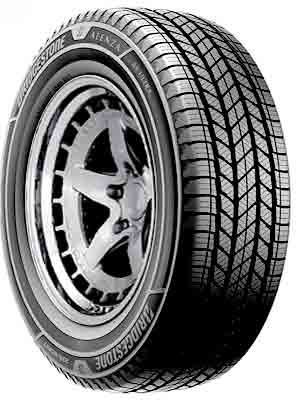 Michelin Defender LTX MS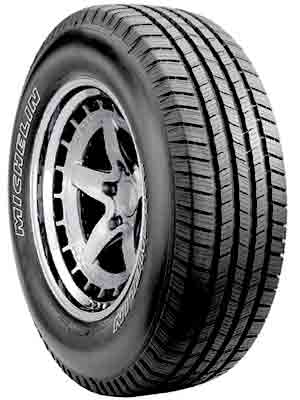 The Bridgestone Alenza AS Ultra offers slanted rectangular blocks in the middle which have chamfered edges, and interlocking siping like the other surrounding two blocks.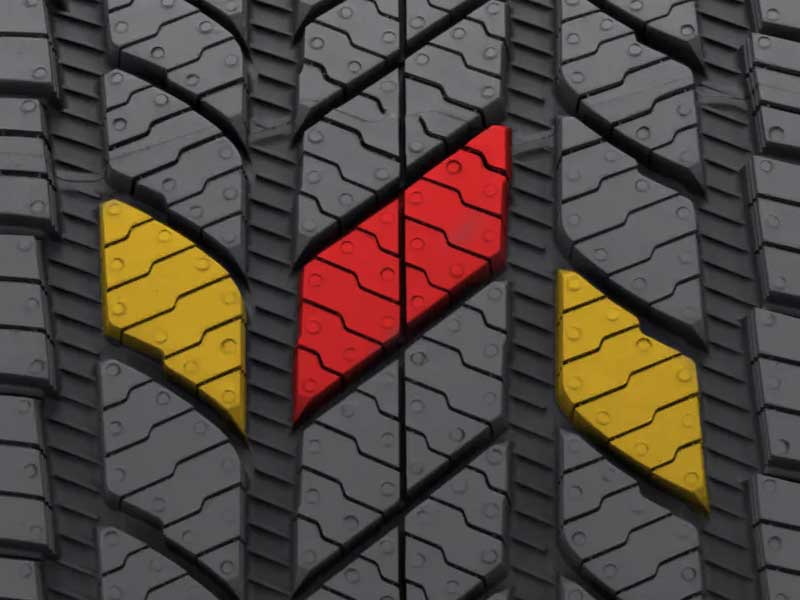 These red blocks are further divided with a longitudinal slit which runs through the exact middle of the tire.
The surrounding blocks (yellow) are mirror images of each other and they make a slight curve to their rectangular shape which makes the offset edges even more prominent.
These offset edges also act as lateral groove biters and this along with the central slanted channels join the 4 longitudinal grooves (which promotes hydroplaning).
All these tread voids are seen with a pattern which is "Quite Track" technology embedded for dampening the tread noise levels.
On the other hand, the Michelin Defender LTX MS features a traditional design with less angled blocks.
And here all blocks (in a similar manner, like its competitor), makes 4 longitudinal grooves and joining them are interlocking lateral ones with same off set edges to them.
But the tire makes wider channels, where the blocks are a little smaller.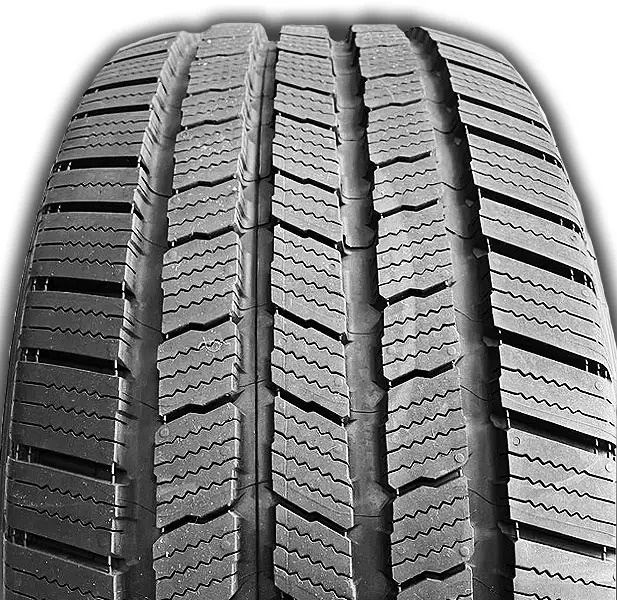 All these blocks are equipped with wave-like full depth siping that also interlock underneath as they are 3 dimensional (they form a more zigzag pattern in comparison).
If we move towards the shoulders, the Bridgestone Alenza features a same block throughout, but due to the tire's symmetric design, these blocks do change in width.
And because of that some blocks just have a single sipe on them (where majority are seen with 2).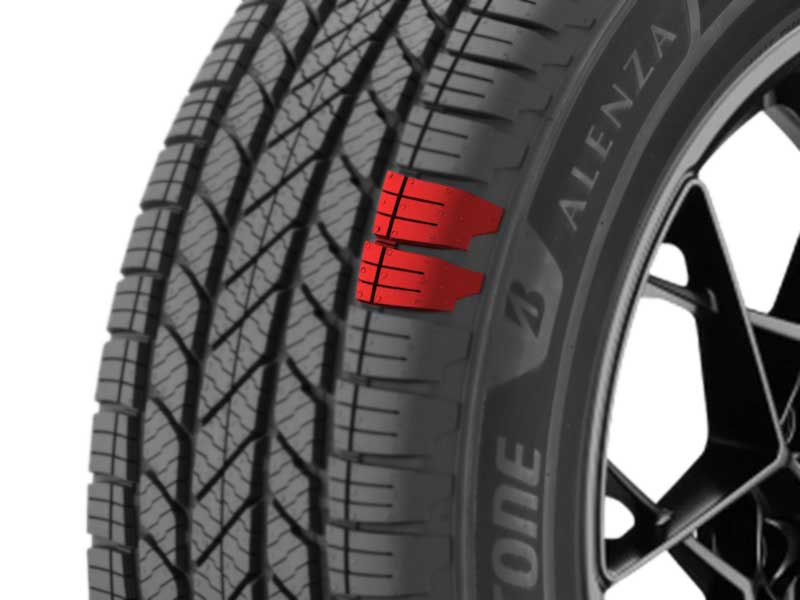 Besides, rectilinear siping (where its wavelike in Defender), these blocks have ridges/connectors in between and this restricts the movement of the blocks.
Moreover, the blocks on their inner margins, have ribs attached to them and their angle on the edges make a very jagged outer 2 circumferential rings.
These outer channels are very though passing as they also connect with snow vices.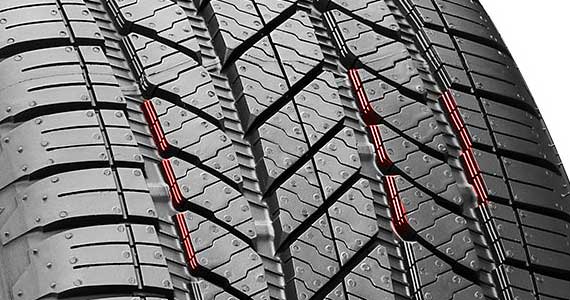 These vices further enhances the biting edges on not just outer two, but the inner longitudinal voids as well.
If we move towards the Michelin Defender LTX MS, the tire features a very straight forward shoulder design (like the rest), where because of the symmetric design this tire also changes width throughout.
All these blocks have wave-like siping (like seen everywhere else on this tire), and have wider lateral voids in between each block.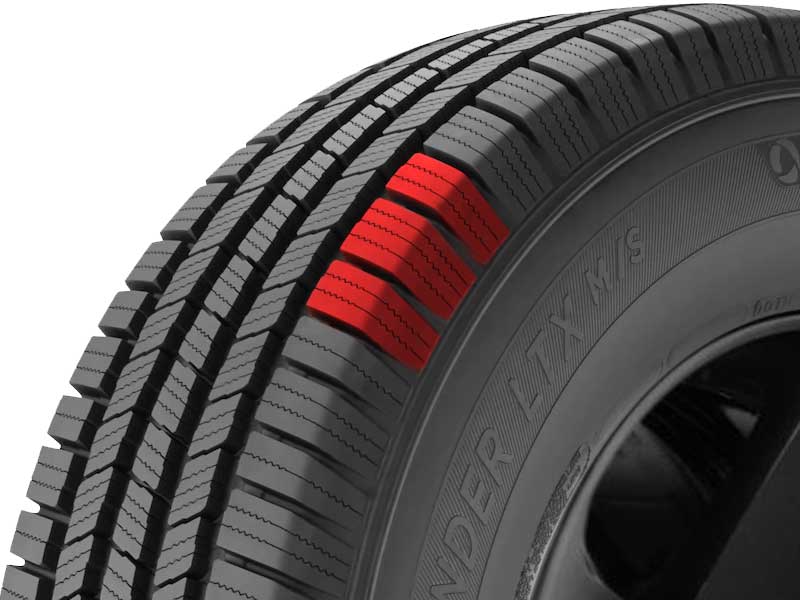 These blocks also extend more to the sidewall in comparison as well.
Moreover, on the inner sides, the tire features offset edges just like the central blocks they are facing at.
If we look at more design facts about these tires…
| | | |
| --- | --- | --- |
| | Defender | Alenza AS Ultra |
| Tread Depth (avg) | 12/32″ | 10/32″ |
| Weight (avg) | 38.8 lbs | 34.2 lbs |
| Width (avg) | 10.3″ | 10.4″ |
| Sizes | 15 to 22″ | 16 to 22″ |
We get to know that Bridgestone Alenza AS Ultra has less tread depth and weight (and also total sizes range).
Let's Talk On-Road Traction:
Both tires show a satisfactory traction on road, but the grip and handling is a little superior on Bridgestone Alenza AS Ultra.
The tire features a silica rich compound, where the softer rubber molds over the road, while the connectors between the blocks (shoulders) and champfered edges don't let the these blocks push others and keep them in place.
The deep multiple siping, (which goes all the way deep down to the base), although divide these blocks further, their interlocking design don't let them break apart.
And so or corners, these sipes work together, acting as small biters, (opening and closing their mouths), munching on the surface, enhancing friction.
The tire also presents with better wet traction as well, as these 3D sipes are more flexible with softer rubber compound, and they squeeze in the water beneath them in a much easier manner.
The Bridgestone Alenza also offers with dual siping, unlike its competitor, and these on the shoulder blocks work along with the wave-like one to offer better lateral traction.
On the other side, the Michelin Defender LTX MS, although can not provide as much traction, it's still not too far off.
This tire also offers soft enough compound for the sipes to work, but with it's wider grooves, it's not able to make greater rubber to surface contact, so the grip is lost.
But the tire does provide you with better aquaplaning resistance, as with wider grooves, combined with more tread depth (2/32″ greater), the tire is able to evacuate a larger volume of water through it's 4 circumferential channels.
Off-Road & Snow:
If we talk off road, the Michelin Defender is able to take up a little more off road abuse in comparison.
The tire's combination of wider lateral and circumferential grooves provide more area for dirt, mud or sand to escape.
It's shoulder lugs which extend a little (more in comparison) to the sidewalls, help the tire in a better way when aired down (especially in sand).
But, you can not still expect these tires to perform like All Terrains, and they can only handle minor off roads, like the beach, or any gravely area.
And although both of these tires are not 3 Peak Mountain Snowflake rated, they are still good enough for handling light snow, and out of them the Bridgestone Alenza AS is better.
Alenza Ultra incorporated a lot of features in this tire to promote snow traction, where the whole purpose is to trap in the snow, as snow to snow contact is better than rubber to snow.
So, the Bridgestone installed an in-groove technology, that besides helping with the noise, also grabs in the snow in it's voids.
The tire for the very same purpose also features snow vices on the sides of all blocks, and these teeth (shown in design section above), hug the snow together.
Moreover the longitudinal slits, on shoulder blocks and in the middle also help grabbing snow further.
All these work effectively to provide better traction values in comparison.
On the other hand, the Michelin Defender, with it's some common features with the other tire, like the in-groove notches (the lateral slits between the blocks), and full depth wave-like siping everywhere, also show a great deal of performance that would not feel disappointing.
The tire is also better with slightly deeper snow as well, as it offer a slightly wider and deeper tread voids.
Noise and Comfort:
The Bridgestone Alenza is one of the best tires, when it comes to a comfortable ride.
The tire with its high silica content rubber provides you with a very well cushioned ride as it's compound is able to soak up the bumps very nicely.
The tire also handles another comfort component, noise, very effectively as well.
As it features 3 main technologies; whisper groove, quite track, and variable pitch, and they all work together to ensure a quieter ride.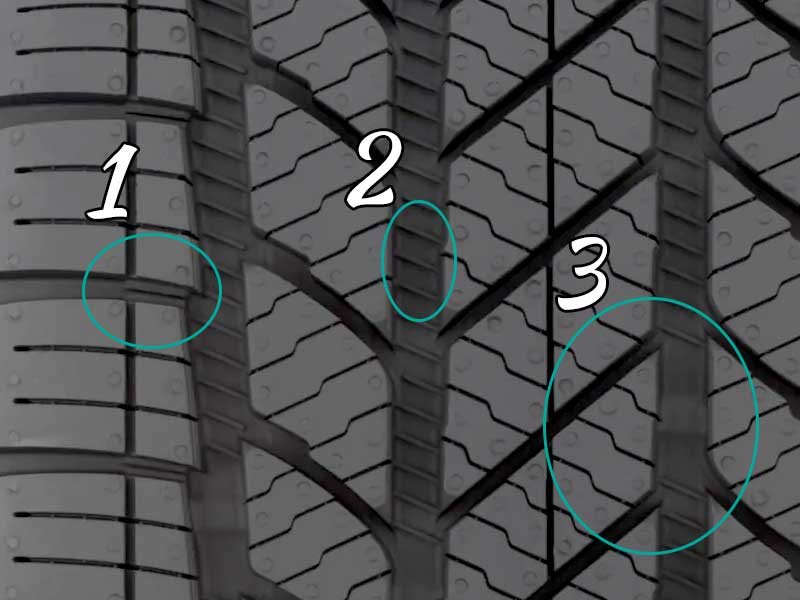 Whisper Groove (marked with 1): Noise is just air hitting/passing through the tread blocks and grooves, and most of the noise enters from the shoulder blocks. So, by placement of the connectors/ridges over there, the tire blocks a little bit of that air to dampen the noise.
Quite Track (marked with 2): Then there is that design that you see within the tire's grooves, this mini tread pattern, resists some air flow (which would otherwise hit the block's sides), and dampens the sound waves.
Lastly, the Variable pitch technology (marked with 3), offers various angles of the tread blocks, which when air hits on them, produces different frequency pitches which don't let the sound waves to sync and amplify.
Durability and Tread Life:
Both tires are equally durable and have 2 ply polyester casing with 2 running steel belts which are than wrapped with a single layer of nylon.
So these tires provide a similar puncture resistance.
As far as the wear is concerned, although the Bridgestone Alenza provides you with more miles warranty of 80k, (compared to Michelin's 70k), the tire would wear faster here.
This has to do with Alenza's multiple biting edges combined with it's softer compound.
The tire also has tread depth (on average) as well, so this also contributes to it's wear.
Michelin Defender on the other side, besides having more tread depth, also features with Max Touch technology which provides the tire with a more uniform wear.
It's EverTread compound also helps against tears as it includes different polymers,resins and silica.
So what's the verdict?
Well, both tires are very competitive, but looks like in the traction and comfort department, Bridgestone Alenza takes the lead.
Out of the two, this tire also provides you with better value for money, as it costs slightly lesser and at the same time presents lower rolling resistance (saving you on gas).
The Michelin Defender on the other hand, is slightly more aggressive in comparison here and the tire would last a little longer.