Continental TerrainContact A/T is specifically designed for Jeeps, SUVs, and crossover vehicles. The particular tread pattern, strong shoulders, and straighter grooves structure help tires to deliver excellent on-road performance with a stronger grip and on-road hydroplaning ability. They seem to be the best choice for on-road driving along with a considerably decent off-road performance.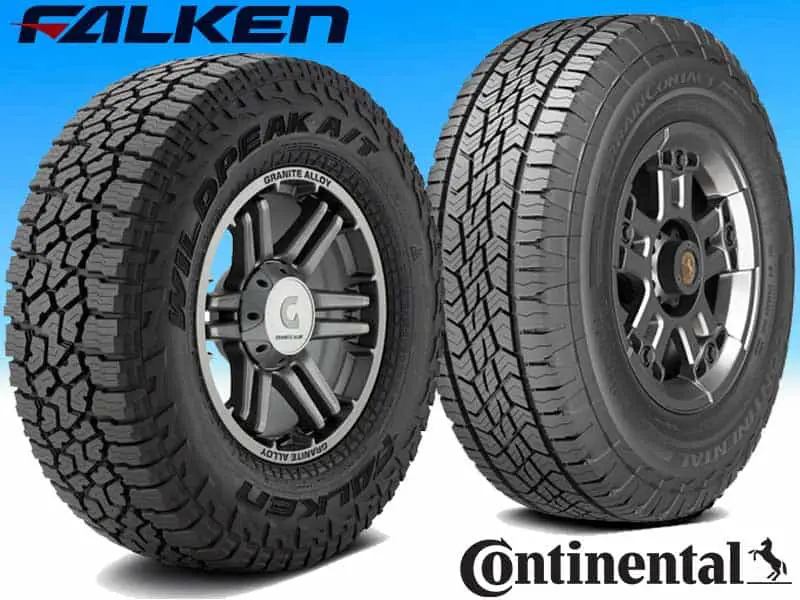 Falken Wildpeak A/T 3W with its distinct and more aggressive tread pattern, curvy grooves, and angular sipes, is designed to provide optimum off-road performance, especially in deep snow. These tires are preferred by drivers who have to deal more with winter conditions. However, their on-road experience is smooth and promising too.
Both tires are premium all-season tires for trucks. They are designed to provide excellent on-road and off-road performance. They are cheaper, comfortable, and fuel-efficient as they offer the least rolling resistance and last longer in comparison to MT and RT tire categories. The economical aspect is one reason why 4 by 4 drivers prefer A/T tires.
Comparing Falken Wildpeak with Continental TerrainContact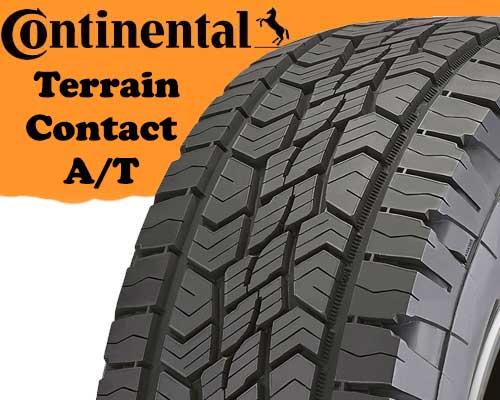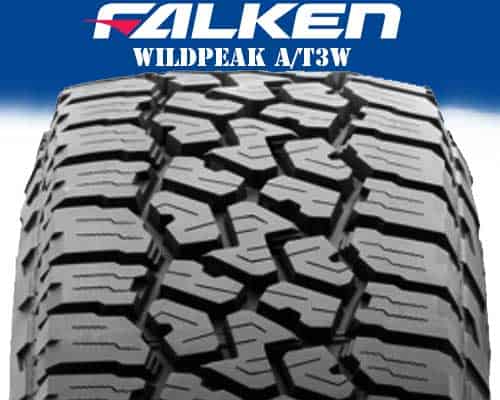 The tread pattern of Continental Terrain A/T is not-so-aggressive and gives very low to no noise on paved surfaces. The tire has visibly strong shoulders to ensure even road surface contact with greater tread life. The open tread pattern also helps the tire to remove any snow or mud which might come its way. The particular structure of tread with well-designed sipes and grooves does not let the snow stuck on the tire surface, making it ideal for people who have to travel on-roads and off-roads in snow conditions too. The Continental Terrain A/T comes in 20 metric sizes with different tread depths and wheel diameters, each useful for the particular type of vehicle.
Falken Wildpeak A/T 3W has an optimized deep tread design combined with a silica tread compound which enables the tire to excel in three important areas: wear, winter, and wet performance.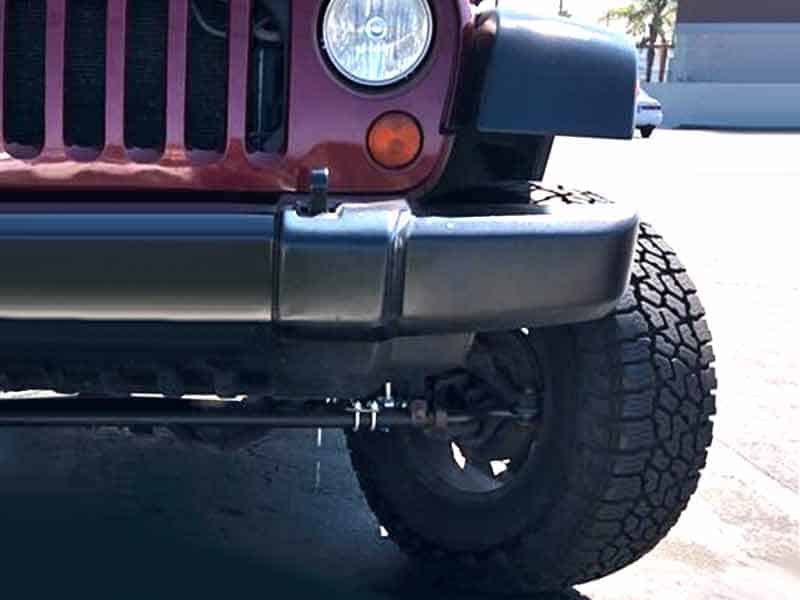 The spaces you can see in the picture in the tread blocks are important in off-road traction as they claw through dirt and mud, clear the tire from debris on every rotation, so they continue to work. The specific design of the tread blocks helps to eject materials stiffen the block while still keeping a large opening to grab ground on every rotation.
Tread Pattern Comparison
TerrainContact A/T tires are designed with not-so-aggressive tread patterns and straighter grooves, to have more contact with the surface, which in result enable the tire to deliver optimum on-road performance. That is the reason why these tires have better handling and on-road grip. The straight positioning of grooves indicates that tires are better with on-road hydroplaning. They are known for their extended durability to conquer dirt, gravel, and even grass because of the traction plus technology used.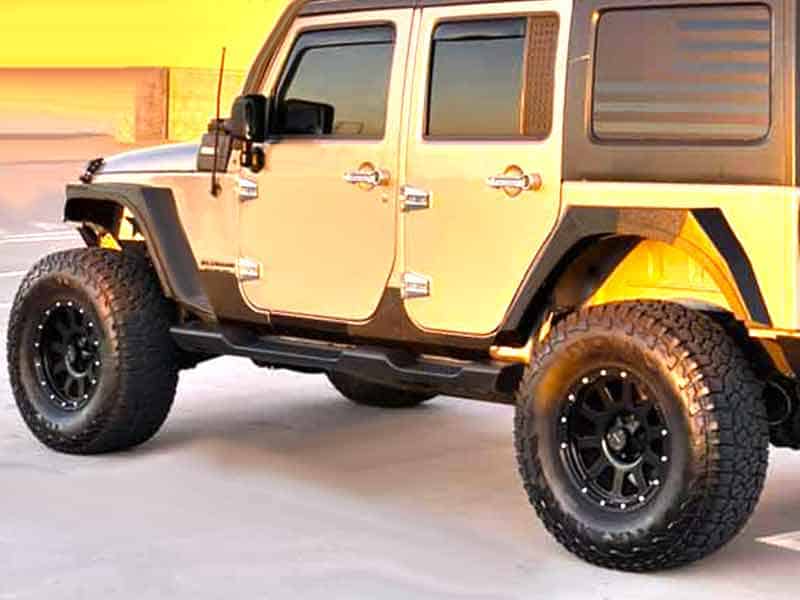 Falken wildpeak AT 3W on the other hand is designed with a more aggressive tread pattern, strong shoulders, and curvy grooves, create less contact with the surface, which as a result enables the tire to have optimum off-road performance with better cornering abilities.
These tires are packed with Falken's patented 3D Canyon technology to provide full-depth sipes and grooves which help in maintaining consistent performance and appearance throughout the life of the tire.
Traction Comparison
The Continental Terrain A/T provides perfect grip and handling of the tire with balance off-road traction with on-road manners. It has been designed on Traction Plus technology to provide exceptional wet traction, making it ideal to deliver optimum performance in sun, rain, and snow.
The deep treads and aggressive shoulders of the Falken Wildpeak A/T 3W provide great traction too and are particularly popular for their traction in harsh snowy conditions. The aggressive upper sidewall and swayed offset shoulders block are to safeguard the sidewall from rocks and limit damage. This particular arrangement of shoulders and sidewalls also provide support and extra traction in airing down the vehicle. Also, the tire is reinforced with a silica tread compound which is used to resist rolling resistance, resulting in improved traction on wet surfaces and ice. The angulated sipes in tread blocks provide evacuation facility and firmness to the tread blocks.
However, they tend to lose performance in soft sand and loose mud.
On and Off Road Drive
The on-road grip of Continental Terrain Contact A/T is excellent because of the specific tread pattern used. It works best on highways with minimum to no noise. They are strongly built and inhibit any punctures and holes. They are well worn and worn evenly. The off-road drive experience, especially in the snow and in wet weather conditions is significant because of the angulated sipes which allow water to escape easily without any performance degrade.
However, one may find traction to be lacking in deep snow and thicker ice.
On the other hand, Falken Wildpeak A/T 3W has been developed to be more aggressive than its counterparts in terms of giving a robust performance in all seasons. It is known to perform well in severe snow conditions. Full-depth sipes and grooves in the tire help with the consistent performance and longevity of the tire itself.
Comfort Comparison
Continental Terrain Contact A/T strikes the perfect balance between off-road traction and on-road comfort with a quiet and comfortable on-road experience. The strong tread shoulders help in maneuvering on the road surface and it boosts the tires' tread life as well. The patented technology from Continental tire uses noise blockers and pattern shifting to provide drivers with a comfortable ride, which is a very strong point in comparing the overall drive experience.
Falken Wildpeak A/T 3W is devised for adventure during any time of the year. It is a combination of strong off-road capability and rough terrain driving experience under all-weather conditions. The particular tread pattern supports the tire in different road conditions and protects it from sharp rocks enhancing vehicle stability as well as comfort.
Comparing Durability
Continental Terrain Contact A/T is particularly durable to conquer dirt, gravel, and grass. The strong shoulders provide even road surface contact with an extended tread life. The staggered offset shoulders block and protect the sidewall from rocks and curb damage while aired down. The traction plus technology provides traction and durability via an open pattern tread and large stable blocks. It has a rim protector as well to ensure the longevity of the tire.
Falken Wildpeak A/T 3W is well known to provide consistent performance with a 55,000- mile limited tread life warranty. The sidewalls of the tire are closer to the bead.
Internally there is a secondary beat apex to strengthen the sidewall, making the tire tougher in this area. This arrangement works like a heat shield too. Lower sidewall is reinforced with a heat diffuser technology to keep the tire cool. It is imperative to the consistent performance of the tire when it comes to carrying heavy loads or payload.
Which one is cost effective?
Both tires are considered to be pretty economical and fuel-efficient. They are not as expensive as some ultra-high performance tires. What we can suggest is if you are looking for something to work well in both on-road and off-road conditions, go for Continental Terrain as its performance is promising in both dry and wet situations. And if you get to use your vehicle in mostly winter weather and the probability of deep snowy weather is more, go for Falken Wildpeak A/T 3W as it is the best in countering with snow and off-road situations. The cost may vary from time to time but they are affordable and get positive feedback from the users who have been consistent in preferring these tires over others.
Quick Summary
A/T tires have been designed to be compatible with all environments, all A/T tires have an M and S (mud and snow) rating and many are shod with the exclusive three-peak mountain snowflake rating for superior ice and snow performance. This rating is vital to look for if you tend to drive in winter conditions.
Continental Terrain Contact A/T and Falken Wildpeak A/T 3W are equally capable and exclusive to deliver optimum performance in on-road and off-road conditions. They are popular among users for their significant durability and fuel efficiency.
However, we have jotted down some important points below to compare the effectiveness and performance before using any of them.
Both provide good dry and wet traction for on-road and off-road surfaces because of the specialized tread pattern used.
 Continental Terrain Contact A/T is less noisy as compared to Wildpeak because special noise blockers are used in the tire.
TerrainContact A/T works well in wet and snow conditions but traction does not seem to work well in deep snow. On the other hand, Falken tire is a game-changer when it comes to providing greater traction in harsh and deep snowy conditions.
Winter performance of Falken Wildpeak A/T3W is a big plus and one unique selling point over its contemporaries.
Continental Terrain Contact A/T is designed to conquer dirt, gravel, and grass whereas Falken Wildpeak A/T3W seems to lose traction in soft dirt and loose sand.