Hankook Dynapro AT2 and Michelin LTX AT2, as the name suggests, are both All-terrain tires that are designed to provide equally balanced traction for both on and off-road.
But due to the presence of relatively wider grooves in Dynapro AT2, it provides better off-road traction while LTX AT2 is more focused on excellent on-road rides due to its higher contact patch.
Dynapro AT2 has an aggressive tread block design with better built-in strength to explore off-road adventures.
Let's dive into details. But first, make sure you also check out the Hankook Dynapro other family members as well.
Comparing Hankook Dynapro AT2 with Michelin LTX AT2
Hankook Dynapro AT2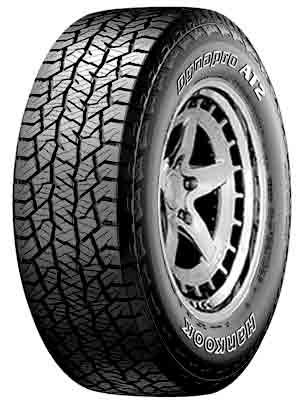 Michelin LTX A/T2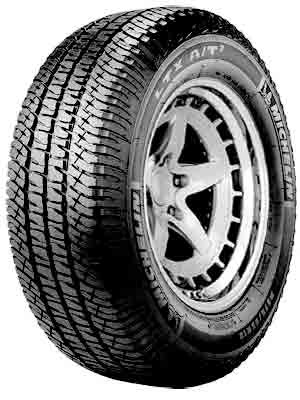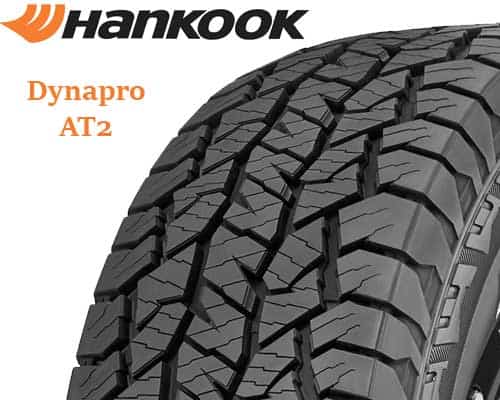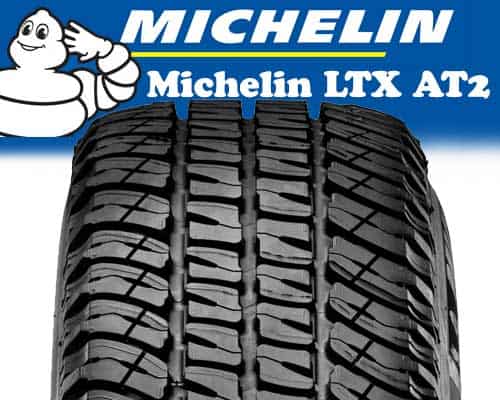 Hankook Dynapro AT2 has an aggressive pattern of tread blocks which are also wider in comparison to its counterpart enhancing its efficiency for an off-road experience.
These wider grooves allow the removal of mud, soft snow, and debris from the tires more efficiently.
Their on-road traction lacks behind due to the presence of wider grooves.
However, the tire does perform very well for on-road wet traction due to the presence of more sipes allowing greater grip.
As the number of sipes is greater but they are not deep which is the reason for their underperformance on icy roads and as the wider grooves decrease the contact patch between ground and tread blocks as well.
The highly advanced shoulder design also provides better handling for off-road rides.
Their stone ejectors are also better for the easy removal of stones and pebbles.
Its noise level is quite on the higher side compared to its counterpart but its high shock dampening ability due to the wider grooves assist them to provide a more comfortable experience on off-road conditions.
Michelin LTX AT2 consists of a computer-optimized tread blocks design with relatively lesser spaced grooves to provide better on-road traction.
Its design is simple and less aggressive compared to Dynapro AT2 having a symmetrical pattern of tread blocks.
It has fewer sipes as compared to Dynapro AT2 which decreases its performance in wet conditions.
The narrow grooves hinder its ability to remove mud, snow, and debris effectively.
But these narrow and deep grooves do allow it to perform better in icy conditions than its competitors by providing more grip due to high contact patch between tread blocks and road.
Its built strength is lower than its peer and has lower treadwear resistance thus employing lower durability.
The noise and comfort level are high when moving on-road but these qualities lag when navigating off-road.
On-Road Traction Comparison
Dynapro AT2 due to its wider grooves has a lower contact area with the ground, decreasing its grip and therefore, increasing its braking distance.
This causes the tire to perform less effectively for dry on-road navigation compared to its competitor.
In contradiction to dry conditions, its performance in wet conditions is more superior to its counterpart due to the presence of a greater number of sipes allowing more water to easily wipe away, making them very useful for rainy conditions. 
Michelin LTX AT2 comparatively has narrower grooves that's why it has better on-road traction than Dynapro AT2.
The narrow grooves mean more contact area between tread blocks and ground allowing much better gripping and thus better experience for dry conditions.
The narrow grooves and lesser sipes allow less water to pass through the tire tread making it less reliable for wet conditions and therefore, they are not preferred for rainy conditions to avoid hydroplaning.
Off-Road Mud Traction Comparison
The Hankook Dynapro AT2 due to the presence of wider grooves will navigate easily on mud terrain as these grooves will help the tire to throw the mud in the backward direction, allowing it to move forward.
The stud grooves are also quite wide, thus assisting its smooth flow in a muddy environment by evacuating the mud, easily.
The Michelin LTX AT2, on the other hand, has narrow grooves allowing mud and debris to stuck between tread blocks.
This makes the tire lose grip and it will not be able to throw the mud backward making it difficult to go forward smoothly.
Snow Terrain Performance of tires:
Dynapro AT2 wider grooves will assist them to move efficiently on soft snow as it allows them to throw the snow backward moving the tire forward with greater grip on snow. However, its traction falls behind when it comes to icy roads.
The wider grooves reduce the contact patch of the tire with the ground and due to the presence of shallower sipes comparatively causes the tire to slip on icy road.
In comparison, Michelin LTX AT2 performance on soft snow lags behind Dynapro AT2 because of narrow grooves.
Due to this, the grip of the tire decreases on soft snow as narrow grooves cause the snow to get stuck inside the tire making it difficult to roll forward.
Its traction on ice is far better than its performance on soft snow because of the higher contact patch and presence of deeper sipes which provides better grip so that the tire moves smoothly and confidently.
Rock terrain Performance:
Stone ejectors present in Hankook Dynapro AT2 are a bit narrow compared to Michelin LTX AT2. These narrow ejectors cause small stones and pebbles to get stuck inside the grooves which further increases the danger of drilling, causing the tire to rupture.
Bolder stone ejectors are present in Michelin LTX AT2 that provide a bonus to its performance as they continuously emit the stones/pebbles from getting stuck into the grooves.
Its built strength will protect it from damages like cuts that hinder its performance and allow the tire to navigate properly on rocks.
Are these tires comfortable?
Dynapro AT2 being more preferred over its counterpart for off-road usage, these tires generate loud noise compared to their competitor.
Wider grooves of the tire indicate that more air will get trapped between the grooves striking back and forth producing inconvenient sounds when moving at high speed on the dry road.
However, the wider grooves act as a shock absorber when navigating off-road, dampening the impacts of jerks and jolts.
This makes them more preferable for off-road conditions compared to on-road usage.
On the other hand, Michelin LTX AT2 due to its narrow grooves is more comfortable compared to its twin as the narrow grooves will allow lesser particles of air to be trapped inside the void between the tread block and therefore produce lesser noise thus making the journey more convenient for on-road terrain.
But when it comes to off-road terrain, the narrow grooves do not absorb the jerks making it uncomfortable for rough surfaces.
Are these tires long lasting?
As Dynapro AT2 consists of wider grooves; hence, it has a lower contact patch, so it has lower rolling resistance which indicates that lower force is required to keep the tire rolling forward.
Lower rolling resistance causes lesser wearing of tread, making it more durable, and, hence, making it last longer.
It also has a strong built which further reduces the wearing of treads.
A durable, three-layered casing assists the tire to prevent it from puncture and any kind of damage during an off-road journey.
The computerize modeled wider footprints assist the pressure to be evenly distributed.
Two steel belts with high strength are forced along with nylon-cap plies further help to improve its durability and assist it for high-speed driving.
The friction of the Michelin LTX AT2 tire is higher due to the greater contact patch, thus, it has higher rolling resistance hence more part of tread will make contact with the ground increasing the wearing of tread blocks and therefore decreasing its durability.
Its tread blocks are compound designed to resist chipping and tearing of the tire to make it durable and comfortable (but lesser than Dynapro AT2).
What do we know:
Both are All-terrain tires.
Dynapro ATX is better for off-road experience while LTX AT2 is more focused during on-road.
Dynapro ATX performs better in wet conditions due to the greater number of sipes.
Wider grooves of Dynapro ATX remove mud and soft snow more efficiently.
LTX AT2 performs better on ice due to narrow grooves.
Dynapro AT2 provides better durability and tread wear resistance.
Dynapro AT2 is higher priced than its counterpart.