This touring tire is an affordable option that provides good traction throughout the year. Due to the optimized tread pattern, it presents a proficient performance on both dry and wet paths.
Michelin has used its innovative rubber and tire technologies to mold and assemble this tire.
That is why it provides good traction and a long mileage as well.
On top of it all, it is an eco-friendly tire owing to the specialized Eco-focused manufacturing technology.
Innovative technologies of Michelin Defender T+H:
Michelin Defender T+H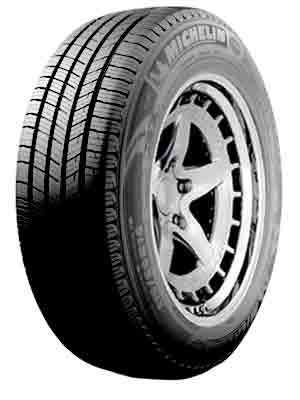 Michelin has utilized its various patented technologies in the manufacturing process of Defender T+H.
Here is a brief description of these innovative mechanisms.
Total Performance Eco-focused technology:
It is constructed using an Eco-friendly manufacturing method to reduce the carbon footprint and contribution of tires to environmental pollution.
Max-Touch Construction technology:
This technology broadens the contact patch of the tread, making it grip stronger and provide better road traction.
IntelliSipe technology:
These zigzag sipes offer multiple benefits as on one hand they make water wiping action highly proficient and on the other offer enhanced biting efficiency on soft snow.
The unique characteristic of these sipes is that they interlock below the surface to increase block rigidity and contact patch of the tread.
Evertread Rubber technology:
Michelin has formulated a strengthened polyester rubber specifying high endurance against frictional heat and other wear factors. That is why it lasts for a long duration and is named as Evertread Rubber.
Silica infused tread polymer:
To improve wet traction and make tread rubber damage resistive, Michelin has included a high content of silica enhancements into the rubber compound of the Defender T+H.
Resultantly, it allows safe driving in the rainy season and prevents the tire from weather damage in extreme temperatures.
Features of Defender's Tread: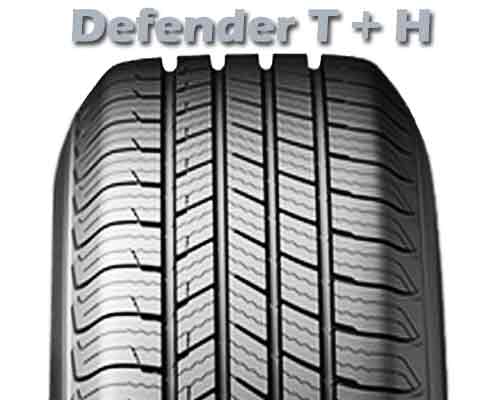 Defender T+H has an asymmetrical and non-directional tread pattern comprising three ribs and four grooves running circumferentially between its bulky shoulders.
Ribs are formed by independent, square-shaped, small blocks which are arranged closely on the tread. Horizontal grooves among them are slanted and narrow.
Furthermore, each of its tread blocks contains two full-depth sipes marked using Intellisipe technology.
Its shoulder blocks are bulky and are arranged with narrow voids in between. Plus, these are also marked by zigzag sipes.
Is the Michelin Defender a good tire?
On dry road
Defender T+H shows a strong grip and high handling efficiency on pavements as its Evertread rubber and optimized design lead to a consistent road-tire contact.
Besides compact block placement, interlocking IntelliSipes also make blocks more rigid which also leads to better grip.
On wet road
It provides a firm grip and stabilized steering response on a wet road taking the advantage of Intellisipes technology, increased tread depth, and silica-enhanced tread rubber.
Interconnected tread channels and IntelliSipes repel water from the paved surface.
Hence, its bulky tread is able to connect with the road directly, offering stable wet traction.
Besides that, high silica content in its rubber composition also enhances wet and ice grip.
In winter
During winter, Defender showed us a balanced performance.
Its ice traction was favored by silica tread and Intellisipes.
But while roaming about a snow-covered area, its efficiency is moderate as snow-biting ability is somewhat reduced due to narrow spacing between blocks.
Hence, you cannot use it on paths covered with a thick layer of snow.
Nonetheless, it offers a reliable experience as silicated rubber, zigzag sipes, and optimized tread depth do add some biting efficiency, making its grip on snow reliable to an extent that it gets an M+S rating.
For Sporty driving
Being a touring tire, Defender T H is not going to give you the best sporty performance.
However, with H rated tires you can speed up on highways to some extent but remember to not go over 130mph or you would be risking yourself and your vehicle.
Below this speed, it will give you good cornering traction and impressive performance but in the end, you cannot sport without speed.
So, it gets a low score for this category.
Off road
It is not recommended that to use Defender T+H for going off road as its non-aggressive tread pattern is created to perform only on paved paths.
Plus, its tread depth is moderate and can handle only a small amount of mud.
And in rock terrain, it is at risk of cuts and punctures because it has no stone ejection elements.
How long do Michelin Defender T H tires last?
Due to exclusive technologies, this tire is highly durable and carries a high UTQG treadwear rating reaching up to 820 A B.
Its tread is formed using a durable Evertread rubber compound in which high silica content not only accounts for enhanced wet traction but also increases the tensile strength of tread rubber, making it highly wear resistive.
Moreover, its tread pattern is optimized for stability and lesser frictional wear using Max-touch construction, and its internal structure is strengthened using multiple layers of high strength materials.
The thing that impresses us is that in addition to this robust construction, its durability is also backed by a long manufacturer's warranty that remains valid until you have 80,000 miles on these tires.
Plus, you also get uniform wear and workmanship defects replacement warranties.
Is Michelin Defender T+H quiet Enough?
Yes, Defender T+H is quiet and more comfortable than other competitors.
You only hear a minimal tire sound on streets and drive comfortably as its optimized silica-enhanced tread absorbs most of the vibrations, making the ride more stable.
Besides that, its multi-oriented voids optimized with Comfort Control technology provide less vacuum for sound resonation, ultimately reducing the production of tire noise.
Things we love about this tire:
Defender provides stable traction on the dry roads which is due to its compactly designed tread.
It shows enhanced wet performance as well, due to silica-infused tread polymer and efficient siping pattern that ensures safety from slip-offs.
Its optimized tread design minimizes sound production while rolling.
The exclusive rubber composition of this tire leads to uniform and slower treadwear, making the tire last for a long time with good traction qualities.
Things we don't like:
The tire loses its traction on deep snow. This is due to a low void ratio of its tread design rendering the tire less useful for severe winter usage.
At the same time, the bulky tread results in high rolling friction which ultimately leads to poor fuel average.
Compare it with others:
Bottom line
Michelin Defender T+H is an asymmetric touring tire optimized through efficient technologies to ensure a stable on-road traction in all seasons.
Its longevity score is high and it comes for an affordable price, offering a good value for the money.