Being a touring tire, Michelin Defender T+H fully authorized steering response, certifies excellent handling and promotes its hydroplaning resistance. Its smooth tread allows quiet and comfortable navigation even on bumps.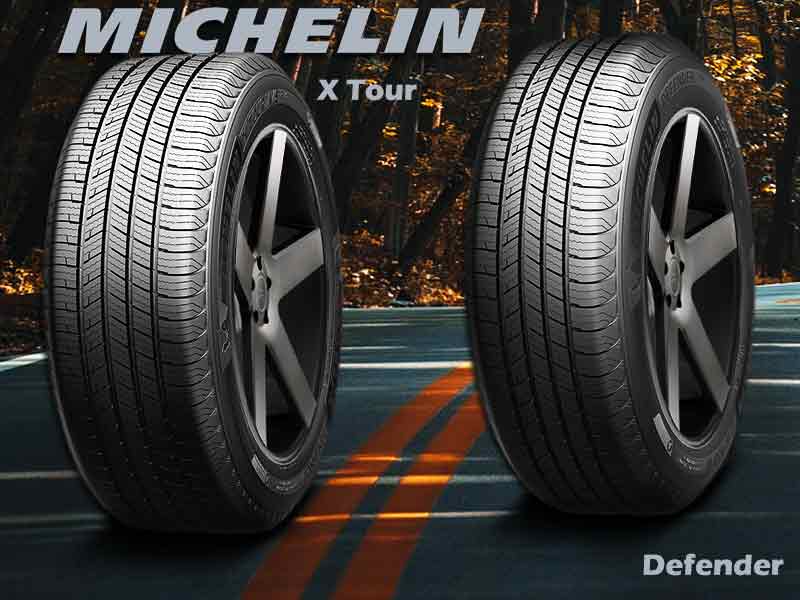 On the other hand, the Michelin X Tour's tread compound also ensures all-season safety. It is also listed as a touring tire, highlighting quite comfortable experiences on highways. It is highly fuel-efficient as its structure is modified with special technologies which reduce energy consumption.
As compared to X Tour, the Michelin Defender T+H takes the lead as it gives better traction on dry, wet, and snowy surfaces. It gives better steering management and cornering stability as well.
Michelin Defender T+H Detailed Review.
For this version of Michelin Defender (see the other versions here), traction was better even when we compared it with the Michelin Crossclimate 2 and the Michelin Latitude Tour HP.
Tread Appearance of both:
Both tires look very similar when it comes to their design.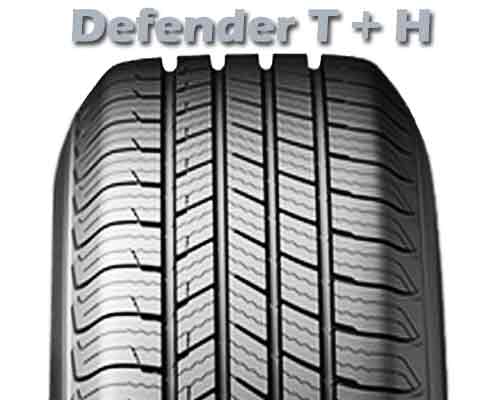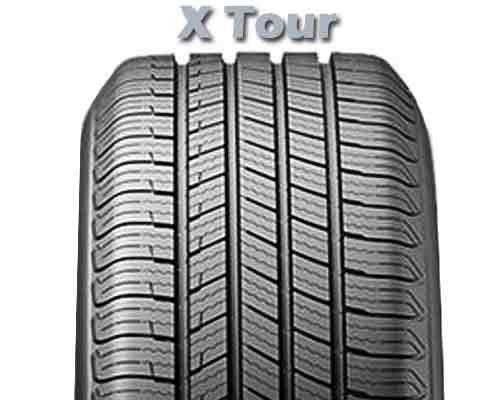 The MaxTouch composition of the Michelin Defender T+H awards it a longer tread life.
It includes EverTread compound in its composition which promotes its stability and rigidity.
It has three middle tread block rows, separated by narrow grooves between them.
These blocks have 3D zigzag sipes on them which grants it excellent traction on wet roads.
Its IntelliSipe technology provides highly efficient sipe distribution over the tread.
Its bulky shoulders/sidewalls protect the tire while cornering, granting an excellent steering response and its shoulder lugs are efficient in providing  resistance against hydroplaning while taking turns.
Moreover, it is highly fuel-efficient due to its MaxTouch construction and saves about 65 gallons of fuel throughout the tire's life.
It also includes silica in its composition and the Green X benchmarks which makes it eco-friendly.
The Michelin X Tour, on the other hand also offers MaxTouch construction with IntelliSipe technology and specialized architecture.
It also has three central tread block rows, giving rise to a series of small blocks separated by narrow grooves.
The blocks are provided with 3D zigzag sipes over them which efficiently function in evacuating water.
Its flat tread lacks prominent biting edges which reduces its traction on snowy paths.
Moreover, silica is its main tread compound.
Due to the shortage of its availability, it has a comparatively lower selling ratio.
Which Tire is Better in Road Grip?
Both tires offer equal void ratio and tread depth.
Moreover, they are equipped with IntelliSipe technology, ensuring their excellent performance on dry and wet paths.
So, their road grip cannot be compared by their external composition.
The Michelin Defender provides a comparatively stronger grip on dry paths due to its better uniformity.
On wet surfaces, its smoother tread gives better traction, allowing it to take the lead.
The same is the case with its traction on ice. Its smoother tread compound creates a stronger grip.
Moreover, it is M+S rated tire and provides more aggressive biting edges which bestows it with better grip on snow.
Whereas, the Michelin X Tour lags behind its peer in the case of dry grip due to its lower uniformity and higher weight which increases the braking distance.
Its sipes are efficient in evacuating water but its comparatively rough tread reduces its traction on wet paths. Similarly, its lower uniformity reduces its traction on ice as well.
However, it is also enlisted as an M+S rated tire but can't beat its counterpart due to its less bold biting edges.
Which tire wins the Handling Comparison?
Comparatively broader shoulder lugs of Michelin Defender make it superior to its competitor in the case of steering management on dry surfaces.
Its highly effective sipes along with well-grooved shoulders award it a better handling on wet surfaces also.
On icy roads, it again dominates as its shoulders provide better stability and handling.
Also, on snow, its more invasive biting edges provide it with a smoother and vigorous steering response.
Whereas, Michelin X Tour due to its less grippy shoulder blocks lags behind its peer in providing smooth handling on dry surfaces.
Its sipes are, however, equally efficient as that of its counterpart but its comparatively constricted shoulder blocks reduce its stability on wet paths.
Similarly, on icy roads, it is second to its rival due to its leaner shoulder grooves.
Also, its less efficient shoulder lugs affect its handling on snowy paths.
Comparison of Hydroplaning Resistance
Defender is provided with well-grooved channels and highly effective 3D active sipes but these features are not the basis for its better hydroplaning resistance as its competitor also offers equally efficient grooves and sipes.
However, Defender's smoother tread provides better grip and handling over wet paths.
Hence, it offers better hydroplaning resistance in comparison with its contestant.
X Tour is also provided with highly efficient 3D sipes and grooves which prevent hydroplaning up to some extent but its tread is comparatively rough which results in its weaker grip on wet roads, making it more slippery.
Hence, it is less stable on wet surfaces and offers lower hydroplaning resistance.
Comparison of Noise and Comfort
Both tires have almost equal groove width and produce almost negligible noise.
So, their comfort comparison cannot be based upon their groove width.
Defender is provided with a Comfort Control Technology which is not present in its peer. This ensures that the tires tread pattern is highly uniform which allows it to be quieter.
Moreover, due to its EverTread Composition, it is capable of bearing bumps, giving a more comfortable ride.
X Tour lacks comfort control features. It is provided with a weaker composition and softer tread which reduces its comfort level.
Moreover, it can't bear jerks as effectively as its counterpart due to its weaker tread.
Tread Compound and Structure Comparison
Featuring MaxTouch composition, Michelin EverTread compound is introduced in Defender which provides it legendary toughness and rigidity.
Moreover, this compound enhances its wear resistance and promotes its durability.
This tire has three central tread rows with lean grooves and full-depth 3D zigzag sipes.
It is equipped with IntelliSipe Technology for highly efficient sipe distribution.
Moreover, Its shoulders are provided with highly efficient biting edges.
X Tour also undergoes MaxTouch composition. Its IntelliSipe technology allows it to endure bad weather without reducing its tread life.
Silica is its main tread compound. It also has three central tread rows.
Moreover, its patented shoulder lugs are at a greater risk of wearing and tearing due to its weaker composition and lack of wear-resistant technologies.
| | | |
| --- | --- | --- |
| Tread Comparison | Defender | X Tour |
| Composition | MaxTouch | MaxTouch |
| Tread Compound | EverTread | Silica |
Durability and Treadwear
Both tires offer the same degree of rolling resistance and treadwear but the stronger composition of Defender grants it a bit longer tread life.
Its UTQG rating is 820 A B as it has received an "A" grade for grip and a "B" grade for temperature resistance.
Its treadwear warranty is extended to 90,000 miles and it offers a manufacturer's warranty of 6 years.
On the other hand, X Tour due to its comparatively weaker tread is slightly less durable.
Its UTQG rating is the same as that of its counterpart (820 A B) but its treadwear warranty is up to 80,000 miles due to its weaker composition.
Moreover, like all Michelin tires, its manufacturer's warranty is fixed to 6 years.
| | | |
| --- | --- | --- |
| Durability Comparison | Defender | X Tour |
| UTQG | 820 A B | 820 A B |
| Treadwear Warranty | 90,000 miles / 6 years | 80,000 miles / 6 years |
| Uniformity Warranty | 1 year first 2/32" | 1 year first 2/32" |
| Manufacturer's Warranty | 6 years | 6 years |
Which tire is less expensive?
Defender is slightly expensive compared to its competitor.
Its higher price is due to its better performance on dry, snow, wet and ice-covered paths.
Moreover, its stronger tread compound and longer tread life led to its higher cost.
X Tour is cheaper compared to its peer.
However, it can also satisfy you in different conditions but offers weaker composition and is less comfortable as compared to its counterpart.
Considering all of the above:
Defender:
Has a better grip and handling on dry, wet, icy and snowy roads.
Offers a better hydroplaning resistance.
Has a stronger tread composition and is more durable.
Is quieter and more comfortable.
X Tour:
Provides decent traction on wet and dry paths.
Is cheaper.