Both of the contenders are track & competition tires designed for driving devotees participating in track days, high-performance driving institutes, and road racing. They are summer tires with TQ having an asymmetrical tread design while R888 has a unidirectional V-shaped tread pattern. Both of them have DOT certification which implies that they comply with U.S. Department of Transportation.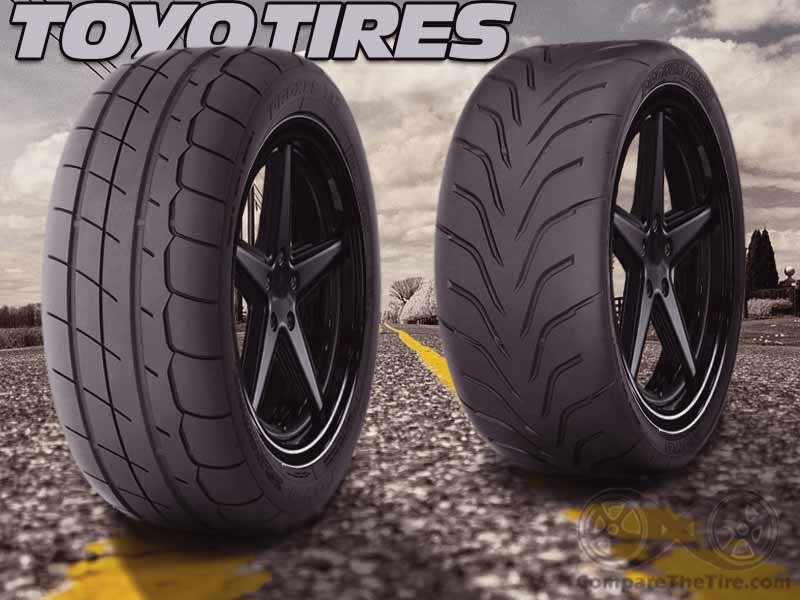 TQ (Top Qualifier) is a Drag Racing Radial tire designed through a unique tread rubber compound for decent durability and fuel efficiency. Besides having an advanced anti-hydroplaning ability, its load-bearing capability is also phenomenal.
R888 is a Racetrack & Autocross tire that features an R-compound tread for enhanced grip and handling on dry pavements. Besides being a durable tire, it also delivers a noiseless and comfortable ride to its passengers.
Compared to R888, TQ offers superior hydroplaning resistivity, fuel efficiency, and load-bearing capacity. While R888 takes the lead in the section of dry grip, dry handling, and offering a quiet ride. Both of them go side by side in terms of durability, comfort, and wet traction.
Comparison Table
| | | |
| --- | --- | --- |
| Specifications | Proxes TQ | Proxes R888 |
| Tire Type | Track & Competition tire | Track & Competition tire |
| Tire Season | Summer Tire | Summer Tire |
| Tread Type | Asymmetrical | Directional |
| Available Sizes, Inches | 16, 17, 18 | 14, 16, 18 |
| Application | Passenger & Sports cars | Passenger & Sports cars |
| Uniformity Warranty | First 1/32″ of wear | First 1/32″ of wear |
| Material and Workmanship Warranty | 5 Years | 5 Years |
| UTQG Rating | 0 B B | 100 AA A |
Tread Design
With an asymmetrical tread design, TQ has four circumferential grooves of diverse widths, and one of its corner grooves is having a zigzag pattern with a varying width.
There are two ribs with wide notches and one central block column with angled lateral grooves on it. There are no sipes on it whatsoever.
Its internal shoulder blocks are relatively larger and have wide & long lateral grooves on them compared to its external ones.
R888 is having a unidirectional V-shaped tread design to enhance its contact patch and limit its void ratio. There is continuous contact in the center for the purpose of better grip and braking performance.
Its semi-slick shoulder areas serve the purpose of delivering highly efficient steering operation.
Its overall contact path is relatively higher compared to its competitor.
Like its opponent, it doesn't seem to have any siping pattern on it either.
Road Grip
The grip performance of any tire on a dry road is determined by its contact patch. Since the void ratio of TQ is comparatively high due to its wide circumferential grooves, so it would have a relatively low contact patch and hence would be inferior to its peer. Having no sipes on it makes the wet grip performance of TQ quite low.
Since the contact patch of R888 is relatively higher due to its unidirectional V-shaped tread design and there is also a considerable continuous contact in the center, it would outperform its competitor in the race of dry road grip. Like its competitor, it would also have poor wet grip due to having no siping pattern.
| | | |
| --- | --- | --- |
| Parameter | Proxes TQ | Proxes R888 |
| Dry Grip | Moderate | High |
| Wet Grip | Low | Low |
Road Handling
The shoulders of a tire are the deciding factor in its handling performance. Having decent shoulder blocks with moderate grooves makes the handling ability of TQ on dry roads quite admirable. But it would still be inferior to its competitor. Since there are no sipes on its shoulders as well, it's handling ability on wet or slippery surfaces would be poor.
On the other hand, the dry handling ability of R888 would be very reputable since its semi-slick shoulder would offer a relatively higher contact patch during steering operation. But like its competitor, it would also not provide a very good wet handling performance since it lacks any sipes on it as well.
| | | |
| --- | --- | --- |
| Parameter | Proxes TQ | Proxes R888 |
| Dry Handling | Moderate | High |
| Wet Handling | Low | Low |
Hydroplaning Resistivity
The hydroplaning resistivity of any tire depends upon its void ratio. Because the high void ratio would allow more water/mud to encapsulate inside the tire and throw it away from the vehicle, for the purpose of anti-hydroplaning. There are wide circumferential grooves, lateral grooves, and notches on the TQ which makes its relative void ratio relatively much higher than its competitor, which only has V-shaped grooves. Hence its hydroplaning resistivity would be comparatively far better than R888. But that doesn't mean that the directional V-shaped grooves of R888 don't contribute to its anti-hydroplaning ability. It would be pretty good, but comparatively lesser than its peer.
Durability Comparison
The durability factor is heavily dependent on the tread depth of a tire since it would determine the survival period of a tire before it completely wears off. Having equivalent tread depth indicates that both of the competitors would offer identical durability and would last for almost the same period.
| | |
| --- | --- |
| Contenders | Tread Depth |
| Proxes TQ | 6.3/32" |
| Proxes R888 | 6.3/32" |
Comfort & Noise
A tire with more tread depth is usually considered to be more comfortable. It is because a thicker tread would offer better shock absorbing ability on bumpy or irregular pavements. It puts more cushion between the road and the passengers. Since the tread depth of our contenders is identical so we can state that both of them would offer comfortable journeys.
Having a high void ratio not only allows water to encapsulate for anti-hydroplaning but also more amount of air as well during fast-speed driving. Air gets trapped inside the grooves and produces a humming noise by continuously colliding with the internal walls of the tread blocks. Since the TQ has a relatively high void ratio, so it tends to produce noise during high-speed driving in comparison to its rival.
Rolling Resistance and Fuel Efficiency
The phenomenon which hinders cars' movement over the road, due to friction, is known as the rolling resistance. It affects the fuel consumption efficiency of a vehicle by a considerable amount. And it is directly related to the contact patch of the tire.
Since R888 has a high contact patch, so it tends to have a relatively high rolling resistance as well. This would impact its fuel consumption and makes it less fuel-efficient compared to its rival.
Load & Inflation pressure Comparison
By having a good look at the table given below of the contenders' maximum load-bearing capacity at their respective inflation pressure, we can say TQ wins this race. It is apparent that it can carry more amount of load at relatively low inflation pressure.
| | | |
| --- | --- | --- |
| Contenders |  Max. Inflation Pressure (psi) | Max. Load (lbs.) |
| Proxes TQ | 44 | 2094 |
| Proxes R888 | 5 | 1609 |
Quick Summary
Both competitors;
Are track and competition tires designed for the summer season.
Offers 5 years of the standard warranty.
Are equal matches in terms of durability and comfort.
Toyo Proxes TQ;
Provides superior hydroplaning resistivity.
Delivers better fuel efficiency.
Can carry more load.
Toyo Proxes R888;
Provides better grip and handling on dry roads.
Offers a quiet journey compared to its competitor.