Bridgestone Ecopia is great for drivers who want more miles out of each tank of gas and less mess for Mother Nature, whereas Bridgestone Turanza is great for drivers who crave comfort.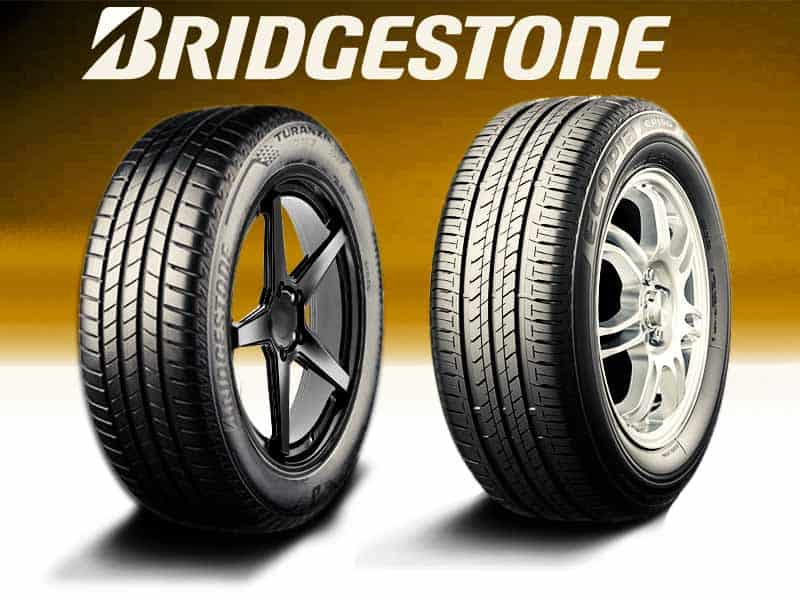 Now let's look at these tires in a bit more detail to make a fair comparison.
Bridgestone Ecopia  Tires – A Brief Overview
Bridgestone Ecopia tires are low rolling resistance tires. This means they're engineered with fuel efficiency in mind.
Under the right circumstances, Ecopia tires could get you up to an extra 20 miles per tank, now we see that what makes them unique
A special fuel saver sidewall compound helps lower rolling resistance (the energy it takes for the tire to turn). As a result, Ecopia tires require less effort to keep in motion than regular tires.
Less natural resources are used in the manufacturing process since about 5% of the tread compound in an Ecopia tire is made from recycled tires.
NanoPro-Tech and silica-infused rubber minimize the interaction between polymer, filler materials, and other rubber chemicals at the molecular level. In short, this type of enhanced rubber helps reduce carbon dioxide emissions and improves fuel efficiency.
Circumferential grooves in the tread design disperse water to help prevent hydroplaning.
Ecopia tires are well-suited for sedans and minivans, in part thanks to their all-season performance, smooth ride, and confident handling.
Compare Different Variants of Bridgestone Ecopia:
Bridgestone Turanza Tires – A Brief Overview
Bridgestone Turanza tires, a first-class choice for every occasion from daily commutes to cross-country road trips.
Turanza tires absorb road noise and provide a smooth, quiet, and reliable ride in both wet and dry conditions.
Plus, they're built to deliver long-lasting performance for 80,000 miles, whether they're installed on a sedan or the family SUV.
The Bridgestone Turanza Radical Tire, introduced in 2019, replaced the Turanza Serenity Plus.
The Quiet Track tire offers a 20% improvement in wet traction and 44% improvement in snow traction versus the Serenity Plus tire.
The Quiet Track tire also offers extra features such as:
Quiet Radical technology (a Bridgestone-exclusive) that reduces high-frequency noise for a quieter ride.
Comfort Cruise technology leverages a rounded contact patch and special tire casing shape to reduce road vibration for a smoother, more comfortable ride.
Hydro Radical technology uses full-depth tread grooves and open shoulder slots to disperse water and reduce the risk of hydroplaning.
Edge Performance technology, which is Bridgestone's proprietary tread design that helps boost vehicle maneuverability over the tire's 80,000-mile lifespan.
More Bridgestone Turanza Tire Comparisons:
Dry traction comparison
With the capacity to take the win, the dry traction of both the Bridgestone Ecopia tires and the Bridgestone Turanza tires is outstanding.
This is credited to the new advanced functionality that takes pavement skills to the next level, including traction.
When you consider their inexpensive price tags, the dry traction of each tire seems even more remarkable.
The tires provide an extremely strong steering control when it comes to the Bridgestone Ecopia manufacturing, which is helped by the involvement of precision sipes on the tire.
But at the other hand, the Turanza represents a collection of its micro Vibram soles, dorsal loops, and broad shoulders of the tires to provide greater durability on a normal track.
Wet traction comparison
Again, the Bridgestone Ecopia takes the lead by at least 15 when evaluating the wet traction of the Bridgestone Ecopia tires and the Bridgestone Turanza tires, which is the potential of the tries to withstand the road in wet conditions.
Thus, according to our analysis, on wet roads, even on more efficient vehicles, the tires pull through with compelling traction.
It was because the formulation of strong organic material, which is the product used to create the Bridgestone Ecopia tires tread, lets the tire grasp the wet roads through using the water extraction holes.
The modern strategies, from the other contrary, utilize their holes and radial openings to extract water from below the tire and strengthen the wet roadway.
While this Bridgestone Ecopia would not be a complete colossal failure of traction on wet roads, when it comes to performance in light rain, there is a small inconvenience.
There's a need to hold back sometimes during rain to make up the lost traction when driving on wet roads has been identified by people who drive the Bridgestone Turanza, so it's encouraging to see the development in the Bridgestone Ecopia.
Both tire's overall wet traction is not the maximum available on the market, but it still accurately represents that of professional tires for a reduced rate, strengthening their reputation just like all tires.
Snow traction comparison
I must point out before moving into the traction of these tires on winter weather roads that most of these are not winter tires, however all tires, so the traction of both tires sounds great for roads that are moderately snow-covered maybe more.
Whenever people live in a region where it's very normal to snow, then rather than looking at appropriate winter tires, at that situation.
Currently, again here, the Bridgestone does significantly better than the Bridgestone Taranza in the traction of snow when gazing at their winter reliability.
As compared to traction on blizzard conditions, the traction between both tires is marginally lower on snow and in winter weather conditions.
The Bridgestone Ecopia contains a unique tread pattern on the initial two rows to provide traction in snow showers, which incorporates a twig along with scraping sides that for an enhanced grip are present on the traction blocks.
Please remember that the stability and steering duration are often adversely impacted, along with the minimal traction that these tires have throughout snow. That's always been the case with the Bridgestone Taranza, while the tires provide a minimal amount of traction due to the extreme brace sips that provide the tire with a scraping surface to hold on the snow, the travel time in the snow is enhanced and the handling is lowered.
Conversely, it shouldn't be too much of a concern if people must drive through restricted snow with one of these tires.
Hydroplaning Resistance Comparison
The Bridgestone Ecopia tires have an upper hand over all of the Bridgestone Taranza radical tires when it comes to hydroplaning susceptibility by at least 11 percent, as per the graph above.
The susceptibility of the tires to hydroplaning is their best way to control the deterioration of pavement interaction during driving. As the vehicles' traction improves, their sensitivity to hydroplaning also raises.
Utilizing radial grooves and configured water lines, the Bridgestone Ecopia eliminates this hydroplaning trend, allowing water to be immediately drained from underneath the tires when operating on wet roads while retaining full chassis when necessary.
This is incredibly beneficial as riding on slippery roads can also become a huge inconvenience in stormy weather. But at the other contrary, Bridgestone requires use of its diverse transverse ridges, which have been evident to expel water and avoid aquaplaning in two directions of the tire.
Interestingly, including during exceptionally freezing snowfall, the Bridgestone demonstrated amazing resistance to hydroplaning.
So, because both tires do not collaborate well enough on wet roads because they do on empty roads due to relatively diminished traction, some are still comfortable riding on wet roads by developing a proper susceptibility to hydroplaning.
The ride comfort of both tires
Through this stage, leading to decreased sound levels, it goes without saying that the Bridgestone like always does better in this regard of ride comfort by 9 percent than the Bridgestone Taranza. According to the internal construction of the tires, the drive is convenient throughout the Bridgestone, which further features a multiple fabric case that provides more convenience.
Several other reports have also claimed that the fuel economy accurately reflects that of the luxury tire, even on uneven surfaces on the roads, for the much-discounted cost.
The Bridgestone makes use of a specific fabric body frame, along with large steel belts and a simple lightweight cover when it comes to traveling convenience.
Noise level comparison
When both Bridgestone Ecopia and the Bridgestone Taranza are doing a stellar job, but the Bridgestone still comes out ahead in lowering sound levels.
The tire configuration is precisely dimensioned and placed on the Bridgestone tires to minimize the noise from moving into to the interior of the device, thereby ensuring a comparatively smoother journey. Multiple consumers, moreover, have encountered noise disruption at speeds over 65 mph.
Owing to the configured grip phase of the tread depth that eliminates the noise, the Bridgestone Taranza uses a basic experience. In addition to buzzing sound level reduction. Researchers mention, however, that the Taranza often starts making a screeching noise at speeds over 50 mph.
However, since they are all-season tires, these tires remove a decent level of complexity.
Considering that perhaps the level of low noise earned is just like traveling tires, these tires are also providing strong traction, even if you are someone who should not be too troubled by noises when riding, it is a benefit.
Off-Road Driving experience comparison
Unfortunately, in general, how both Ecopia and the Turanza are not ideal with the off riding on sand, rough, dirty, rugged, or gritty environments, for instance. When taken off the track, the tires on these vehicles is vulnerable to cutting, wear and tear, and discoloration.
In reality, they must be able to have a reasonable amount of leverage down, together with great acceleration and quick brake pedal time with that track surface. However, when taken off the streets, the traction of both tires drops significantly by about 35 percent, their stability is becoming more complicated, and brake speed is enhanced.
Steering Responsiveness comparison
Both the Bridgestone Ecopia and the Bridgestone Taranza's guiding responsiveness evaluate attentively associated.
While this guiding responsiveness varies depending on the type of substrate to which you're riding, if it really is squishy, throughout our review, the guiding responsiveness on a smooth road is measured.
Due to the multi sipping, that connects the traction devices together again and allows a wider base for interaction with both the ground, the Bridgestone Ecopia seems to have very accurate steering that rates higher than usual.
In addition, this capability helps the positioning, acceleration, and stabilization of both the Ecopia road tire. When gazing at the steering results, the Taranza has very excellent responses
The tires itself is not incredibly reliable in many of these vehicles' frequency band and seems to have quick vehicle stability that all points to sound macroeconomic action.
Treadwear comparison
From both the Bridgestone Ecopia and Bridgestone Taranza, the Ecopia has stronger tread wear when gazing at how much the surface sheds because it is more flexible and lengthy.
It requires at least 2 to 3 years, as per supplier reports, before the tire started to appear signs of damage.
It generally happens that in a similar sequence as the surface of the tire begins to grind down. It is because the treaded tires cause the tires to rotate side by side, leading to a much tear down of both the tread gradually.
A few of the tire circles on the Ecopia tire are separated through categories to complicate things easier for both the Bridgestone Ecopia, which helps avoid unnecessary sound because as the tire gets old with intellect back.
The traction life including its Bridgestone Taranza is considered better than in the Ecopia because, per the feedback from customers, they are clearly not skillful uses. Many people would say and after 4,000 miles mostly on Taranza, this same traction fades away.
Finally, that Discoverer doesn't really arrive with just about any performance guarantee, whereas the Ecopia tires arrive with a 70,000-mileage tire durability guarantee.
Final thoughts
It is evident that perhaps the winning candidate in this competition of Bridgestone Ecopia and Bridgestone Taranza is, in reality, Bridgestone Ecopia, since considering all the factors into account.
Although both of such tyres comes with many of the great attributes that vehicles need from a transportation terrain tire, aka, outstanding stability, a strong tire life, and feature extraction capabilities for a comfortable transition on a crowded lane, Bridgestone Ecopia gives it an advantage over Bridgestone Taranza in all of these specifications (and thus more).