Cooper Adventurer A/T and Falken Wildpeak AT3W, both the tires belong to All-terrain family built exceptionally to give splendid on-road traction and a confident off-road performance.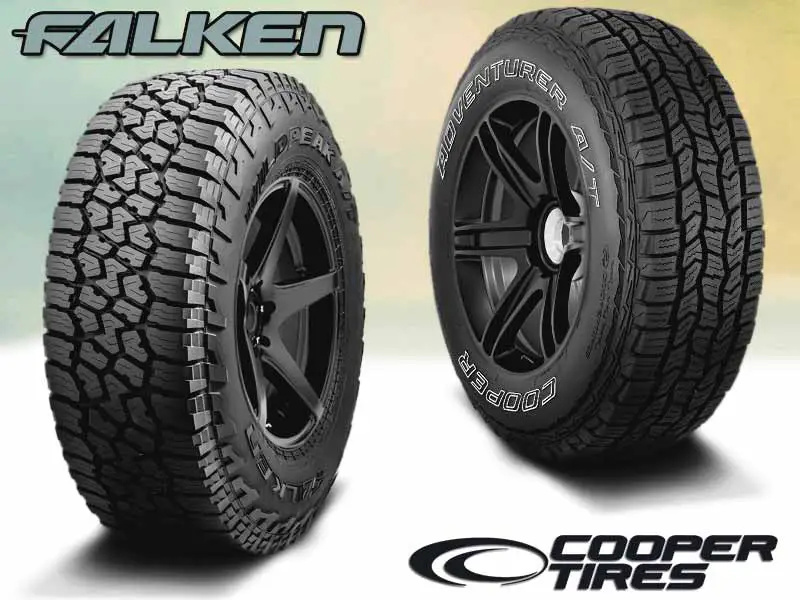 Although both are commonly built, the tread pattern, radial sizing, and groove spacing distinguish them from one another and make them perform differently in varying conditions.
Cooper Adventurer is a agressive version of Cooper Discoverer. Yet it's design is still somewhat less aggressive than the Wildpeak.
Falken Wildpeak, comes with a bold tread design with wider groove spacing to provide confident traction in off-road areas.
Overview of Cooper Adventurer & Falken Wildpeak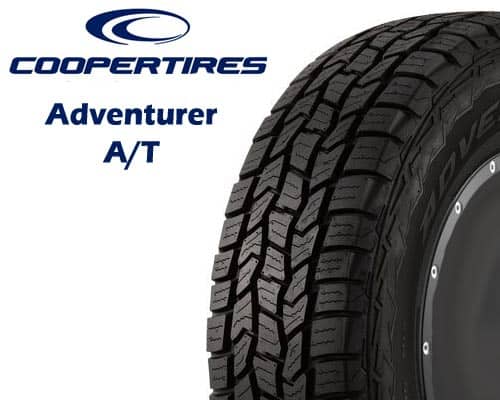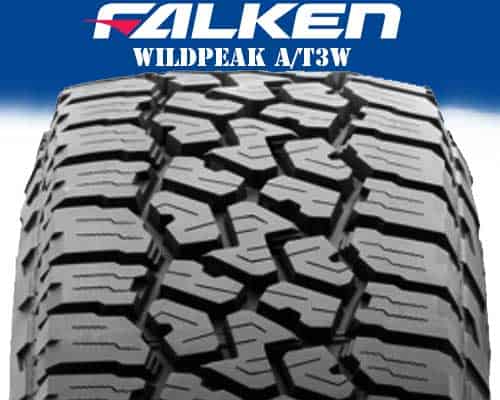 Providing sufficient contact patch to maintain maximum traction with the road is the primary objective of all-terrain tires and Cooper A/T is pretty good in that.
This tire comes with a relatively lower void ratio which increases the contact patch, thus giving better grip and handling while going at high speeds.
It provides excellent dry traction and a confident wet performance.
The deep sipes with a zig-zag pattern can be located all over the tread design.
These little cuts wipe away the water from the tread block so that the tire does not lose its stability.
Due to narrow groove spacing, this tire is more comfortable on asphalt roads by producing less noise and delivering a quieter ride.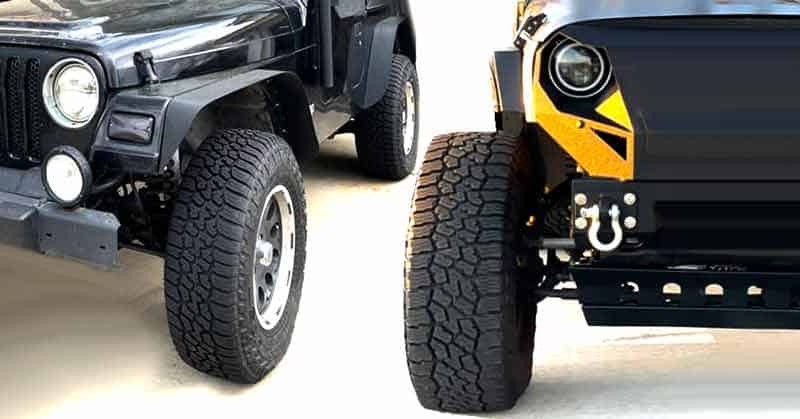 Falken AT3W comes with an aggressive tread design with wider groove spacing for smooth navigation of these tires through rough areas without much struggle.
The tread blocks are cut at an angle with a relatively smaller surface area to increase the width of grooves while maintaining sufficient traction off road.
This beast gives a satisfactory performance on wet surfaces too as the three-dimensional canyon sipes technology works efficiently by wiping away water from the tread and maintaining grip with the road.
The two-ply sidewall makes the tire sturdier by increasing puncture resistance.
The bold shoulders and prominent lugs provide sidewall protection and increase the stability of the vehicle while cornering.
Side Note: Before moving to on road traction of both tires, I should mention that our tests suggests Nitto Ridge Grappler to be an amazing contender for on road traction.
On-Road Traction Differences
When it comes to dry traction, Cooper Adventurer will not disappoint you. It comes with an innovatively built tread pattern with relatively narrow groove spacing that helps in
attaining maximum grip on paved roads.
Other variant: Cooper Adventurer HT.
The densely packed tread design increases the contact patch to maintain maximum traction on dry roads.
This tire also provides a secure grip on wet surfaces due to its efficient sipes allocation design.
It is in zig-zag pattern along the shoulders area but perpendicular to the remaining groove spacing.
This exceptional designed pattern provides confident traction in rainy and wet conditions.
The vehicle having more contact patch has an advantage on asphalt roads as more surface area in contact with the road will increase the grip and reduce the rolling resistance.
Side Note: According to our tests, we found that the Cooper Discoverer AT3 provides even better road traction than both of these tires.
Falken Wildpeak has a relatively higher void ratio that reduces the surface area of the tire. This leads to reduced traction, therefore, compromising the grip and increasing the braking distance.
The sipes pattern is quite impressive on this tire which provides confident navigation through wet surfaces by flushing the water away.
The narrow grooves spacing with more contact patch makes Adventurer A/T better fit for paved roads and dry surfaces.
However wet traction of both tires is quite impressive.
Performance of these tires on Mud
A tire with a wider groove pattern will have an edge in muddy swamps as more spacing between grooves leads to more efficient cleaning of the tire to attain traction.
The Cooper Adventurer A/T struggles a little bit in mud surfaces as it has a relatively lower void ratio which reduces its efficiency in soft mud.
The narrow spacing between the grooves could lead to the filling up of the tire with mud and dirt which can cause the tire to lose its grip on the surface. 
The performance of Wildpeak is quite effective in muddy swamps as compared to its competitor.
The wider groove spacing give this tire an advantage to perform efficiently. The higher void ratio in the tread pattern removes the chunks of mud from the tire and throws them backward, allowing smooth navigation and mobility.
The bold shoulders and lugs provide lateral stability and help in clearing mud while cornering.
The densely packed tread pattern and relatively narrow grooves spacing make Cooper adventurer not the best fit for muddy swamps. Wildpeak is recommended more when dealing with mud terrains.
Snow Terrain Traction of both tires
Adventurer A/T may have to struggle a little while navigating through soft snow as the build pattern is not much snow-friendly.
The lower void ratio does not favor the snowy conditions as the snow could fill up the densely packed groove pattern which could compromise the stability of the vehicle.
The tire may lose its grip with the surface causing it to get stuck and keep rolling in one place rather than moving forward.
The relatively wide groove pattern of Wildpeak supports the tire in snow and maintains smooth mobility without compromising the grip and handling of the vehicle.
The higher void ratio assists in scooping out the soft snow from the tread pattern and throwing it back to improve and maintain the forward motion.
The aggressive shoulder design bites the soft snow splendidly, allowing more stable drive.
How they performed on Rocky terrains?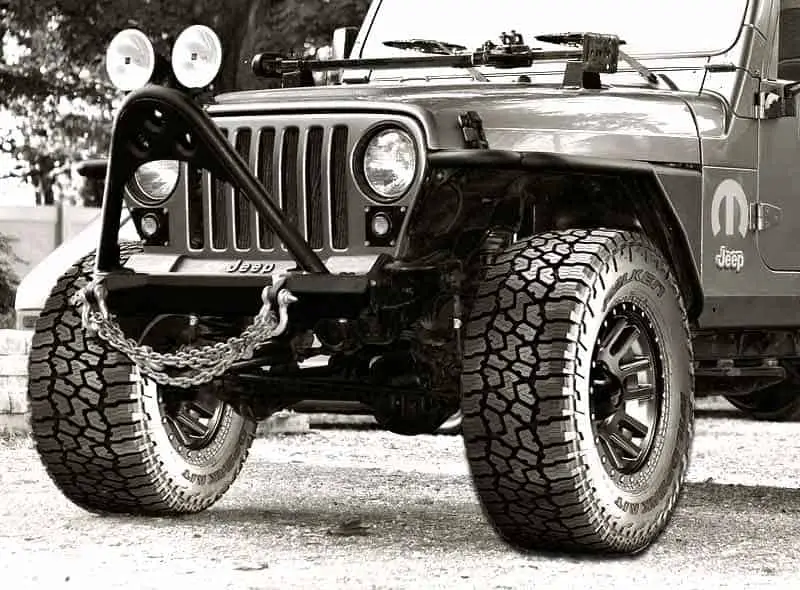 The performance of Adventurer A/T is adequate in rocky areas as the densely packed tread design helps in maintaining traction with the rough surface.
One thing to remember is that you should keep this tire away from extreme rocky terrains as the small stones and pebbles could get stuck in the narrow tread blocks causing stone drilling and damage to the tire as the stone ejection feature of this tire is not efficient enough to remove every little stone.
Wildpeak AT3W does not have to struggle much while propagating through mild-rocky terrains.
The high void ratio maintains the traction with the surface.
As both, the tires belong to the All-terrain family, so it is recommended, not to use these tires in extremely rough conditions as the stone ejection feature of both tires is not adequate.
But Wildpeak still performs a bit better than its competitor.
Driving Comfort Differences
All- terrains tires are specifically designed to give an overall performance while keeping the comfort factor in mind.
Adventurer A/T come up to our expectations when we talk about the comfort of the tire.
It has a relatively less void ratio and more contact patch which maintains sufficient traction on the road and allows less air to get entrapped between the groove spacing.
Thus, making the tire quieter and virtually inaudible.
The Falken Wildpeak lacks comfort to some extent as it is noisier on paved roads road than its competitor due to the higher void ratio.
It allows more circulation and resonation of air particles in between tread blocks, leading to more noise production comparatively.
More groove spacing also provides less traction and more noise which is not suitable while going at high speeds.
Which tire is more durable?
The Cooper Adventurer A/T comes with advanced construction and durable compound tread to increase the sturdiness and agility of tire in order to give confident traction on highways and adequate performance on mild off-road conditions.
It features a 5-rib tread design to provide maximum traction and enhance the stability of the vehicle.
The durability and tread life of this tire is quite satisfactory as it provides a mileage of about 60,000 miles.
Wildpeak comes with a class-leading tread and sufficient groove spacing to make it an overall performer in all types of terrains.
The 3D Canyon Sipe Technology is quite impressive in wet surfaces as well as provides additional handling stability.
The prominent upper sidewall along with wide shoulder blocks promotes sidewall protection by guarding the tire against sharp rocks especially while cornering.
The innovative heat diffuser technology in the lower sidewall protects internal components of the tire by dissipating heat and keeping the tire cool in rough conditions.
It features a mileage of about 55,000 smooth miles which is quite good, summed up with all the features.
Which tire is less expensive?
Both the tires provide splendid features within their price range.
If we compare both the tires, then Wildpeak is a bit costlier than Adventurer A/T due to its exceptional features and better off-road capabilities.
Cooper is more budget-friendly and is more suitable for on-road drives.
To Sum Up:
Both the tires belong to All-Terrain (A/T) family.
Adventurer A/T has more contact patch, therefore, providing better grip and handling on paved roads.
Wildpeak comes with relatively wider grooves which gives it an edge over off-road conditions and enables it to perform better in rough areas.
Adventurer is more comfortable on highways and produces less noise while going at high speeds.
The price of Wildpeak is a bit higher than Adventurer which can be justified by its impressive off-road capabilities and sufficient on-road performance without compromising the durability and tread life of the tire.