Both Evolution MT and  Wildpeak MT are Mud Terrain tires manufactured to provide exceptional performance under off road conditions. Evolution can power through all kinds of tough and rocky trails while providing maximum traction and protection to the tire and its tread can add optional metal studs to provide better traction in ice or snow which is a plus but the comfort levels are disappointing especially on roads. Falken Wildpeak provides maximum off-road and satisfactory on-road performance with minimum noise.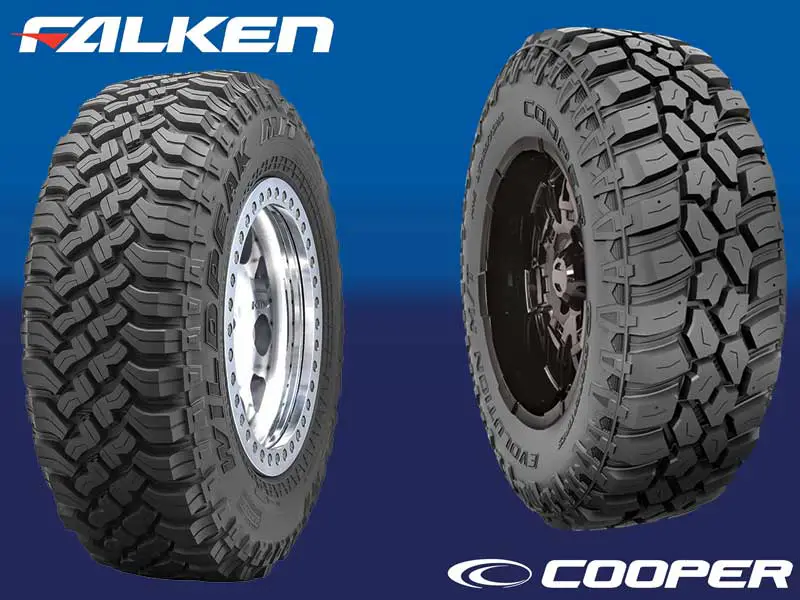 Comparing Falken Wildpeak MT with Cooper Evolution MT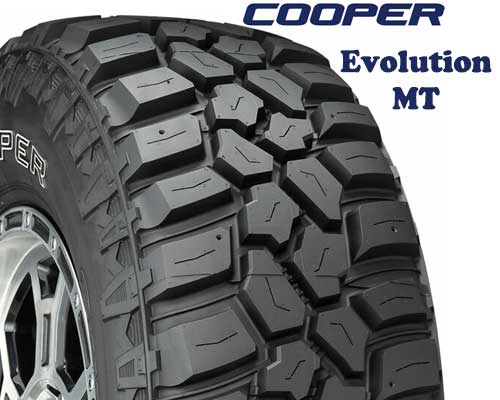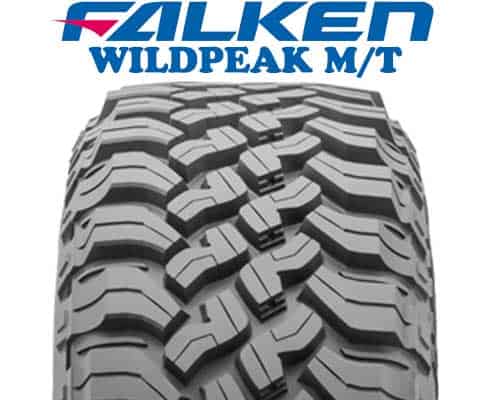 The tread pattern in the Cooper evolution has a high void ratio to eliminate mud effectively on off-road terrains. A high void ratio can result in a lesser contact patch hence a lower grip on on-road surfaces. But it has a large number of sipes to sweep away water and aid in wet conditions. It has independent lugs along with alternating scoops present in the shoulder blocks to dig through dirt and mud efficiently on off-road terrains. There are mudslingers present between the tread blocks that can further clean the tire from mud to maintain a strong grip.
The tread pattern on Wildpeak has thin grooves hence a low void ratio. More surface area of the tire is in contact with the road resulting in good on-road grip in dry conditions.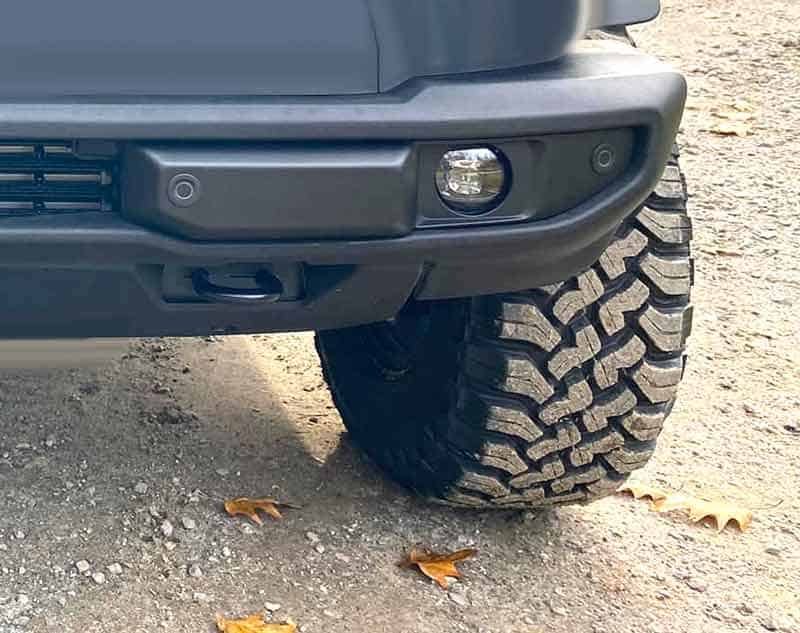 The large number of sipes get rid of the water in wet driving conditions hence avoiding hydroplaning. Offset structure of the shoulders improves handling and helps while cornering. It has rigid and rugged tread blocks. The rugged corners of the tread blocks do not allow any stones to get stuck in the grooves of the tire. Other than that, this structure of the tread blocks increases rigidity in the contact patch of the tire improving handling on off-road terrains. The grooves despite being thin provide decent elimination of mud and dirt.
On-Road Traction Comparison
Cooper evolution can cause problems when driving on roads due to its high void ratio. A high void ratio means a smaller contact patch and reduced grip of the tire. Due to the big lugs present in the tire, it can follow any track wear in the pavement making it harder to drive. This low grip and handling reduce the on-road traction of the tire.
Greater siping can play a role in wet performance but only if there is deep water, however, the high void to lug ratio can result in frequent cases of hydroplane on wet surfaces. Wildpeak, on the other hand also features high void ratio but less as compared to Evolution. Therefore, Wildpeak provides slightly better wet performance than Evolution.
Wildpeak has a larger contact patch as compared to Evolution which results in good acceleration, cornering, and braking on dry roads. It also has heat diffusers that are mounted onto the sidewall of the tire.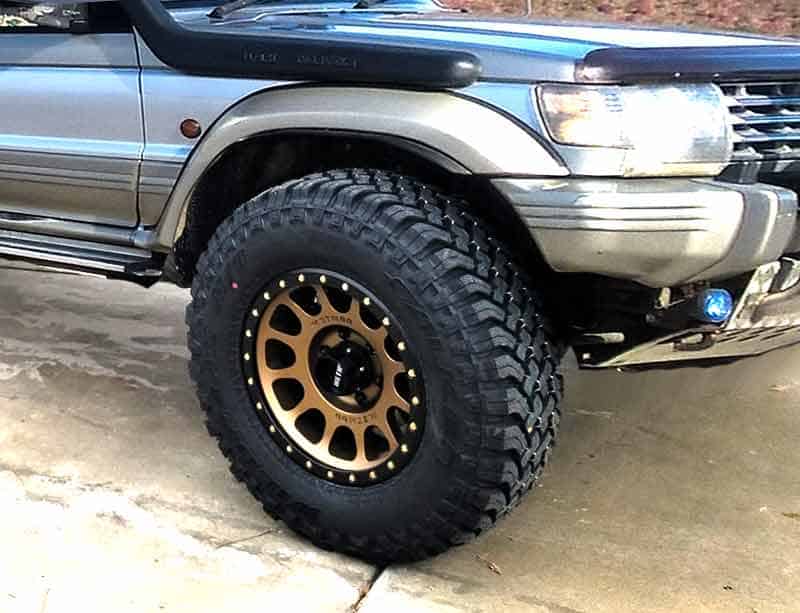 When the vehicle is being driven at high speeds, the excessive heat generated is dissipated by these diffusers making the vehicle more stable and balanced.
Off-Road Traction Comparison
Cooper evolution uses what they call an Earth Digger technology. It involves large lugs present at the edges of the tire with alternating scoops present in the shoulder blocks. They dig deep into dirt or sand and claw onto it to provide balance, grip, and good handling on off-road dirt terrains.
When it comes to powering through mud, the Cooper evolution has a Mud Slinger technology. Mudslingers are the big grooves present in between the tread blocks that sling the mud out of the tread providing you with a clean contact patch every rotation. Thus, the tire has a strong grip and handling hence good traction on muddy terrains.
In rocky terrains, the Cooper evolution has a Trail Grip Sidewall technology that uses climbers to grab onto rocks, sticks, and logs, etc., and provides great handling and grip. It also has stone barriers between the middle tread blocks that protect against sharp and lodged stones by ejecting them.
Cooper evolution is great in snow and ice because it is studdable. It has holes where you can insert metal studs to increase mechanical traction in snow or ice and then your tire will be churning throw chunks of snow like it's nothing.
The rigid and rugged tread blocks in Wildpeak offer a strong grip in dirt terrains while disposing of small stones from the voids. The tires remain responsive and provide good handling even on heavy corrugations thanks to the support the tread structure provides towards the center blocks enhancing tread pattern rigidity.
Wildpeak has good mud-terrain performance. It uses a mud defense feature that sheds mud from the tread grooves. The shoulders of the tire have an offset structure that provides good handling, especially when cornering on muddy terrains.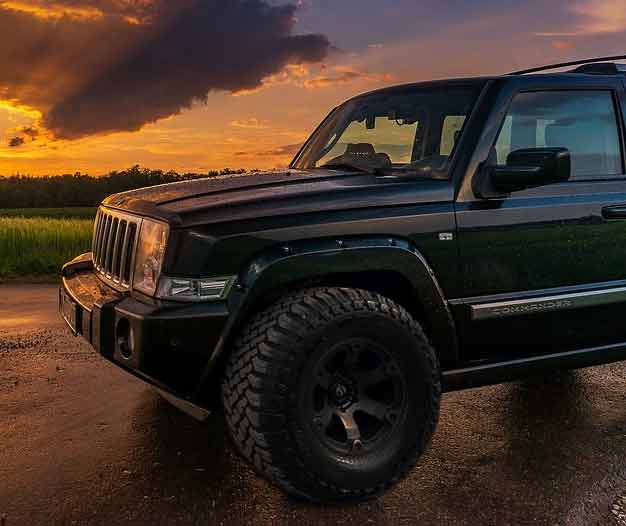 Wildpeak also has a rock defense feature. The rugged corners of the tread blocks throw out any rocks that get stuck within the grooves and ensures maximum grip while protecting the tread base from getting punctured. It has a strong sidewall with an offset shoulder structure that guards the tire against sharp rocks and further offers increased traction even at low tire pressure.
Wildpeak is manufactured using a soft rubber compound that is optimized to provide good braking and comfort in snow or ice. The thin grooves also help cast out snow from the tire to increase grip.
Comfort
Cooper evolution can follow any track wear in a pavement due to high void ratio and big lugs which can reduce its handling on roads. The tires are comfortable at the start but after you have done some miles with them, the noise becomes louder and no technology is present to absorb the excessive sound. But it still provides an average comfort level compared to some other MT tires.
Wildpeak has a Silent core technology that significantly absorbs the noise produced. A layer of ether-polyurethane foam applied to the inside of the tire carcass absorbs the excessive sound produced and ensures maximum noise reduction. Along with that, the tread pattern is optimized for noise reduction and smooth handling of the vehicle on both on-road and off-road terrains. The three variable pitches have the tread blocks positioned in a way to provide a quiet and comfortable ride.
Durability and Treadwear
Cooper evolution has stone barriers present in the tread that feature ridges designed to protect the tire against damage from sharp rocks and expel any lodged stones that can puncture the base of the tread. This durable construction of the tire makes it a strong and heavy-duty tire.
In terms of tread wear, the tire can wear off quicker compared to wildpeak. We recommend you not to go above 45000 miles with the cooper evolution.
The Wildpeak uses a proprietary technology to make the tire more durable. It has a DURASPEC three-ply sidewall that can also offer two high-ply turn-ups. It can endure the most punishing off-road conditions and adds an extra layer of protection to the tire.
Wildpeak is made from a soft tread compound to make the lugs taller. This results in treadwear. Despite that, it provides a good tread life for an MT tire. It can go as long as 70000 miles with a mix of on-road and off-road driving.
Quick Summary
Wildpeak has better on-road performance than Cooper evolution.
Both tires offer great off-road traction in dirt, mud, or rocky terrains.
Both tires offer good traction in snow and ice but the Cooper evolution has the advantage of being studdable to increase mechanical traction in snow and ice.
Wildpeak is quieter and more comfortable compared to the Cooper evolution.
Both tires are durable but Wildpeak has a longer tread life.
Cooper evolution is cheaper in price compared to the Wildpeak.