All-terrain tires, as the name suggests allow you to take your vehicle off the road without any worries. AT tires are specially designed to bear the wear and tear of rough surfaces but with pros, come the cons. For better performance features, some comfort features must be sacrificed.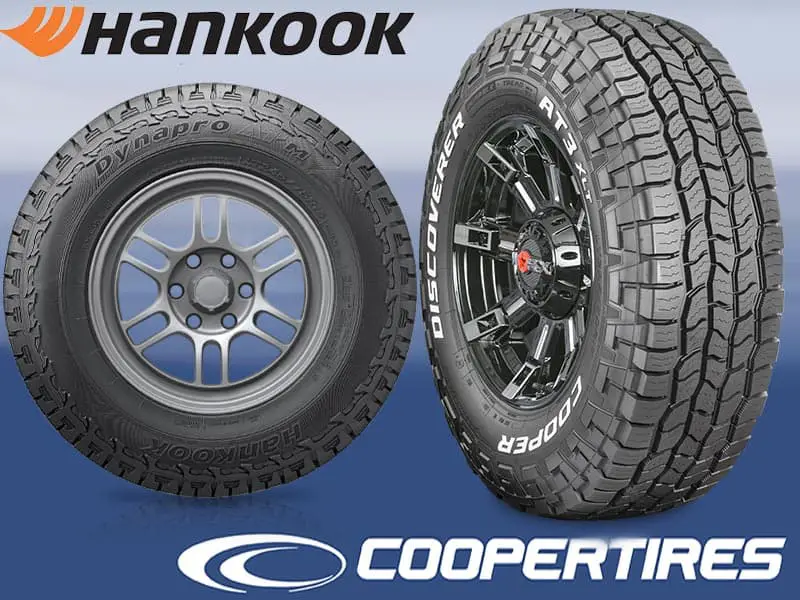 AT tires give enhanced traction, hydroplane resistance, and better treadwear but have reduced ride comfort, and noise reduction contemporaneously.
Let's dive into details. But first, make sure you also check out the Hankook Dynapro other family members as well.
Cooper Discoverer AT3 vs Hankook Dynapro ATM RF10
Cooper AT3 XLT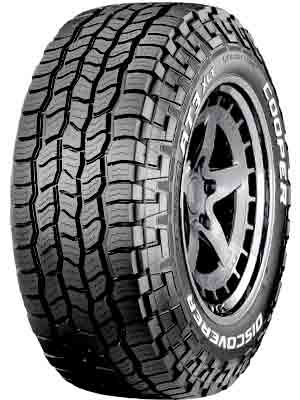 Hankook Dynapro ATM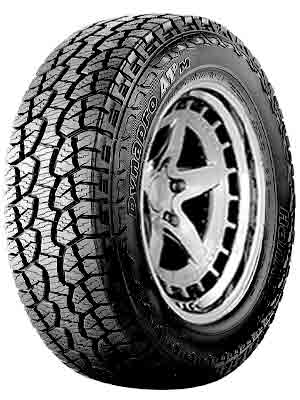 The American brand Cooper has been manufacturing high-end tires since 1914. Their undaunting ability to be meticulous about designs, quality, and stability of tires and general all-around quality is something that helped them garner numerous awards. Cooper produces tires in both premium and budget-friendly categories. According to Cooper, their discoverer at3 is their best product yet.
Cooper discoverer AT3 is designed for pickup trucks, SUVs, crossovers that adapt rapidly to the road conditions with respect to the need of the hour. Designed to provide year-long traction, it combines performance with style.
Hankook is a highly acclaimed South-Korean brand that also happens to be the 7th largest tire manufacturer in the world.
With global availability in over 180 countries, coupled with its lucrative branding deals with some of the greatest sports teams, and its participation in the motorsport world; Hankook has become synonymous with great quality tires that are developed with a racing pedigree.
With Uncompromising quality, unwavering commitment to sustainability, and continuous advancement, Hankook is approved by both average drivers and auto enthusiasts that expect a tire to perform beyond the capability of an average tire. Dynapro, designed for SUVs, light trucks, and vans, AT-M provides Hankook's best all-terrain grip and acceleration on both on and off-road.
We tested both tires as per our standards and concluded which of these two takes the lead.
Dry traction comparison:
We tested both tires for their dry braking distance. Dry braking is the distance covered by a vehicle in decelerating from 100/80 to 0 when the brake is applied.
With adaptive-traction technology TM, at3 provides excellent dry traction. The adaptive traction technology, as the name suggests adapts continuously to the road in order to give exceptional traction over gravel, asphalt, and tarmac allowing you to have a safe drive.
Hankook has performed considerable research in Dynapro ATM RF10. With its aggressive sharp edge tread pattern, ATM RF10 combines style with performance. With its special RF10 compound used in the tread, it gives you excellent traction over dry surfaces by increasing the adhesion forces between the tire and the road.
We tested bot tires for their respective dry braking and Dynapro has the lead with a dry braking distance of 28 m whereas AT3 has a dray braking of 28.45 m
Wet traction:
The grip on wet pavement is also measured by tire traction. While a wet traction test evaluates many of the same variables, the tread design is the key variable of wet traction. Discoverer AT3 uses Cooper's durable-tread technology combined with shred-resistant silica for enhanced traction over wet surfaces making you ride a lot safer.
Dynapro on the other hand is equipped with zigzag block edges that allow it to have superior traction over wet pavements. The wave sipes aids in removing the slush and water from between the tread to prevent loss of traction.
Upon testing for wet braking distance AT3 took the lead with a wet t braking distance of 19.8 m. ATM RF10, on the other hand, had wet braking of 20.45 m
Snow traction:
Good snow traction is an essential component of any all-terrain tire. Cooper AT3 is equipped with snow groove technology paired with saw tooth block edges that trap snow between the tread for exceptional snow traction. Cooper at3 has reduced the braking distance by 15 m.
ATM RF10 with its tiered side grooves and scallop grooves within the tread tends to increase the biting edges for winter traction. A wraparound tread design allows it to have enhanced traction in the snow along with giving it a rugged look. ATM RF10 has attained M+S tire classification along with 3-peak Mountain SnowFlake making it a better option for snowy conditions.
Although non-winter tires with the three-peak mountain snowflake (3PMSF) symbol have extra longitudinal snow traction above what all-season (M+S) tires that do not have the symbol can provide, under all extreme weather conditions, they can not equal the capacity of a real winter tire.
Ride/noise comfort:
Noise reduction is a rather important aspect of categorizing tires. The tread design on the AT3 makes it a lot more civilized on the highway. AT3 harbors whispering grooves™ that provide exceptional noise reduction on the on-road surface but, when it comes to off-road surfaces, the noise reduction is somewhat disappointing.
Even though ATM RF10 doesn't possess any specific technology yet we found the tire to be surprisingly quiet. As contrary to Cooper AT3, Dynapro ATM RF10 was found to be quieter during off-roading and noisy on the highway.
Hydroplaning:
Hydroplaning, if simply put, it refers to a formation of a layer of water between the tire surface ad the road surface, resulting in loss of traction, preventing the vehicle from responding to the control inputs. When it comes to hydroplane, discoverer AT3 and Dynapro are tied for the position for their respective pros and cons.
Zigzag block edges allows it to have superior traction over wet pavements. The wave sipes aids in removing the slush and water from between the tread to prevent loss of traction.
Dynapro, with its wide-angled side grooves, tends to evacuate the water and mud from between the tread. The wave sipes and zigzag block edges provide stellar traction on wet roads for a safer ride.
With 4 Aqua VacTM Channels cooper discoverer AT3 prevents hydroplaning by rapid evacuation of slush and water accumulated providing you better traction on wet or muddy terrains making it suitable for marshy lands. Discoverer AT3, on straight aqua, has a float speed of 73.7 km/h and an average lateral acceleration of 2.48 m/s2.
Off-road driving experience:
Off-road, traction is one of the vital factors to look for in an all-terrain tire for an SUV. AT tires, on account of providing a versatile range of action, take a bite out of the luxury. When choosing an AT tire, you must be willing to sacrifice some comfort that you enjoy in your everyday highway tires.
Cooper discoverer AT3 uses The Even Wear Arc Technology TM that is designed to match tire-to-road contact area pressure, maintaining uniformly spread tread wear without losing off-road traction. Discoverer AT3XLT is equipped with rugged traction shoulders that enhance rock crawling experience and mud traction.
Dynapro, on the other hand, is equipped with Stone ejectors that remove all the stones and debris, thus preventing punctures. Dynapro is built with a wrap-around design pattern and Scallop grooves that aid in providing a hassle-free off-road ride.
We performed certain tests during off-roading and Dynapro had a dry handling time of 56.1 sec, gravel braking distance of 23.83 m, and a gravel handling time of 81.5 sec. AT3, on the other hand, gave a dry handling time of 55.91 sec, the gravel braking distance of 23.35 m, and a gravel handling time of 81.8 m
Tread life:
The stone ejection ledges in AT3 help remove the stones and pebbles stuck whereas rugged traction shoulders in AT3 prevent punctures and abrasions. A first 2/32 inch tire uniformity guarantee also exists. During the first 2/32 inches of wear, materials and workmanship are covered for 5 years and include free tire replacement. Then Cooper prorates the amount for the remaining period or down to the final tread depth of 2/32 inches.
Cooper discoverer AT3 offers a 60,000-mile warranty.
Dynapro, on the other hand, offers a 50,000-mile warranty. Dynapro ATM is built to last, the light truck compound is molded into a wide, independent block symmetric tread to promote even wear. The internal structure of the tire is composed of twin high-strength steel belts reinforced with a spirally wrapped nylon cap.
Hankook designed Dynapro with a rim protector and a rim cushion to guard against damaging your wheels and to prevent damage to the side wall. Although this can make the sidewall a lot stiffer.
Conclusion:
We conducted a series of tests for performance and comfort and we concluded that Dynapro has the edge when it comes to dry traction, off-road drive, treadwear, and snow traction. AT3, on the other hand takes the lead in ride comfort, wet traction, and hydroplane resistance.
To declare one tire better than the other would be very unfair because both the tires focus on different aspects of performance. If comfort means a big deal to you, Discoverer AT3 is the one for you. But, if you're the one who can prefer performance over comfort, Dynapro is your best bet.