Hankook Dynapro ATM and Yokohama Geolandar G015 are both all-terrain tires that offer effective traction on-road as well as off-road. However, the Geolandar G015 performs slightly better on-road due to its higher contact patch while the higher void ratio of Dynapro ATM allows exceptional traction on mud and soft snow terrains.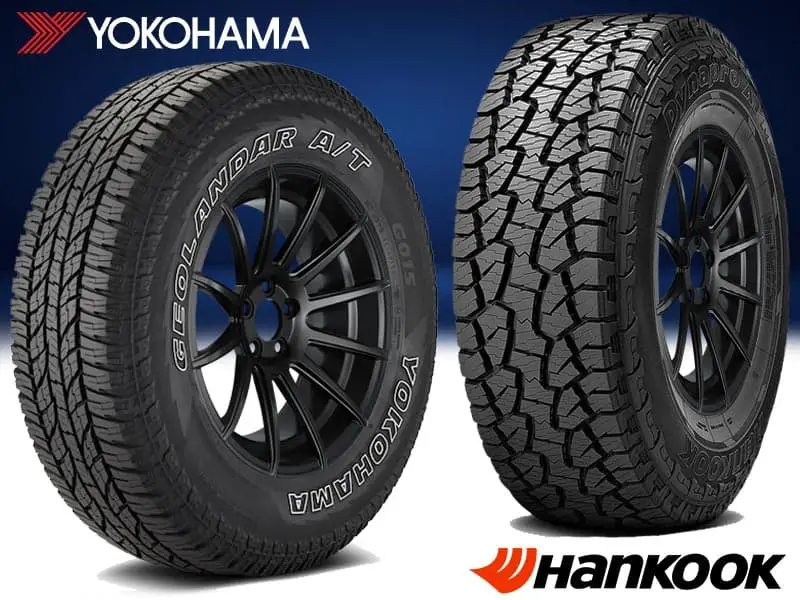 In addition to this, the Yokohama offers a more comfortable ride on-road as compared to its competitor.
For better understanding: Before going further, make sure you know all of the family memebers of Hankook Dynapro.
Comparing Hankook Dynapro ATM with Yokohama Geolandar G015
Hankook Dynapro ATM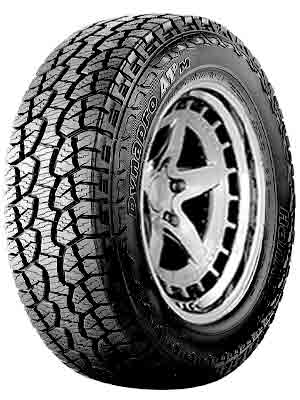 Yokohama G015 AT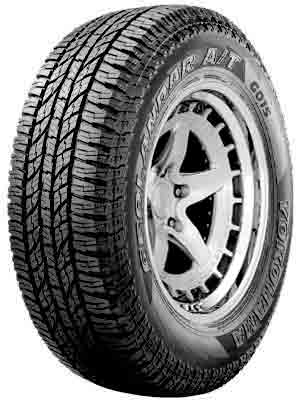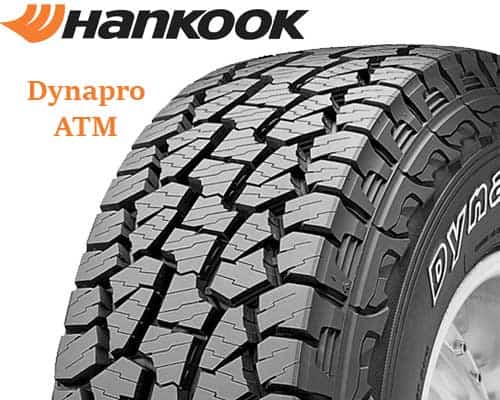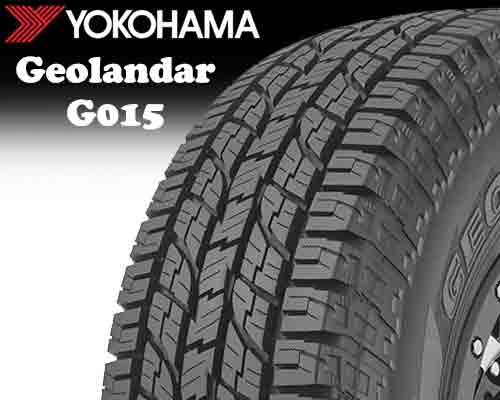 Hankook designed the Dynapro ATM to provide mild on-road traction along with remarkable off-road traction to its users.
For this purpose, the tire features several longitudinal grooves along with deeper sipes. The sipes ensure a better wet grip and wider grooves allow excellent evacuation of soft snow and mud through them.
The bold stone ejectors present in the grooves prevent pebbles and stones from getting stuck inside them.
This further reduces the chances of punctures.
The Dynapro ATM is also more durable as compared to its competitor due to its robust foundation, improved sidewalls, and twin high-strength steel belts.
Even though it is noisier on road, it offers a much better off-road comfort due to the wider grooves.
The Yokohama Geolandar G015 comprises closely positioned tread blocks which increases its contact patch.
As a result, the drivers get better on-road traction.
The higher contact patch and deep sipes of the tire also make its performance excellent on icy terrains.
While it is quieter on-road, the tire is a bit unreliable off-road as it is unable to dampen the shocks and jerks when passing through uneven terrains.
However, if you are in search of an affordable all-terrain tire that does not put burden on your pocket, then the Geolandar G015 is something that you should definitely consider.
On-Road Traction Comparison
The grooves of Hankook Dynapro ATM are a bit wide as compared to the Yokohama Geolandar G015.
So, the void ratio of the tire will be higher and the contact patch between the tread and the ground will decrease so it's on road dry traction will be poor.
However, the performance of the tire is incredibly well in wet conditions due to wider grooves and deeper sipes.
This combination will allow more water to be wiped out of the tire.
So, you can trust Dynapro to avoid hydroplaning and offer the necessary traction in light flood conditions.
Comparatively, the presence of less wide grooves on Yokohama Geolandar G015 allows more contact with the road.
This is what makes its on-road traction in dry conditions better than the Dynapro ATM.
Talking about wet conditions, a tire must possess the ability to wipe away the water to maintain its grip with the road and avoid hydroplaning.
Even though the performance of Geolandar G015 is effective in wet conditions due to deeper grooves and a good number of sipes, it is not as effective as Hankook.
In short, Dynapro ATM performs better on wet roads and Geolandar G015 is more effective in dry conditions.
Off-Road Traction Comparison
Mud Terrain
The performance of a tire in mud depends upon its grooves.
The wider the grooves, the better it will perform on mud and vice versa.
Since Hankook Dynapro ATM has wider grooves as compared to its competitor, it will perform better in muddy conditions.
That's because the wider grooves will enable it to throw the mud backward which gets stuck between the tread blocks.
So, the tire will perform more efficiently.
On the other hand, the Yokohama Geolandar G015 has narrower grooves in comparison.
As a result, the mud will stick in the grooves and hinder the tire's ability to throw it backward.  In turn, it will face difficulty in moving forward.
This is what makes this tire's performance in mud terrain relatively lower than its competitor.
Snow Terrain
The traction of a tire in snow also depends upon the size of its grooves.
When the tire will be equipped with wider grooves, its performance will be better in snowy conditions.
The Hankook Dynapro ATM has wider grooves which boosts its performance on soft snow.
The wider grooves will aid the tire in moving forward by throwing the snow backwards. As a result, it will get more grip and easily move forward.
However, this tire struggles on ice due to less contact patch and fewer sipes.
Coming to Yokohama Geolandar G015, its grooves are less wide as compared to its competitor. So, it will not be as efficient in evacuating the soft snow backward.
As a result, its performance will not be as good as Dynapro ATM.
On the other side of the coin, the ice traction of a tire depends upon its contact patch and sipes.
Since the Geolandar G015 features a higher contact patch and deep sipes, its traction on ice is remarkable.
Rock Terrain
When it comes to the performance of a tire on rocky terrains, you should check whether it possesses bold stone ejectors or not.
The bold stone ejectors present in the Hankook Dynapro ATM allow it to emit any pebbles and stones from sticking inside the grooves.
In addition to this, the wider grooves of the tire allow a better grip on rocky terrains.
As a result, the overall handling and grip of ATM is improved.
In comparison, the performance of Yokohama Geolandar G015 lacks in rocky terrain due to the absence of bold stone ejectors.
Since small stone ejectors are present in this tire, the pebbles and stones will get stuck inside it.
Therefore, using this tire in rocky terrains is not advisable.
Comfort
Since the Hankook Dynapro ATM has a higher void ratio, more air particles will be trapped inside its wider grooves when you are traveling at a higher speed, on road.
These particles will strike back and forth which will produce unwanted noise.
As a result, the on-road comfort of this tire will be decreased.
Talking about off-roading, you will get an incredibly comfortable and smooth ride since its wider grooves will absorb shocks and jerks while traveling on rough and uneven surfaces.
In contrast, due to the lower void ratio of the Yokohama Geolandar G015, you will get a comfortable on-road ride.
That's because the tire features fewer wide grooves allowing a lesser number of air particles to be trapped inside it, while driving at a high speed.
As a result, the noise level of the tire will be lower as compared to its competitor.
However, it may face some problems on uneven paths due to its narrower grooves.
It won't be able to absorb the harsh jerks as effectively as Dynapro ATM which will make the ride uncomfortable.
Durability & Treadwear
The overall tread width of the Hankook Dynapro ATM has been increased by 8% as compared to the other tires of this class.
As a result, the tire gets more even wear. There is steel inside the tread, which will provide more strength and durability.
The company has also added a rim protector, its main job is to guard the wheel against damages.
Moreover, there is a rim cushion as well which will prevent the sidewall from getting damaged in the case where the pressure gets low.
This tire also comes with a 50,000-mile tread warranty.
The Yokohama Geolandar G015 features an advanced construction along with a full nylon cover which plays a major role in improving the tread area durability.
Other than that, there is a triple layer of the polymer tread compound combined with orange oil and silica.
This will deliver high traction and long mileage while providing incredibly strong chipping and cut resistance.
Price Comparison
Talking about the price of both tires, the Hankook Dynapro ATM is available in a higher price range as compared to the Yokohama Geolandar G015.
The main reason behind this is its off-road capabilities and excellent wet-road traction.
On the other hand, the Geolandar G015 is a lower-priced tire that offers a comfortable ride along with better on-road dry traction without breaking your bank.
So, you can choose the one based on your preferences and requirements.
Quick Summary
Both Hankook Dynapro ATM and Yokohama Geolandar G015 are all-terrain tires.
On-road dry traction of G015 is good and on-road wet traction of ATM is better.
Dynapro ATM's performance is more effective in mud and soft snow terrains.
Geolandar G015's performance is remarkable on icy terrains.
Hankook features superior bold stone ejectors as compared to Yokohama.
Hankook Dynapro is more durable than ATM.