GoodYear and Bridgestone are both well-reputed, name of the game companies when it comes to tires. They both have produced some well-renowned tires in the past, and continue to do so. We put two such tires to the test today to see who wins this ultimate battle; the Goodyear Eagle F1 Asymmetric 5 and the Bridgestone Potenza Sport.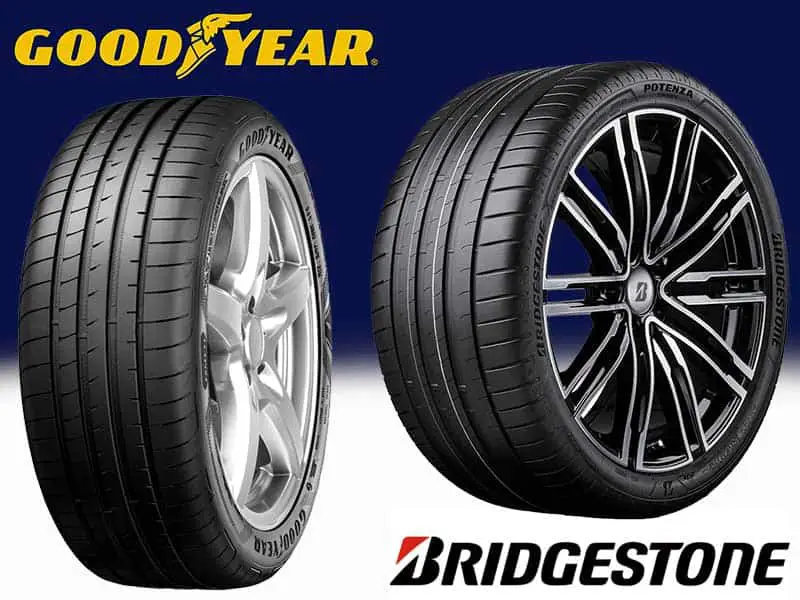 An Ultra-High-Performance tire that comes with the feature of excellent grip and maneuverability around the corners, the Goodyear Eagle F1 Asymmetric 5 has a lot more to offer. It is where luxurious comfort and superior wet and dry handling performance come together to create a masterpiece that will surely make your rides worth remembering. It is a premium summer tire, designed specifically for high-performance vehicles. Equipped with unmatchable technologies, it is a great choice for those who strive for excellence and safety in their rides. The Goodyear Eagle F1 Asymmetric 5 comes with built-in rim protectors as standard thereby reducing the likelihood of any curb damage. Goodyear has used three technologies to improve upon their existing tires; a "specialized tread compound" with "functionalized polymers," "TredLock Technology" and "Traction Teeth," along with an asymmetric tire design, that is all incorporated to create this gem.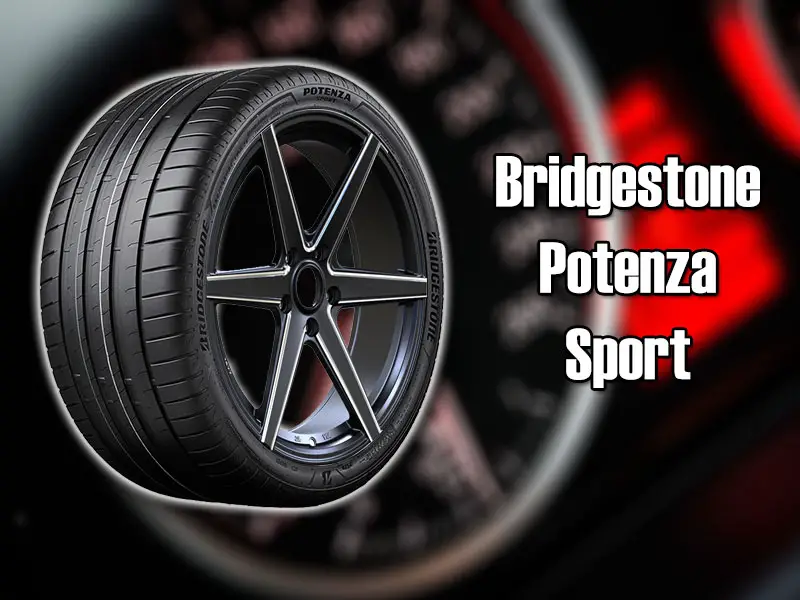 On the other hand, the Bridgestone Potenza Sport is no less either. The Bridgestone Corporation has been manufacturing auto and truck parts since 1931 and operating production facilities in 24 countries., so this justifies their good quality and reputation. The Bridgestone Potenza Sport has been among the top-ranking tires of 2021. It is essentially durable during the summers and maintains its grip levels particularly nicely at high temperatures. It is safe to say that it is engineered specifically for these conditions. And this makes it equivalent to a track tire even on regular roads.
Even though it has relatively low aquaplaning resistance, making it less suitable for puddled roads during rainy weather, it compensates with its excellent performance regularly. Its short braking distances coupled with its quick steering response and stability make it an excellent choice. The tire is the perfect standard for premium, high-end sports performance, giving the driver an equally good wet and dry handling performance. Bridgestone has employed innovative 3D sipes that help boost shear stiffness and add to the braking performance as well as treadwear.
A data was formulated using both these tires on the same car to observe how they act under various situations and what makes each fit for its purpose. The tires were tested to evaluate their wet and dry traction, rolling resistance, noise levels, aquaplaning resistance, and other critical parameters using a reliable VW Golf GTI, which while is a little generic and common, is a really good platform to run this program on.
Dry Traction
The Eagle F1 Asymmetric 5 is composed of a highly refined silica compound that works to amplify the grip of the tire, ultimately resulting in a shorter braking distance and exemplary drag on both wet and dry surfaces alike. The tire's asymmetric tread pattern and stiff and rigid framework result in responsive and sporty handling, particularly on dry road surfaces. Whether it be the composition or the tread design, everything in this tire has been chosen to offer quality traction and control at high speeds and sharp turns. The dry handling time is noted to be 95.87 seconds while the dry braking distance was found to be mere 34.27 meters when decelerating from 100 km/h to 1 km/h.
If we talk about Bridgestone Potenza Sport, there are definitely quite a few surprises there. A major number of tires perform well at first when tested for handling, but as they begin to heat up, their grip drops and results in understeering. The Bridgestone Potenza Sport, on the other hand, is manufactured specifically to function well in warmer climates. It is easy to steer even when it heats up and the grip does not falter and seems to function as well as track tires, making long-distance traveling a walk in the park.
Its sporty profile shape helps increase the contact area, therefore, maximizing performance as well as braking potential. Its optimized rib and void distribution also aid in braking on dry surfaces.
Statistically speaking, the Potenza Sport has a dry handling time of 94.34 seconds. Decelerating from 100 km/h to 1 km/h, it has a dry braking distance of only 33.4 meters, which means it travels only the specified, short distance after the brakes are applied before coming to a halt.
When it came to dry handling, it was an extremely close call between the two tires at hand. Since the difference is only minimal for dry handling, other factors should be considered before making a decision. Overall speaking, if you have a sports car, you will most likely find the Bridgestone Potenza Sport to be the choice for you. But if you drive an executive or passenger car, the Eagle F1 Asymmetric 5 is for you.
Wet Traction
The Goodyear Eagle F1 Asymmetric 5 is a high-performance car tire, developed to deliver smooth performance with superior braking in wet conditions. It comes equipped with a unique contact patch extension feature that helps to reduce the braking distance in both dry and wet conditions. Moreover, the dual-zone, asymmetric tread pattern helps to evacuate water and slush for enhanced wet grip even when it's raining cats and dogs. Its TredLock technology helps provide biting edges for commanding wet traction and grip while taking sharp turns. The wet handling time for the Goodyear Eagle F1 Asymmetric 5 is 65.2 seconds and the wet braking distance is recorded to be just 33.71 meters.
The Bridgestone Potenza Sport on the flip side is just as reliable when it comes to cornering and braking on wet roads as it is in dry climates. Its innovative mixing formula aids in optimizing its performance for both dry and wet roads. It is one of the tyres with the fastest wet handling time, recorded at 64.53 seconds.
Even though it struggles with aquaplaning, the tire proves to be extremely efficient and steady once it is in contact with the road and the vehicle comes to halt in a short amount of time.
This feature makes the Potenza Sport suitable for roads with little depth of water. The rib variable profile of the tyres gives them better contact pressure and excellent wet friction. This wet friction is helpful for the tyres during cornering and braking. These factors come together to make the wet braking time of these tires 34.79 in meters.
Even in terms of wet handling, both our tires are different just by a hairbreadth. Since the competition again makes it a difficult call to make, we suggest you study their reactions under other conditions too before making your purchase.
Rolling Resistance
The Goodyear Eagle F1 Asymmetric 5 has a reduced rolling resistance, all thanks to the combinations of materials introduced in it such as natural and synthetic rubber (refined silica), designing stiffer sidewalls, and reducing tread depth. Each of 'these green innovations' helps reduce tire deformation, which in turn results in a lot of pennies saved in the name of fuel.  Furthermore, increasing the tire pressure up to the optimum limit without compromising its traction has also resulted in decreased rolling resistance for Eagle F1 Asymmetric 5.  The tyre has an impressive rolling resistance value of 9.31 kg/t because of its rigid carcass.
The Bridgestone Potenza Sports meanwhile, has a high rolling resistance, especially as compared to the Asymmetric 5. It is recorded at 9.47 kg/t.
This high rolling resistance comes at the expense of fueling costs and can amount to major expenses over the course of time. Aside from this, it is not environment friendly and can also impact your tyre life and result in more noise.
This time around, the winner clearly is the Asymmetric 5 as it has a lesser rolling resistance compared to the Potenza Sport. This means that not only is the Asymmetric 5 on top of its performance game, but it will also help you save a lot of $$$ in the name of the fuel saved.
Aquaplaning/Hydroplaning
The Goodyear Eagle F1 Asymmetric 5 has pretty good resistance to aquaplaning due to its asymmetrical tread design and contact patch extension feature. The tyre is able to offer good control and grip in wet conditions at high speed, making it an ideal choice for rainy seasons. The tread depth and design of Eagle F1 make it easier to channel the water while maintaining the speed without the risk of slippage. The inboard All-Season Zone in Eagle F1 Asymmetric 5 helps push water away from the tread for enhanced all-season traction in rain and light snow while allowing additional biting edges to generate more traction in rain and snow. The Goodyear Eagle F1 Asymmetric 5 has a float speed of 77.4 km/h in straight aquaplaning conditions and an impressive lateral acceleration of 2.2 m/sec2.
For a company that has been manufacturing some of the world's best tires for nearly a century, the aquaplaning performance of the Bridgestone Potenza Sport is unexpected. Even though these tyres have an excellent wet traction performance, the quality only takes control once the tires are in contact with the road. Even at one-tenth of an inch of water, aquaplaning can be a factor in the performance of tires.
These tyres have a relatively low grip when there is water between the tires and the asphalt on the road. Focus on optimizing durability, stability, and traction leaves margin for error in such conditions. The water tends to fill up the gaps in the tyres. And this can ultimately result in the loss of control of steering of the car.
The float speed of the Bridgestone Potenza tyres along straight roads is 73.4 km/h. The remaining lateral acceleration after a curve is recorded at 1.93 meters per second square.
The Bridgestone Potenza Sport wins over the GoodYear Eagle F1 Asymmetric 5 in regards to aquaplaning. Just like its flawless wet handling, its aquaplaning resistance is also worthwhile and makes the tire a good option for those who live in extremely wet areas.
Noise and comfort
The Goodyear Eagle F1 Asymmetric 5 has a very good noise reduction performance which makes your rides quite worthwhile. The Goodyear Eagle F1 Asymmetric All-Season is available with Goodyear's SoundComfort Technology, which involves the manufacturer adhering a layer of sound-absorbing foam to the inner liner of the tire to reduce cabin noise in the vehicle. The dampening of the sound results in a quiet and pleasant journey for the driver. The external noise is recorded to be 71.1 dB the Goodyear Eagle F1 Asymmetric 5. Apart from offering top control and sporty drive, this tyre is also able to deliver comfort and quietness in a long drive.
For the Bridgestone Potenza Sports, there are a number of reasons for its high noise level. Its high rolling resistance produces more friction and therefore more noise. Its broad, sporty shape is also a factor contributing to noise as it increases the contact area. These tyres have an asymmetrical tread pattern. Designed for stability at high speeds and excellent traction, these driving conditions can also greatly contribute to the noise.
The noise level of these tyres is recorded at 71.7 dB. While this number is on the greater side as compared to other tyred designed for similar purposes, the noise level is not objectionable and you can still enjoy a smooth and comfortable ride with these tyres. The cornering grip especially makes the rides comfortable. However, the GoodYear Eagle F1 Asymmetric 5 takes the cake when it comes to an exceptionally comfortable and noiseless ride.
Tread wear
The Goodyear Eagle F1 Asymmetric 5 is a great all-season tyre with a 45 000 miles warranty. This exemplary warranty reflects the superior quality tread wear of the tyre. Other than being equipped with a rigid frame, the tyre's internal structure features twin steel belts reinforced by spirally wrapped polyamide cord cap plies to blend high-performance handling and control with high-speed durability. The excellent tread wear rating of around 300 is a result of the tyre's rubber composition, as well as its advanced engineering design. The tread design not only offers excellent grip on the road but is also long-lasting.
The Bridgestone Potenza Sports on the other hand has a tread wear warranty of up to 60,000 miles. This means that the tyres are guaranteed to travel these long miles before they begin to wear. The brand new tyres have a tread of 6.8 mm.
The tyres have innovative 3D sipes which make them resistant to abrasions. This ensures the right balance of traction as well as tread wear performance. The innovative mixing also improves chemical reaction control.
The tread pattern geometry of the tyres maximizes rubber to road contact therefore increasing contact pressure and it is also great for water evacuation. In this wear, the tread pattern gives great performance while also having a long lifetime before it wears out, making it worth your money.
If you want to make a long-term investment that pays off very well too, then the Bridgestone Potenza Sports is the ideal choice. The GoodYear Eagle F1 Asymmetric 5 is also quite impressive in this regard, but it is nowhere near its counterpart.
Conclusion
The Goodyear Eagle F1 Asymmetric 5 is an all-season tyre with almost no drawbacks, excellent sporty handling in both dry and wet conditions, and very short wet and dry braking distances with high hydroplaning resistance due to optimized tread design. The tyre has a great deal of longevity and adds to fuel economy due to its low rolling resistance. This model is a great choice for drivers looking for a step above a standard all-season tire. Within a reasonable price, the tyre offers everything that could be expected from a tyre of the Ultra High-Performance category. Excelling in every area, the Goodyear Eagle F1 Asymmetric 5 has attracted a lot of customer base that desire to rise above the norms of the driving and pursue excellence.
The Bridgestone Potenza Sports is a great tire too. A model that gives the Asymmetric 5 very tough competition with its impressive dry and wet handling, as well as the magnificent treadwear rating and warranty. It has a very sporty handle  with excellent steering response. Its shortcomings in aquaplaning, rolling resistance, and noise too are worth overlooking and the Bridgestone Potenza Sports, with its excellent traction, stability, and steering response is a smart choice for your vehicles especially for summers.