Living where there is hard snow and ice frequently can be hard. It has a huge impact on the whole travelling on the road situation as it gets dangerous if you do not have the best winter tires on your car.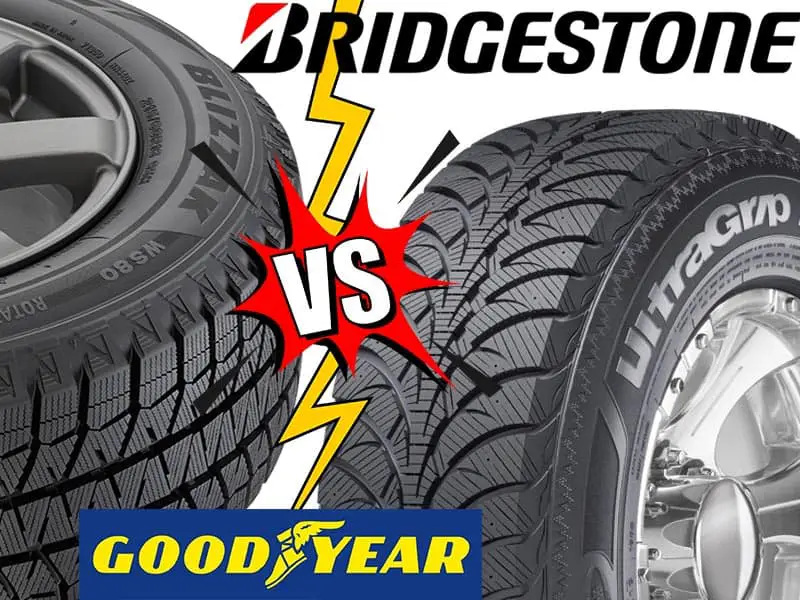 Driving with all season tires would not be the best option in such winters.
Winter weather brings with itself snow and slush that not only covers the roads but makes it easier to lose control and hard to maintain a grip on them.
It is easy to get confused when picking the perfect tires for your car in winters as the market offers you many options.
Winter tires have special design features that allow exceptional performance in snow.
I gathered up information and compared the two best winter tires out there on the market.
This will definitely help you choose which one is the better option for you and your vehicle.
Driving in winter is often just about churning your way through the slush or snow, stopping, and going on the icy intersections and curves on the roads or even the slippery inclined roads.
All the turns and inclined roads make it dangerous.
So, winter tires are designed and built, by keeping in mind the dangers of driving in the winter/snow and to tackle their issues.
The winter tires all have a few features in common.
They all have blocky and heavy patterned tires that aid road handling precision and a compound that is added for traction in winters cold temperature.
So, let us get going!
First, I gathered up some brief information about the tires I will be discussing with you today.
It is always best to have some background knowledge about what you might be purchasing or what you might be thinking of purchasing.
Quick Review
Goodyear Ultra Grip Ice
The WRT in Goodyear Ultra Grip Ice stands for Winter Reactive Technology.
Goodyear's Winter Reactive Technology combines innovative features that together to help the drivers adapt to the changing winter driving conditions when starting, stopping, and turning in snow and on ice.
Ultra-Grip Ice WRT meet the industry's snow service requirements and are given the three-peak mountain snowflake (3PMSF) symbol.
Ultra-Grip Ice WRT tires come in sets of four only.
Bridgestone Blizzak
The Bridgestone's Blizzak WS80 is a winter tire developed to power through winter with control.
The Blizzak WS80 uses Bridgestone's next-generation adaptive NanoPro-Tech Multicell compound.
This compound is molded into a directional tread design featuring 20% more (compared to WS70) block edges where Circumferential and Lateral Grooves help channel water, slush, and snow away from the contact area for added control while 3-D Zigzag Sipes increase the number of snow biting edges.
Bridgestone Blizzak WS80 tires come in sets of four only.
I tested both Goodyear Ultra Ice Grip WRT and Bridgestone Blizzak WS80 under certain conditions and I have compared them on the following aspects:
Dry and Wet Performance
Comfort Performance
Snow and Ice Performance
Treadwear Performance
Dry and Wet Performance Comparison
The Goodyear Ultra Grip Ice WRT tires start and stop with ease, however, if compared to Bridgestone's Blizzak WS80, the stopping appears to be shorter.
The tire can produce noise on dry roads when the vehicle is accelerated. you may observe little extra noise from this tire on dry pavement, so also the softer sidewalls are noticeable particularly during harder cornering situations.
The Blizzak WS80 tires have a contact patch with the road. This helps in distributing the forces evenly and effectively for better stability and control in dry weather conditions which gives it an excellent dry road performance.
The Bridgestone Blizzak WS80 contains a specialized Tube Multicell Compound, which has tiny "Swiss cheese" voids throughout the tread and has added a "hydrophilic" (water-loving) coating, which allows the voids to suck up even more water.
This shows that it has a good wet performance.
The tire has an exceptional ability to perform well on dry and wet roads by offering great steering response and stability.
However, Softer cornering on dry pavement is seen with the Blizzak WS80 tires and not Ultra Grip Ice WRT.
Other than that, its grip on wet pavement and any other type of winter road surface condition, is excellent.
Comfort Comparison
When the Ultra Grip Ice WRT tires get older, you will notice noise coming from them, which obviously is not a big plus because the noise can be distracting and annoying, especially if your destination is far and your drive is long.
Another reason why the noise is being created could be if your vehicle is not well insulated.
Comfortable ride without a lot of noise, as ride comfort is not an issue for the Blizzak because it provides you just that and not a lot of excessive road noise to go with it, as compared to the noise produced with Ultra Grip Ice WRT.
In our test, Blizzak WS80 produced a loud growl when the vehicle sped up at 55mph which eventually dissipated as the speed was increased.
While on the other hand, Goodyear Ultra Grip Ice WRT produces the loudest growl with a steady growl.
The Goodyear Ultra Grip Ice WRT gives quick responses to steering inputs but feels a little unsettled during lane changes.
The ride comfort of Blizzak WS80 is slightly better at rounding over the sharp edge of most impacts. Although the ride comfort of the Ultra Grip Ice WRT is not objectionable but if compared to the Blizzak WS80, it was definitely firmer riding.
Snow and Ice Traction Comparison
The icy intersections are one of the most challenging winter conditions a driver will experience.
Once you get your vehicle moving, being able to stop becomes just as important.
So, let us get to know both the tires snow/ice performance to help you make the perfect decision!
Goodyears Ultra Grip Ice WRT has two layers of technology sandwiched together to give you tires that perform very well in dry, wet, slush, and snow, be it light, relatively deep, or packed.
The first is the angled 3D Tread Lock technology present within the shoulder blocks, which improves the grip on wet and snow, especially when cornering or turning and reduce wear.
The second one is the lateral 2D sipes within the center area, which increases the tire's starting and stopping power on both snow and ice. In a way it bites into the snow or ice for linear grip.
However, it is worthy to mention that the linear grip is relatively weak.
The Ultra Grip Ice WRT tires also use Goodyear's Winter Grip silica-enhanced compound combined with a directional tread pattern that stays flexible under the coldest conditions.
In other words, this provides enhanced traction on snow and ice in below-freezing temperatures.
The tire's sweeping grooves evacuate water and slush from under the tread for increased handling and hydroplane resistance.
Braking and acceleration are one of the true tests of how well a winter tire performs, and with Goodyear's Winter Reactive Technology, this tire does the job.
The Ultra Grip Ice WRT does carry the mountain/snowflake symbol for snow performance.
Unfortunately, these tires do show some trouble with loose or deep snow which takes these tires a small step behind.
Now we move on to the Bridgestone's Blizzak WS80.
The Bridgestone has developed the latest snow tire technology called NanoPro Tech Multicell tread compound along with 3-D zig-zag sipes.
Both of the technologies are incorporated in the Blizzak WS80.
The multicell compound is used to cope with the thin film of water that forms where the tire contacts the snow or ice surface.
Even in sub-freezing temperatures, friction, and pressure from the weight of the vehicle temporarily melts the very top layer of an icy or packed snow surface. The thin film of water acts as a lubricant, making it that much harder for the tire to get traction on the already slippery road.
The new Multicell compound deals with this traction this way:
The first is the presence of many tiny air pockets in the tread rubber, which appear a lot like "Swiss Cheese."
The tiny bubbles in the shape of tubes would temporarily absorb some of the water that forms under the tire's contact patch. This puts the tread rubber in better contact with the surface for improved traction.
While Bridgestone has used a multicell compound on several generations of Blizzak tires, what makes it different this time around is a special hydrophilic coating on the inside of each bubble. Being hydrophilic essentially means it attracts water, drawing more into each bubble for enhanced traction.
The added 3-D tiny bite particles embedded in the tread rubber that act like microscopic studs which "dig" into the snow to allow grip on sheer ice, improve braking on glare ice and help scratch the snow/ice surface.
This tire effectively channels water and slush away from the footprint to resist hydroplaning while providing better traction on wet, snow, and icy roads.
In short, the Nano-Pro Tech compound improves traction on wet and snowy roads, and the 3D sipes provide biting edges for improved traction.
Even though the traction of Goodyear Ultra Grip Ice WRT is very good on ice, but it is just slightly behind Bridgestone's Blizzak WS80.
We tested both the tire's ability to accelerate and stopping on snow.
We got the following results:
Bridgestone Blizzak WS80 – 27.6 m for 0-12 mph acceleration and 53.5 m stopping distance from 20 to 0 mph.
Goodyear Ultra Grip Ice WRT – 30 m for 0-12 mph acceleration and 55.8 m stopping distance from 20 to 0 mph.
If we talk about Ice traction:
Blizzak took a stopping distance of 31.1 m compared to Goodyear's 38.6 m when braking from 12 to 0 mph.
Treadwear performance comparison
Goodyears Ultra Grip Ice WRT has a wide tread grooves which reduces the problems occurring when it is wet or snowing by pushing away excess water or slush that could have effect on your driving performance.
Inside the Goodyear Ultra Grip Ice WRT tire you will find two steel belts that are nylon reinforced for added strength and durability throughout the speed range.
A polyester cord body delivers ride comfort and promotes more even treadwear.
An added rim protector prevents damage from curbs and other obstructions; however, the tread life could be improved.
Bridgestone experts say that Blizzak tires can last three or four winter seasons if you do not use them year-round.
You should not think about using winter tires in the heat of the summer, as they will wear out very quickly.
Also, after about 50% of the tread depth is gone, most of the magic Blizzak compound is also gone. And the tire requires more tread depth in the winters.
This tire incorporates two sipping systems in the tread design to further improve winter traction like the new multicell tread compound which has a revised tread pattern and has proved to be a more pliable tread compound in cold temperatures that improves snow, slush, and ice traction.
What vehicles will these fit?
The Goodyear Ultra Grip Ice WRT is available in a wide array of sizes, with width ranging from 195-255mm and rim diameter ranging from 14"-19".
This tire is most suitable for mid-range to bulky cars such as sedans, minivans, crossover vehicles, SUVs, and light trucks.
The Blizzak WS80 can be used on compact cars, coupes, sedans, and minivans, but other models of the Blizzak are available for different vehicles like SUVs.
Ending Note
Both the tires offer great handling, stability, and overall winter traction.
However, in the end, the only faults we can find in the Goodyear Ultra Grip Ice WRT are the noise it produces on dry roads and just slightly weaker ice traction than Bridgestone Blizzak WS80.
Bridgestone's Blizzak WS80 performed reasonably well. when it came to glare ice, it wins because Ultra Grip Ice WRT failed to match Blizzaks capability.
Finally, here is a graph that I have put together that aims to sum up everything, for your convenience: