Kenda Klever is a true mud maximum traction tire for SUVs and 4 by 4 vehicles. The tread design has big voids to clear mud and sand. They are safe in a variety of conditions and are quieter on highways in rain as well. Federal Couragia, on the contrary, is known for its toughness, maximum off-road traction, and deep-biting tread blocks. It has been designed with a reinforced tread compound for better wear and tear resistance. They are particularly known for their outstanding performance in deep mud.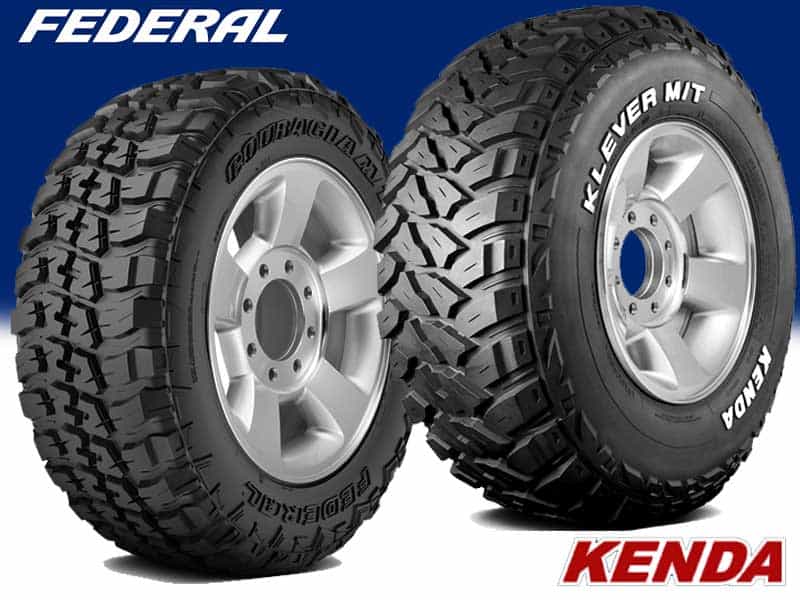 Both tires are premium M/T tires, good-looking, and strongly built. The off-road traction is excellent because of the aggressive tread patterns and larger voids between treads. They are heavier, louder, more expensive, and not fuel-efficient in comparison to A/T and R/T tire categories. Their ability to handle mud or wet pavement with an optimum level of traction is one reason why people don't mind investing more in them.
Comparing Kenda Klever MT with Federal Couragia MT
Kenda Klever M/T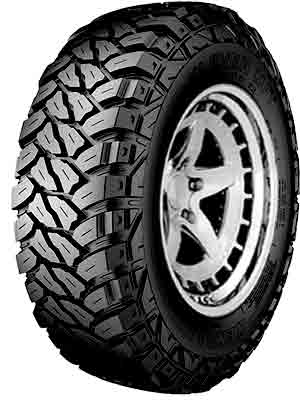 Federal Couragia M/T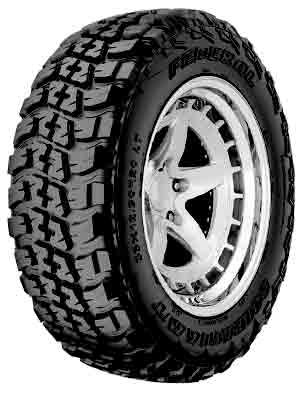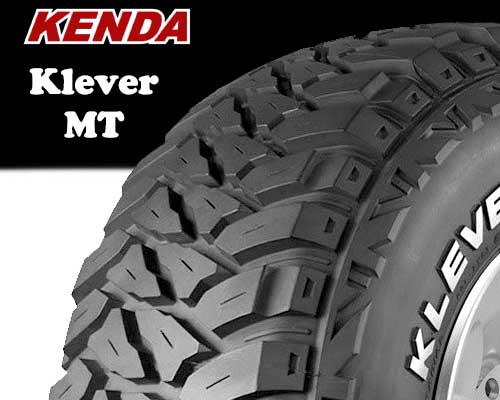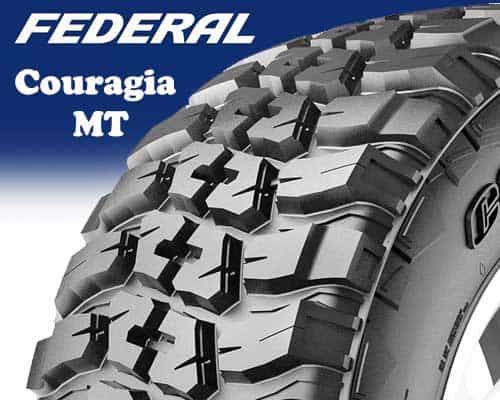 The tread pattern of Kenda is aggressive. It has scalloped shoulders that are staggered to ensure improved traction in mud or sand surfaces. They are specially formulated with chip and cut-resistant, off-road tread compounds to give a longer tread life. The continuous shoulder sidewalls provide additional traction and extreme sidewall protection. It is interesting to note that each tread block has a sipe in it which is useful to wipe away the water, and helps in providing excellent traction on wet surfaces. Kenda Klever M/T comes in 23 metric sizes with different tread depths, load range, speed rating, and rim width, etc each useful for the particular type of vehicle.
Couragia with aggressive tread patterns, strengthened shoulders, and a dual rib aggressive design for better off-road performance. They have bigger voids between tread blocks to quickly shed dirt, sand, and gravel for ultimate off-road traction. This particular structure helps most in dealing with deep mud conditions. They come in 4 different sizes with different ply ratings of 6, 8, or, 10 depending on the tire size.
Tread Pattern Differences
Kenda Klever have visibly strong scalloped shoulder blocks to provide rugged-off road performance along with more civilized highway durability. The treads are reinforced with Kenda's tough and more durable tread compound to deliver increased traction on all types of off-terrains.  Full-depth sipes on each tread block ensure improved traction on wet and snow-covered surfaces. This model has been successful in providing greater traction in mud, gravel, and debris on off-road surfaces, and for off-road trail riding as well. The curvy grooves' structure helps in maintaining equally good performance in the snow as they dig out all the snow quickly.
Their on-road driving experience on highways during rain is also good with very low noise. The tire features dual steel belts with a strong sidewall to provide long- lasting tread life.
However, they seem to have a shorter tread life in comparison to Federal.
Couragia, on the other hand, features an aggressive design along with staggered shoulders, this leads to better handling, traction and grip abilities under off-road conditions. The deeper shoulder lugs with added sipes help deliver a smooth grip in winter weather conditions. They are built with reinforced compounds to provide strong durability against cuts, chips, and abrasions. There are visibly big voids between tread blocks that play a vital role in wiping away all the mud and sand and result in a consistently significant performance in snow.
Overall Traction Differences
Kenda tires are an excellent choice for off-road enthusiasts who need a high traction tire. The scalloped shoulder blocks are essentially helpful in improved traction on loose and soft muddy surfaces. The specially formulated chip and cut-resistant, off-road tread compound is engineered for long tread life. Kenda Klever M/T contains Kenda's DESB (debris ejecting, suction breaking) ridges, to help prevent the tire from rocks, mud, and debris. The continuous shoulder sidewalls provide substantial additional traction and extreme sidewall protection while aired down. Each tread block has a full depth sipe to ensure maximum traction in wet and snowy conditions.
Couragia tires are designed with unique cut and chip-resistant tread compounds along with Federal's SRG (sloped radius gradient) lug design targeted to add tread block rigidness for greater outdoor traction. The optimized tread design with larger lugs having sipes, help keep the tire clean and free from mud, dirt, and rocks and inhibit punctures.
The heavy shoulder lugs provide a stronger grip on the tire which enables it to perform better in the snow in comparison to other M/T tires.
On and Off Road Drive Comparison
The off-road drive experience, especially in mud, sand, and snow is significant because of the tough and durable tread design. They have stone ejectors to provide good resistance to punctures.
Several test runs show that the off-road performance Klever is exceptionally well with a strong grip on rocky trails/roads while climbing up and down. Wet traction is also great on highways during rain.
Couragia provides excellent evacuation of dirt, rocks, and debris on all kinds of off-road terrains because of bigger voids between tread blocks. There are plenty of sharp cutting edges on the tread blocks which help in grabbing dirt and mud while airing down on rocky paths and surfaces without losing the momentum. The outer shoulder tread blocks have a claw-shaped design to help in tire spinning under mud and snow and prevent it from dirt or mud. Because of a greater number of voids between tread blocks, the tires are louder, especially at high speeds.
Which tire provides more comfort?
Kenda are sturdy and reliable M/T tires, particularly great for outdoor traction. They also show considerable good performance with low noise on highways and roads. They come with a Kenda treadwear warranty from 55,000-miles to 65,000 miles. They are well worn and worn evenly as they are constructed with a double-steel design.
 Couragia with aggressive tread patterns look great and perform well too. They are lighter than other M/T tires and the treadwear is minimal. The self-cleaning ability of these tires is praised by several drivers as they can dig their vehicles out from harsh muddy and snowy situations with minimum performance degradation.
Which tire is more durable?
Kenda are heavy-duty tires and an obvious choice on the most challenging off-road terrain. It is designed with a durable tread compound that improves its strength and treadwear, to retain all the ruggedness in muds with a mild sprinkling of on-road refinement. The aggressive tread and segregated blocks with the tread of Kenda increases the biting edges for enhanced snow and ice grip whereas its internal structure includes a double steel belt design that maintain its shape thus attributing to longer tread life.
Couragia are highly recommended as they work exceptionally well on all kinds of off-road terrain. They have a rim protector to help save the edges of the wheels. The reinforced compound used to build these tires are responsible for making them resistant to holes and punctures. They are available in different sizes with strong ply ratings. The rubber that the tire is made of is soft yet durable which ensures a comfortable and safe ride. The sidewalls are designed to be puncture- resistant. The strong shoulder pattern grips well in mud and snow.
Which tire is more cost effective?
Kenda tires are available in a variety of sizes and other specifications, therefore the price differs in each case. However, they offer a competitive price and are considered as a value for money kind of tire. They deliver more than capable traction in dirt, mud, sand, and rain.
And, if you are focusing on off-road optimal performance with maximum traction in wet or muddy conditions and balanced performance in snow, go for Federal Couragia M/T as they are available at low cost and with multiple size options.
Quick Summary
M/T tires have been designed to be compatible with all off-road terrains under all weather conditions. They are tough, resistant to punctures, more durable, and offer excellent off-road traction. They both are available in different size options with different specifications.
However, we have jotted down some important points below to compare the effectiveness and performance before using any of them.
Kenda are highly recommended, despite the short tread life, as they can roll quietly on wet highways too.
In Kenda's tire, the most apparent feature is the radiated shoulder lugs that serve to increase the wet and snow traction in different weather conditions.
 Couragia M/T tire is affordable, with some great qualities, and is ranked highly in most tire reviews.
In Couragia M/T tire, the tread offers great protection and has a high ply rating which makes your life easier regardless of whether you are clocking up miles in the snow, dirt, or with some humming on the highway.
Packed with great traction for bumpy as well as slippery roads, Couragia happen to be a good fit for anyone who enjoys driving in nature or off-road on exciting muddy and rocky terrains.