The Razr AT811 is the flagship offering from Maxxis. This all terrain tire is very aggressive for it's category. Its design tells us that it's actually a hybrid tire.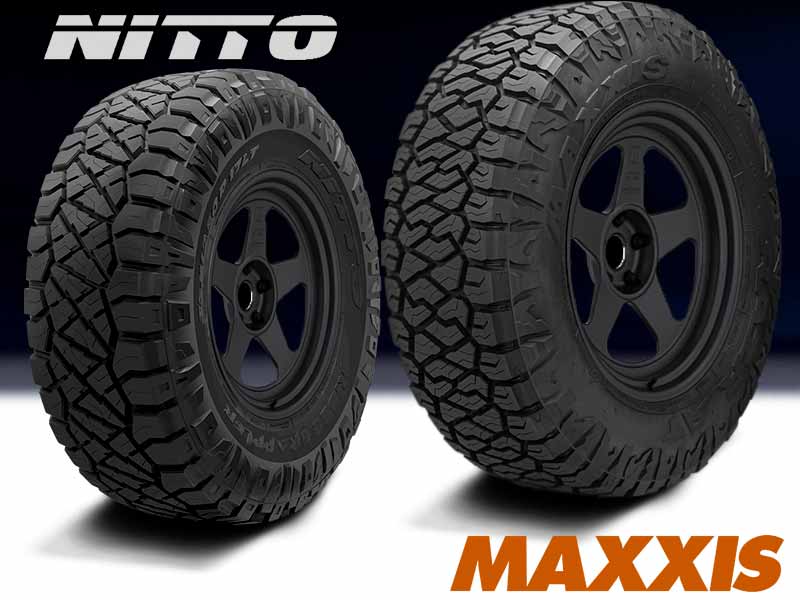 Hybrid tires lie in between mud terrain and all terrain tires, they are also called rugged terrain. A classic popular example of this category is Nitto Ridge Grappler, where the outer shoulder blocks are wider compared to inner compact lugs of the tread.
Let's check out these tires one by one.
Design In Depth Comparison:
Nitto Ridge Grappler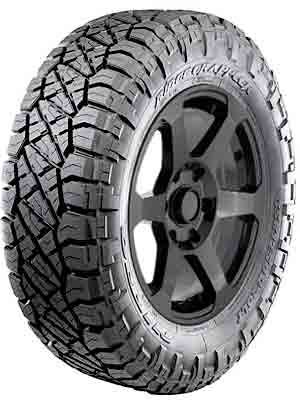 Maxxis Razr AT811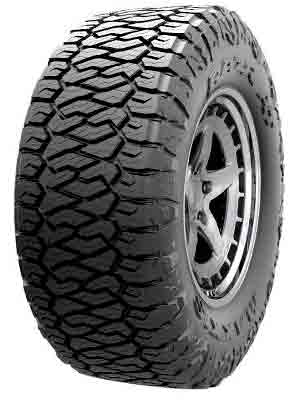 Starting things off from Maxxis Razr AT811, looking at the middle, the highlighted blocks makes it now easier to understand the block arrangement.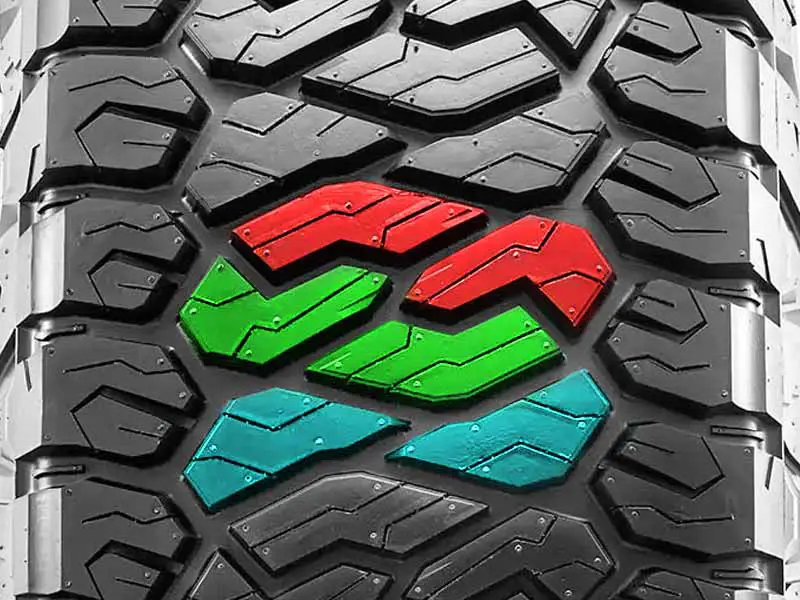 The middle most green colored blocks are surrounded by others in a random placement fashion. All these blocks have chamfered edges and rectilinear siping.
On the other hand, on the Nitto Ridge Grappler gives you a similar aggressive looking design. Here 4 blocks make Z shaped grooves which connect the outer channels.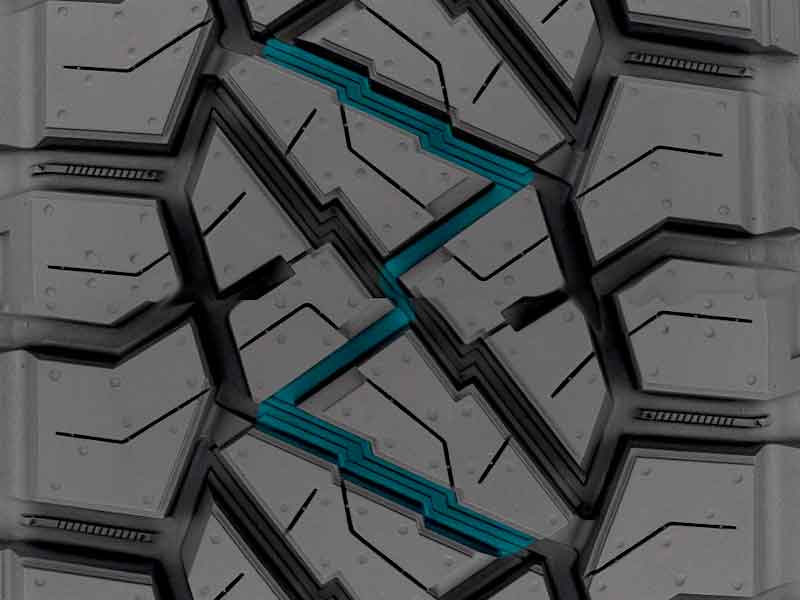 All blocks have reinforced foundations underneath and provide more biters, where you can see aggressive notches, offset edges and full depth siping.
But it's other way around on the shoulder blocks where the Maxxis Razr shows you with a more aggressive design in comparison.
The tire makes more interlocking sipes here along with traction notches missing in Nitto Ridge.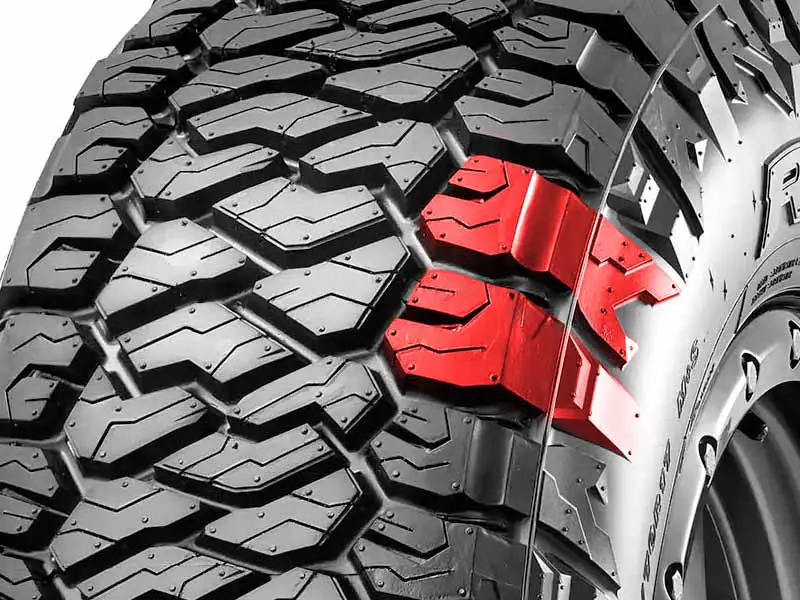 These blocks are staggered as they prominently make mud scoops in them. The side biters of the tire is also very aggressive, and although its subjective, these look better on this tire.
But other than looks, they don't perform as efficiently as the Grappler's.
Although the Nitto Ridge does not make aggressive enough shoulder blocks (as they don't features any notches, plus the siping is also very less), the tire makes very powerful sidewall lugs.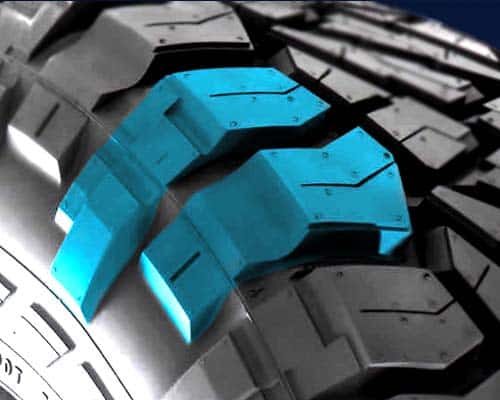 The staggered shoulder blocks with scoops join these lugs which are thicker and bulkier in comparison.
The tire also offers dual sidewall design where the other gets even more aggressive than the other.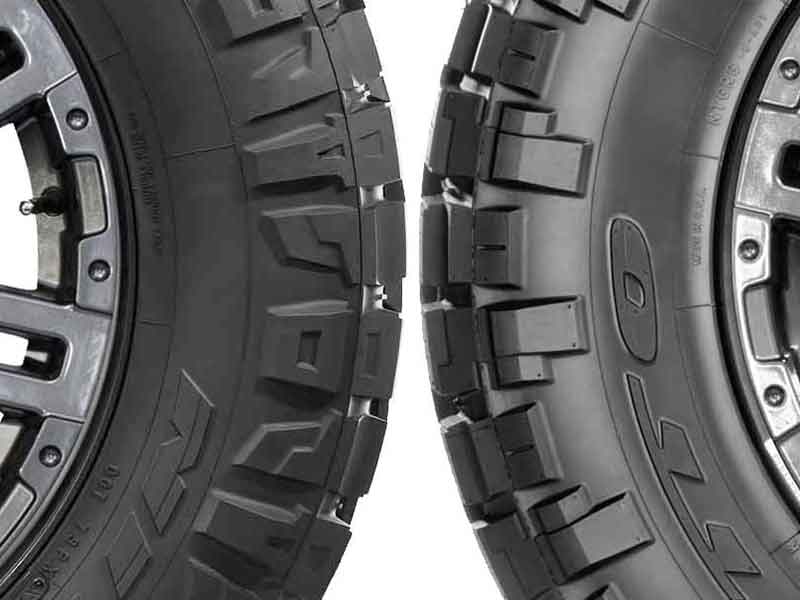 Thicker lugs provides this tire with better footprint off road when it's pressured down.
Now before moving to their performance, let's take a look at the tire sizes they offer along with other technical specs like tread depth and weight.
Tire Sizes & Other Technical Specs:
In case of Maxxis Razr AT811, most of the sizes have tread depth of 15/32″ and they come between 15 to 24 inches total sizes, where only one is available in the largest 24 inches, 37X13.50R24LT with the load rating of F (which is also the highest).
The smallest 15 inches is also available in one size, 31X10.50R15LT (Load Rating C).
The section width of the tire ranges from 8 to 14 inches and if we talk about weight it ranges between 30 to 85 lbs.
Side Note: Other than 15/32″, you see 12/32″ tread depth on Maxxis Razr
On the other side, the Nitto Ridge Grappler offers 16 to 24 inches, (15″ is missing), but the tire still provides overall more sizes in number.
The tread depth on these sizes varies from 13 to 18/32″. You are mostly going to see more tread depth on average on this tire.
If we talk about weight, it ranges from 36 to 91 pounds, again you are going to see more weight in comparison here on Nitto Ridge.
Other than this, the Maxxis Razr AT811 is more fuel efficient but is going to wear a little faster in comparison. The reason being it's softer rubber compound and less tread depth.
The Maxxis Razr has 50k miles tread warranty (on LT sizes) while the Nitto Rdige Grappler does not provide any kind of warranty.
Inner Construction:
Both tires offer a 3 ply polyester carcass with a high turn up built where 2 wide steel belts sit on top.
These steel belts are further reinforced with 2 nylon cap plies.
Out of the two, the Nitto Ridge Grappler provides a slightly more tougher inner make, and with thicker layer of rubber on top (with more tread depth), the tire is more durable out of the two depending on the size of course.
The sidewalls of both tires are 3 ply but with thicker lugs on Nitto Ridge Grappler, they are going to get slightly better puncture resistance.
Ride Comfort:
The Maxxis Razr AT811 is a slightly softer compound in comparison, that utilizes more polymer add ons in it's composition.
The softer compound of the tire is actually for its winter performance, where you don't want rubber to stiffen up, as that loses traction on snow.
So a good comfortable ride is seen on Maxxis Razr.
On the other hand, the Nitto Ridge Grappler provides you with more tread depth that has more area to absorb the bumps. But the tire with greater weight and stiffer compound is still less comfortable overall.
But these tires still offer you with less on road noise in comparison. Both of these tires provide variable pitch technology, but it's much more efficient on Nitto Ridge Grappler, where the angles on tread blocks are more aggressive and better at cutting down the noise levels.
Traction on road:
Highway performance is something which is not highly expected out of these rugged terrain tires, as they have to compromise here a little bit for their greater off road capabilities.
But still both of these don't disappoint on tar and are still a better option even from the most on road performing mud tire.
But still other than that, there are few key points to know about them. For example, the lateral traction component of Nitto Ridge Grappler does not commute impressively with it's longitudinal traction.
The tire shows a slight delay in steering response, provides limited feedback especially during sharper turns, and makes steering a bit harder due to it's more weight.
But yes, the tire does offer a better stable grip other than that, showing shorter braking distances in comparison.
On the other hand, the handling is seen better on the Maxxis Razr AT, even on wet roads, where, the tire although slides as well but takes less time to recover.
Basically both tires under-steer and you wait for the vehicle to get stable again, and this delay is shorter on Maxxis Razr.
The tire basically provides you with much better interlocking siping, which on corners do not stiffen up as much as the Nitto Ridge Grappler, providing better water-wiping efficiency.
Snow Performance:
When it comes to snow, since off road tires lack in numerous siping like a dedicated winter tire, they are of course not going to be as better or even on par.
But these tires still carry some features that at least make them not disappointing and Maxxis Razr AT811 is one of them.
The tire has better abilities to hold on to the snow and provide greater snow to snow contact. This goes especially for the shoulder blocks which provide traction notches trapping the snow in them.
The tire also offers softer compound which does not get too stiffen up with freezing temperatures of snow.
These features earn this tire the 3 Peak Mountain Snowflake rating, unlike the Nitto Ridge Grappler, which is not as impressive.
Performance on Rocky Terrains:
The Maxxis Razr AT811 provides a good performance overall, but it's not able to outperform Nitto Ridge Grappler, as this tire is simply made for rocks.
The traction of Nitto RIdge is simply matchless. The Z shaped grooves with notches and offset edges simply stick on rocks from all directions with more lateral and circumferential grip.
The tire also offers thicker lugs so these alternating sidewall lugs provide amazing traction off road when tire is pressured down to a lower PSI.
And although both tires offer similar inner construction, these thicker lugs provide better sidewall protection as well.
But I do like the fact that the Maxxis Razr AT811 has lower sidewall filler compound which provides more stability to the bead and tire's rim when you lower down the tire's pressure. This is specially helpful on sand, where you need to air down more.
Both tires other than that are great on gravel and dirt filled roads, and with massive grooves and stone ejectors, there's no problem there.
Performance on Mud:
Mud is something which is even challenging for hybrid tires. But still both tires do a good job here by providing satisfactory self cleaning.
Both tires offer alternating scalloped edges which act as mud scoops providing these tires with good forward momentum aid.
The sidewall lugs of both tires also do a similar job, scooping and throwing the mud away as the tire rolls.
Nitto Ridge Grappler still has a tiny advantage here. The tire offers more biter in the middle with sharp edges, which help breakdown the mud in a slightly better way, the broken down mud move out of the tire much easily in comparison.
The tire also has more tread depth so this also allows it to take on more volume of thick mud.
Conclusion:
The Maxxis Razr AT811 is although marketed as all terrain its a hybrid tire just like the Nitto Ridge Grappler. These rugged tires are better off road performers than on road, but at the same time with them, you don't have to compromise too much on the comfort.
Out of these both, the Maxxis Razr provides you with better overall wet performance as well as snow, and is branded with 3pmsf rating unlike the other.
Nitto Ridge Grappler on the other hand, stays unbeatable on rocky terrains which better gripping power and capable sidewall biters.