Both tires have enhanced off-road abilities combined with a reliable traction on streets. Their rugged patterns not only give them aggressive looks, but also account for their lasting performance in tough terrains.
The famous BF Goodrich KO2 like its predecessor is an all-terrain tire with great durability and enhanced on-road comfort, thanks to their streamlined design and specialized rubber composition.
On the other side, the Ridge Grappler from the Nitto Family of tires, is hybrid terrain and offers great grip on rocks and mud. Due to its supreme biting abilities, it provides enhanced off road performance.
Let's find which tire would suit you best. (The Key lies in their designs).
BTW: Have you ever noticed that the BFG KO2 looks exactly like the General Grabber ATX?
Side By Side Comparison
BF Goodrich KO2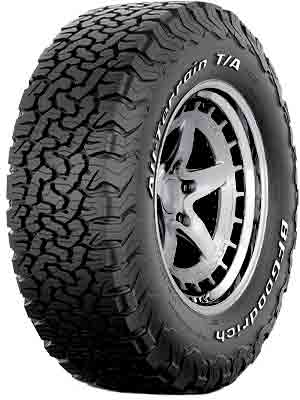 Nitto Ridge Grappler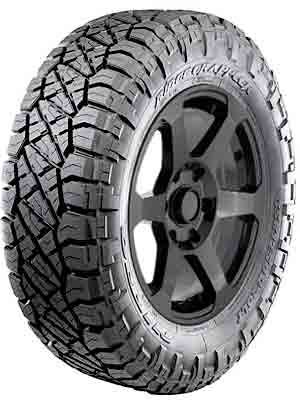 Starting with the BFG KO2. First things first. Notice the hook shaped tread blocks everywhere. See how uniformly distributed they are, and how they surround each other.
The almost horizontal lines on it you see are the sipes (which help push water away). They are slanted at an angle and not completely straight.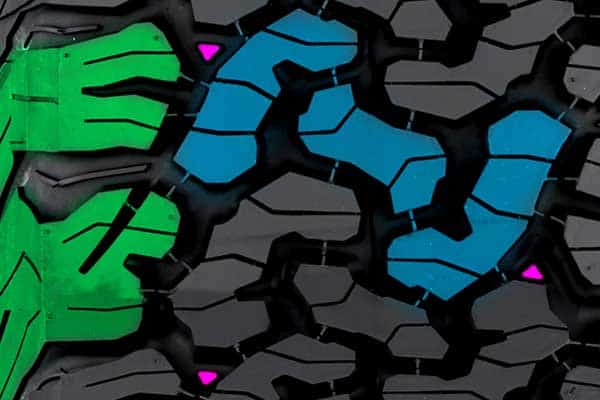 Its shoulder lugs are irregularly shaped, have wide spacing among them. And they carry traction notches on their internal sides and scooped edges at their outer margins. (In other words the shoulders are staggered).
Between the shoulder blocks the wide spacing you see act as stone ejectors. (And if you look close enough you'll also find the triangular shaped stone ejectors strategically placed between the tread).
On the other side, in case of Nitto Ridge Grapplers, these stone ejectors are bigger and chunkier as more spacing between these shoulder blocks are seen.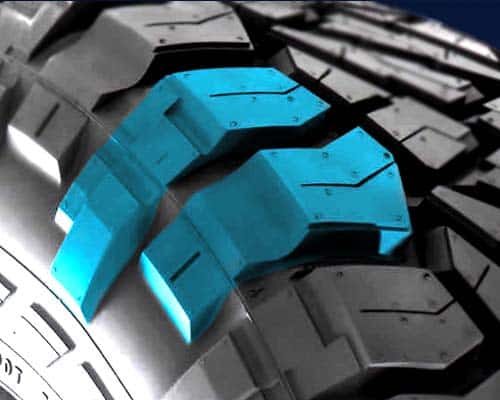 That's the reason why this tire is from the hybrid or RT (Rugged Terrain family). They fit right in the middle between the Mud tires (like Toyo MT) and AT tires like the KO2.
The central part of the tire resembles the narrower groove voids of AT tires while the shoulders are from mud terrain tires.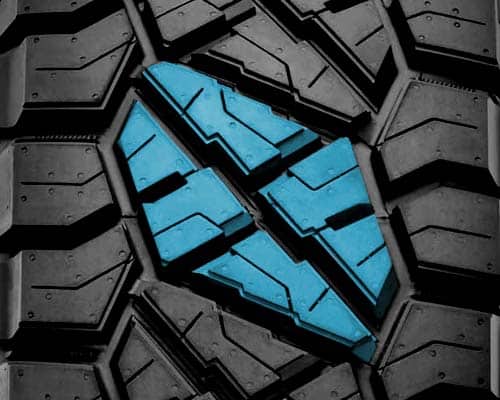 Here you can see big triangular shaped blocks arranged side-by-side to form a slanted Z-shaped grooves.
The overall design is again more aggressive here. Its blocks have reinforced edges and slit-like full-depth sipes combined with notches giving the tire amazing traction values.
The sidewalls of both tires is another area where they are again very different: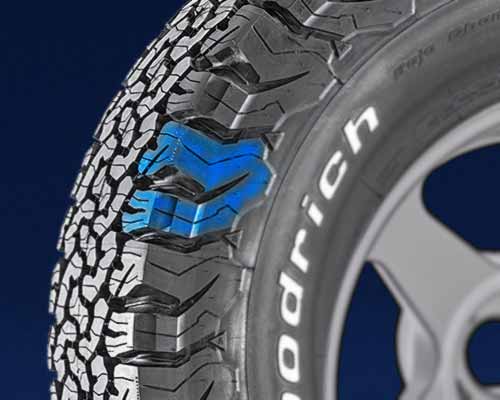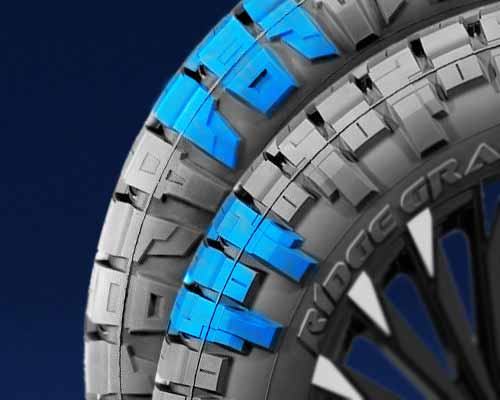 In case of BFG KO2, they molded the shoulder's tread and made a lug out of it.
These lugs from both shoulders join to form a sidewall. A deep cut between them joins with the stone ejectors.
But in case of Ridge Grapplers, the sidewalls are bulkier. Each block is separate from each other and they act as a better traction grooves here.
So they provide better protection from unwanted sharp objects on off road terrains.
Other than that, both sidewalls have 3 ply internal construction (on most sizes) and both are very durable.
But this is special for KO2 mostly because it makes it the strongest of all AT tires.
Would You Prefer Watching a Video Instead?
Mud Performance of both tires:
Both tires are great here but the overall performance of Nitto Ridge is better.
Like we mentioned, Nitto put the mud terrain shoulders on this tire. They are wider and are better in scooping up the mud.
With that, the central part of the tire is a better digger with its sharp Z shaped voids and biting edges of its blocks.
(The serrated shoulder is common with both tires) But the alternating shoulder width and length of blocks here allow this tire to slit through mud more efficiently.
When the tire is air blocked deep in to the mud. The bulkier shoulder lugs (we saw above) allows the tire to get out.
In other words this tire is better at getting out of a tough situation.
Coming to BFG KO2, the tire did great (considering how mud is AT tires worst enemy).
Here, the serrated shoulder are smaller and don't vary in length but they do have strong biting notches to them which slash through the surface.
These notches are seen every where on the tire, on C shaped blocks. And they all help cut through the soft mud while the wide enough grooves provide a decent mud evacuation to sides.
Their C-shaped blocks also help bite on muddy surfaces very effectively, while wide enough grooves provide a good mud evacuation.
And here these help in slashing the mud.
Still you can't expect a full on mud battle with these tires. They would simply get packed and loose traction.
Traction on Rocks: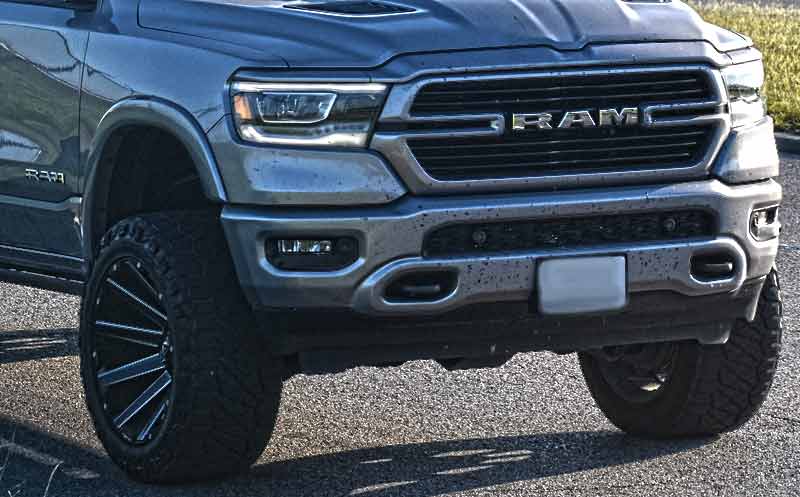 The Nitto Ridge Grappler's design allows it to have a more powerful combination of lateral and circumferential traction which is one of the most important factors for grip on rocks. (KO2's don't really have proper circumferential grooves).
The Nitto's Z shaped design allow the grooves to bite the rocks horizontally and the alternating groove pattern of the shoulder design hugs the surface in a vertical fashion.
This is further enhanced given the nature of the tire's material. The Ridge Grappler's silica based compound is softer in comparison. So this combined with the larger shoulder groove voids makes this tire a perfect climber.
On the other hand, KO2 has a harder compound (for its on road reasons). But still the hook shaped blocks of KO2 hang on to the rocks (guess that's why they are designed as hooks).
These uniformly separated hooks with dents everywhere allows this tire to still have an amazing rocky terrain performance.
The sipes which also separate these blocks further act as fangs and they open and close accordingly as the tire rolls over.
Both tires are however perfect for high speeds on gravel and dirt/small rocks. They both have efficient stone ejectors (with Ridge Grappler having a little better design).
And they both have cut/chip resistant tread along with powerful sidewalls. (3 ply for both)
Nitto Ridge Grappler also has a bulkier sidewall design here and it aids in protecting the tire even further enhancing its durability.
Snow Performance:
On snow is where the BFG KO2 shines.
The web of uniform siping and biting edges along with its serrated shoulders make this tire one of best on snow.
This is how they all help this tire here:
The 3D siping has a zig zag design and they go down to the base of the tire (so they are deep). They act as a gripping tool for the tire on snow. All these sipes are angled too which allows the tire further by making a lock with the surface.
The multi-edged blocks bite the surface of the snow like they do in mud.
And the serrated shoulder work along the grooves and allow the tire to dig in and act as traction scoops.
All these features allows this tire to have better braking distances on snow and earn it the 3PMSF rating.
The rating is missing in the Nitto Ridge Grappler.
The tire still performs well in snow though. As this tire also has no less biting abilities.
Here's its bulkier shoulders and lugs provide the necessary "scooping" and the sharp edges of the tires do the biting.
But due to lack of uniformity of blocks found in KO2 along with the sipes makes this tire perform lesser overall.
On Road Traction/Comfort/Noise:
With All Terrain tires, it's always been a long-lived battle between the off road performance and the on road comfort.
So, where the Nitto Ridge is better off road, it has to compromise a little on pavements. With wider grooves the tire simply offers less contact with the road, so overall grip here is compromised.
But with the tire's stickier material and multiple biting edges the difference is only marginal.
Although same can't be said about wet roads. Especially when it comes to handling.
On corners the tire's shoulders come in to play and the Nitto Ridge with it's bolder stone ejectors already loses a lot of contact with the road, and then the tire does not provide enough siping to clear water from its path.
Basically, when the tire rolls over the water, the sipe underneath is pressured to remove its air and create a vacuum. And this sucks in the water particles which later gets sprayed out when the tire rolls over.
So, Nitto with it's minimal siping is not able to wipe water away efficiently.
The BF Goodrich KO2 on the other side, is also prone to slippage and it gets bad with wear. The tire actually provides 2 layers with the softer one on top, and once that wears off, the stiffer compound underneath makes the wet traction worse.
So, both tires are not so great on wet asphalts but KO2 is still a little bit better than the Ridge Grappler.
The Ridge Grappler is also a bit louder than KO2, but it was surprising to see how quiet these tire are given their aggressive design.
This has to do with its variable pitch technology, where the vigorous variations of angles in its central blocks don't allow the sound waves to sync together and amplify.
These tires also weigh a little more on almost all sizes, so the tire would also consume more fuel compared to KO2. If you are wondering, we calculated the average for all of its sizes and the Nitto Ridge is 7 pounds heavier on average.
And the tire has 97 total sizes where the BFG KO2 provides you with 89.
So overall its pretty safe to say that KO2 is a more on road oriented tire, while the Nitto Ridge would provide you better traction on tougher terrains.
So Whats the verdict:
The BFG KO2 is made for you if you:
are a frequent highway driver.
are going to face a lot of on road snow.
go off road casual.
On the other hand, get Nitto Ridge Grappler:
if you need a more aggressive AT tire.
if you are spending more time off road.
if you still want the on road comfort too.
Following are the specs of both tires we compared here:
| | | |
| --- | --- | --- |
|   | BFG KO2 | Nitto Ridge |
| Tire type | All-terrain | Hybrid terrain |
| Three peak mountain snowflake rated (3PMSF) | yes | No |
| Tested size | LT265/75R16    | LT265/75R16    |
| Tread depth | 15/32'' | 16.4/32'' |
| Tread width | 8.5'' | 10.51'' |
| Load/ speed rating | 126/120R E        | 123/120R E |
Compare Nitto Ridge with its competitors:
Compare BFG KO2 with other AT tires: