Winter tires are built differently on a fundamental basis. They use a much higher ratio of silica in their tread to cope with the slippery conditions, that come with snow and ice. And with their rather deeper tread, they give out better traction and handling.
But which tire is better here? Well, you'll be surprised to see how a mid range brand of Toyo Tires performs against a premium brand like Michelin, as the difference is very little.
Let's start things off with their tread pattern.
Design Differences:
Michelin X Ice Snow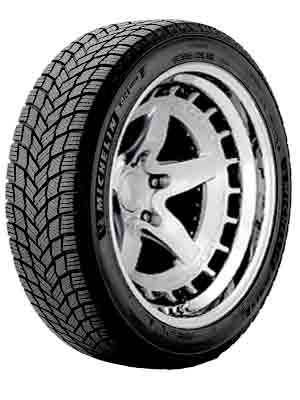 Toyo Observe GSI 6 HP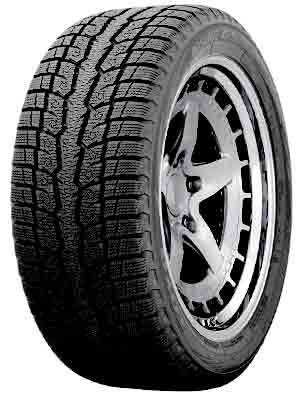 If we look at the middle of these tires, starting with the Michelin X Ice Snow, the tire features a directional design with 2 ribs, each colored below.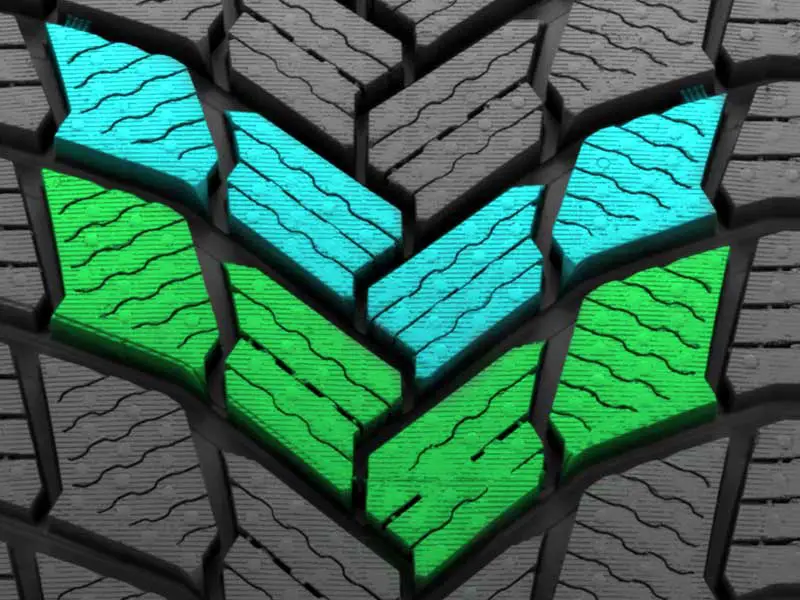 Both have blocks which only change slightly, and they are seen with a lot of sipes with slits (on green highlighted blocks) along with off-set sides and sharp chamfered edges.
All these provide a great deal of biting to the snow.
The softer compound made blocks are also made a little firmer with reinforced foundations underneath both of these ribs.
These foundations are also seen on the Toyo Observe GSI, but here they are in the form of supporting ridges, (as seen on the blue highlighted blocks facing the central rib).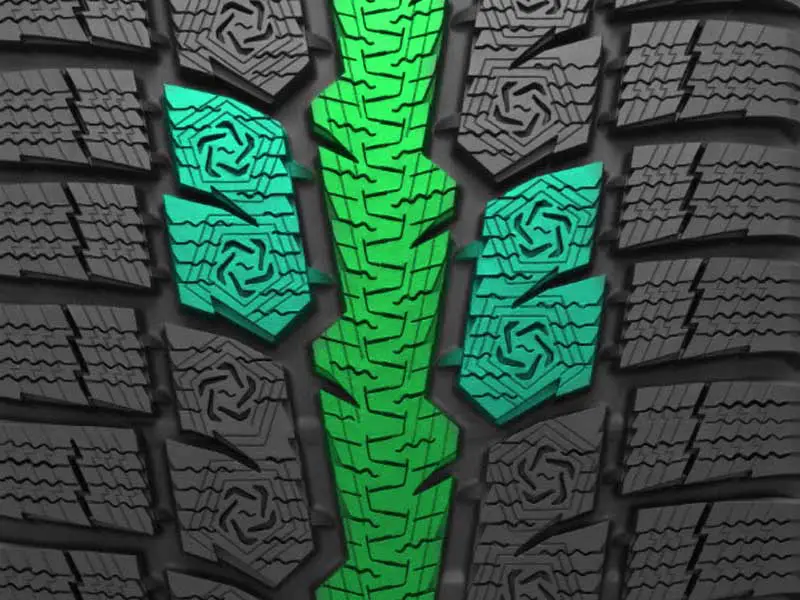 Both ribs feature a very aggressive pattern as well, where the one on the sides (blue) are seen with a snowflake design, encarved on them, along with deep notches and side biters.
Both ribs although carry a similar wave-like siping pattern, the central rib (green) has more variations to it.
If we move towards the shoulder blocks, the Michelin X Ice shows you 2 unique blocks.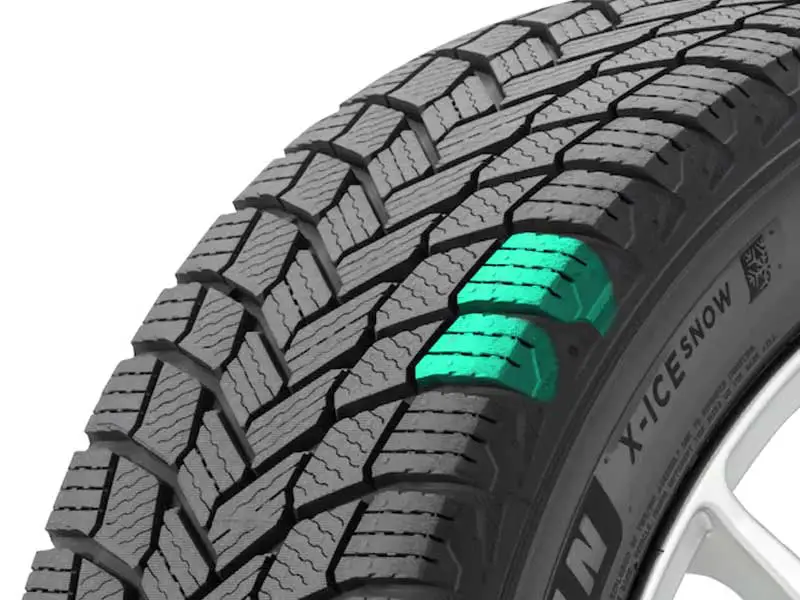 They vary in length and no. of siping, but other than that, they all carry similar features.
They have chamfered edges which makes a very tough passing longitudinal grooves and the siping here is wider with larger slits.
On the other side, the Toyo Observer GSI again shows up with a more aggressive design. And here all blocks are identical and they have same features.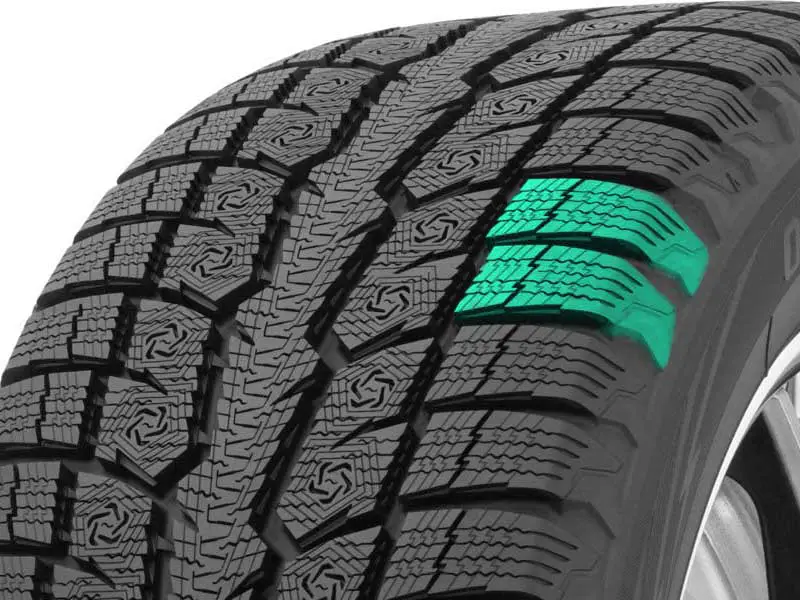 These blocks are divided by deep zigzag notches and they are equipped with elongated interlocking siping.
On their inner margins they have sharp biting edges which act as snow vices and so this tire also makes a very jagged outer grooves (out of 4 in total).
Other Design Features of these tires:
| | | |
| --- | --- | --- |
| | Michelin Snow | Toyo Observe |
| Total Sizes | 15 to 22″ | 14 to 22″ |
| Width | 7 to 11″ | 7 to 11.2″ |
| Weight | 16.6 to 40 lbs | 17 to 40 lbs |
| Tread Depth | 10.5/32″ | 11 to 13/32″ |
Overall, the Toyo Observe is wider and has more tread depth on average.
Snow Traction:
Both Observe GSI6 HP and Michelin Ice provide exceptional snow traction and are 3MPSF certified, which means that these tire fulfilled the industry's severe snow tests.
But out of these two, the Michelin Defender showed better efficacy, showing better traction values in almost all key areas.
Michelin Snow
Toyo Observe
Snow Braking
50.4 m
(better)
50.9 m
Snow Handling
48.7 s
(better)
49.3
Ice Braking
42.7 m
(better)
48.1 m
Ice Handling
61 s
(better)
67.3
Michelin uses the FleX-ICE 2.0 in X ICE Snow that uses inclusion technology by generating micro-roughness in the tread surface; the rougher the surface the better the gripping.
It's larger inner blocks with chamfered edges are better in scooping out the snow and it's split offset shoulder blocks with rectilinear siping, provides more grappling power on snow and ice.
The tire actually makes a better snow tire as it's directional flow is not stopped by the rib (like seen on Toyo Observe).
That's why it's V shaped lugs provide exceptional hydroplaning, water, slush, and snow evacuation.
The tire is also fused with a higher silica content, which makes these tires softer of the two, so with more extreme temperatures, these tires do not get as stiffer, comparatively.
It also has an advantage of being smaller in width, so with a skinnier tire, the tire is able to put more pressure on the snow and is able to trap more snow in it's grooves, which enhances traction.
Basically, when it comes to snow, rubber to snow contact is not as efficient as snow to snow contact, so the Michelin X Ice Snow, which is better at lodging snow in it's grooves provides better efficacy here.
The Toyo Observe GSI on the other hand, although wasn't too far off on snow, it really lacked behind on Ice.
The continuous rib of the tire in the middle provides a greater rubber to ice contact and it's not good for this type of terrain.
But it surely helps the tire on road.
On Road Traction:
Toyo Observe GSI where it under-performed in all subcategories of snow, it really surprised on road with it's substantial traction values.
Michelin Snow
Toyo Observe
Dry braking
31.2
29.8m
(better)
Dry Handling
35 s
34 s
(better)
Wet Braking
38.6
36.6
(better)
Wet Handling
41 s
40 s
(better)
Noise
73.8 dBs
73.4 dBs
(better)
Rolling Resistance
More
(better)
Less
On dry roads, the Toyo Observes simply provides more rubber to road contact, providing better grip.
It's slightly harder compound also provides a more stable ride in comparison.
But with a lot of biting edges, the tire has a very high rolling resistance, so it's going to consume more fuel off the two.
Side Note: According to Michelin, they have reduced the rolling resistance of X ICE SNOW by 9% as compared to its predecessor, X-ICE Xi3. With high silica content in the tread, X-ICE Snow has a reduction in fuel consumption by 1.8 %.
On wet roads, the absorbent carbonic powder within the tread of Observe GSI 6 HP absorbs excess moisture to maintain the grip on wet pavements, and provides better performance.
And although the Michelin X Snow's tread contains soluble inclusion which also absorbs water, the Toyo Observe provides better sponge effect in comparison.
The Toyo's numerous siping pattern including the spiral edged one, provides better wiping power off the two.
On cornering, where the tire's shoulders come in to play, the tire with its thunderbolt lightening siping is more effective at soaking up the water particles underneath (and spraying them out as the tire rolls over).
Treadwear and Warranty
As we have already concluded that the Michelin Snow with less contact with the road provide less resistance to roll, the tire is less prone to wear.
But still as the Toyo Observe provides you with a slightly harder compound and deeper tread (in comparison), but both tires have almost similar life span.
Michelin offers a 6-year/40,000-mile warranty on the X ICE Snow (when worn to 2/32) "half mileage for the rear if different size than front must be seen only during the winter months 9/1 to 4/30
It also comes with a one-year uniformity guarantee or the first 2/32 " along with a 60-day satisfaction warranty.
On the other side, the Toyo Observe uses an innovative high-density 3D sipe technology that promotes even wear.
Toyo offers a 5-year replacement warranty for the 1/32nd wear of the tread. Toyo Tires will replace, free of charge any eligible tire when the original unusable tread is worn by 25% or less within 60 months from the date of purchase.
Noise and Ride Comfort Comparison:
Winter tires are always louder than normal highway or even A/T tires, due to their peculiar tread design. They have to compromise a little on noise for superior traction over ice or snow.
And on these tires, most of the noise is attributed to their numerous siping.
But still both tires, offer technologies to reduce the noise level. The Michelin uses Acoustic tech, that reduces vibrations in order to provide you a quieter ride.
And on the other hand, the Toyo Observe GSi 6 HP is equipped with a "Serrated stability rib" that provides a comfortable ride with reduced cabin noise.
Both tires show a very marginal difference where Michelin has a average noise level of 73.8 dBs and the Toyo Observe produces 73.4 dBs (being the quieter of the two).
So, What's the verdict?
Well the Toyo Observe is better suited with lighter snow, as the tire offers better traction values on dry pavements as well as wet asphalts.
On the other side, the Michelin X Ice Snow is a better fit for extreme temperatures with it's amazing snow and ice performance.
The tire also consumes less fuel in comparison as well, and it's dry performance isn't too far off either.