Mickey Thompson tires are known for their unconstrained innovations combined with boosting performance. And obstinate execution has always been their strength on all terrains.
Here, we will take a look at the Baja boss series by Mickey Thompson that contains AT, MT, ATZ and MTZ tires. Let's start by knowing some main differences among these four.
Difference between AT, MT, ATZ AND MTZ
Mickey Thompson Baja Boss A/T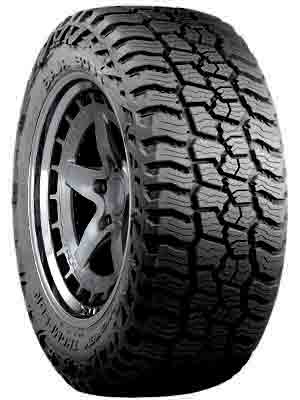 Mickey Baja Boss M/T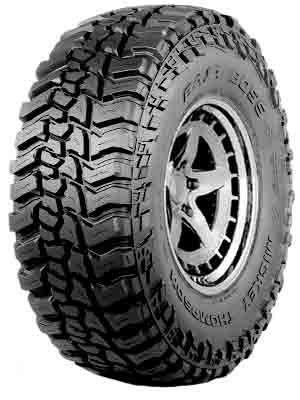 Simply put, ATZ is a overall hybrid tire (best of both worlds, on and off road), a good option to pick for daily drivers, who travel mostly on road. It's a better version of A/T Tire.
On the other side, the MTZ is the best mud tire Mickey has to offer. You may call it a super MT.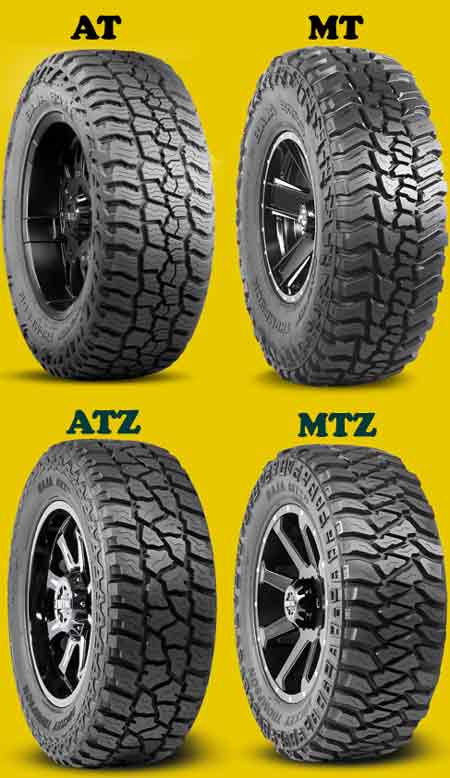 Normally, AT tires consists of large tread containing tread blocks with small spaces between them. In the case of Baja boss AT, it contains an asymmetrical tread pattern contributing to undisputed on and off-road performance with less noise production. The deep and wide grooves help to make the tire perform better in muddy or rocky situations as impediments can easily pass through them.
The extreme side bitters on the sidewalls make all-terrain tires less likely to experience serious damage.  Hence, AT tires are long-lasting with less fuel consumption and 40,000 miles treadwear warranty makes them an economical choice.
Baja boss MT tires are the ultimate mud-terrain tires, especially for off-road enthusiasts. These tires have staggered lugs for improved handling and concave centre lugs to increase traction. They feature an aggressive look with stone ejector ribs to prevent stones or mud from getting stuck into tread grooves. And also have strong sidewalls assist which bring in a better resistance from punctures. These powerply sidewalls conform to almost every rugged terrain.
Baja MTZ is a premium mud terrain tire with impressive off-road performance. The strength of MTZ is unmatched as its sidewall contains powerply construction. Sidewalls make the ply runs diagonally which ultimately adds to its power and strength. Also the deeper tread pattern contributes to lesser noise production by absorbing it.
Baja ATZ is again a sort of hybrid AT tire which is more aggressive than AT (on-road performance wise) and more comfortable and quieter than MT (on off-road). The tread pattern of ATZ conforms well to the road, forming a wider footprint which ultimately reduces the noise and increases road comfort. This category targets people who are not frequent off-roaders or on-roaders but in between.
Overall when compared, ATZ is good at both off-road and highways with extended tread life. MTZ is best at off-road featuring aggressive design with impressive performance. AT is an all-rounder tire with smooth performance along with aggressive looks. And MT is a radial tire specifically designed to perform well on extreme muddy terrains.
Mickey Thompson Baja AT Vs MT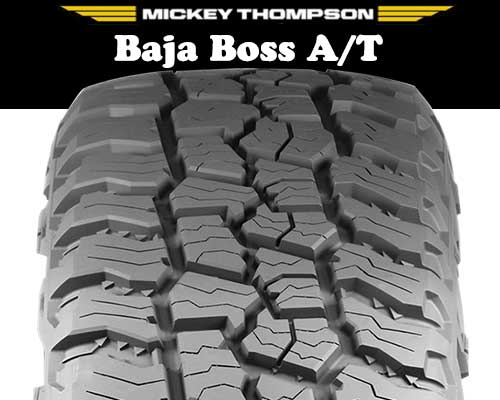 All thanks to the asymmetrical tread pattern, both tires provide optimum traction on and off-road. If you want to experience the extreme off-road adventure then Baja Boss MT is an exceptional choice. On the other side, the Baja AT is an all-rounder tire so its sleek design makes it a pleasant on-road tire with a good off-road performance as well.
On-Road Traction and Performance Comparison
The asymmetrical tread pattern of Boss AT contributes to excellent on-road traction by conforming well to the surface.
AT tires are designed to form wide contact with the surface to provide maximum riding comfort with less on-road noise. This happens due to the presence of unique tread pattern containing a silica compound. This material helps in braking and handling capacity as it powers the tread by making it sturdy and sticky to the surface. The asymmetrical tread pattern makes the tire conforms well to the paved surface. With Boss AT you will get a comfortable ride with top quality on-road performance as it features 150 percent deep side bitters as compared to Baja boss ATZ, providing sturdy grip and powerful traction.
Talking about the MT (Mud Terrain tire), the on-road performance is simply fine but not great. Where it was able to perform much better on-road with dry conditions. But with wet conditions, the handling becomes quite challenging. And looking at the tread pattern above, it makes sense. Besides the wider grooves on MT, (which already lowers the contact patch with the road) less sipes are also seen.
So with less contact patch, we get less dry grip, and with less siping, the tire is not able to "wipe" water away as efficiently as the A/T. Sp its specifically designed off-road tread pattern doesn't adjust well to the regular road surface.
Off-road Traction and Performance Comparison
Its not surprise that the Baja MT performs better here. With its asymmetrical tread pattern it delivers enjoyable traction by adhering firmly to the muddy/rugged surface.
Compared to the AT, you get a softer material on MT combined with a little wider and deeper grooves, less siping and more optimized shoulders.
This enables the tire to keep a steady traction on rugged and muddy terrains.
The powerful side bitters on shoudlers also provide maximum protection against puncture. The powerply constucted sidewalls along with the four-pitch side biters protect the tire from getting damaged during off-roading.
Price Comparison
All Baja series tires are champions in different terrain categories. Therefore, the prices of all of them vary from each other. The aggressive design and sturdy build with top-notch performance over muddy terrain make Mickey Thompson Baja MTZ and premium MT a bit costly as compared to Mickey Thompson Baja ATZ and extreme AT.
Mickey Thompson Baja MTZ Vs ATZ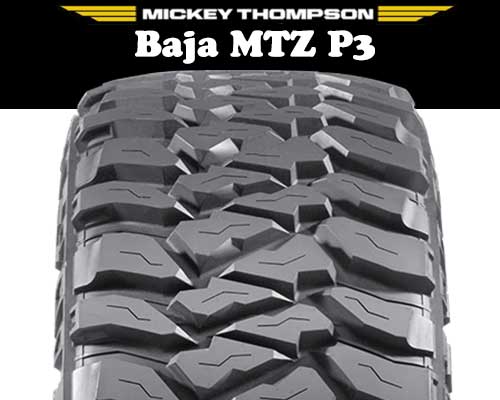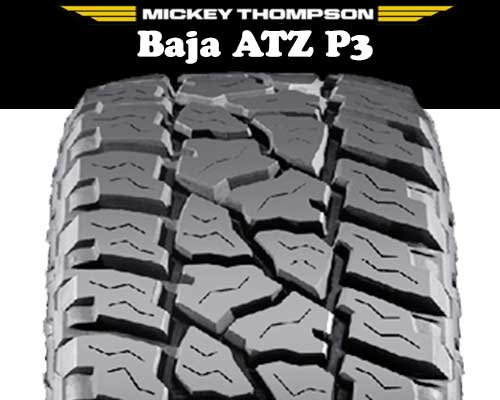 Both MTZ and ATZ perform well on different terrains. If you are a frequent on-road driver where you also spend some time off-roading, then ATZ should be considered.
But if you are looking for an aggressive off-roading tire then you should choose Baja MTZ. (The reason for that is discussed below).
Both tires are great in terms of traction, performance and build quality. The tread pattern however varies from each other as ATZ looks less aggressive with large tread voids while Baja MTZ is very bold in design with smaller tread voids.
On-road Traction Comparison
Being a hybrid tire, Mickey Thompson Baja ATZ proves to be smoother and high performing on road. The staggered tread blocks make a wide footprint which contributes to a stable contact patch over the surface and enhances on-road traction. The tough scalloped shoulders gives it an edge of better on-road traction by being less open.
Baja ATZ impresses the user with its smooth on-road performance with less noise and more comfort. Sturdy tread with a chunky tread block gives it the required stability by making a wide footprint and maximizes the traction. The tread pattern becomes perfectly aligned with highways and paved roads, you will feel very less rumbling or discomfort with Mickey Thompson Baja ATZ when compared to MTZ.
Baja MTZ performs well on-road but due to aggressive design and open void tread pattern, the on-road riding experience will not be as great as Baja ATZ. This is because with more gap between tread blocks, the MTZ has less overall contact with the road, resulting in the loss of grip.
But with more groove gap, the MTZ would be able to scoop away more mud/stones when compared to ATZ, making it better off-roader.
Baja MTZ p3 also comes with an extended tread life (given the usage is mostly on off-road) and improved cut and chips resistance as the tread contain a unique silica-reinforced compound. This compound helps the tread to become sticky to the surface in case of wet conditions.
On the other hand, the ATZ p3 has multi draft grooves along with sipes on the tread that helps in water evacuation and hydroplaning resistance. The sipes allow better water traction by keeping the water away from the contact patch. 
Overall, both tires give incredible traction in preferred terrains but it all narrows down to the preferences aligned with particular driving needs. So, it's on you to choose the one that suits you best.
Off-road Traction and Performance Comparison
Baja MTZ shines when it comes to performing off-road. It features a rigid siped tread with stone ejection quality that pushes back all the mud or rocks and push the vehicle forward with more grip. The open voids within the tread blocks make the mud or sand run through it and works to enhance the grip with better traction over muddy surfaces. 
The tire features more biting surfaces as compared to Baja ATZ. These side biters (see image above) protect MTZ from getting damage and enable it to dig into all kinds of challenging terrains. The addition of silica-based tread compound in the tread and 3ply protection on the sidewall makes MTZ durable and reliable off-road. 
Mickey Thompson Baja MTZ is specifically designed to showcase maximum off-road performance. This MT tire has a strong build and aggressive design to handle difficult mud terrains. It comprises decoupling grooves which make the tread to be aligned with uneven and rough surfaces. It has an improved version of four-pitch side biters which protects MTZ from getting extra damage, making MTZ a true off-road tire. 
Baja ATZ also performs well off-road but the design and build are not specifically created for off-road adventures. However, occasional off-roading goes pretty great for ATZ as deep and aggressive side bitters protects the tire from damage. 
Conclusion
MTZ VS ATZ
Baja ATZ outperforms Baja MTZ in terms of on-road traction.
MTZ is a much better off-roading tire compared to ATZ.
MTZ produces more noise than Baja ATZ.
MTZ performs quite well on wet surfaces and, Baja ATZ is also good at wiping the water away.
MT VS AT
Baja AT performs well on -road compared to Baja MT.
As Baja MT is a mud-terrain tire so it is much better than AT if we talk about off-roading.
MT produces more noise because of its wide grooves.
Overall, MT is a good choice if you want to use it for off-roading only.