Both of these are mud-terrain tires and they are two of the best products from their line. Mickey Thompson Baja MTZ performs well in deep snow and muddy surfaces. While BFGoodrich KM3 offers excellent traction on rocky terrains, thanks to its bold stone resistors.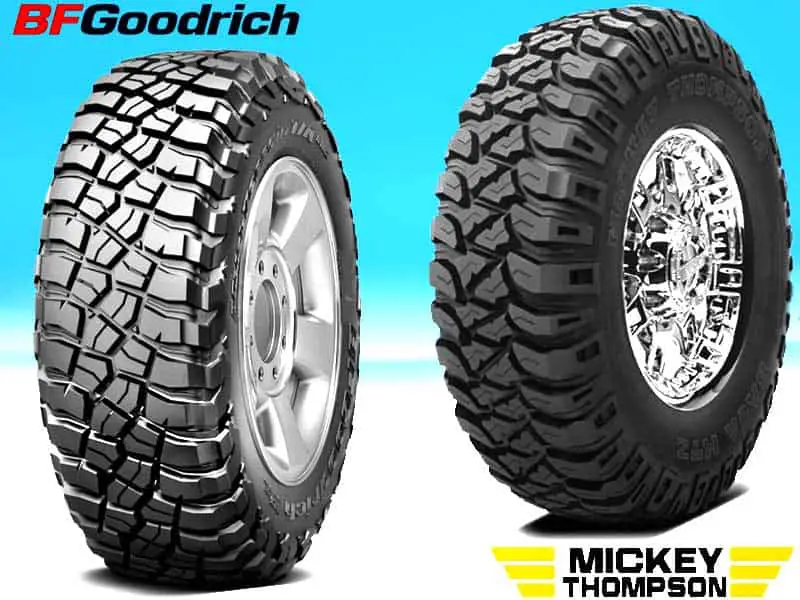 Read the whole article to know about the distinct features that make these tires unique and the best mud-terrains.
Comparing Thompson Baja MTZ with BFG KM3
Mickey Baja Boss MTZ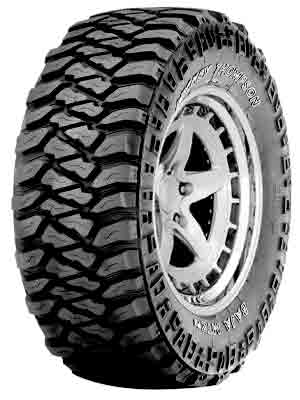 BF Goodrich KM3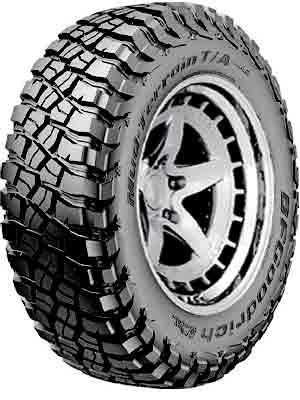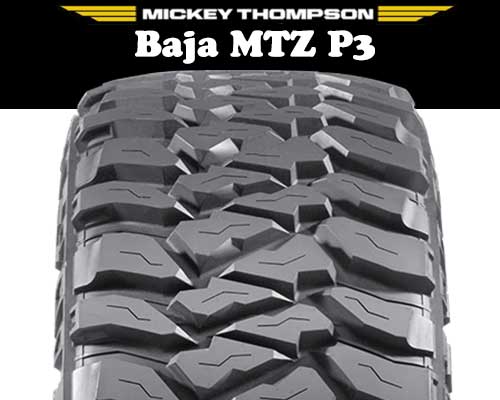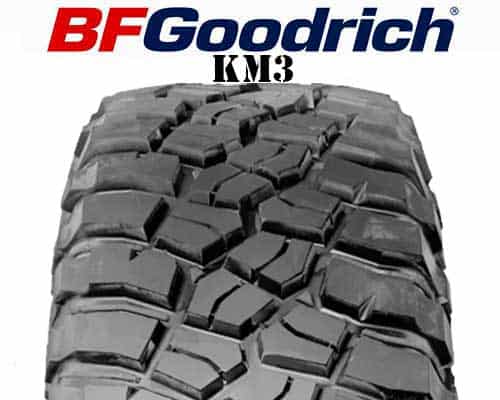 Micky Thompson Baja MTZ comes with upgraded compound for incredible and improved off-road traction. It is a tough tire to give you an effortless and enhanced off-road experience. The tire owns big tread blocks with lots of deep and wide grooves in between them making it highly capable in mud, snow and other harsh off-road settings. Irrespective of how slippery the mud is or how deep is the snow, Micky Thompson Baja MTZ performs exceptionally well. Moreover, the Powerply 3-Ply Sidewall Construction is for sidewall protection and responsive handling.
Whereas, BFGoodrich KM3 is the latest design on their mud terrain category. This tire is not only superb at off-roading but provides you with a smooth on-road experience as well, unlike any other mud-terrain tire.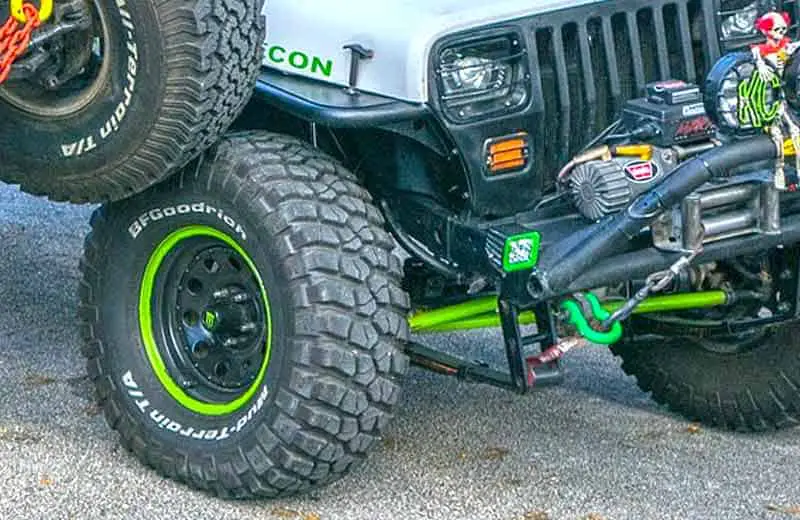 There are massive tread blocks and Mud-Phobic bars in the shoulder of tires to get rid of crushed mud or soft soil conditions and enables it to have excellent grip from any angle of approach. It has the center sipes in each of its center tread blocks to evacuate anything that comes in its way such as mud or snow particles.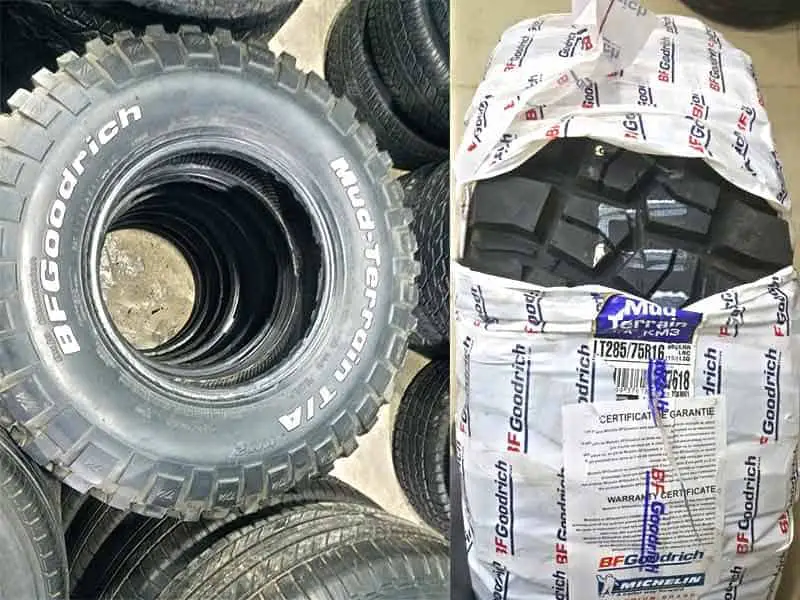 The hook-shaped optimized shoulders of KM3 allow it to have excellent handling on the sand, mud or rocks. The distinct features like CoreGard Max technology and Krawl-TEK tread provide better grip to the tire.
On-road Traction Comparison
KM3 comes with massive tread blocks that provide tire a considerable amount of surface-area to stick to the road's surface and provide greater grip on the road. KM3 has closely placed blocks in the shoulders compared to MTZ that allow it to have more contact patch and consequently the handing of the tire improves.
The open tread pattern of Baja MTZ decreases its contact patch and so the on-road grip of the tire is also decreased. The Micky Thomson Baja MTZ as well as BFGoodrich KM3 have massive and wide grooves along with deep sipes, but the grooves of MTZ are wider than its competitor and its shoulders are also open with scarcely placed blocks, as a result it has less contact patch and has bad traction on road.
Off-road Traction Comparison
Micky Thompson Baja MTZ has an open tread design. It has large blocks but they are placed distantly, creating a lot of wide grooves in between them. The tire also has sipes placed on every tread block. These wide and deep grooves with sipes enable the tire to have very good traction on mud, sand and deep snow. As all the particles from mud/snow fit in between these gaps and when the tire rotates, all those particles are thrown backwards, clearing the path of the tire and so the traction is a lot improved. The open shoulders also allow particles to pass from them improving the handling of tire. This make sures that the vehicle does not get stuck in puddles and produces excellent traction.
BFGoodrich KM3 also has an open tread design with wide grooves but they are not as wide as of MTZ. So that's why the performance of KM3 on deep snow and mud is not good compared to its competitor.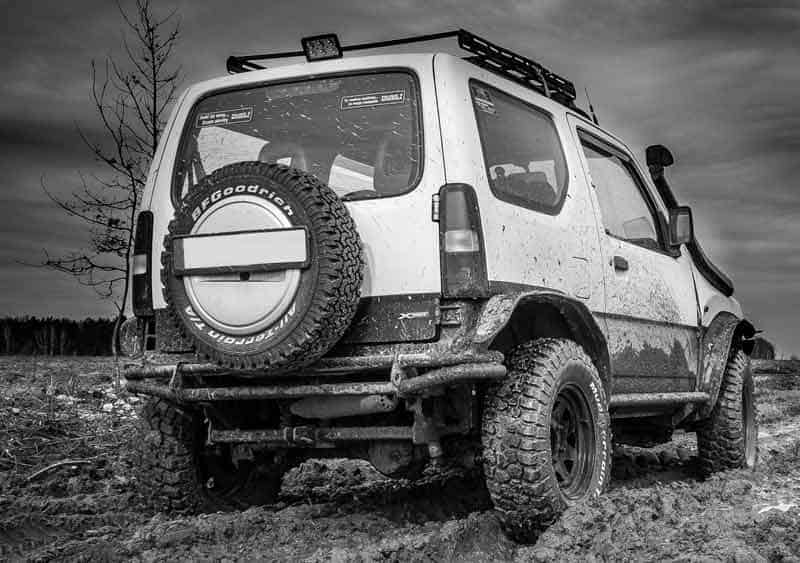 But still, as it has more optimized shoulders with satisfactory number of spaces in between them so they make sure that the tire does not stuck anywhere and also provides good handling. KM3 has bold and large stone ejectors in between all its grooves, they enable the tire to perform excellent while moving on rocks as they emit the stones from getting into the grooves.
Tread-wear and Durability
The Micky Thomson Baja MTZ is considerably a heavier tire with stock Contis, providing more rational mass and high rolling resistance that decreases the fuel efficiency of your vehicle. The extended tread life and the improved cut and chips resistance of the tire help the tire stick to the surface in case of wet condition. Moreover, Micky Thomson Baja MTZ is flexible enough to squish out on rocks and the plies make it durable enough to bear these conditions.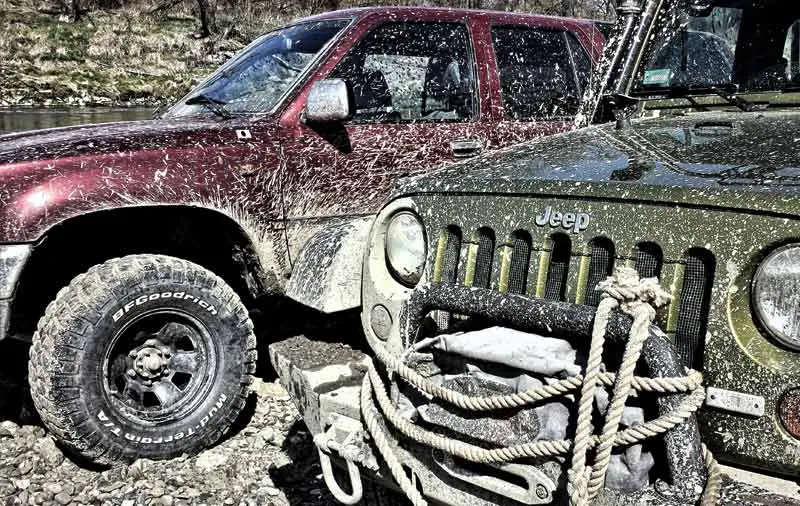 On the contrary, The BFGoodrich KM3 is added with hook-shaped shoulder blocks and tread blocks that provide extra power to the tire to diminish its wear and tear on the roads by reducing its rolling resistance. BFGoodrich KM3 has sturdy sidewalls that are capable of coping up with the curbs and stumps, making them durable on the road as well as off the road.
Comfort Review
The hitch of getting tires with large wide grooves is that they are a bit louder. The loud sound that the tire makes is because of the air friction produced when moving; the air particles collide with the walls of the tire, producing sound. The noise level of MTZ is high and sometimes its unbearable. On the contrary, KM3 is quieter and provide comfortable on-road drive. Thus, BFGoodrich KM3 has taken the lead in terms of comfort.
Price Review
Baja MTZ and KM3, both tires have almost the same prices. KM3 is slightly less priced, but as we have told above that both the tires have different features and each one performs differently on various terrains. So, you should choose according to the area which you wish to drive your vehicle in.
Quick Summary
Micky Thompson Baja MTZ and BFGoodrich KM3, both mud-terrain tires, and provide maximum off-road traction.
MTZ performs well in deep snow and mud while KM3 has excellent traction on rocks and light snow.
In contrast, Baja MTZ is louder than the KM3.
Micky Thompson Baja MTZ has deep shoulder lugs, whereas; BFGoodrich KM3 got hook-shaped shoulder blocks.
Both the tires are almost the same price. However, the KM3 is slightly inexpensive.