Michelin Defender has been a popular model among tire enthusiasts worldwide, and it's easy to see why. Packed with Michelin's MaxTouch and Green X Technology, and a warranty of a whopping 90,000 miles, the Defender has been rolled out for a diverse range of vehicles such as family sedans, SUV's, coupes, and minivans.
Michelin Defender has 2 popular variants, the LTX MS and the AT2. And we would be comparing the LTX version of it here.
Another popular choice; the Toyo Open Country AT2 is an all-terrain, all-season touring tire that aims to provide exceptional traction, stability, handling and long tread life.
The tire is built to fit a wide range of CUV's and SUV's and it also includes advanced features that result in a much smoother, comfortable and quieter ride.
To Put Things Simply: The Toyo AT2 is optimized for both on and off road. The space that you see between the tread blocks is more in Toyo AT2. This allows better grip off road. But the grip on road at the same time is compromised. The Defender therefore is more suited for the drivers who stay on-road with these tires most of the time. In the end, the choice simply depends on your driving needs.
PS. For On-Roaders, and Michelin fans, we also recommend Michelin Crossclimate 2, and the Michelin X Tour.
Dry traction comparison
Michelin Defender LTX MS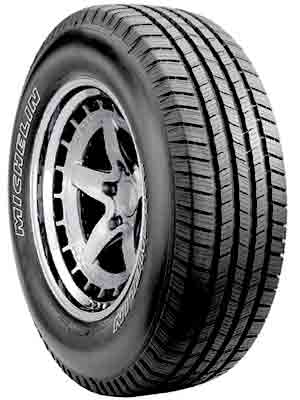 Toyo AT3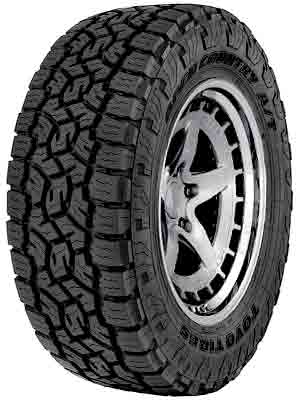 Both these tires have been marketed as all-season tires; so you'd expect them to deliver exceptional performance on dry tracks particularly- and they do, although the Toyo AT2 came out as the clear winner.
Sporting some especially incorporated features such as the open tread block and aggressive side wall design, Toyo's AT2 gave exceptionally smooth braking and handling experience and were particularly impressive while turning corners.
On a dry track, with the Ford Explorer running at 60mph, the AT2 gave a braking distance of 22m, at least 6% better than Michelin's Defender.
The Michelin Defender didn't lag behind too far though.
The results it gave were, for most part, on par with its competitor and the difference in the handling, braking and accelerating we got would be more than satisfactory for the average user.
When subjected to the same test at 60mph, the braking distance for Michelin Defender came out to be 24m.
Wet traction comparison
Carrying on in the same fashion, the Toyo Open Country AT2 once again outperform its competitor and delivered wet traction results at least 8% better than Michelin's Defender according to our testing and customer reviews.
With advanced design features like deep tread grooves and tie bars between blocks, the water evacuation mechanism of Toyo AT2 gave an impressive performance on wet surfaces and it culminated in a substantially smoother accelerating and braking experience on wet roads when compared with the Defender.
Michelin's Defender fell short while turning corners on wet roads. Under light rain with less than 2mm of water on the road, the results it gave were mostly comparable to those of Toyo's AT2. 
However, factoring in the overall response of these tires on wet roads, the Toyo Open Country AT2 emerged as the winner.
Snow traction comparison
By winning in this category, the AT2 established itself as the traction champion out of these two tire models.
The difference between the traction results both these tires gave was significantly greater in this category- at least 10%.
Since neither of these tires can be called a specialist snow-tire, we did our testing on roads with light snow of less than 2 inches.
Once again, the superior design of the Toyo Open Country AT2, specifically tailored to improve traction on all kinds of terrain, shone to give results that rightfully live up to the "all-terrain" tag that comes with this tire.
Design features like polygonal blocks, zig zag sipes and deep tread grooves made these tires more than usable on light snowy roads
Michelin's tire was more prone to slipping and losing control, based on our testing.
The smaller width between sipes on this tire rendered it substantially less useful than its competitor under snowy conditions.
Ride comfort comparison
Both these tires were equally comfortable to ride and their performance, especially on highways, could not be significantly distinguished from the other.
Hence, no clear winner was chosen in this category.
The Defenders, with their MaxTouch construction, steel belts and polyester cord body gave comfort results that would be well-suited for driving long distances on highways.
The only decline in performance came on rougher roads, which can be expected as these are not all-terrain tires.
The Toyo Open Country AT2 utilized the tie bars between blocks and open tread block design to give an equally smooth driving experience on highways and much a better experience (when compared with the Defender) on rougher surfaces.
Comparison of rolling resistance and fuel consumption
Rolling resistance of a tire is the energy that it needs to maintain movement at a consistent speed over a surface or it is the effort required to keep a tire rolling.
Greater rolling resistance implies that the engine must spend greater energy to keep the tire rolling and results in greater fuel consumption.
In this category, the Michelin Defender stood out as the clear winner.
The tire, equipped with Michelin's MaxTouch and IntelliSipe technology, made use of an effective interlocking action to lower the increase the rigidity of the tread block, lower the starting tread depth and enhance fuel efficiency without compromising longevity.
The efficiency was at least 8% better than its competitor's during our testing.
As evident by the features and design of the Toyo Open Country AT2, the improved all-terrain traction took precedent over the overall rolling resistance and fuel consumption and the results it gave in this category were depictive of that.
Comparison of noise levels
When comparing the noise levels, both these tires gave equally quiet rides. At lower speeds, the noise levels were indistinguishable for both the Defender and the Toyo AT2 but at speeds higher than 80mph, the Defender's performance suffered for some users.
Once again the impressive open tread block design of Toyo's Open Country AT2 came into play to deliver a quiet and comfortable ride.
For the Michelin tire the increased number of sipes and unique tread pattern allowed for a quieter and more comfortable drive.
Whatever noise was encountered, started to be noticeable at around 65mph and substantially loud at 80mph.
Comparison of off-road driving experience
The Toyo Open Country AT2 won by a landslide in this category, and that is understandable based on the fact that it is an all-terrain tire manufactured by a company that specializes in making tires built for off-road driving.
The aggressive sidewall, open tread block design and deep tread grooves with stone ejecting blocks ensured that these tires gave impressive traction on control whether it be sand or mud.
Though for prolonged off-road driving, you'd be better off with some of Toyo's other impressive options such as the Open Country R/T or the Open Country M/T.
Michelin's Defender, since not specifically tailored for off-road driving, suffered on rough terrain such as sand, gravel and dirt. With occasional off-road use, these tires seem to give satisfactory performance based on customer reviews.
However, if you're looking for tires tailor made for off-road driving, Toyo's AT2 crush the Defender.
Comparison of steering responsiveness
This was another category where no clear winner could be chosen. Both the tires gave equally admirable handling and control and were deemed equally responsive based on our testing.
Cutting corners was, in particular, a surprisingly pleasant experience with Michelin owing to the exceptional tread block rigidity that made sure the tire maximized its contact with the road.
For the Toyo Open Country AT2, the addition of features such as the tie bars between blocks and the new optimized bead design served the same purpose of ensuring smooth handling and turning corners.
Comparison of treadwear
Although the Michelin Defender comes with a warranty of 90,000 miles, the actual results obtained by various customers spoke otherwise.
Toyo Open Country AT2, on the other hand, it seemed was better at both making promises and living up to them.
The tire came equipped with a new wear-resistant tread compound that provided excellent durability and enhanced the tread life by at least 40%.
The Toyo AT2 tire was warranted for 65,000 miles by Toyo and most users reported getting more or less the same mileage out of their tires before signs of tread wear started to appear.
Therefore, although both tires technically gave the same tread wear results on paper, based on the virtue of better keeping its tread wear promise and warranty, this became another category where Toyo Open Country AT2 emerged as the clear victor.
Final thoughts
Under the criteria that we used for the side by side analysis if these two tire models, the Toyo Open Country was clearly the better choice.
It won most of the categories (6 out of 11) and won especially impressive victories in two categories: Off-road driving experience and tread wear.
Furthermore, it outperformed the Michelin Defender in all categories of traction (Dry, wet and snow), clearly making it your go-to tire if you want to buy either of them based on traction.
The Toyo AT2 comes with a 45 days' trial offer during which you can test out its impressive features for yourself.
The Michelin Defender, for most part, felt like it was competing against a tire that was out of its league.
Surely the traction and off-road driving experience would not have been on par with a tire that comes with the all-terrain and all-season tag, but where it particularly faltered and failed to impress was the substandard longevity of the tire as reported by many users.
It still delivers impressive all-weather results and would not be a bad option if you prefer in-city and on-road driving. The tire comes with a buy and try guarantee of 60 days, which is ample time to check if what the tire has meets your preferences.