Both these tires are built to provide an optimized experience in all weathers. Their semi-aggressive tread patterns allow them to roll easily on soft snow besides showing upgraded traction abilities on the paved road.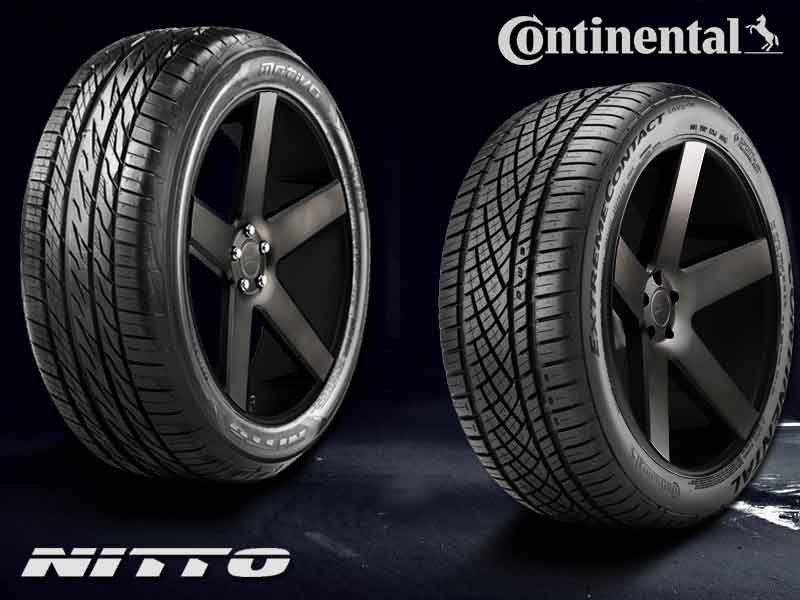 ExtremeContact efficiently prevents aquaplaning and provides a sustaining grip even when the path is wet. Besides that, its aggressive tread also offers optimized traction on soft snow.
Motivo shows a compact design than its competitor, offering better traction abilities on a dry track. Its bulky shoulders are molded from reinforced rubber to provide more responsive and controlled steering, allowing you to take turns quickly and safely.
Quick Comparison table
| | | |
| --- | --- | --- |
|   | Motivo | DWS 06 |
| Tires' type | Ultra-high-performance tire | Ultra-high-performance tire |
| Usage | All-season | All-season |
| 3-peak mountain snowflake rating (3PMSF) | No | No |
| Tested size | 315/35ZR20 | 315/35ZR20 |
| Tread depth | 10/32'' | 10/32'' |
| Section width | 12.52'' | 12.6'' |
| Tire weight | 36.85 Ibs | 36 Ibs |
| Maximum inflation pressure | 50 psi | 51 psi |
| Maximum load | 2337 Ibs | 2337 Ibs |
| Load range | XL | XL |
| Load speed ratings | 110 Y | 110 Y |
| Rim Width range | 10.5- 12.5'' | 10.5- 12.5'' |
Treadwear Comparison
DWS 06 specifies a directional but asymmetrical tread pattern. The central portion has three overlapping ribs of small, square-shaped blocks. These blocks are widely spaced and carry linear and x-sipes over them. Longitudinal grooves among them are comparatively wide, angular, and crisscross-shaped. As a result, its void ratio is higher than its competitor. These channels also have 3D ridges at their bottom for enhanced biting ability. Shoulders are formed by compact rectangular blocks, and the lateral grooves among them are relatively wider. Linear sipes are present on the shoulder blocks as well.
The tread pattern of Motivo is also asymmetrical and characterizes three rows of closely placed blocks in its center and bulky shoulders at the margins. Central blocks are either squared or have irregular shapes and have narrow lateral spaces between them. The central rib lacks complete horizontal spacing and only has elongated lateral notches at its edges. Resultantly, its tread has a larger contact patch than its contestant. Its blocks are marked by slanted, 3D multiwave sipes however, its siping density is lesser as compared with the contestant. Shoulder blocks are large and arranged in close proximity.   
Tire Performance Comparison
| | | |
| --- | --- | --- |
|   | Motivo | DWS 06 |
| Hydroplaning resistance | Moderate | High |
| Rolling resistance | Moderate-high | Moderate |
| Off roading ability | Low-Moderate | Moderate-high |
| Durability | High | Moderate-high |
Road Grip Comparison
On a dry path, Motivo shows a better grip owing to its higher contact patch. Its continuous central rib and compact placement of blocks in outer ribs make its biting ability higher on dry paved surfaces compared to the other tire. However, its low void ratio becomes a disadvantage on a wet or icy track because it decreases water wiping capability of the tread, resulting in minimized grip. Also, its snow traction is relatively lower due to narrow voids. Though circumferential grooves and lateral notches help it hold firmly over the snow but its biting ability is comparatively lesser. Moreover, it presents decreased efficacy to evacuate snow from its narrow channels that further lowers its snow traction.
 In contrast, DWS stands below for dry grip because its small blocks possess lesser biting efficiency than its competitor's bulky ribs. However, it wins the game when it comes to wet or ice grip. High void ratio and x-sipes efficiently swipe water away from the road and allow the tread to hold on firmly as you drive on a wet or icy road. Its open voids also provide benefit when the tire rolls on a snowy path. Its broad interconnected channels have three dimensional ridges at their base which not only provide more biting ability on soft snow but also permit better snow evacuation. Hence, its tread grips firmly and clears itself automatically on snow-covered paths without losing traction.
| | | |
| --- | --- | --- |
|   | Motivo | DWS 06 |
| Dry Grip | High | Moderate |
| Wet/Ice Grip | Moderate | High |
| Snow Grip | Low- Moderate | Moderate-High |
Handling Comparison
Motivo has bulky shoulders which make it grip firmly on the paved surface while cornering. Thus it shows better handling efficiency on a dry path. Same story goes for icy and wet tracks where deep lateral grooves and 3D sipes keep water away and large shoulder blocks offer enhanced cornering stability. However, its handling ability is lesser on snow as narrow shoulder grooves offer only a minimal snow evacuation.
Conversely, steer response of DWS on a dry road is less precise because its shoulder lugs are smaller and widely spaced. As less of its surface area comes in direct contact with the road, it shows comparatively minor ability to sustain firm traction. On a wet track, enhanced slip resistivity accounts for a reliable steering control yet its efficiency remains lesser in comparison due to smaller shoulder blocks. However, it takes the lead on ice and snow because its tread shows relatively better traction in winter conditions. Its broad horizontal channels provide an optimized handling experience on snow-covered paths because these voids bite on the snow and then evacuate it off the tread to sustain traction, this feature especially helps when the tire is rotated while taking turns.
| | | |
| --- | --- | --- |
|   | Motivo | DWS 06 |
| Dry Handling | High | Moderate |
| Wet/Ice Handling | High | Moderate |
| Snow Handling | Moderate | Moderate-High |
Comparison of Hydroplaning Resistance 
Both these tires provide satisfactory hydroplaning resistance because their tread depth is identical. However, Continental 06 offers better safety from slips and skidding on wet or frozen tracks because its void ratio is higher and its siping pattern is denser, making its wiping ability better than the competitor.
Motivo presents an efficient wiping action due to its slanted sipes and grooves yet it ranks at a lower position. This is because its narrow voids offer relatively decreased water holding capacity. Hence, it has less competency to prevent aquaplaning on a wet track or ice than its competitor.
Comparison of Rolling Resistance
Nitto Motivo consumes more fuel than its competitor as it needs more energy to roll on a rigid surface. This demerit is accredited to its high contact patch that gives rise to high rolling resistance.
DWS encounters lesser rolling resistance on paved surfaces as it has a lesser contact patch and can roll on hard surfaces using less energy. As a result, you would need to refill the fuel tank less often because only a small amount is used to overcome rolling friction.
Comparison of Noise and comfort
Motivo provides relatively quieter rides due to the low void ratio and sound minimizing design. Its pattern is engineered to functionally reduce noise production. Resultantly, its narrow voids and slanted orientation of grooves permit only a minimal circulation of wind. On a dry road, it gets a higher score for driving comfort due to efficient dry traction however, comfort level is lesser on wet tracks due to minimized wet grip.
Conversely, Continental DWS makes a louder rolling sound as there is more room for air circulation in its open voids. Its relatively reduced traction on the dry road leads to a less comfortable experience. However, it offers more driving comfort on a wet track owing to the benefit of slip preventing abilities of its tread.
| | | |
| --- | --- | --- |
|   | Motivo | DWS 06 |
| Noise | Moderate | Moderate- high |
| Driving comfort on a dry road | High | Moderate |
| Driving comfort on a wet road | Moderate | High |
Tread Composition
Both tires are molded from specialized rubber compounds having traction-enhancing additives. However, Motivo shows a relatively robust tread due to active binding agents. Its rubber polymer is enhanced by silica additives. Plus, effective binding agents are added to homogeneously blend polyester and silica compounds. This tread compound is then cast over a robust steel carcass and the tread pattern is created by Nitto's proprietary tire manufacturing technology.
On the other side, ExtremeContact DWS is created through SPORTSPLUS+ technology of Continental tires. Its tread polymer includes saline additives as well as silica enhancements. Nevertheless, its composition offers lesser wear resistance than its competitor. Internally its twin steel belt structure is covered by reinforcement plies of spirally wound jointless nylon cap. An exclusive feature of DWS is; wear indicators molded on the rib adjacent to its outboard shoulder. "DWS" sign indicates that tread depth is appropriate for dry, wet, and snowy paths. When the tread is worn out and only "DW" letters are left, it means that the remaining tread will provide optimized performance on dry and wet road but not on snow. Only "D" indicates that now tread is only suitable for a dry road.
| | | |
| --- | --- | --- |
|   | Motivo | DWS 06 |
| Tread composition | Rubber polyester compound Silica enhancements Infused binding agents     | SPORTSPLUS+ technology Silica enhanced polymer Saline additives Reinforced by spirally wound jointless nylon cap plies |
| Rim Structure | Twin steel belts | Twin steel belts |
Durability and treadwear
Both tires stay functional for several years because their tread compounds are robust and wear resistive. Due to this, the UTQG treadwear ratings are also the same for these tires. However, Motivo comes with a longer tread life warranty from its manufacturer and can be replaced if it wears out before 60,000 miles. This longer tread life is credited to silica enhanced tread which bears frictional heat and road damages more efficiently than its competitor.
Conversely, DWS 06 also lasts for a long duration but ranks less durable in comparison due to the minor wear resistive abilities of its tread. Nevertheless, you will get a tread life assurance for 50,000 miles within 6 years of purchase from its manufacturer. Uniformity of wear is also guaranteed for 2/32'' up to 1 year of purchase.
| | | |
| --- | --- | --- |
|   | Motivo | DWS 06 |
| UTQG | 560 A A | 560 A A |
| Treadwear warranty | 60,000 miles | 50,000 miles |
Quick Summary
These are both all-season tires of the ultra-high performance range.
ExtremeContact DWS…
Reduces the risk of hydroplaning more efficiently.
Provides improved grip on a wet track.
Experiences low rolling resistance and consumes less amount of fuel.
Costs relatively lesser than the competitor.
Motivo…
Offers superior dry traction on paved surfaces.
Ranks as a quieter tire in comparison.
Comes with a longer tread life warranty.