The Continental ExtremeContact DWS06 was already a very premium high performing all season tire and with it's successor, things have gotten even better.
With the DWS06 Plus, the tire now offers better lateral and longitudinal traction on both dry and wet asphalts.
Continental also improved the tire's traction on snow, and is quite notable, despite the tire still not qualifying for 3 peak mountain snow flake rating.
So, what's changed in their designs?
Continental ExtremeContact Dws06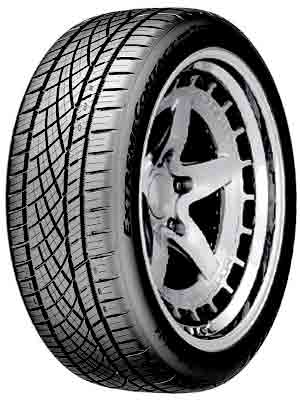 Continental ExtremeContact DWs06 Plus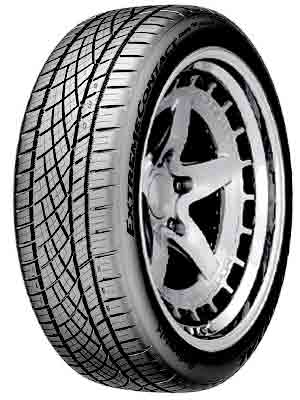 Well, it seems not much.
If we look at the central blocks, both tires feature 2 main ribs, where one runs parallel to the shoulder blocks and the other one is shaped like an arrow.
The blue highlighted rib on the DWS 06 had notches facing the shoulder blocks. These blocks also had smaller no of siping.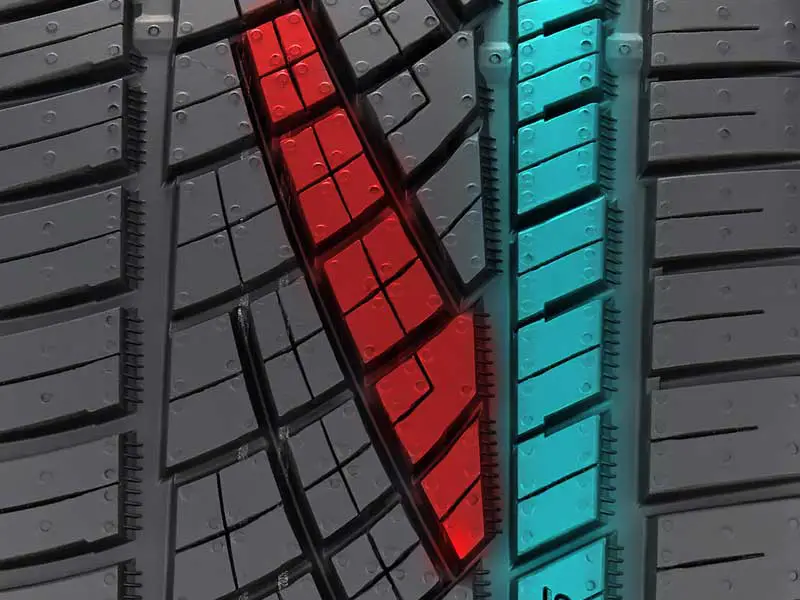 With the newer tire, this rib was flipped and more sipes were added to it.
So below (which shows the DWS06 Plus), the blue rib has now more sipes and notches facing inwards.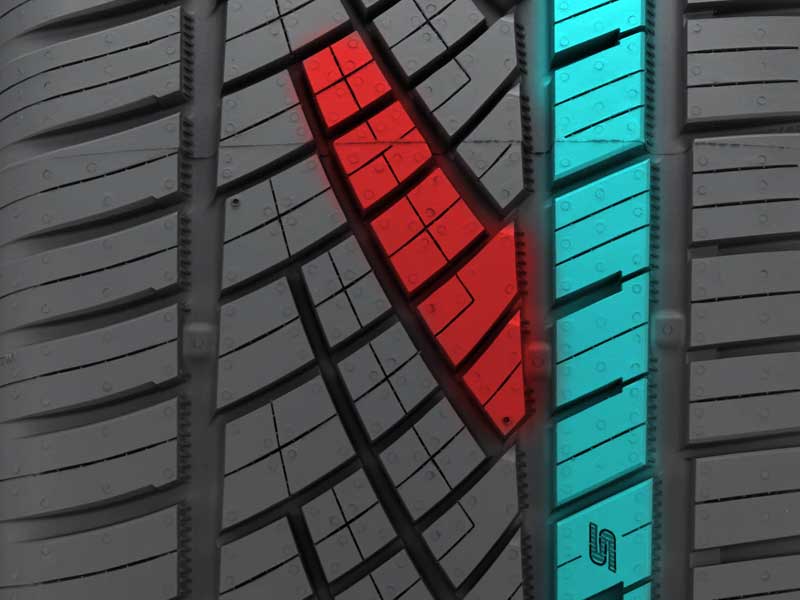 Other than this, both tires are similar, with identical arrow shaped ribs (highlighted with red on both).
This rib contains blocks which are seen with chamfered edges and snow vices (on arrow head) as well as X shaped sipes.
The chamfered edges let's other blocks to breath a little and don't push them when under pressure (mostly during braking and cornering).
Both tires also form a same total 3 circumferential channels, where on the newer tire there are very slightly wider.
If we move towards the shoulders, on Continental DWS06, the tire makes similar looking blocks throughout, where all blocks are seen with very little siping.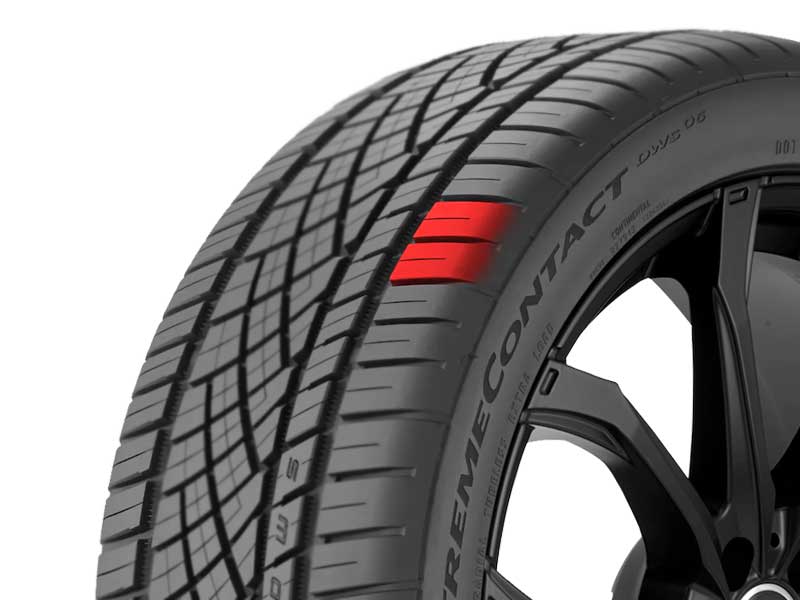 These blocks vary in length and make a slightly zigzag longitudinal grooves on both sides.
On the other hand with DWS06 Plus, the shoulder blocks differ a little.
They are slightly bulkier and carry more siping.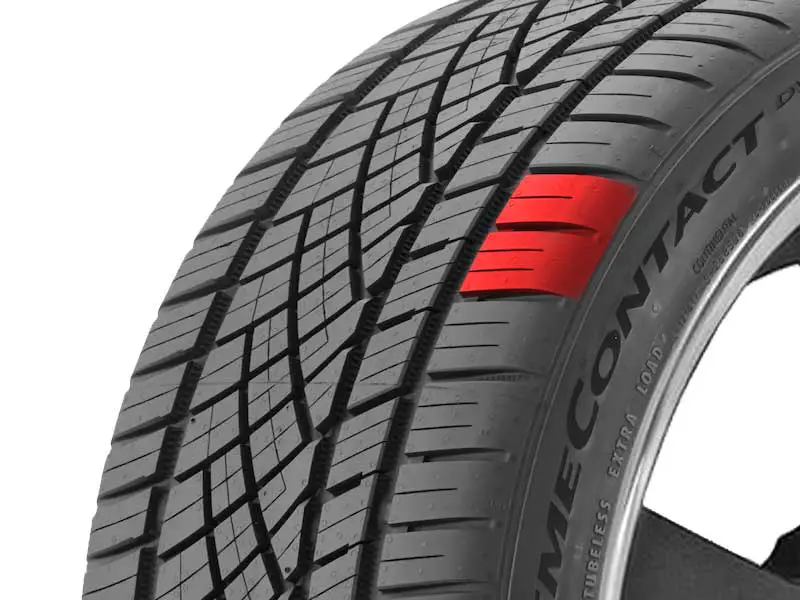 Other than this, everything else is the same.
And speaking of similarities, both tire have DWS written on their ribs, which stands for Dry, Wet and Snow (highlighted with red in the image below).
Wearing of these letters would indicate that the tire is no longer optimized for it.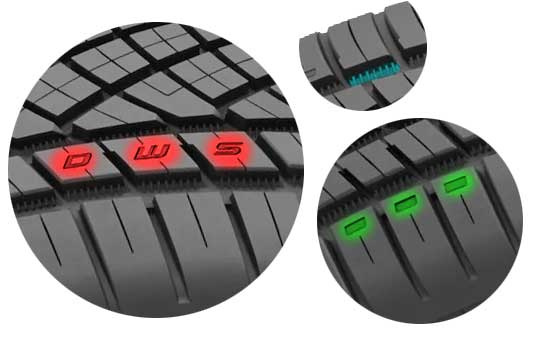 Both tires also have biters on the outer edges of shoulder and inner blocks, they are called snow vices, which help trap the snow (highlighted with blue).
And yes, one of the best features on these tires is the alignment verification indicator, which is also placed on the shoulder blocks on both tires.
Un-even wearing of these indicators (marked with color green) would show that the tire is misaligned.
Other design features of these tires:
| | | |
| --- | --- | --- |
| | DWS | PLUS |
| Tread Depth | 10/32″ | 10/32″ |
| Weight | 25 | 25.3 |
| Width | 10 | 10.2″ |
Traction Comparison of Both Tires:
During out testing on both tires, the Contienental ExtremeContact DWS06 Plus comes out better in almost all areas.
| | | |
| --- | --- | --- |
| | DWS06 | DWS06 Plus |
| Dry Grip | 80 ft | 76 ft |
| Dry Handling | 34 s | 34 s |
| Wet Grip | 94 ft | 84 ft |
| Wet Handling | 40.5 s | 40 s |
| Snow Grip | 67 ft | 60 ft |
The major amendments were made on the tire's grip (mostly on dry asphalts).
The older tire was great in all departments but on dry, so now with the DWS06 Plus, the tire features better efficacy where it showed improvement in braking distances in dry (as well as wet).
Note: Both tires were stopped from 50 mph and braking distances were noted as shown above in the tabular form.
The ExtremeContact Plus with it's it's slightly wider tread and shoulder blocks, provided a larger rubber to road contact and this resulted in a better performance.
When it comes to wet handling, the older tire was already one of the best in it's segment, outperforming top of the line tires like the Michelin Pilot Sport All Season 4 and Goodyear Eagle Exhilarate, and with the newer tire, it was further improved.
The newer tire offers firmer blocks with more sipes and is now able to perform even better on wet asphalts, breaking it's own records in handling times (of laps).
The more no of sipes and the flipped rib is also more efficient in trapping snow in its grooves and this also enhances the traction, as snow to snow contact increases friction.
Comfort and Fuel Efficiency:
Although both tires, have the same on road noise, with slightly harder compound of the ExtremeContact Plus, the tire is not able to provide a same level of "subjective" comfort as it's predecessor (which has a softer compound).
It's not able to soak up the impacts in such a better way anymore, (but the difference is marginal).
This harder compound also affects one other area, often overlooked; fuel efficiency.
With the newer tires, where you get a better dry grip, you also now need more force to roll them, which results in more fuel being consumed.
The slightly wider tread of the DWS06 Plus combined with weight also add to that, as with width, more rubber to road contact is made and with weight, more pressure is put on the pavement. And both of these things are directly proportional to rolling resistance.
Durability And Wear:
Both tires offer 2 ply polyester casing with 2 steel belts which are then spirally wound with joint-less nylon caps.
So both tires offer a good deal of puncture resistance.
But if talk about wear, the newer tire, although updated with a better compound, is slightly more prone to wear.
As we talked about in comfort above, the DWS06 Plus weighs a little more (on average) and with higher rolling resistance, the tire puts more pressure on the road and wears a little faster.
In order to tackle it, the Continental should have increased the tread depth of the newer tire.
But since both of them have the same tread depth (10/32″ on all sizes), the DWS Plus would wear faster.
Still both tires provide you with 50k miles warranty.
So what's the verdict?
Well, with the newer tire, you get an updated performance for sure. But still the dry on road performance is not as impressive as expected.
It's very good, but it's not something that jumps off the page.
Nonetheless, it's an improvement over the predecessor where it was only average.
But these tires were already great on wet and the newer tire does it even better.
So if you mostly experience rainy environment, you can never go wrong with picking any of these.