The tires being discussed here are All-Terrain (A/T) tires built to provide an impeccable performance on all types of terrains. Both the tires, Yokohama Geolandar A/T G015 and Pirelli Scorpion AT Plus, are considered off-road beasts as they offer exceptional off-road features with adequate on-road drive.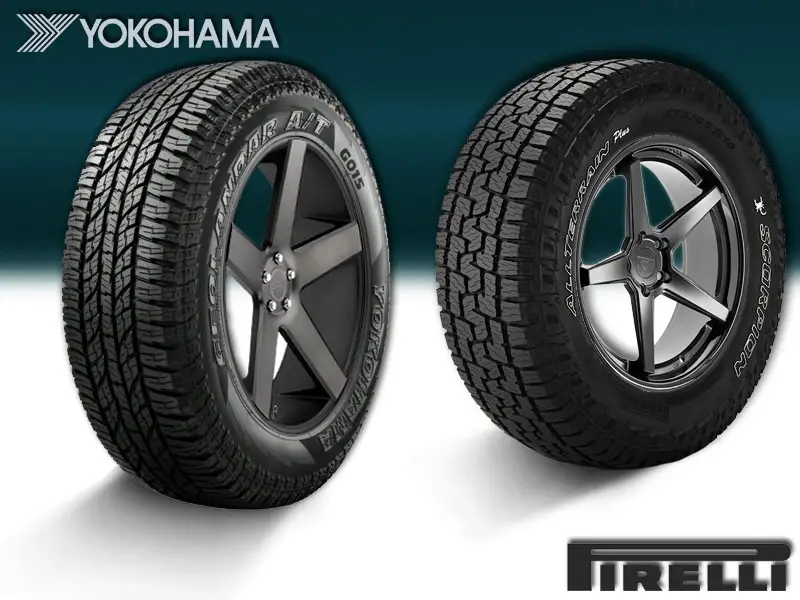 Although both the tires have a typical build pattern but the design, radial spacing, and grooves pattern of each tire make it perform differently in varying conditions. Geolandar has an aggressive look with prominent lugs and deeper grooves to favor more in rough conditions.
Scorpion, on the other hand, provides balanced performance in order to withstand all types of roads.
If you are looking for in detail features of both tires, then you are at the right place as we will discuss the behavior and features of each tire in different areas and compare them side by side so that you can choose the best one for your vehicle.
General Comparison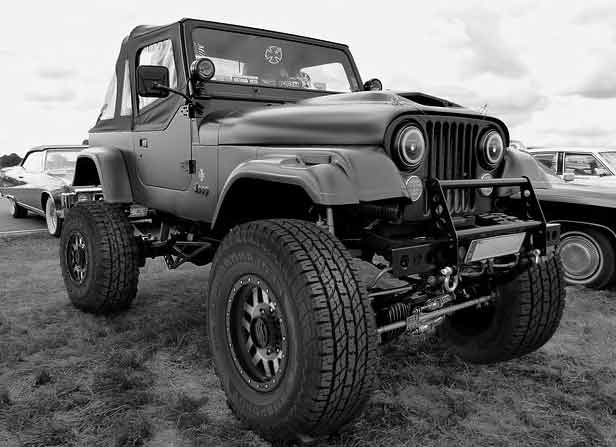 Geolandar is a top-tier A/T tire manufactured by Yokohama as they have paid special attention to its tread design to make it sturdy against challenging conditions. The tire comes with four broad circumferential grooves that are equally wide and deep. The groove pattern gives the tire an overall higher void ratio to withstand rough roads where more handling and stability is required. The tire has three main sections with two massive shoulders with broad spacing between them. The blocks of this tire come with deep cuts to improve its performance on wet roads by cleaning the tire and maintaining the grip. The broad shoulders cover a large portion of the tire and significantly improve its handling. Lugs provide lateral stability and promote sidewall protection.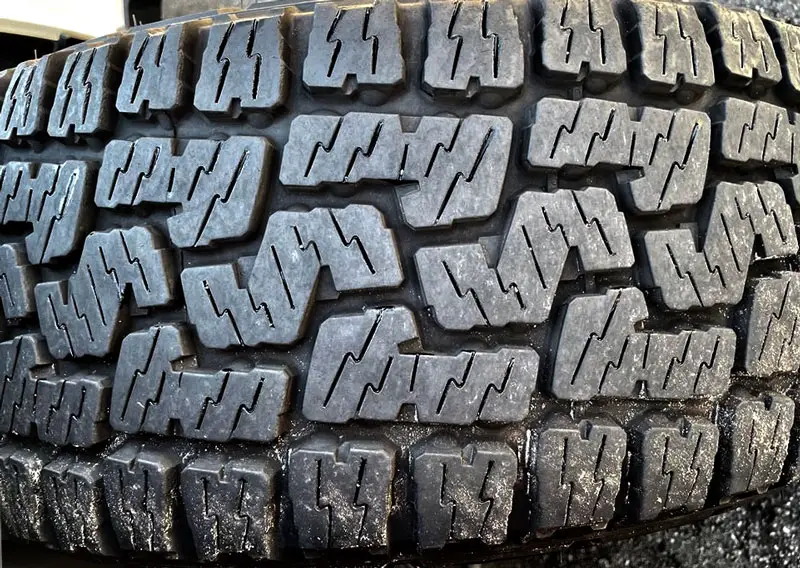 Scorpion has an optimum contact patch that makes it a balanced tire as its performance is quite adequate in all terrain types due to its efficient build pattern. This tire has a unique tread design. It does not have any major divisions. Instead, it has a large central section that is divided into S-shaped blocks placed in a symmetrical order. Rather than having straight longitudinal grooves, Scorpion has irregular spacing spread across the entire tread. This clever design gives this tire more contact patch, which provides it additional grip over paved roads and confident traction on rough surfaces. The blocks are supplied with zig-zag sipes to enhance its performance on wet roads by wiping away excess water from the tread. It comes with enough shoulder width, but they are a bit smaller as compared to its competitor. Overall, it provides excellent performance on highways as well as confident traction on rough roads.
On-Road Traction
Geolandar has a more off-road friendly tread pattern as it has wider grooves with more spacing between the blocks. Due to the higher void ratio, the contact patch of the tire is reduced, which makes the tire lose some points when it comes to grip and handling on highways where more speed is required. The broader grooves compromise the traction of tire to some extent which results in the increase of braking distance, thus compromising the stability as compared to its rival. The wet performance of this tire is relatively better due to the presence of efficient sipes and deep cuts.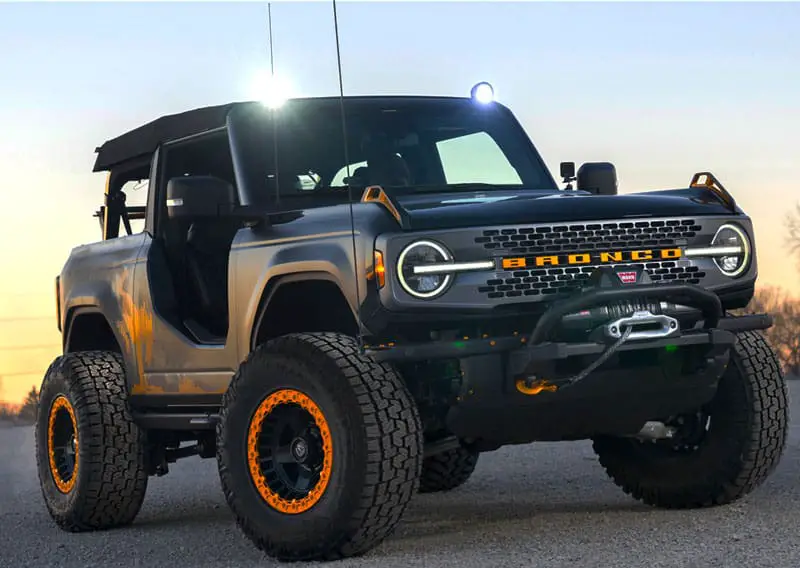 Scorpion is dominant on highways due to its efficient tread design and increased contact patch. The tire has relatively more tread blocks that significantly increase the amount of rubber in contact with the road. The lower void ratio makes it more stable. This results in increased grip and better traction even at high speeds. It performs impressively on wet roads as well because the zig-zag sipes located on the wide blocks work efficiently to maintain the required grip.
Off-Road Traction
Mud
A tire with wider grooves will perform better on mud terrains as the broad spacing will help in efficient cleaning of the tire. Geolandar comes with wide groove spacing spreading across the entire tread so, it does not have to struggle much in muddy swamps as the deep cuts between the tread blocks keep the tire and road intact by throwing chunks of mud away from the tire and maintaining traction on the muddy surface. The wide shoulders further assist the handling and provide sidewall protection while cornering.
When it comes to traction on muddy roads, Scorpion lacks a bit due to compacted design with relatively less groove spacing. The tire can perform well in mild condition but make sure not to expose it in deep mud terrains as it won't be able to clean its path efficiently and could get stuck.
Snow
Similarly, if we talk about performance on snow, the wider grooves will help here as well by maintaining sufficient traction with the road. As Geolandar has broader grooves with more spacing, it dominates in snow terrains too. The wide spacing impressively help the tire in maintaining traction with the snowy road by scooping out soft snow from the tread and clearing the path of the tire for smooth mobility. The tire comes with deep biting edges that crush the soft snow to maintain maximum grip with the road. It can be used on the ice as well due to the presence of innovative sipes patterns but make sure to control your speed in order to avoid skidding.
The performance of Scorpion on soft snow is adequate. However, it lacks at some points when compared to its competitor as the narrow grooves are not enough to wipe out all the snow from tires in order to navigate smoothly. The performance of the tire on ice is improved to some extent as the increased contact patch along with a well-structured sipes pattern helps in maintaining sufficient grip with the icy road.
Rocks
Geolandar does not have to struggle much while propagating over rocky terrains, as the build quality of this tire is pretty impressive. The tire has bold shoulders and deep grooves, which overall enhance the efficiency to perform well in rough areas. Furthermore, it comes with stone ejection feature that prevent the tire from any kind of damage by effectively removing any stone or pebble getting stuck in the tread. The bold shoulders and prominent lugs promote lateral stability and increase sidewall protection while cornering over rough turns.
Scorpion can perform well in mild rocky terrains as it has optimum contact patch along with adequate spacing to withstand light conditions. However, it is not advisable to use this tire in highly rocky areas as the stone ejection feature of this tire is not enough to clear out all the stones from its broad tread design, which could lead to stone drilling and permanent damage to the tire. This tire has to struggle a bit on uneven surfaces due to comparatively narrow shoulders, which reduce its handling.
Comfort Comparison
Geolandar comes with relatively broad spacing between the blocks, which compromises its comfort on asphalt roads. Due to wide groove spacing, more air gets trapped inside the voids and strikes the walls to produce vibration. This makes the tire a bit uncomfortable and noisy. The high void does not favor the tire when it comes to comfort.
If you are looking for a smooth and comfortable ride, then the performance of Scorpion will not disappoint you. The innovative tread design makes the tire virtually inaudible to provide a better riding experience. Scorpion tire comes with advanced sound simulation technology that does not let much air enter the tread and create noise. Thus, making them more comfortable while going at high speeds.
Durability and Treadwear
Geolandar is built of a robust material that enhances its durability and toughness. It comes with two steel belts with rigid nylon strengthening to provide additional strength in order to withstand extreme conditions. It comes with sidewall armors and massive shoulders to enhance lateral stability. Overall, this tire offers sufficient tread life with a confident performance.   
Scorpion is made of a cut and chip-resistant compound that enhances its durability and promotes puncture protection. The sidewall armor and bold lugs provide additional stability in rough terrains. It has more contact patch than its competitor, which leads to early wear and tear and compromises its tread life to some extent.
Conclusion
Both Geolandar and Scorpion are All-Terrain tires.
Scorpion has more contact patch with better performance on paved roads.
Geolandar offers better off-road capabilities due to its deeply sculpted tread design with broad shoulders.
Scorpion provides a more comfortable ride and smooth driving experience while traveling on highways.
Geolandar dominates over Mud and Snow terrains due to its off-road friendly design.
Both the tires provide excellent features in their price range, but Geolandar is slightly high-priced tire, comparatively.