The Atturo Trail Blade, made for light trucks and SUVs, is one of the tires that provides both on-road and off-road performance due to rather peculiar structure. While the Toyo MT has excellent on-road capabilities because of its smooth and reliable ride. The aggressive tread pattern and the cutting-edge design of trail blade makes them prioritized to be used with racing vehicles.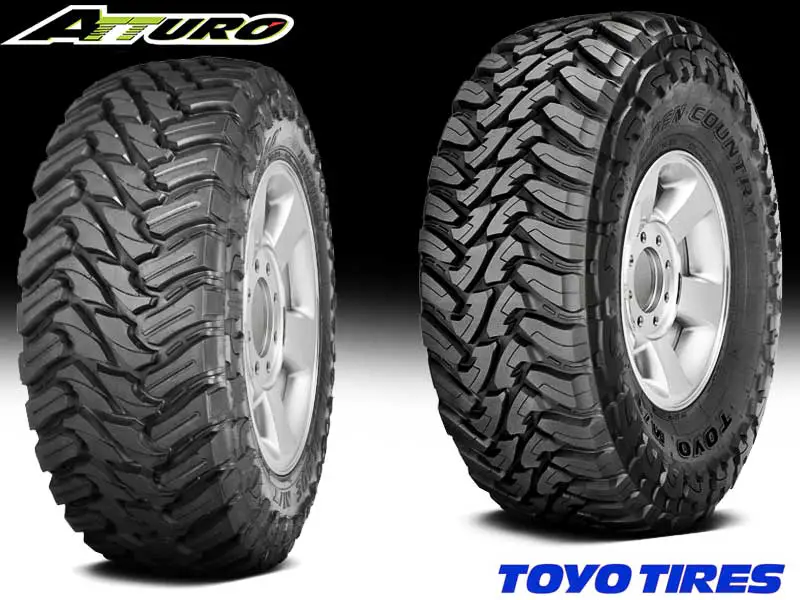 Though, these tires are aggressive, they don't produce much noise as other MT tires. Toyo MT, on the other hand are made to tackle rough terrain and harsh weathers, which makes it an ideal choice for Off-road travelling.
Considering different situations, both tires, have different playgrounds. And based on that, it can be decided which one is better in which situation.
Comparing Toyo M/T with Atturo Trail Blade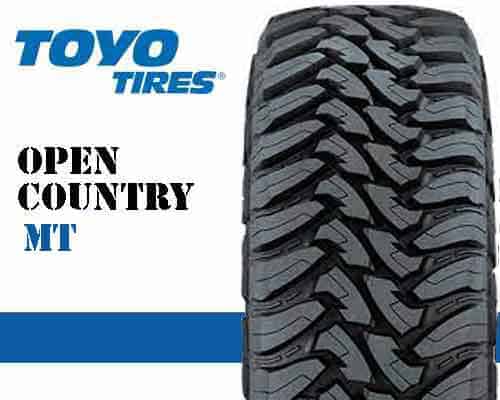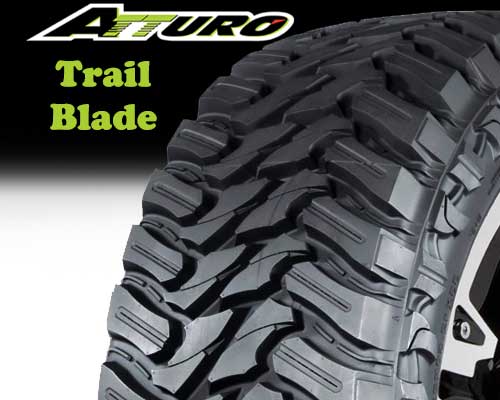 Both of these tires were measured under the tire size of LT33 X 12.50 R17 with the Atturo Trail having a tread depth of 20/32″ and Toyo MT, 21/32″. So Toyo has slightly more tread depth here.
Besides this, both tires look like a mirror image of the other, where you get the overlapping central tread blocks on both.
Trail blade features a knife pattern which gives you excellent grip under off-road conditions as well as satisfactory performance under on-road conditions. This peculiar tread design is useful for quick mud and sand evacuation that might end up within the tread design.  Along with that, it has a bi directional, asymmetric, and interlocking tread design. The asymmetric tread provides you with a solid center, which helps to keep balance maintained even in harsh conditions. While the directional tread pattern is mainly combined with the wavy sipes to give you more grip on snow and deep water.
With all of this, the interlocking tread pattern involves horizontal blocks at the center and the vertical shoulders on the sides. Whereas the interlocking tread pattern provides you excellent traction in mud and water.
On the other hand, the Toyo Mt tires provide you with maximum traction with the help of their attack tread design. Due to this tread design, they can provide you with long durability, better off-road performance, and long tread life with an aggressive pattern. With all these features and specifications, the Toyo Mt prevent mud, harsh rock jumps, and everything that decreases the speed and efficiency.
The attack tread design of Toyo Mt also introduced the hook-shaped blocks, which maintain both on-road performances and off-road tractions. All of the other parts of the tread design have their role. i.e., Shoulder blocks help tires get rid of snow, mud, and sharp rocks while extreme driving and maintain
On-Road Traction Comparison
Trail blade provide you with a deep tread depth for traction in all surfaces and directions. The shoulder structure of these tires gives you enhanced response and overall handling, even on harsh surfaces. The multiple sipes and the four grooves in tread help them to maintain their efficient nature. These are prioritized for on-road driving as compared to the Toyo MT because they are an excellent companion in this regard.
On the other hand, Toyo MT hold their end in almost all seasons because of an over-the-shoulder tread structure and deep sipes. But these tires are less suitable with on-road traction as compared to the trail blade.  There is a feature in which both of these are similar that includes their groove space. Both of these tires have more expansive groove spaces, which makes them more comfortable with the particular conditions they are suitable for.
Off-Road Traction Comparison
Trail blade performs well during off road traction due to their cutting-edge manufacturing design, they have a comprehensive tread structure and wide spaces in grooves along with the sticky sipes. All of these collectively play a role in making off-road traction of these tires well.
Besides, large blocks enhance the response and overall handling. These AT tires show 60% compatibility with off-road traction.
The Toyo MT tires are prioritized in this regard because they work efficiently in rough off-road conditions. The reason is the ribs of their tire and the shoulders. They allow the Toyo MT tires to stick firmly to the road, giving you a fully balanced driving experience. And that's why these are more prioritized than Trail blade ones when you are going for the extreme off-road driving on rocks.
Though, their structure and strength are most appreciated by the industry, and they show 90% compatibility with off road traction.
Comfort Comparison
In terms of comfort, Trail Blade is much more comfortable during on-road driving because of its groove spaces and thick blocks as compared to the Toyo MT. Trail blade provides you with a better driving experience in mud or sand, and as well as rocky surfaces. But they are not so good with off road driving than Toyo MT tires. Trail blade are found to be noisy because of their cutting-edge structure and aggressiveness. They produce 78 dB noise when you perform sudden brakes on-road driving.
Besides, if we talk about the Toyo MT tires, they are found to be very comfortable during off-road driving, and the reason behind is their comfortable manufacturing. They have large tread blocks and sticky dimples, which makes them cling to the road while driving. Because of this, they will undoubtedly give you a better experience than Atturo tires during off-road traction.
Upon comparison, it has been cleared that Atturo Trail Blade shows more compatibility with on-road driving, whilereas Toyo MT are more suited for off-road travelling.
Durability and Treadwear
The Trail Blade provides you with longer durability of almost five years. These tires are designed for better performances, so they offer you a treadwear warranty of up to 50,000 miles.
Besides, if we talk about the durability of Toyo MT tires in contrast to the Trail Blade, they offer you a limited durability warranty. Also, the treadwear limitations are short, and just 30,000 miles.
The manufacturing material of the Trail Blade tires includes Quartermaster BOSS HOG knife material. This is the material that makes these tires the hardest ones among any other tire. The material is for heavy-duty and hard-core use. Due to this, the Trail Blade tires include a 3-ply sidewall structure of knife pattern. That's what collectively makes the tire stronger, rough, and the hardest one.
Besides, the Toyo MT tires include rubber, silica, and carbon black materials. These are what give you precise and excellent performances in off-road driving. They contain three-ply polyester construction and fully equipped designing structure traits "Hook Shaped Blocks." They are rough and more aggressive because they are made keeping in mind the more comfortability with off-road driving.
Price Difference
When it comes to the price comparison, both of these tires cost you differently. The cost depends upon the type of vehicle for which you are purchasing a tire, the type of tire, and the size.
Large-size tires are more expensive than small-sized ones. On average, it has been observed that the Toyo MT tires cost you low compared to the Atturo Trail Blade. Although, something that you should consider is the treadwear. Toyo MT being a Mud terrain tire, offer you much less tread life as compared to Trail blade, as they have to withstand the extreme shearing forces, this makes them an expensive option as compared to trail blade.
Quick Summary
The Atturo Trail Blade tires and Toyo MT tires both have some significant differentiation in the specification. These are what make one prioritized over the other in various conditions.
The Atturo Trail Blade provides you with better on-road performances and off-road, but Toyo MT, due to its more aggressive nature, is specific in this regard.
Due to the knife pattern tread and wide blocks, the Atturo tires avoid mud and sand from accumulating in dimples, while the other tire is not efficient.
Trail Blade is more compatible with on-road driving as compared to off-road, and vice versa.
While, when it comes to the off-road traction, the Toyo MT ones perform well compared to the other due to their aggressive nature and manufacturing.
Trail Trade is comfortable due to the wide groove spaces and gives you a better experience during on-road driving. That's all provided by the Toyo MT during off-road.
Toyo MT provides lesser durability and treadwear.
On average, the Toyo MT Tires are less expensive than Atturo Trail Blade, but they require quick to wear.