For both Destination and Dueler, the same size of P245/65R17 was considered. The tread depth of the Dueler (12/32") was found to be lesser than that of Destination (13/32").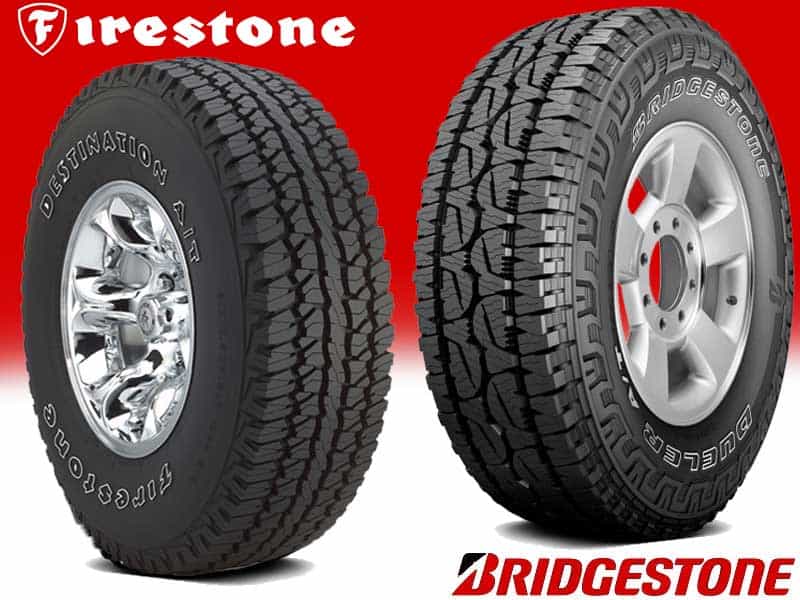 Speaking of traction, we found that Dueler has better off-road traction as compared to a Destination because of its more aggressive tread design and serrated shoulders. However, Destination is better, when it comes to mud and snow performance because of wider grooves within the shoulders.
Destination A/T has been shaped in such a way that it provides slightly better on-road performance due to narrower grooves and better-wet traction due to greater siping. It comes with three sidewall styling choices. Long-Link carbon coating enhances treadwear and counter tearing. Noise generation has been minimized with the help of 5-degree noise reduction technology.
Comparing Bridgestone Revo 3 with Firestone Destination AT: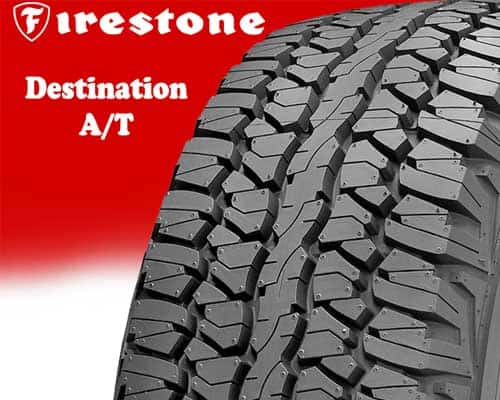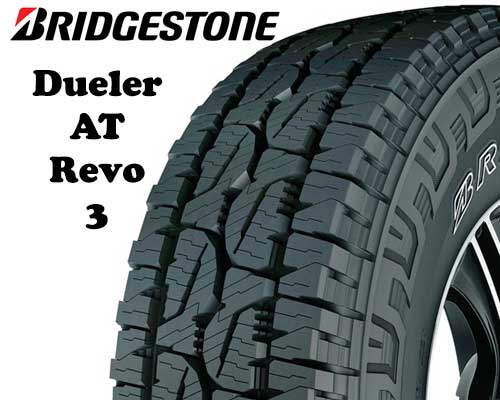 In terms of on-road traction,  Destination would have better performance in dry terrain due to less grooves width which attribute to greater contact patch with the road, it also ensures better handling and cornering on dry roads. Wet performance, however, will be more or less the same as both Dueler and Destination have a large number of biting edges.
When it comes to off-road performance, we conclude that Revo 3 takes the lead with its more aggressive design, wider grooves, tire bars, and staggered shoulders. Revo 3 provides better rock climbing and rough terrain performance, however, Firestone has better mud traction as the shoulders have wider grooves which promote better evacuation of mud as compared to closely packed shoulders in Dueler.
Dueler features staggered shoulders which will lead to less cornering abilities than Destination whereas Destination has a greater contact patch as compared to Dueler which leads to better handling on road. However, Dueler has better off-road handling as compared to Destination. Even though Dueler features greater biting edges, Firestone has the lead in terms of snow performance as the smaller tread blocks dig into the snow for better grip and handling.  
Comfort and noise reduction are also better in Destination as narrower grooves maintain the road contact. The major drawback found in this tire is its tread, making this tire not suitable for heavy mud or snow.
In terms of looks, we think Dueler offers you a more exciting look with the peculiar tread design separated by tire bars whereas Destination offers a pretty generic design. Dueler is the obvious choice for you if you intend to spend more of your time under off-road conditions and do not care much about comfort and on-road performance.
Comparing On-road traction:
In terms of on-road traction, Destination has the lead due to its lesser aggressive tread and narrower grooves as compared to Dueler, this leads to increased contact patch which in turn provides better dry road traction, handling, and cornering ability.
The aquaplane resistance of both the tire is more or less the same, Destination features four zigzag circumferential grooves and fewer voids as compared to Dueler. However, Revo 3 has wider grooves and more siping, all of these features attribute to good enough hydroplane resistance for an A/T tire.
On the other hand, Destination A/T has narrower grooves as compared to Dueler A/T so hydroplaning resistance of this tire is not that reliable. Dueler has wide circumferential grooves on the tires so water fills up those gaps in the tires and ultimately provides more wet traction along better with immunity against hydroplaning.
Comparing Off-road traction:
Off-road performance can be divided into rough terrain, mud terrain, and snow terrain performance. In terms of rough and rugged terrain, Dueler takes the lead with its wider grooves that allows it to grapple better on even surfaces, making it the safer option. However, when it comes to mud traction, Destination has better mud performance because of wider groves within the shoulders. 
When it comes to snow, Dueler is better in terms of shallow snow and ice due to its large amount of biting edges whereas Destination is the better option when it comes to slightly deeper snow. Destination, however, is also 3MPSF rated.
Dueler A/T gives a better overall off-road performance than Destination A/T and the credit goes to its tread design as explained above along with its traction claw technology which gives supplementary grip in various terrains.
Which tire bring in more Comfort?
Dealing with the subject of comfort, it's pretty evident that Destination A/T is ahead of Dueler A/T. The deployment of the 0-bead pattern brings about a comfortable ride as compared to Dueler. Apart from this, its 5-degree noise reduction feature creates noise-canceling sound waves to notably reduce noise production.
Whereas Dueler A/T features a 2-ply construction which plays its role to make the ride even and smooth over rough patches. However, some vibrations were felt on hitting larger pits. These tires were noisier as compared to the Destination.
About Durability and Treadwear:
After proper examination and testing, we concluded that Destination A/T shines in this section relative to Dueler A/T. LL carbon rubber construction supports the Destination A/T from cracking and prevents it from chipping and tearing for raising treadwear and durability. Not only this, the internal structure of the tire has a high tensile steel core belt with spirally coiled nylon on top of polyester cord helping in durability. Destination A/T comes with a limited treadwear warranty of 50,000 miles.
The durability of Dueler A/T increases due to its robust construction and high-strength steel belt when it comes to off-road areas however on freeways it also provides good resistance to puncture. Dueler A/T is backed by a limited treadwear warranty of 60,000 miles.
However, the life of any A/T tire depends upon the usage, Rougher the terrain, the faster the treadwear.
Price Comparison:
Overall if we talk about the tread performance ratings. We found that after covering 692K Dueler A/T gave a rating of 8.1 while an 8.5 rating was given by Destination A/T after traveling 40M.
We concluded that Dueler A/T is more expensive in comparison with Destination. Cost is associated with the tread life and performance of the tire, in this case Dueler A/T has less tread life than Destination which makes it an expensive option.
Quick Summary:
After reviewing both of these tires by bringing into account all the possible aspects we came to the following conclusion.
Firestone has better on-road dry traction, handling, and cornering as compared to Dueler. Dueler, however, takes the lead in off-road performance and light snow traction.
Aquaplaning resistance of Dueler A/T and Destination A/T is more or less the same.
Destination A/T will not disappoint you even with its steering response hence it pass a better steering response than Dueler.
Firestone Destination A/T takes dominance when it comes to deep snow and mud traction because of deeper tread depth. Furthermore, it has 3 peaks mountain snowflake rating.
In terms of comfort, Destination A/T takes the precedence.
Both of these tires have remarkable treadwear, but Firestone Destination A/T takes the forefront and it's cheaper than Dueler A/T.