Both tires are measured under the same size of LT 31×10.50R15, where the tread depth of MT2 is 20/32 inches which is slightly higher than that of KM3 (18/32″).  The Firestone MT2 has better traction off the road because of its huge blocks, wider and deeper tread grooves, these are the true mud tires that offer you nothing but excellent mud performance.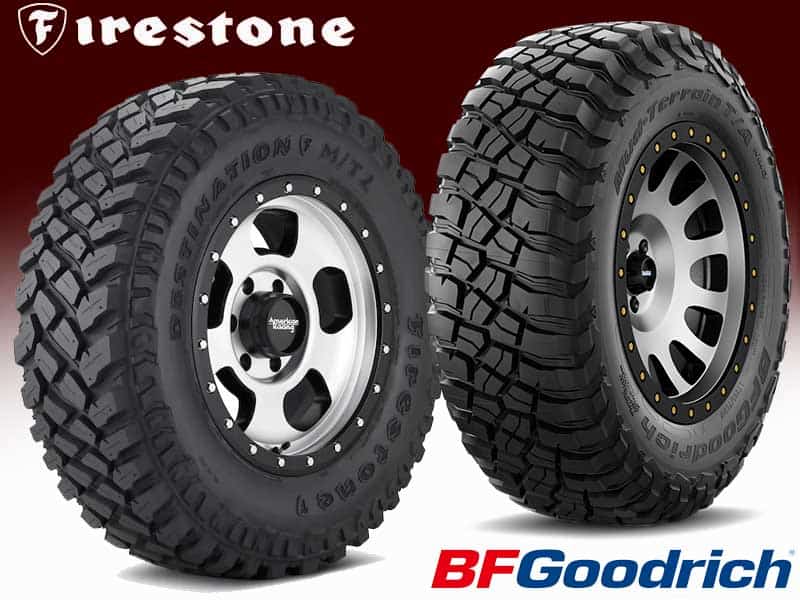 On the other hand, the BFG KM3 has been designed with a strong off-road focus as well but has little on-road performance as well. It is an upgraded Krawl-Tek tread compound that provides better grip and traction on roads and Core Gard Max technology that provides harder sidewalls and is recommended for cars that spend up to 80% of their time off-road.
Comparing Firestone Destination MT2 with BFG KM3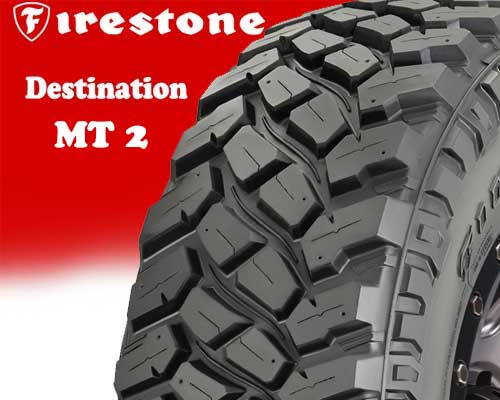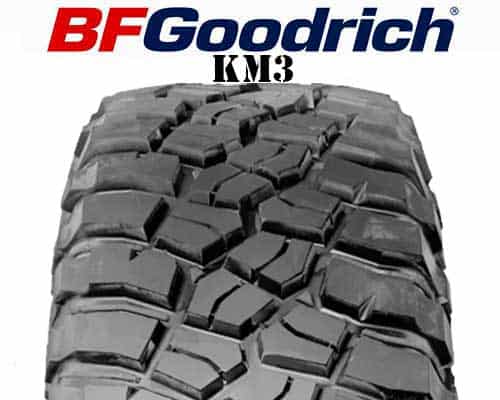 The MT2 has four "rows" of massive tread lugs organized in a pattern to assist through gravel, dirt, sand, and heavy mud. The lugs are big and lengthy, with considerable and deep holes for studs to be added. The massive tread lugs have two functions; first, it aids the evacuation of free ground, permitting the tire to sink in on the subsequent spin and preserve using you forward. Second, it prevents rocks from getting caught among the tires, which could lessen grip and reason premature tread wear. The Rim Guard Off-Road Protector Rib protects the tire by redirecting off-road debris away from the tire bead and rim area, keeping the lower sidewall stronger and the bead fitting tighter to the rim.
The Destination MT2 is built to go off the usual path, with a chip- and tear-resistant rubber composition molded into an aggressive, high-void pattern. KM3 features large tread blocks and "mud-phobic" bars on the edges to help remove compacted mud from the tread and allow for greater fresh-muddy grip that increases mud traction. it has narrower grooves as compared to MT2, which makes its off-road performance lesser than that of KM3.
In terms of siping, neither of the tires has minimal siping. MT2, however, has somewhat more siping when compared. This allows it to have better hydroplane resistance.
Goodrich tire has a slightly less aggressive and more uniform tread pattern as compared to the other one, this makes it more suitable for on-road performance.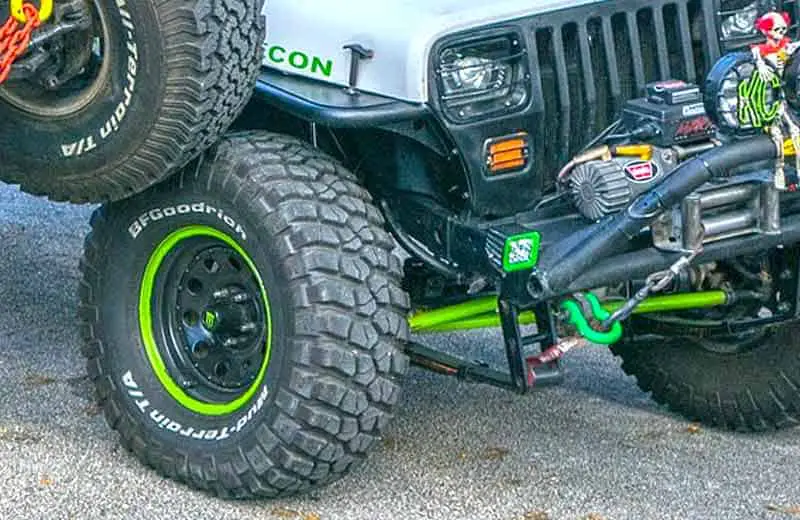 The new KM3 tire has BFG's Core Gard Max Technology onto the shoulders which gives an extra protective layer to keep sharp rocks away from the sidewall, preventing punctures. Mud-Phobic bars at the tire's shoulders are designed to release compacted dust for improved grip in mild or muddy soil conditions.
In terms of looks, MT2 gives off a rather bold statement, it has a functional look that may seem not so interesting to some people. KM3, on the other hand, has an interesting approach to its tread design.
Overall Traction comparison
Of the two, it can be seen that Destination has massive tread lugs and a more aggressive tread design. These tread lugs are optimized to provide excellent mud performance, better than that of KM3, which has a less aggressive tread design along with narrower grooves. For improved traction on wet pavement and in deeper snow, 20 percent more biting edges are added, it has been pinned to accept studs for even better traction on slippery roads.
The mud and stone ejectors between the tread blocks eliminate debris to prevent damage from stone drills, while the serrated top sidewall lugs give enhanced side bite for traction in soft ground.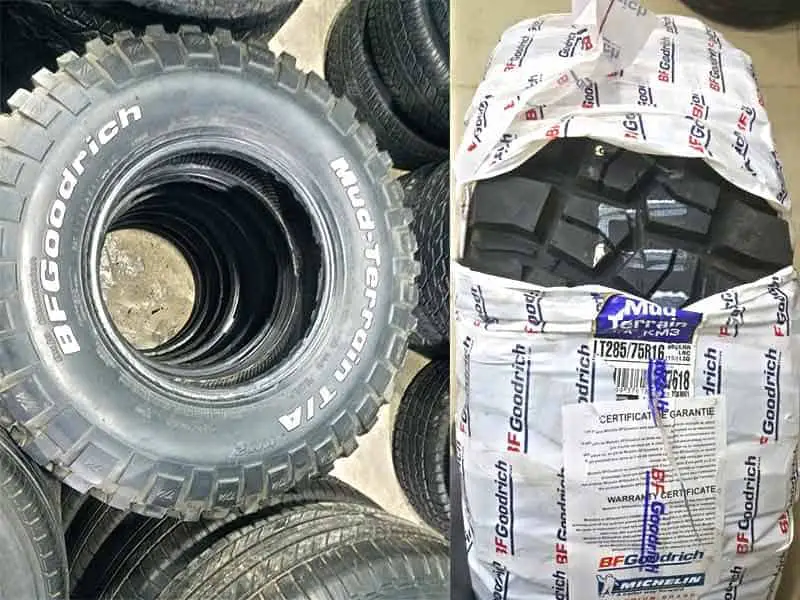 KM3 is made with a Krawl-tek tread compound which allows it to have enhanced off-road performance, MT2, however, still has the lead due to its superior design.
The massive tread lugs also provide better deep snow and ice performance as compared to KM3. Goodrich features a staggered shoulder design whereas MT2 has basic shoulders which gives KM3 the edge in terms of handling and cornering.
On-road traction:
It is clear that neither of the two is meant for on-road performance but if we have to pick one which would have slightly better on-road traction as compared to the other, it would be KM3. As explained earlier, MT2 has massive tread lugs with wide grooves which decreases the contact patch with the road making it a very unfit candidate for on-road driving.
KM3, on the other hand, has a more uniform tread pattern as compared to the other, thus a greater contact patch will have on-traction to some extent. Although, we don't advise you to use mud tires on a highway or in town.
Treadwear and durability
The 3-ply sidewall of the MT2 tire boosts punctures resistance, while dual high-tensile metallic belts with nylon reinforcement provide toughness and strength. Currently, Firestone gives an extensive preference of 15 to 20-inch LT and flotation sizes to match almost every vehicle. There's additionally a restrained tread warranty.
Sidewall construction elements taken directly from BFG tires help to increase durability. The KM3 has the best sidewall splitting and puncture resistance of any KM3 mud-terrain tire in history.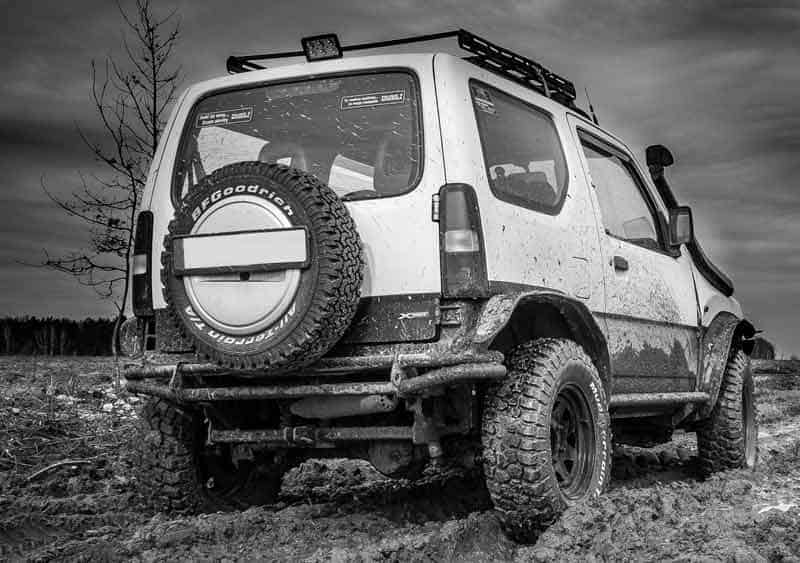 Massive blocks are positioned in the KM3's revised tread pattern to maximize grip independent of approach/steering angle. A new tread design and compound improve overall off-road capability while simultaneously improving handling, comfort, and noise levels on the road. In a nutshell, it's superior in every way.
Comfort and noise
At higher speeds on the highway, the MT2 tire produces very little road noise. Yes, there will be some noise, but it will be tolerable. The traction on wet roads is good enough, while snow traction is above average.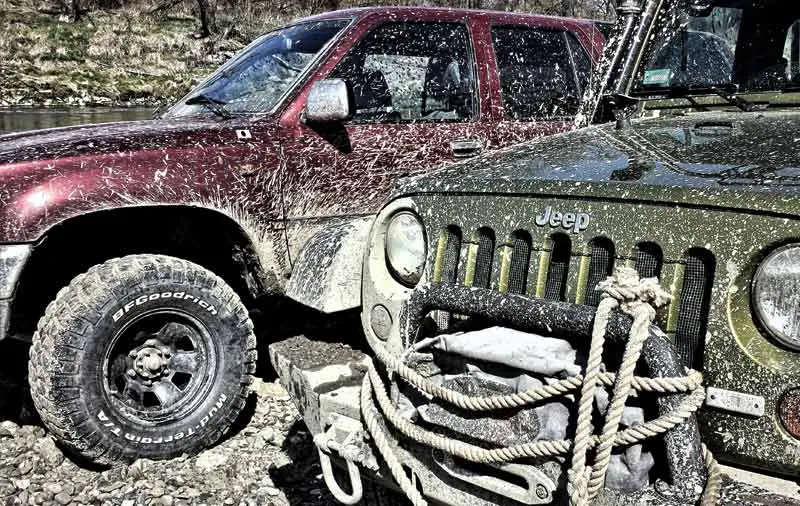 The KM3's on-road performance and comfort features are unlikely to bother hardened off-road aficionados. It also has good road overall performance and low on-road noise levels for rides to and from the trail.
Price comparison
The MT2 is a bit costly as compared to the KM3 tire. However, you may come across rebates, discounts, coupons, and special offers on this tire. A flanged lower sidewall has been included in all sizes of the MT2 to assist in preventing curb damage to pricey wheels.
The KM3 has a wide range of prices depending upon available sizes. The tire's price is lower as compared to MT2. Its ultra-high performance makes it worth using. This tire may also come with rebates, discounts, coupons, and special deals from time to time.
Another part of overall cost of the tire is the fuel consumption.
The fuel consumption of your car can be significantly reduced by using KM3 tires. Its reduced rolling resistance might help you save money on gas, giving you more bang for your buck. These tires feature certain characteristics such as tread compounds and rolling resistance to reduce friction with the road. Its architecture includes three polyester casing plies to improve puncture resistance and two high-strength steel belts with nylon reinforcing to support the tread.
The rolling resistance of KM3 is also minimal. The thick sidewall rubber and extended shoulder rubber withstand splits, punctures, and bruises, and the internal construction includes a three-ply polyester casing for added puncture resistance.
Conclusion
The M/T2 is a pleasing addition, and it would not disappoint in terms of performance. This tire is good for weekend warriors or those looking for a tougher, extra competitive tire for every day riding rig. The KM3 isn't your typical daily driver. It gives off-road performance along with some on-road traction. Of the two, KM3 is a more comfortable option. If you're planning to go into heavy mud and extremely rocky and rugged terrain, MT2 are the tires for you. BFG KM3, however, is meant for slightly milder conditions.