Both the Yokohama Geolandar X-A/T and the BF Goodrich KO2 are marketed as all terrain tires that provide capable off-road traction combined with a responsive and predictable on-road ride, though the design of Geolandar show a different story.
With such an aggressive pattern of chunky lugs, the Yokohama Geolandar X-AT pictures a tread of a hybrid design. Such tires have compactly packed blocks in the center, but their shoulders resembles those on mud terrain tires. That's why this tire is so good off road.
On the other side, the BF Goodrich KO2, although offers a lower tread void ratio in comparison, the tire is more durable with it's tougher inner construction.
Let's start things off my monitoring their tread closely, before moving to their performance on and off road.
Design Differences
Yokohama G016 X/AT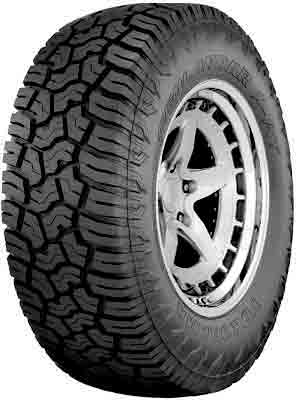 BF Goodrich KO2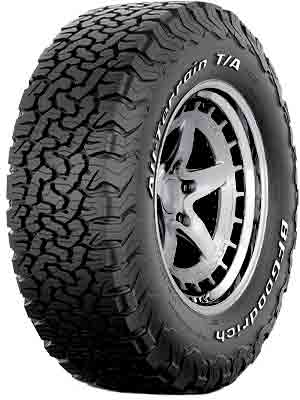 The Yokohama Geolandar offers an innovative compound which is molded into the aggressive symmetric pattern that features "Five Pitch Block Variation" along with a higher void ratio.
The staggered block design of the tire along with the deep siped shoulders bite the ground efficiently and clear away its path.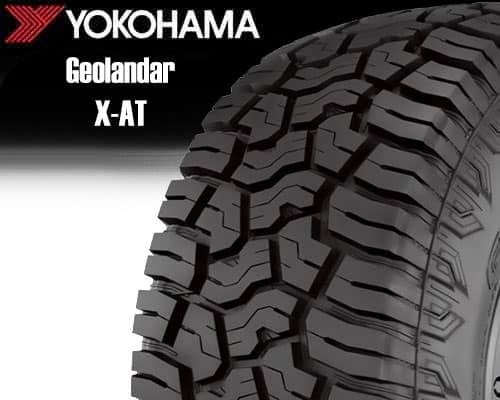 The zigzag lateral grooves are wide enough for the tire to be considered a mud terrain. Maybe, that's why Yokohama introduced it as a cross between the Geolandar A/T and M/T.
Speaking of construction, the tire is very durable with a 3 ply construction where these plies offer high turn up towards sidewalls. So you get more layers on the sidewall (in most of its area).
This thick sidewall protector shoulder protects the tire against impacts and punctures.
The higher built quality not only increases its strength against tread wear but also improves its durability and mileage.
There are also very less no. of sipes on the tire.
And the tread compound of the tire feel very soft (which is good for off road).
On the other side the BFG KO2 has a comparatively closed tread pattern, the grooves are narrower and tread blocks are larger with numerous siping.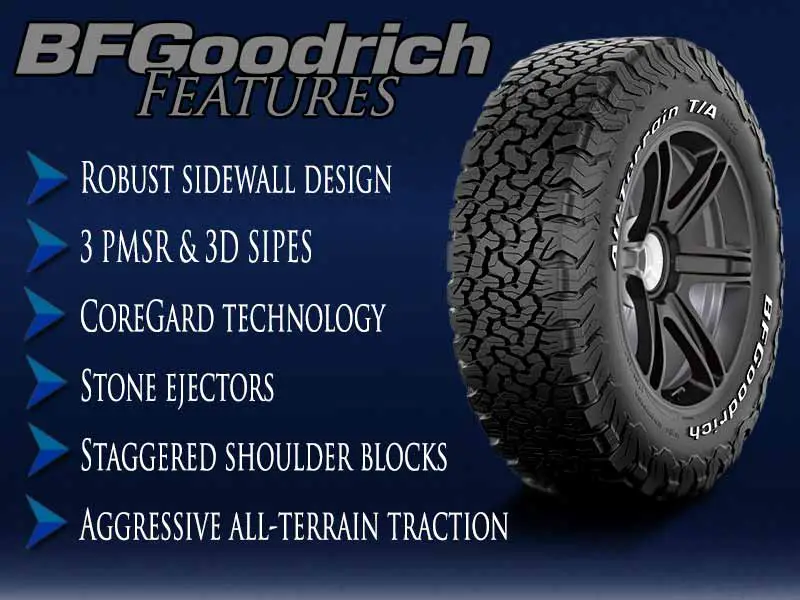 The higher contact patch enables the tire to provide higher traction on road.
The Serrated Shoulder along with the biting edges of blocks also provide enough off road traction by clawing its way through tough terrains.
KO2 tire is also branded with the three-peak mountain snowflake (3PMSF) symbol.
The tire has dual steel belts within which are wrapped with nylon on top of 3 ply polyester sidewall ply construction. And this sidewall armor protects this tire from cuts when it encounter sharp rocks.
The BFG KO2 is made tough.
They even proved this by dropping it from 10,000 feet.
Important Info About These tires
Let's start with Yokohama Geolandar X-AT. So this tire comes in 15 to 22 inches, where it offers only 40 available sizes (currently, will update if anything changes).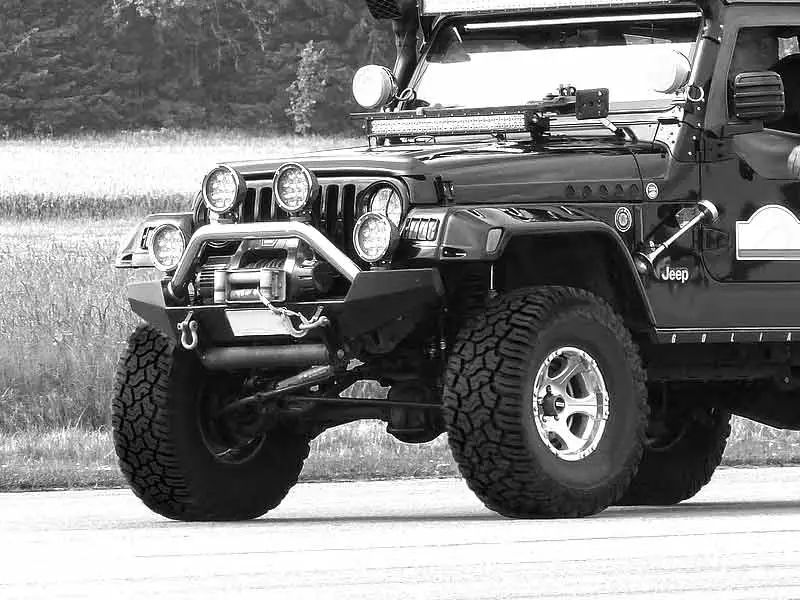 All of the tire sizes just have speed rating of Q (which is very low even for aggressive all-terrain tire).
Load ratings go up to F form C, so weight range is 40 to 85 lbs.
All sizes have tread depth ranging form 16/32″ to 19/32″, where 19/32″ is seen on more.
Lastly with all sizes, you get a 45k miles warranty.
On the other side, the BF Goodrich KO2 offers 90 sizes (15″ to 22″) and has larger speed rating offering of R,S or Q.
Load ratings come in C to E which brings it's weight range from 35 lbs to 67 lbs (still less despite having more cap plies and 3 ply polyester constitutions of sidewalls).
Tread depth on all sizes is seen as 15/32″.
And for the warranty, you get 50k miles here.
Ride Quality
When it comes to ride quality there are two main key areas to focus on, one is noise and the other is comfort (or you can say, a tire's ability to dampen the bumps both on and off road).
Out of both of these tires, the Yokohama Geolandar X-A/T feels slightly more softer to drive on. That's because the tire is actually softer in real life, with a larger silica reinforcement in it's rubber.
So with this, it's able to cushion the bumps in a better manner.
On the other side, the BF Goodrich KO2 feels slightly firm and this makes sense as the tire has more number of cap plies in it's internal construction, and it's rubber on top is also more rigid comparatively.
The KO2 also has a dual compound, and once the softer rubber (which is still not that soft), wears off, the harder rubber underneath makes comfort performance even more limited.
Nonetheless, the tire is quieter of the two, as it offers better variable pitch geometry (of the tread), where air hitting the tread create different tones at different locations, and overall the noise is not amplified/synced up.
The Yokohama Geolandar X AT on the other side, although offers the same technology, it's wider grooves allow air to move around more freely, and so they strike around generating more noise in comparison.
On-Road Performance
The larger gaps of lateral grooves present in Yokohama X-AT decreases its contact with the road and that results in lesser grip, comparatively.
The tire also don't have enough siping so the tire also loses it's traction on wet road as well.
In the case of BFG KO2, the lower void ratio allows decent contact between the blocks and the road.
Overall the narrower grooves combined with numerous siping and serrated shoulders makes KO2 better for both dry and wet on road traction.
Off Road Traction
The central angular blocks of Yokohama X-AT are engineered for maximum off road traction.
The shoulder design of the tire which have biting edges cut through the mud/sand very efficiently.
These aggressive shoulder design with varying lengths also helps to evacuate mud by scooping it out of the tire and also provide better cornering experience.
This tire is a close cousin to a Mud terrain tire, one might say, as this tire has no problem dealing with mud at all.
On rocky terrain, the tires bold stone ejectors throw the small rocks/pebbles away from its path and the sidewall protectors ensure the tires safety against sharp rocks which can cause average tire puncture.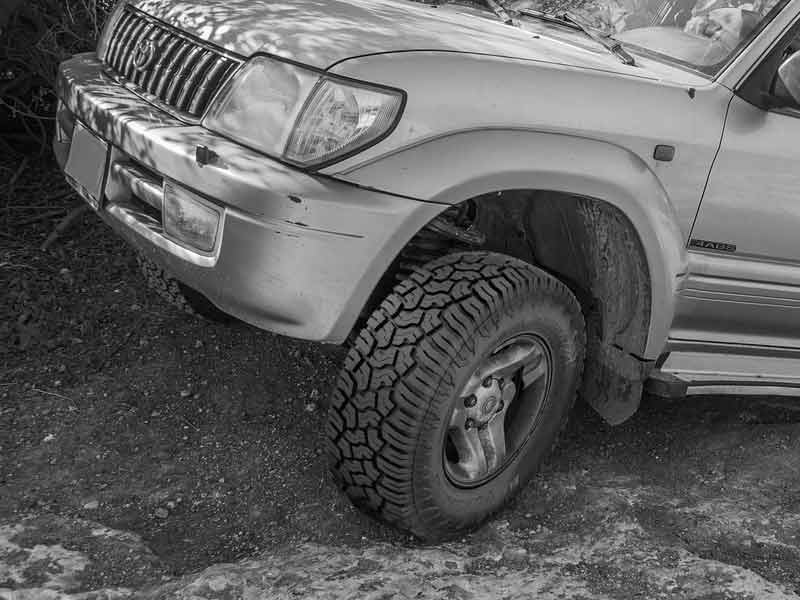 They called it Yokohama GEO Shield, which protects it from punctures. Basically its the internal durable structure of the tire. The casing is made by warping the polyester body spirally on the high carbon steel wires which run around the tire's circumference.
2 steel cables also run through the tire which are then wrapped with nylon just under the rubber surface of the tire.
The Geolandar X-AT is also one of the heaviest AT tire you'll find out there.
We tested the size of LT 275/65R20 for both tires while comparing them. And the measured weight of X AT was 64 lbs compared to 57 lbs of KO2.
Overall X-AT is pretty durable. And with this tire, you can move through any tough terrain confidently.
Coming to the famous BFG KO2. This tire is also a great pick when it comes to off road, for sure.
The 3D sipes on its hook shaped tread blocks along with the serrated shoulder design allows the tire to easily crawl its way through mud and snow.
The curved lugs on the sidewall of the tire allows the tire to get out of tough situations.
Like when the tire gets aired down in mud.
Similarly on rocks the tires stone ejectors come in handy.
Sidewall cracking is common among AT tires.
So, like Geolandar XAT the KO2 also has a tough sidewall construction. They share the same CoreGard sidewall technology as the KM3.
The tire also contain 3 ply polyester casing which adds further security to the tire from getting punctured.
Overall, compared to Geolandar XAT, the BFG KO2 are less durable and lack in performance when it comes to off road. But the tire is still a great pick if you are planing to stay on-road most of your time.
Remember these points
In terms of overall on road traction, the BF Goodrich Ko2 is slightly better as it offers a quikcer steering response on both wet and dry roads, though it's wet traction can be improved.
The Yokohama Geolandar X-A/T is a better tire for mud and sand, and in terms of durability although it's almost similar, the tire does things better on rocks as well, but only directionally, as the KO2 offers better lateral traction.
The BFG KO2 is also better with fuel consumption, tread wear and snow performance (earning 3 peak mountain snowflake rating).
Compare BFG KO2 with other AT tires: