This tire is a rugged all terrain option. Its off-road abilities are higher than most all terrain tires, and it also offers good wet traction. You can conveniently roam about muddy paths and in snow-covered areas using these tires.
The distinguishing feature of this product is Kevlar reinforcement of tread to resist chips and punctures.
Goodyear Wrangler MT/R specifies an open tread, provides good wet traction, enhanced rock terrain performance, efficient mud and snow traction, and high hydroplaning resistivity. However, its dry traction and driving comfort is limited, and the noise level is higher.
Let's Take A Closer Look
Goodyear M/TR Kevlar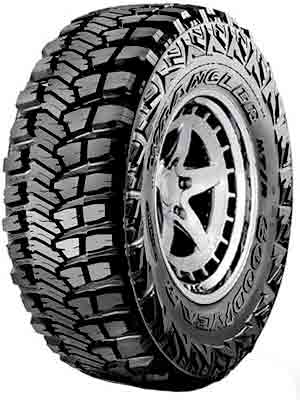 | | |
| --- | --- |
| Specs | Wrangler MT/R |
| Tire type | All-terrain, all season |
| Usage | Off-road, on-road |
| Three-peak mountain snowflake rated (3PMSF) | No |
| Tested size | LT265/75R16 |
| Tread depth | 19/32-inch |
| Section width | 10.5 inches |
| Maximum inflation pressure | 80 psi |
| Maximum load capacity | 3415 Ibs |
| Load index 120/123 | 3417/3086 lbs |
| speed rating | 100 mph |
| Approved Rim Width | 7 – 8 inches |
| Overall Diameter | 31.9 inches |
| Tire weight | 55 lbs |
What do we see in the tire's tread design?
Goodyear MTR shows an open tread design with an asymmetric arrangement of tread elements. Its central portion specifies only two ribs comprising small blocks.
These blocks are compactly arranged in one row while widely spaced in the other. Its longitudinal grooves are broad as well as deep. Thin sipes are also marked on top of its central and shoulders blocks.
Shoulder lugs have wide lateral spacing between them in which rectilinear stone ejectors are present.
The outer edges of its shoulders are alternatively scooped, and the sidewall shows an aggressive design as well.
How does the Goodyear MTR performs OFF road?
| | |
| --- | --- |
|   | Wrangler MT/R |
| Mud traction | Moderate- high |
| Snow traction | Moderate- high |
| Ice traction | Moderate |
| Rock traction | High |
Mud Terrain
Owing to its broad and deep grooves, mud traction of MT/R is high.
There is massive space between its tread blocks to evacuate mud. Thus, its open tread presents a good biting ability on mud.
It also enables to take turns over a mud-covered path with full control and responsiveness because the muddy substance is channeled out from deep shoulder grooves.
Alternate scooping over the outer margin also helps in throwing mud off and maintaining firm steering traction.
Snow Terrain
Wrangler rolls over the soft snow proficiently due to its open tread.
A high void ratio enables it to roam about snow areas and clean its track and tread alongside.
This property is credited to open voids in between its ribs which let the tread bite over the snow and throw it backwards while moving ahead.
Besides that, small sipes also make biting action more efficient, while large shoulders with scooped edges make steering on snow easier.
It also performs well on icy paths as its water-removing ability is high, and its tread is silica-infused which increases its ice traction.
However, the feature that limits the winter traction of this tire is the lack of snowflake 3PMSF rating.
Thus, it won't give you as good winter performance as a specified winter tire.
Rock Terrain
This tire is specialized for exploring rocky trails due to its strengthened construction, increased lateral stability, and gravel-resistant tread design.
Resultantly, it presents an optimized performance in rocky terrain and gets the highest subjective score for traction on a rocky slope.
Likewise, its gravel braking is menial as it bags 3rd position in the test over rocks.
Its performance on rocks is augmented by prominent stone ejectors embossed in its shoulder lugs.
These elements toss off gravel particles and minimize the chances of scratches and punctures.
Puncture resistance and lateral stability are further enhanced by its Kevlar reinforced sidewalls.
Hence, all in all, it is a good option for traveling in rocky terrain.
| | |
| --- | --- |
| Tests | Wrangler MT/R |
| Gravel braking | 44.88 meters when stopping from 80 km/h |
| Traction on a rocky slope | 50 (Highest subjective score) |
| Sidewall strength | 140 kPa |
On-Road Traction Performance of the tire:
Dry traction of Wrangler is reliable but would score lesser than other tires because its contact patch is minimized.
Its tread grip on the road is stable, but as its void ratio is high, it is unable to maintain a strong grip.
The same story goes for handling because widely spaced shoulder lugs do not handle pressure on the road as efficiently as off road tires.
| | |
| --- | --- |
|   | Wrangler MT/R |
| Dry Grip | Low-moderate |
| Dry handling | Low-moderate |
When it comes to wet traction, MTR shows an excellent performance due to the high water accommodation capacity of its open tread.
In the tire performance test, it stood 3rd for wet braking as it only covered 38.1 meter distance when stopping from 100 km/h speed.
For wet handling, its performance is even better, and it ranked at the first position with a lap time as small as 31.85 seconds.
This efficiency is credited to its silicate tread rubber and high hydroplaning resistance. Its massive tread channels and sipes remove the water layer from the surface and let the tire grip better.
However, this performance is analyzed with respect to off road tires, and traction may be lesser when compared to road-specialized tires as they have larger contact patch for enhanced road grip.
| | |
| --- | --- |
|   | Wrangler MT/R |
| Wet Braking | 38.1 meters When stopping from 100 km/h |
| Lap time | 31.85 seconds |
| Hydroplaning resistance | High |
Is the Goodyear Wrangler MTR comfortable to drive on?
The on-road comfort score for Goodyear MTR is moderate as its open tread pattern leads to more noise production and moderate on-road traction.
Wind particles find a lot of space in its open voids to circulate and collide. Resultantly, you hear a noticeable tire noise.
You will get a reliable driving experience, but the comfort level of these tires is limited by their lower contact patch.
Warranty
Although this tire is strengthened and durable, the company does not give a treadwear warranty for this product.
Nevertheless, you get a uniformity warranty up to 2/32 inch wear and a workmanship faults warranty.
Hence, you can claim a replacement if your tire is defected/ deformed or wears unevenly within six years of purchase.
Things to know about the tire's Durability and Treadwear:
Wrangler MTR is a durable tire due to its enhanced tread rubber and sidewall composition.
Its tread polymer is enhanced by silica infusions which improve wet traction and also make the tread more durable.
Plus, its sidewalls are robust and 35% more puncture resistant as these are reinforced by DuPont Kevlar (the compound used to make bulletproof fabric).
This property makes it a good choice for venturing on rocks as its sidewalls resist cuts and punctures due to hard gravel elements.
Furthermore, its internal structure is constructed upon two high tensile steel belts. Thus, it lasts up to many years.
| | |
| --- | --- |
|   | Wrangler MT/R |
| Durability | Moderate- High |
| Treadwear  mileage warranty | No |
| Uniformity warranty | First 2/32'' |
| Workmanship warranty | 6 years |
Quick Summary
An all season, all terrain tire.
Offers high resistance against hydroplaning.
Provides optimized wet traction.
Its dry traction and on-road comfort are limited.
Offers good mud and snow evacuation.
Presents enhanced gravel traction and rock crawling ability.
Specifies high lateral stability and puncture resistance due to Kevlar reinforced sidewalls.
Does not carry a treadwear mileage warranty.