Whether it's daily driving or exciting off-road terrains, both tires will amaze you with robust performance and unique features. You can confidently rely on in all sorts of terrains, as these tires are one step ahead. That's why they are in the rugged terrain category.
Rugged terrain tires are also called "hybrid" or mixture of two tires. In case of Duratrac and Nitto Ridge both have shoulder blocks taken from mud-terrain tires, where the compact blocks in the central tread areas remains all-terrain.
Here's the deal: The Nitto Ridge Grappler has a closed pattern compared to its rival. This allows the tire to have more contact with the pavement/road. This means more traction and better on-road performance. At the same time, it also means less overall traction off road.
PS. Did you Know that DuraTrac has a doppelganger: Kanati Trail Hog AT?
Tread Design – Ridge vs Duratrac
Goodyear DuraTrac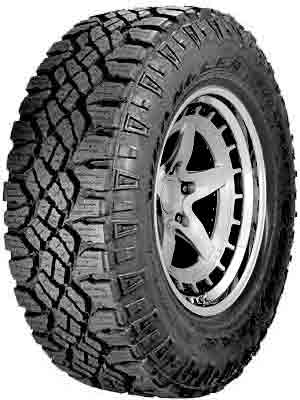 Nitto Ridge Grappler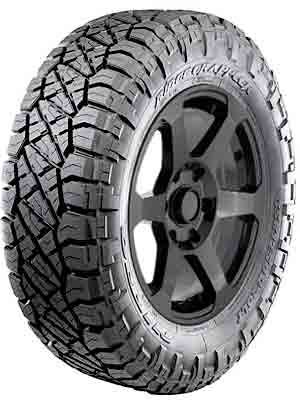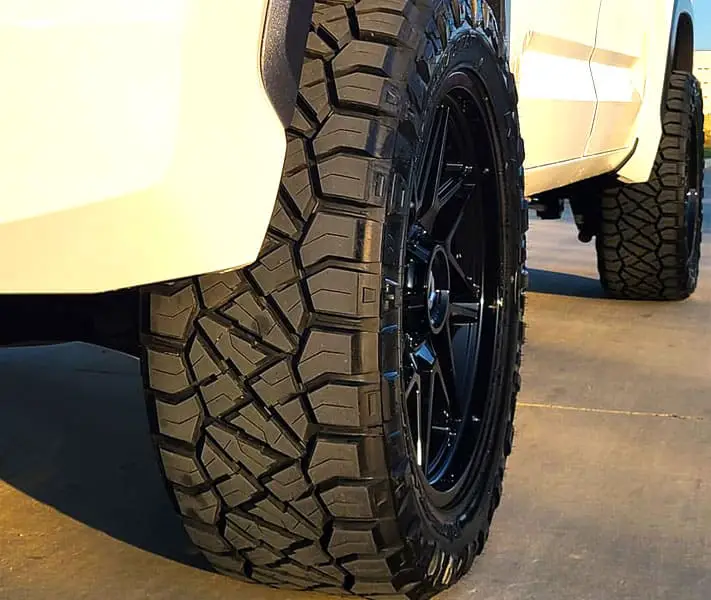 Starting with Nitto Ridge Grappler, you can see the serrated shoulder blocks placed one after another. These blocks acts as traction scoops and spoon the mud and dirt out and away from the tire in order to push the tire forward.
However, the shoulder blocks of the tire have minimal siping so it lessens the aggressiveness of the tire here, but then again with more rubber, the tire provide decent pavement handling.
Between these shoulder blocks sit bold stone ejectors which combined with wider lateral grooves self clean the tread which is very important off road.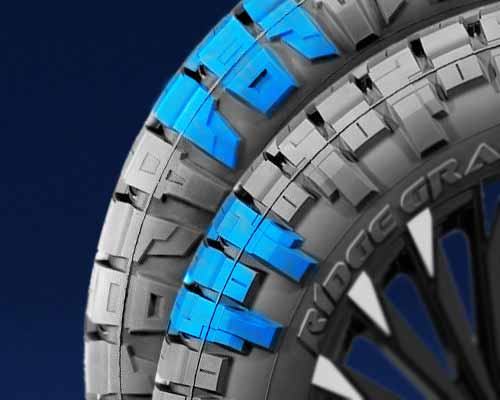 Towards the outer edges of the shoulder blocks, the Nitto Ridge offers dual sidewalls.
Each side of the tire offers thicker lugs compared Goodyear Duratrac. (Similar pattern is also seen in Nitto Recon Grappler)
These lugs provide strong biting off road when you air down the tire.
FYI, it these lugs that make this tire one of the best ones that you can find for rocky trials.
As these also have 3 ply sidewalls form underneath, so its a win, win.
In the middle the grooves make a Z shaped design.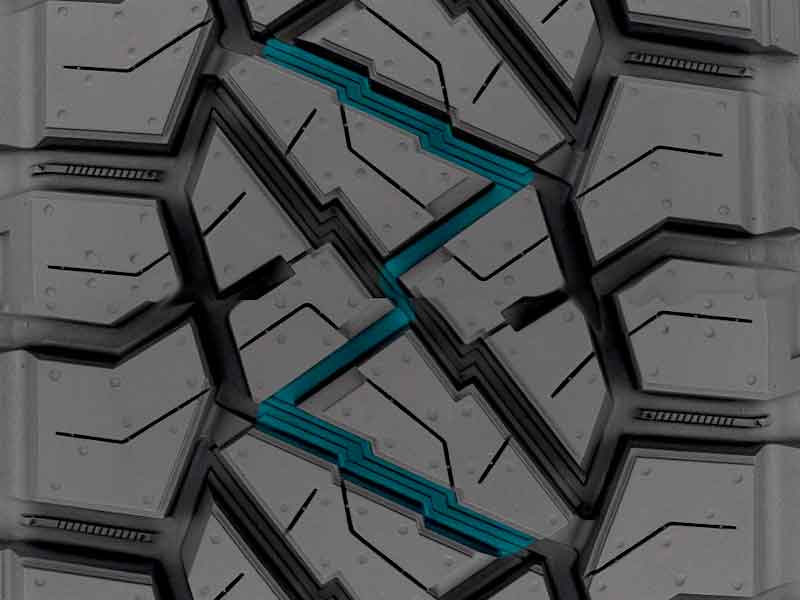 These grooves are made out of triangular lugs which on sideways have deep notches in them, while the other two connect with shoulder blocks.
All blocks have full depth sipes and reinforced foundations which allows it to have on road stability.
Moving on towards the Goodyear Duratrac, the tire's design still impresses even though it's more than a decade old now.
The middle are of the tread conssists of haphazardly placed rectugular blocks which create wide (very prominent) circumferential channels.
These channels are wider comapred to Nitto Ridge Grappler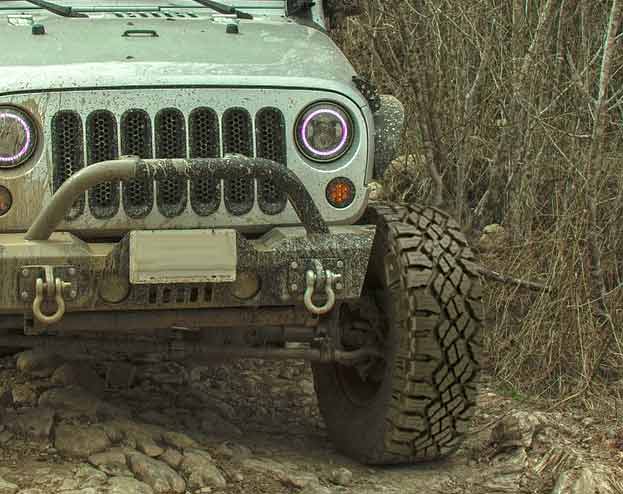 In between these blocks the grooves also have tractive groove technology, which makes it's tread more self cleaning in comparison.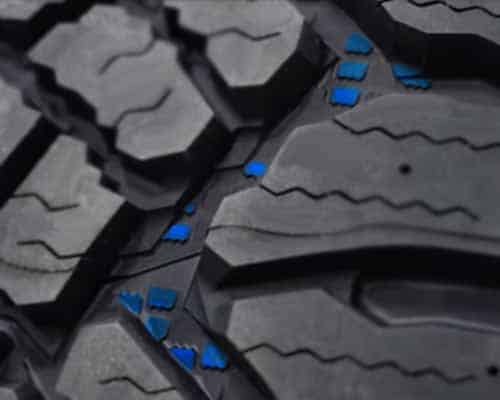 These act as dirt and mud ejectors for this tire, as the lodged stuff gets broken down in to pieces, so the tire can evacuate them with more ease.
Also note from this image above, that the shoulder blocks are joined together, in fact all blocks, even those in the middle as well, are connected to each other with powerful reinforced foundations which offer these tires with lateral and longitudinal grip and stability.
Lastly, again considering the image, all shoulder blocks of Goodyear Duratrac are stud-able (you can embed 15 of these studs, but they only come in sizes which are LT).
But still the good thing is, all it's sizes get to have 3 Peak Mountain Snowflake Rating unlike the Nitto Ridge Grappler.
Recommended video on Nitto Ridge and Goodyear Duratrac
Traction Comparison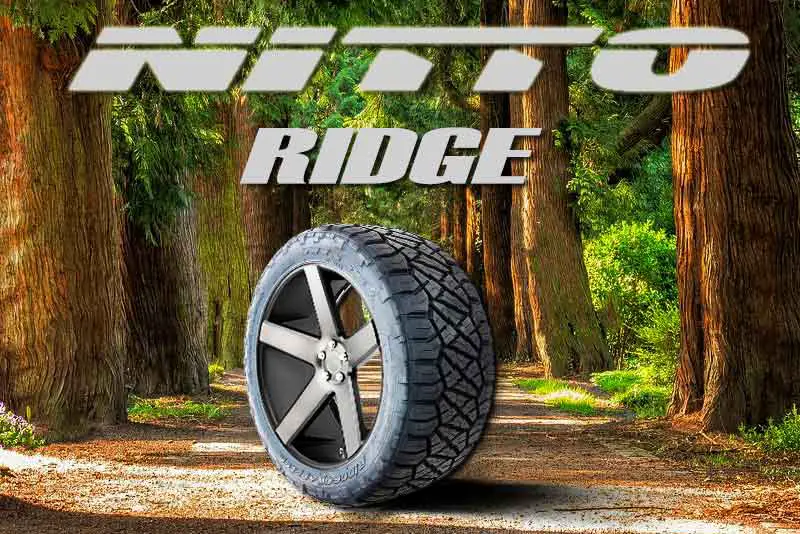 Nitto Ridge Grappler from the Nitto truck tire family offers excellent all-terrain capabilities. Undoubtedly, these aggressive and wide tires with great traction on trials deliver phenomenal on-road performance.
Nitto Ridge offer outstanding performance both on-road and off-road.
The built-in step block edges along with side Z grooves creates a zig-zag pattern and delivers sharp biting edges for excellent traction on rocks. The alternating groove pattern keeps the tires biting in the rocks and push the ride forward.
The Less gaps between tread blocks also ensures more contact with the road, so you get better on road grip with these tires as well.
(BTW, Falken Wildpeak's foot print is right down the middle of these two tires)
The rugged tread of Ridge Grappler with a high void tread pattern tears all the mud and snow in any terrain.
But in terms of soft mud or snow, DuraTrac performs better.
Mud is a soft material and needs to be evacuated with the help of wide grooves.
With DuraTrac you get wider grooves. This means mud is better evacuated from the tires and the tires are pushed forward.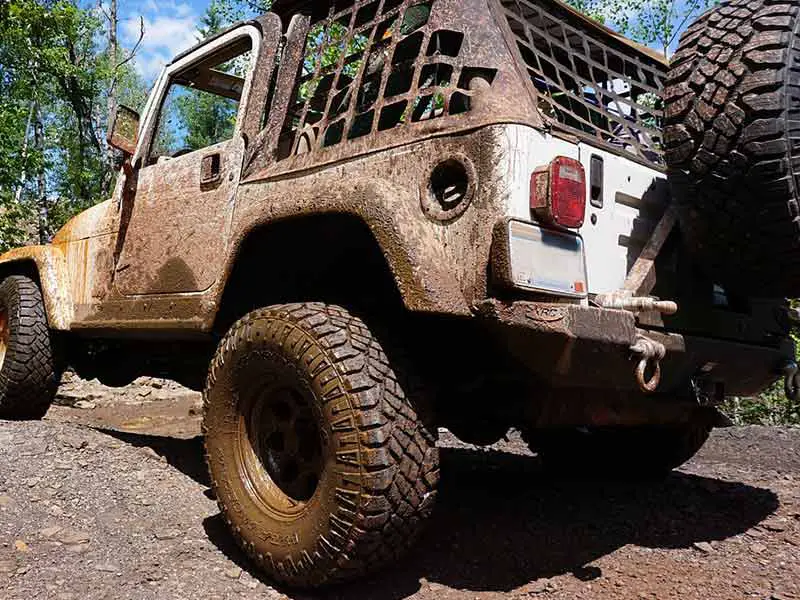 Similarly the open shoudlers of DuraTrac helps it in the same way while cornering.
The open design also allows blocks mobility and this causes a sticky effect on the rocks and dirt.
Overall the Goodyear Wrangler Duratrac is an all-terrain tire with improved traction well suited to off-road terrains.
The wide grooves of Goodyear Wrangler Duratrac make it a great fit for sandy terrains as the sand will pass through it easily without getting stuck.
The tire has wide shoulders and precise incisions which give it powerful handling traction and sturdy grip over rocky surfaces.
It also delivers easy and smooth performance on soft terrains.
The deep and wide grooves of Goodyear Wrangler Duratrac withhold the sand or dirt and keep it steady on the surface.
Unlike Nitto Ridge Grapplers, the tire also features a rim lock that reduces off-road damage risks.
FYI: According to our tests, we believe a better option than these 2 would be Toyo AT3.
Comfort Comparison
Nitto Ridge is definitely recommended in terms of comfort as it provides you with the ultimate comfortable riding experience.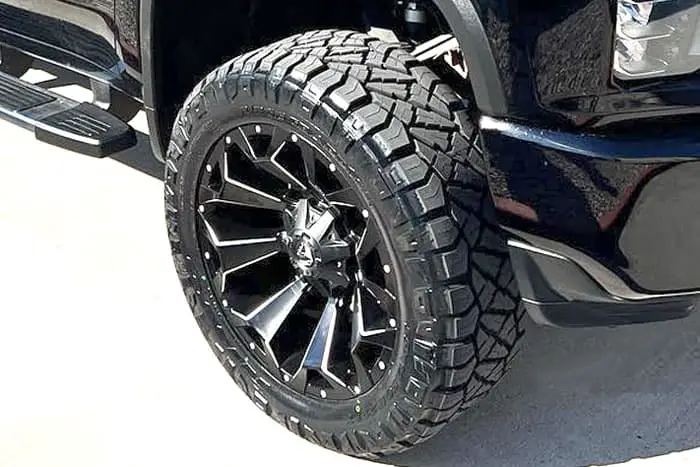 The variable pitch tread helps in better adhesion and ensures that the ride stays smoothly on road.
The tire has deep and aggressive sidewall lugs and treads patterns which grip the road and leave you with a comfortable and less shaky ride experience.
On the other hand, Goodyear Wrangler Duratrac performs impressively well on difficult terrains but the tread pattern is not deep enough to absorb variable jolts and bumps hence make the ride a little unsteady with slight vibrations.
The tire also makes a lot of noise on road.
Therefore, the Nitto Ridge Grappler is a convenient option in terms of comfort level.
Comparing Durability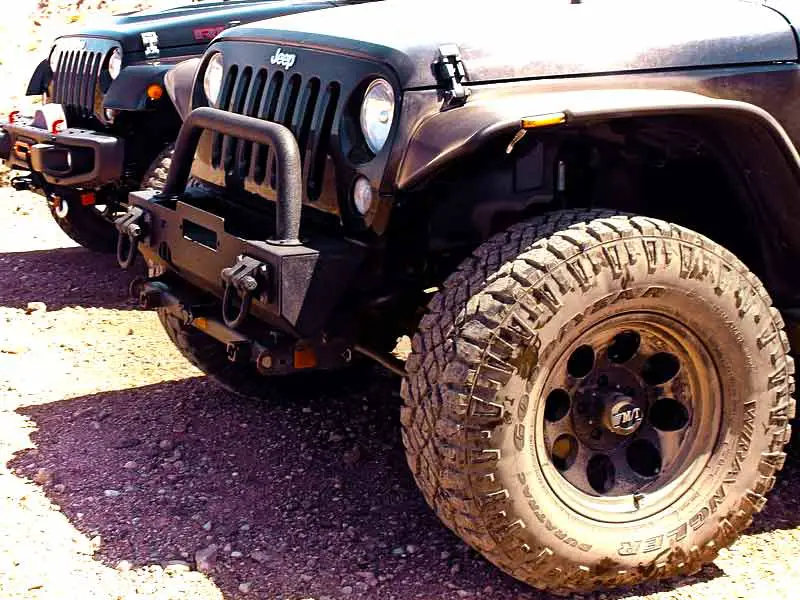 Both Goodyear Wrangler Duratrac and Nitto Ridge are made of durable materials that are meant to withstand all sorts of strains and stress. Off-road driving could prove very harsh on tires but the sturdy build of both Duratrac and Ridge enables them to bear it effortlessly. Ridge offers a 55,000 mileage warranty whereas; Duratrac is a step behind with a 50,000 mileage warranty.
The stone ejector design of Nitto Ridge keeps it protected from unwanted puncture and other road hazards, making it a long-lasting choice for any terrain. On the other hand, the Goodyear Wrangler's tough tread block pattern makes the build enough sturdy to withstand harsh conditions.    
Comparing Price
Both the options are less costly and over efficient in performance. The price of the Goodyear Wrangler Duratrac is a little less as compared to the Nitto Ridge. Both tires are all-terrain tires and are quite similar in terms of performance. The weight and drive of both tires are similar.
However, if you want an ideal winter tire Wrangler is definitely a great option. If you want a more comfortable riding experience with less noise then, a Ridge Grappler is the best available option. The rest of the features both tires offer are similar in one way or another.
Overall Thoughts 
Let us have a look at some promising points of both tires:
Duratrac and Ridge, both are all-terrain tires with good overall performance both on-road and off-road. 
Goodyear Duratrac is an ideal winter tire with exceptional performance on rocky and snow ground. Nitto Ridge provides a comfortable riding experience with less noise on any terrain. 
Both tires are durable with high mileage and offer good looks.