Goodyear Wrangler Duratrac and Nitto Ridge Grappler are excellent options for off-road adventure. Whether it's daily driving or exciting off-road terrains, both tires will amaze you with robust performance and unique features. You can confidently rely on them even on difficult terrains.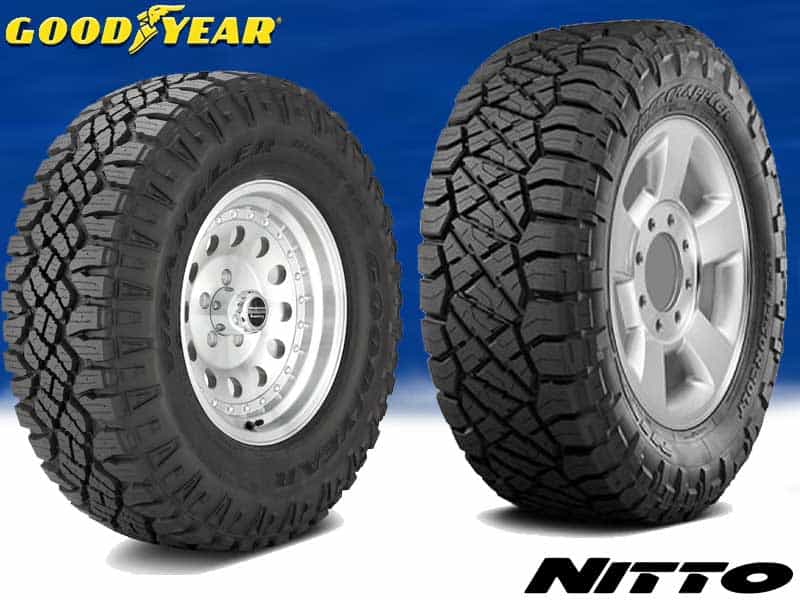 These may share some common features but both tires have distinguished specialties which make them different from each other. Let's have a deep insight in order to understand better about the features and performance both offer.
Comparing Nitto Ridge with Duratrac: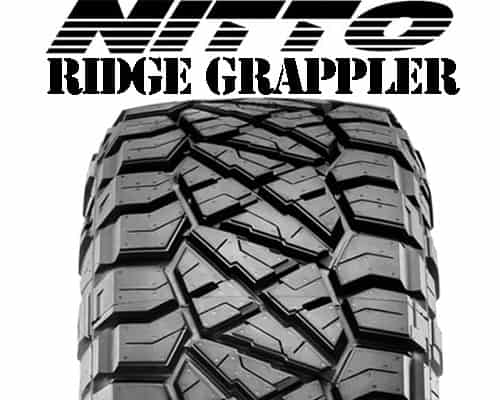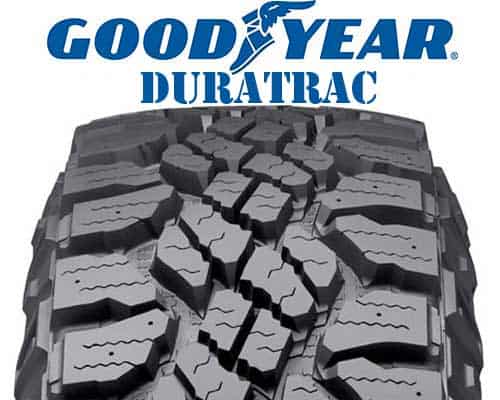 Nitto Ridge Grappler from the Nitto truck tire family offers excellent all-terrain capabilities. Undoubtedly, these aggressive and wide tires with great traction on trials deliver phenomenal on-road performance.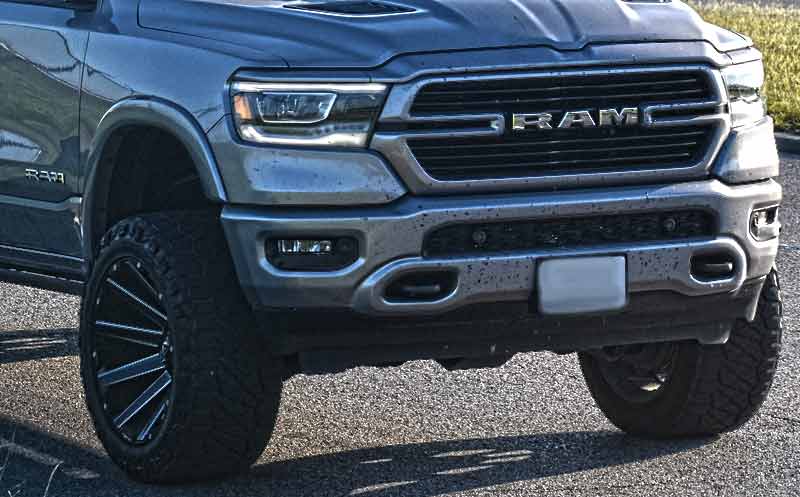 Ridge Grappler features a high void tread pattern matching with the aggressive grip demand of off-roaders. The variable pitch tread pattern combined with shoulder grooves provides an ultra-smooth riding experience and exceptional off-road performance. 
The multipurpose Good year Wrangler Duratrac is a quite versatile option in terms of fittings. These commercial traction lightweight tires suit number of hardcore vehicles. Goodyear Wrangler Duratrac symmetric tread design with massive shoulders and angled tread block improves stability during wet and dry conditions.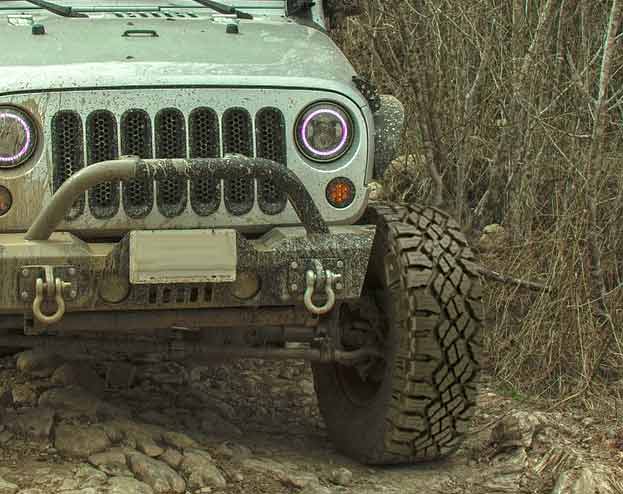 Its angled tread block makes you say goodbye to chipping and tearing during heavy loading. Infused with the latest Goodyear tire technology, Wrangler Duratrac delivers unmatched all-around driving performance. Unlike Nitto Ridge Grapplers, it features a rim lock that reduces off-road damage risks.
Traction Comparison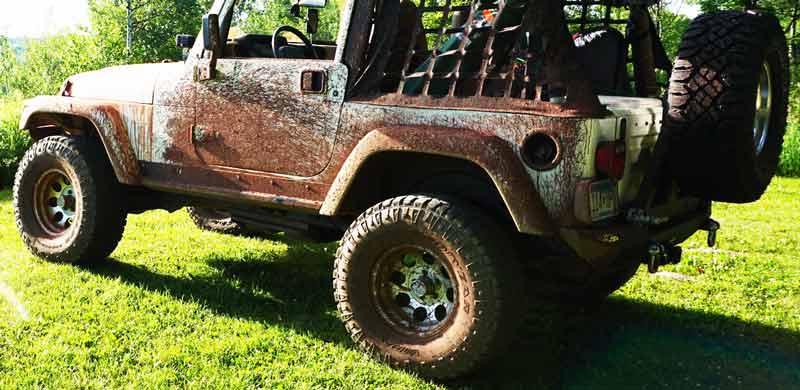 It is a known fact that the best tire is one that offers a tough grip on any terrain. Goodyear Wrangler Duratrac is known for its firm grip even in challenging terrains. Be fear-free on challenging terrains as the tractive technology at the bottom of groves enables outstanding traction and sturdy grip even in deep mud snow and sand. The angled tread blocks design picks up snow or rocks and locks it and provides enhanced edged stability both in dry and wet conditions. All thanks to the Goodyear Wrangler Duratrac's deep grooves and small tread blocks which allows tough grip over snowy terrain by evacuating water ice or snow. The self-cleaning pattern of tread along with zigzag sipping all over it assists the tire in the powerful traction capability.  
On the other side, in terms of traction, the Nitto Ridge Grappler provides a similar traction experience to the user as its rugged tread along with shoulder grooves enhances its grip over any surface. The rugged tread of ridge grappler with a high void tread pattern tears all the mud and snow in any terrain. The built-in step block edges along with side Z grooves creates a zig-zag pattern and delivers sharp biting edges for excellent traction in deep mud or other loose surfaces. The alternating groove pattern keeps the tires to bite in the rock and push the ride forward. 
Comfort Comparison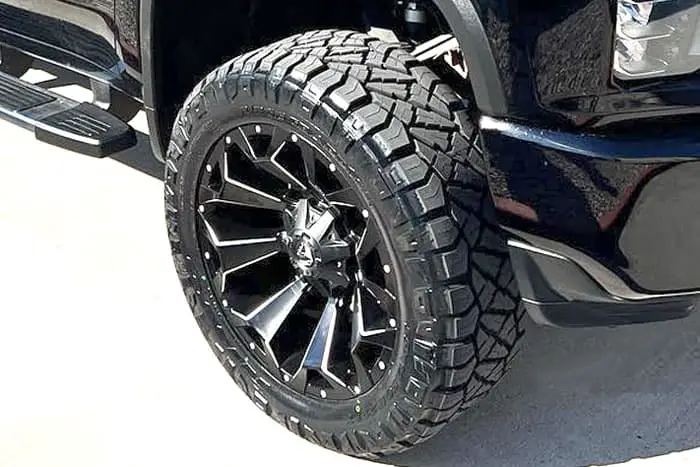 Nitto Ridge is definitely recommended in terms of comfort as it provides you with the ultimate comfortable riding experience. The variable pitch tread helps in better adhesion and ensures that the ride stays smoothly on road. The tire has deep and aggressive sidewall lugs and treads patterns which grip the road and leave you with a comfortable and less shaky ride experience.
On the other hand, Goodyear Wrangler Duratrac performs impressively well on difficult terrains but the tread pattern is not deep enough to absorb variable jolts and bumps hence make the ride a little unsteady with slight vibrations. Therefore, the Nitto Ridge Grappler is a convenient option in terms of comfort level. Duratrac Wrangler is an all-rounder and a lot better in many other aspects. 
Off-road Performance Comparison
Premium quality materials are used in the making of both Goodyear Wrangler Duratrac and Nitto ridge grappler. Therefore, the performance is unmatched both off-road and on-road.  Both tires are all-terrain tires and perform exceptionally well off-road.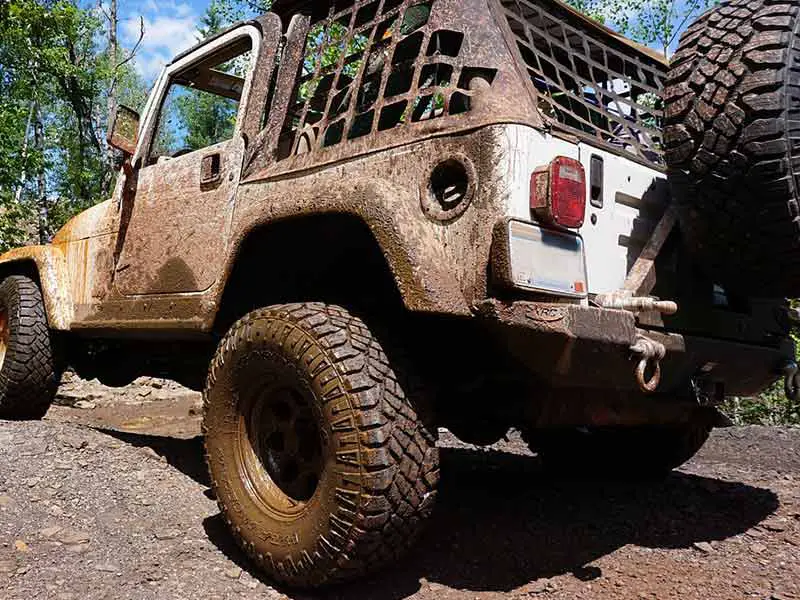 Goodyear Wrangler Duratrac is an all-terrain tire with improved traction well suited to off-road terrain. The wide grooves of Goodyear Wrangler Duratrac make it a great fit for sandy terrains as the sand will pass through it easily without getting stuck. The Goodyear Wrangler Duratrac has wide shoulders and precise incisions which give it powerful handling traction and sturdy grip over rocky surfaces. It also delivers easy and smooth performance on soft terrains. The deep and wide grooves of Goodyear Wrangler Duratrac withhold the sand or dirt and keep it steady on the surface. 
Nitto Ridge offer outstanding performance both on-road and off-road. It has large lugs which contributes in traction and makes it easy for it to handle off-road. Its less weight makes the handling easy even on rough terrain. It contains blocks with small spaces which makes it quite sticky on rough terrain whether its snow sand or mud. It is a solid choice for off-road vehicles. 
Comparing Durability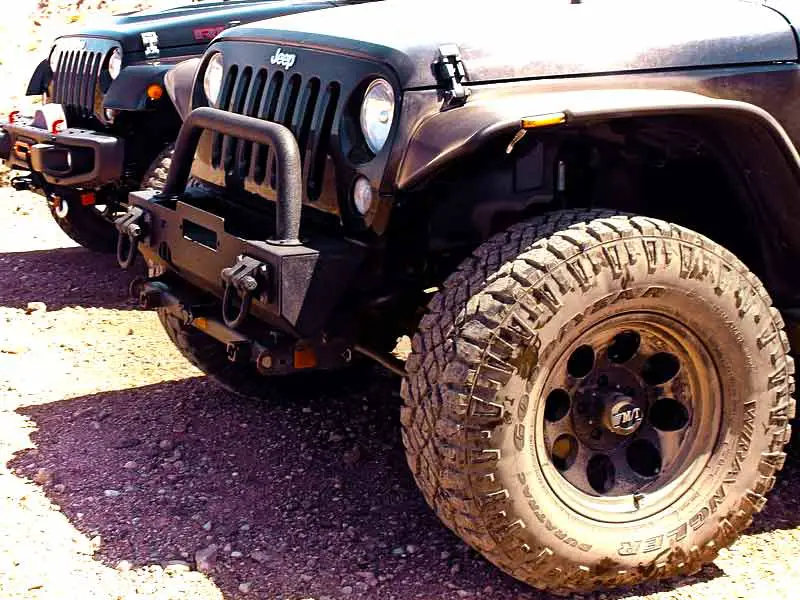 Both Goodyear Wrangler Duratrac and Nitto Ridge are made of durable materials that are meant to withstand all sorts of strains and stress. Off-road driving could prove very harsh on tires but the sturdy build of both Duratrac and Ridge enables them to bear it effortlessly. Ridge offers a 55,000 mileage warranty whereas; Duratrac is a step behind with a 50,000 mileage warranty.
The stone ejector design of Nitto Ridge keeps it protected from unwanted puncture and other road hazards, making it a long-lasting choice for any terrain. On the other hand, the Goodyear Wrangler's tough tread block pattern makes the build enough sturdy to withstand harsh conditions.    
Noise Level 
Noise level is really a deciding factor in choosing a tire as it depends upon the build and design of any tire. For the off-road enthusiasts, the Nitto Ridge is definitely a more quiet and comfortable option. The deep grooves and unique tread pattern of Ridge tires make the ride less bouncy and quieter by absorbing unnecessary sound.
Goodyear tires here are noisier when compared. Its massive grooves and bigger block patterns with spaces add to the noise while off-road riding. 
Comparing Looks
Wranglers come with massive grooves and an eye-catching deep block design. The thick shoulders and tread of the tire make it appealing.
Nitto Ridge Grapplers are a bit more aggressive and bold in design. Deep side wall shoulders and bold sidewall patterns set it apart from the other tire. The dual sidewall design of the Nitto tire instantly catches attention. 
Customer Evaluation
The best review requires a usage experience that ultimately comes from honest users. The users of Goodyear Wrangler are very much impressed with the overall performance on almost every terrain, especially on snow. But, the noise level is relatively high and the grip is not that sturdy on rainy terrains. The build of the sidewalk also requires working. 
On the other hand, Nitto Ridge Grapplers wear quite well and deliver excellent performance with less noise. The comfort level is very much enhanced and the grip is sturdy especially on ice. On the muddy terrain, they seem fine. 
Comparing Price
Both the options are less costly and over efficient in performance. The price of the Goodyear Wrangler Duratrac is a little less as compared to the Nitto Ridge. Both tires are all-terrain tires and are quite similar in terms of performance. The weight and drive of both tires are similar.
However, if you want an ideal winter tire Wrangler is definitely a great option. If you want a more comfortable riding experience with less noise then, a Ridge Grappler is the best available option. The rest of the features both tires offer are similar in one way or another.
Overall Thoughts 
Let us have a look at some promising points of both tires:
Duratrac and Ridge, both are all-terrain tires with good overall performance both on-road and off-road. 
Goodyear Duratrac is an ideal winter tire with exceptional performance on rocky and snow ground. Nitto Ridge provides a comfortable riding experience with less noise on any terrain. 
Both tires are durable with high mileage and offer good looks.