Goodyear Adventure and Duratrac are the most commonly used and highly recommended AT (All-Terrains) tires. They are best known for their provided comfort zone and silent mood (less noise level).
There is a slight, or you can say a very minor, difference in their structure, which can help you pick the best one for your lovey-dovey vehicle.
Goodyear Adventure tires are the ones to be considered best for long voyages. Engineers specifically designed these tires with Kevlar fiber toughness, which helps it against sudden puncturing. They are a superb choice for on as well as off-road driving. They have large biting edges which form a powerful grip between tire and road surface and help you control the vehicle more easily. This feature helps the driver to drive safely on sliding and curve surfaces. 
Side By Side Comparison
Goodyear Adventure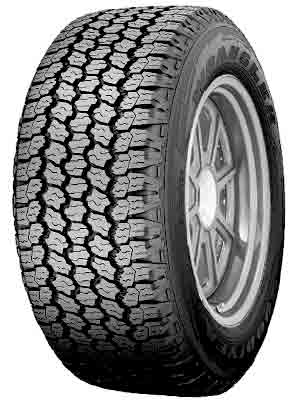 Goodyear DuraTrac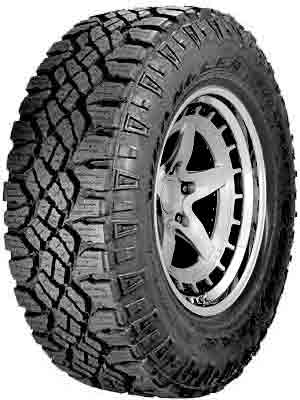 Goodyear Duratrac tires are the most commonly used AT tires for lightweight trucks, vans, pickups, and some commercial vehicles.
Its high angled centre block and a larger side shoulder design enhance traction in the dry, muddy, moist, or wet exterior.
Its shoulder blocks reminds me of Falken Wildpeak AT3w.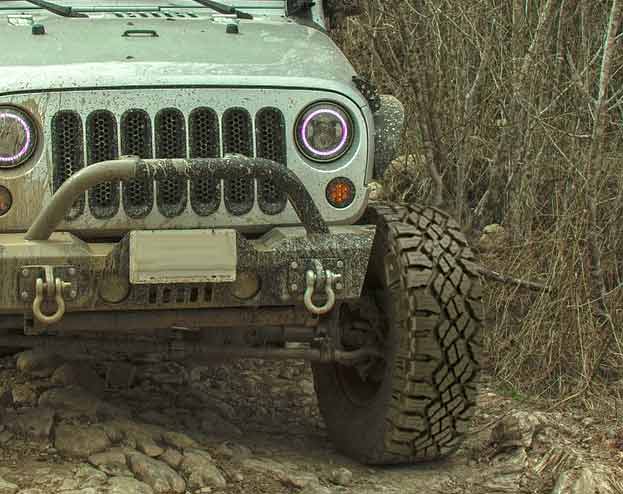 These tires work fine on icy surfaces as well.
Goodyear Duratrac tires come with unique rim protectors that help in protecting the wheels from spontaneous destruction.
Grooves improve the self-cleaning ability of the tire.
Tire Traction Differences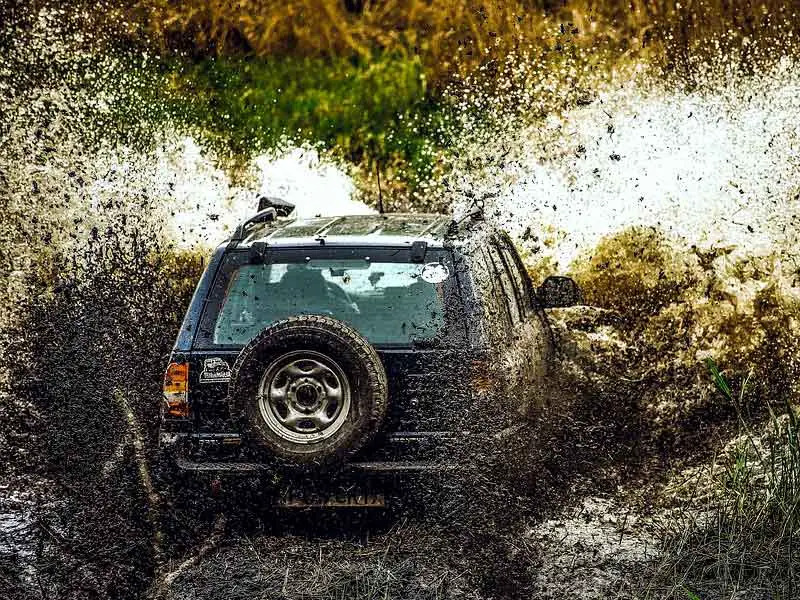 We assessed the tire to be the best, which shows a stronger grip over the road surface. Goodyear Adventure tires are designed in such a way that they disperse the pressure across the tire surface that increases mileage and provides an adventure along on and off-road trips. The biting edges of the tire improve handling in resulting the traction between the road and tire surface is enhanced. The broad shoulder block removes the mud or dust particles from the tread, making it perfect for on-road traction. They can be good for the on-road journey but not a very suitable choice for off-road long trips because of slight narrow grooves. These narrow grooves decrease the grip on an off-road track.
Goodyear Duratrac tires involve high angle central blocks which improve their grip and provide the stability, making them more comfortable for you during the ride. These tires are the best option to drive in an icy environment as also known as cold weather tires. Duratrac tries having unbelievable workability on snow, they move without slipping. Because of outstanding grooves, they are the ideal match for off-road outings. The large grooves and blocks allow maximum traction between the tire and road surface.
FYI: Our tests tell us that a better pick for on road would be Nitto Ridge Grappler when it comes to AT Tires.
Which one is more Comfortable?
A delightful journey is one in which you reach your destination safely and comfortably. Goodyear Adventure tires are more suitable for a stable journey as compared to Goodyear Duratrac tires. It's a successful tire in the market with incredible dry-breaking proficiency. The strong interaction with the surface helps in handling and controlling the automobiles.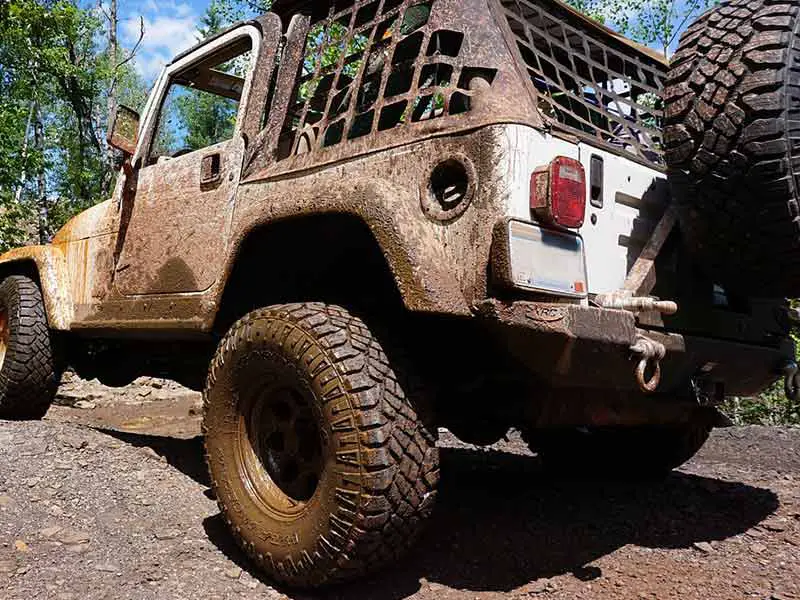 Goodyear Duratrac is well known for its performance while off-road riding, but that's doesn't make them less good for on-road journeys.
They can vibrate more frequently than Goodyear Adventure tires because of the wide central blocks and grooves. They can make your hilly winter journey easy.
Off-road comparison
Both tires are somehow better than one another in some distinguished features. These tires are used for both on/off-roading.
Rocks
Goodyear Adventure tires are more eligible for driving in rocky or hilly areas as compared to Goodyear Duratrac tires. These tires are made with the latest technology Kevlar® fiber, which helps them move on sharp rocky surfaces without bursting or puncturing. This extraordinary element reduces the friction between tire and ground and prevents it from damaging.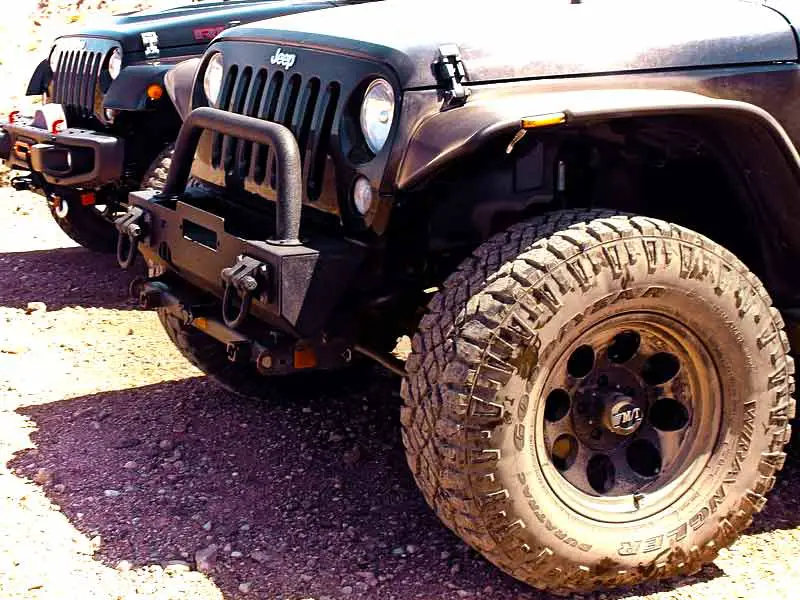 Goodyear Duratrac tires are designed in such a way that they can easily survive a rocky, a bit hilly exterior. You can drive at high speed even on peaks because of wider shoulders and slips, which ensures a firm grip.
Sand
Goodyear Adventure tires are not that much preferred for riding over sand or dessert. These tires have narrow shoulders and central blocks due to which sand passes through them without forming a grip.
Goodyear Duratrac has much wider grooves and ribs which help them form a tough, and powerful grip and handling over the sand surface. They are more suitable for sandy geographical areas.
Soft terrains
Goodyear Adventure tires have deep grooves which contribute to forming a good firm grip with the terrains. Mud and dust particles fit perfectly in these grooves, enabling a stable ride.
Goodyear Duratrac tires also have deep grooves to keep mud and dust forming direct contact with the surface, just like Goodyear Adventure tires. 
 Both the tires are wonderful choices for soft terrains; don't overthink before selecting them for soft terrains journeys.
Differences in Tread wear and Durability
Goodyear all terrains Adventure tires are built with the strength of tough Kevlar® material, removing any doubts regarding its durability. The involvement of such tough fiber enhances its durability along with tread wear quality, making it long-lasting for adventures outings.
Goodyear Duratrac comes with the same hardness of a rugged tread compound which competes against any tearing, chunking, or sudden puncturing. Duratrac can work for a considerable period without replacement.
Differences in Noise level
Goodyear Adventure tires have this special design (narrow grooves) which decreases their noise level. They are less noisy on tracks as compared to Duratrac. The intense blocks can lower the sound density.
Goodyear Duratrac tires are noisy because of wider blocks and grooves. We can say that Goodyear Adventures tires are a much better choice than Duratrac compared to produce noise levels.
Customer evaluation
All terrains, Adventure, and Duratrac are quite popular in the market and have gained positive customer feedback in the lounging of the first few months.
The user of Goodyear Adventure tires mentioned that Goodyear's Durawall technology protects these tires from any external damage. Its symmetric design makes it the perfect match for road trips. Besides that these tires are quite stable and look great almost on any vehicle. Adventure tires can travel up to 60,000 miles.
Goodyear Duratrac tires perform well on highways but they are of the best use on a snowy path. They are kind of noisy but still be considered best for off-roading. These tires travel up to 50,000 miles in tip-top condition. They are more preferred for outgoing adventures people.
Price comparison
Duratrac and Adventure tires both are available in wide ranges at an affordable price. Different companies throughout the world make these tires, so they have different prices as well.
Goodyear Adventure tires are cheaper than Duratrac.
Overall views
 We concluded the above discussion that both the tires are the best ones. Let me highlight their basic features for you;
Goodyear Duratrac and Adventure are A/T tires that showcase excellent skills on highways and off-road.
Goodyear Adventure is best for muddy areas and Duratrac performs well on rocks and icy surface
Duratrac is noisier than Goodyear Adventure
Goodyear adventure tire's durability is mind-blowing, but Duratrac is also a long-lasting wheel.