This Goodyear tire offers all terrain and all season performance. Its aggressive tread pattern not only adds a rugged look to your off-road vehicle but also shows optimized traction qualities on the road.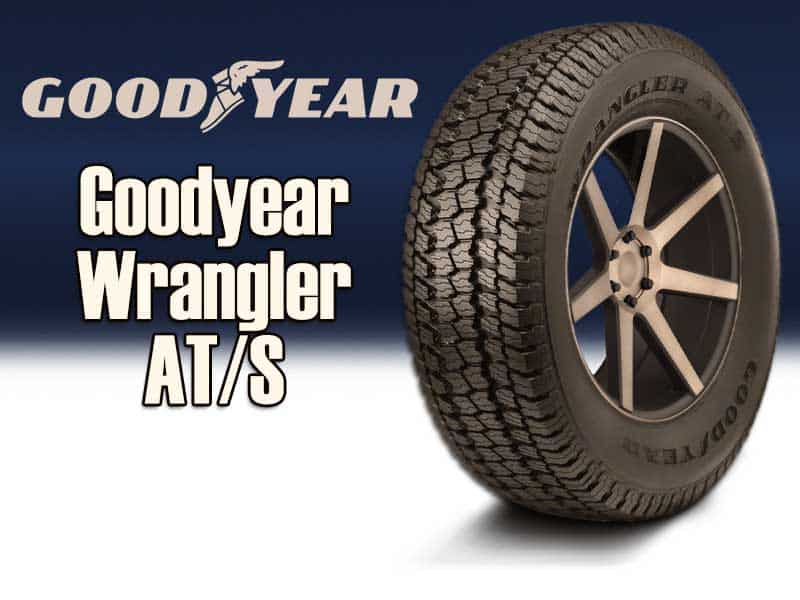 Plus, its deep grooves provide enhanced hydroplaning resistivity and enable you to drive in the rainy season safely.
Besides that, its grooves are specially engineered to deal efficiently with mud and snow.
Goodyear Wrangler AT/S is an aggressive all-terrain tire with an optimized contact patch, offering good on-road traction, high aquaplaning resistivity, and enhanced mud traction as well. However, it does not come with a mileage warranty and has moderate-level snow and rock terrain traction.
Let's Dive into Details:
| | |
| --- | --- |
| Quick Specs: | Wrangler AT/S |
| Tire type | All season, all terrain |
| Usage | On road, off road |
| Three-peak mountain snowflake rated (3PMSF) | No |
| Tested size | LT215/75 R15 |
| Tread depth | 15/32-inch |
| Tread width | 6.1 inches |
| Section width | 8.5 inches |
| Tire weight | 31 lbs |
| Maximum inflation pressure | 65 psi |
| Maximum load capacity | 2095 Ibs |
| Load Index | 106/103 |
| speed rating | S (112mph) |
| Approved Rim Width | 5.5 – 7 inches |
| Overall diameter | 27.7 inches |
What does the design of tread tell us?
Wrangler ATS characterizes a symmetrical multi-facet design showing two central ribs.
Thread blocks of the central portion are small-sized and arranged in interlocking positions.
There is a narrow central groove between while two wide grooves are present on their outer side.
These dual channels have a traction lug design for enhanced mud traction.
Its blocks are marked with lateral traction notches and multi-angled sipes.
Moreover, this tire specifies large shoulders formed by two rows of independent blocks arranged in a wraparound manner.
This interconnected arrangement with narrow longitudinal spacing between lugs optimizes the tread-to-road contact as well as the evacuation ability of the tread.
How well the tire performs on muddy terrains?
Goodyear wrangler specifies a rugged tread pattern with deep grooves, so it shows good mud traction.
The mud and debris quickly move out from the tread as its deep grooves provide enough free space for the evacuation of loose substances.
This property improves biting ability on muddy tracks, ensuring that mud does not get stuffed in tread channels, leading to loss of traction.
Plus, its lateral grooves also help in the evacuation process.
Drivers can reliably turn their vehicles over mud-covered surfaces because the large blocks and deep grooves provide enhanced steering traction.
However, its tread does not have scoops which minimize its turning ability and makes it stand lower than other off-road tires.
Therefore, it is a good choice when traveling to a place covered with less mud.       
Performance of tire on snowy terrain:
Wrangler ATS shows enhanced performance on a snowy surface because its deep voids improve the biting ability, and snow evacuates easily from the tread.
Therefore, when the vehicle moves forward, the tire's clean the pathway.
Hence, it prevents the loss of traction which can happen due to snow-choked grooves.
Multiple sipes on each block enable the tread to bite firmly on the soft snowy surface.
Similarly, ATS provides good ice traction as its aquaplaning resistance is high.
But, these tires do not have a 3PMSF (three peak mountain snowflake) rating, so these are not suitable for driving in extreme winter conditions or on surfaces having loads of snow.
Traction on rocky terrains:
Goodyear AT/S gives a reliable performance on rocky slopes as its aggressive tread shows optimized traction qualities on hard rock surfaces.
Traction notches and multifaced block edges enhance its biting ability, and large shoulders ensure controlled steering on tricky turns of the mountains.
Though its gravel ejection properties are limited yet, a small stone bumper in the central portion and sloped shoulder blocks keep hard particles away from the tread.
On-Road Traction Performance:
In comparison with other tires, the dry grip of Wrangler is efficient because its large blocks maximize the contact patch of the tread.
As it exhibits increased rubber-to-road connection, its tread grips the road strongly while moving ahead.
Similarly, it presents precise steering responses on the dry road due to its large shoulders. Interconnected shoulder blocks ensure firm traction and handle the steering load proficiently.
| | |
| --- | --- |
|   | Wrangler AT/S |
| Dry Grip | Moderate- high |
| Dry handling | Moderate-high |
Its wet performance is also very efficient as frequent sipes, and deep grooves provide good resistance against aquaplaning.
These voids and sipes wipe off water film from the paved surface and make it easier for the tread to grip the wet road.
This slip resistance also proves beneficial when moving along a corner over a wet road as the shoulder blocks can hold on to the surface more firmly when the underlying water layer has been removed.
| | |
| --- | --- |
|   | Wrangler AT/S |
| Wet Grip | Moderate-high |
| Wet handling | Moderate- High |
| Hydroplaning resistance | High |
Does the tire provide ample comfort?
This tire gets a good score for on road comfort owing to its enhanced contact patch and optimized tread pattern.
Though its grooves are deep yet the interconnected placement of blocks renders free circulation of noisy air particles, and sound production is minimized.
As a result, you will hear a minor tire noise as compared to most aggressive off road tires.
As for driving comfort, it again provides a good experience as its tread has a large contact patch and specifies enhanced on road traction.
Durability and Warranty
This all terrain tire is fairly durable and wear resistant.
Its enhanced polyester rubber tread shows endurance to chips and cuts, and the internal steel twin belt carcass prevents the deformation of the tire in harsh temperatures.
But as more surface of this tire is touching the ground directly, it faces more rolling friction than other off road tires (having lower contact patch) and may experience high frictional wear.
Due to this reason and its all-terrain off roading profile, AT/S does not come with a treadwear mileage warranty.
Yet, the company accepts replacement claims if your tire has craftsmanship faults or is wearing unevenly.
| | |
| --- | --- |
|   | Wrangler AT/S |
| Durability | Moderate |
| Treadwear  mileage warranty | No |
| Uniformity warranty | First 2/32'' / 1 year |
| Workmanship warranty | 6 years |
Quick Summary
Wrangler AT/S
An all terrain tire.
Presents a firm grip on dry and wet pavements.
Offers responsive on-road steering both on dry and wet tracks.
Exhibit high resistance to skidding and aquaplaning.
Provides efficient mud traction.
Shows good performance on snow and ice but is not specified for severe winter usage.
Does not come with a mileage warranty for treadwear.
It is moderately priced.