Both AT tires here are built to give optimized experience on everyday drives as well as during off road hikes.
The symmetrical denser tread pattern of Terra Grappler favors it against the competition on the road, its unique full depth siping pattern maintains the grip on road in wet conditions.
On the other hand aggressive and open tread of ATX make it stand out in tough terrains like mud and snow, Its stone resistance provide traction over gravel or rocky grounds.
Side Note: Make sure you pick the right Terra Grappler. There are 2 versions.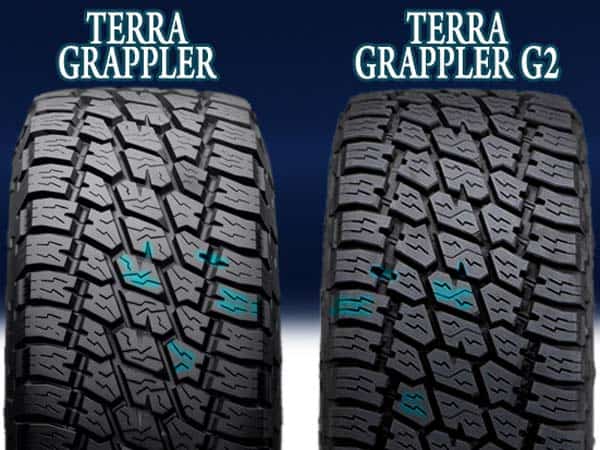 The G2 is the newest update to this tire. It now offers 3PMSFR and has better grip and tread.
Comparing General Grabber ATX with Nitto Terra Grappler
General Grabber ATX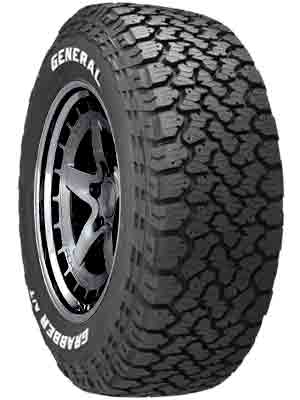 Nitto Terra Grappler G2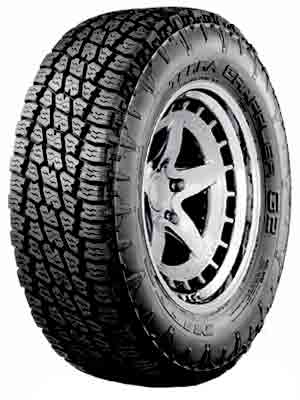 Tread of Grabber ATX has a versatile modish look due to interlocking tread blocks which are frequently siped and carry dimples as well, notched and scooped shoulder lugs, deflection ribs along sidewalls and bold stone ejectors.
The central area of the tire looks awfully like the famous BFG KO2s, with a interlocking design of all blocks.
These blocks can be seen with notches and full depth sipes everywhere.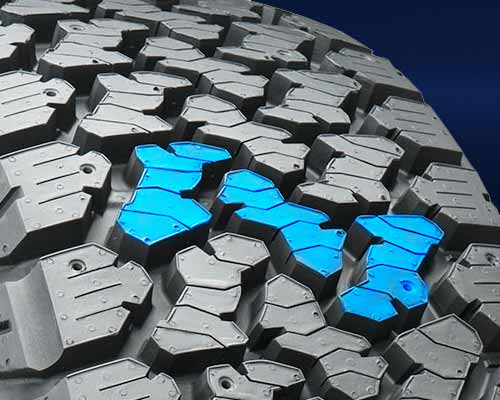 The full depth sipes divides the blocks further, allowing them more room to move and adjust according to the surface they are on.
The siping on shoulders is a little bit different.
The Staggered shoulders blocks are seen with 3 parallel lines (of sipes) with one having a scoop in it and the other a sharp edge on their sides.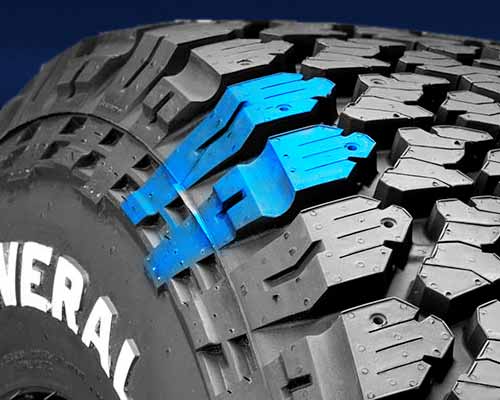 These notched shoulder blocks further convert in to sidewalls of the tire which is more aggressive in comparison.
On the other side, the tread of Terra Grappler characterizes aggressive, symmetrically located blocks with narrow grooves among them.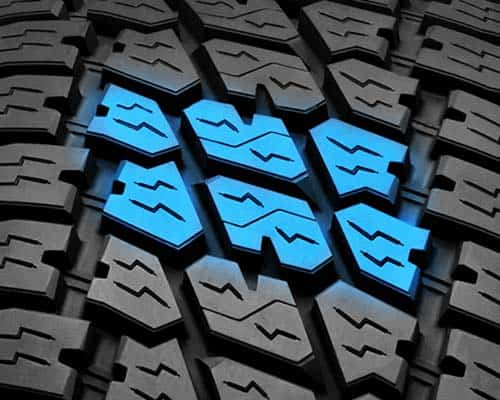 Here all blocks are seen with full depth sipes and sharp edges giving this tire biting abilities.
The tire also features staggered shoulder blocks creating off set for longitudinal grooves. The blocks are seen with notches which face the notches of the inner blocks. Both of these things combined enhances the grip further.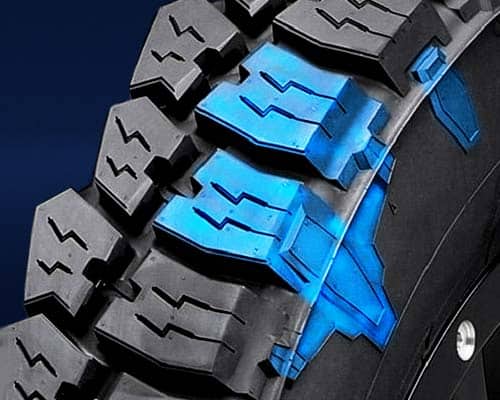 Overall the tire make 4 zig zag circumferential grooves and provides aquaplaning resistance.
Compare Nitto Terra With Other Tires:
On-Road Traction Comparison
Minimal on road abilities of ATX are attributed to its higher void ratio. Wider grooves make contact patch lower leading to less grip over paved tracks. Stout notched shoulders provide firm handling while turning about and improve traction to some extent. Tread lugs carry numerous sipes and dimples to wipe off water from roads and resist hydroplaning leading to dependable wet traction.
On road traction of Grappler is superior to its competitor as it has more contact patch, comparatively. Increased area in contact with road results in better grip of tread over the paved surface.
Symmetrical tread pattern gives directional stability, further adding to performance on roads. Excellent wet traction is credited to full depth sipes which wipe away water efficiently while rolling on wet roads and account for supreme aquaplaning resistance.
Mud Terrain
The Grabber ATX shows superior performance in mud owing to its massive grooves.
Huge open space allow effective removal of mud and dirt from these channels, hence, tire cleans itself automatically while rolling through mud.
Scoops and traction notches over shoulder lugs provides firm handling over difficult corners.
Terra Grappler loses to its competitor in terms of mud traction due to its lower void ratio.
Its comparatively narrow grooves are incapable of evacuating mud off while rolling across muddy paths leading to mud stuffing into tread and lesser traction.
It can deal with light mud but may get stuck in boggy areas with loads of mud.
Snow Terrain
Both tires are rated with 3 peak mountain snowflake rating. This means they are both are tested for traction on severe snow. (This test shows that the tire has 10% better acceleration on snow covered roads, than the traditional all season tire).
On deep snow however, the Grabber ATx with its bigger scooper on its sides would be able to pick up and out better volume of snow.
Rock Terrain
On rocks both tires showed good enough performance with Grabber ATx coming on top.
Here the interlocking design we saw allows the tire to have a web of interconnected grooves. So the tire gets a combination of traction from all sides.
On smaller rocks/dirt/gravel both of these tires performed like winners with good acceleration and cornering abilities and very less wearing.
The less wear is attributed to both tires chip resistant silica compound and tough internal built. Both of these tires have 2 high strength steel belts in them. These belts are then covered with poly-amide and nylon making a total of 6 layers on which the rubber than settles.
But still the Grabber ATx has the advantage of rectilinear stone ejectors embossed in shoulder grooves. These safeguard the tread from striking gravel fragments, which may harm tread by drilling punctures and clogging grooves.
And with sturdy and bulky lugs along sidewalls the tire is able to provide confident steer handling pushing any harmful rocks away.
Durability Comparison
Grabber ATX is a fairly durable tire however, loses to its competitor in this respect. Its tread is strengthened with DuraGen technology employing a combination of layers with bold stone ejectors and sidewalls protecting the tire from wearing. It is backed by a mileage warranty from General tires of 60,000 miles.
On the other hand, the Terra Grappler shows better tread wear resistance in comparison owing to its strengthened rubber composition. Sturdy tread shows increased resistance from chips, cuts and abrasions as well as wears more slowly. Its UTQG tread wear rating is 600.
Nitto tires also provide a tread life warranty up to 65,000 miles for it, this warranted mileage shows its superior durability over its competitor
So whats the verdict?
Let's run down trough both tiers pros and cons to see which is better pick.
Nitto Terra Grappler is priced higher than its competitor but provides longer tread life and superior on road traction combined with comfortable ride. They are also durable enough and provide great bite on ground. And on mud you can't except too much from AT tires anyways.
But on snow you are getting 3PMSF rating.
On the other side, the General Grabber ATX provides excellent experience on off-road hikes with a low budget. The tire climbs hills like a pro and provides great resistance to hydroplaning.
It is also overall a more durable tire considering everything. And its also rated with same severe snow rating. It seems like this tire is a better pick for a frequent off roader.