Both tires have their pros and cons. Nitto Terra is great off road. It climb rocks like a champ. On the other side, with classic All Terrain design, the Cooper AT3 gives out better performance on wet roads and gives great hydroplaning resistance.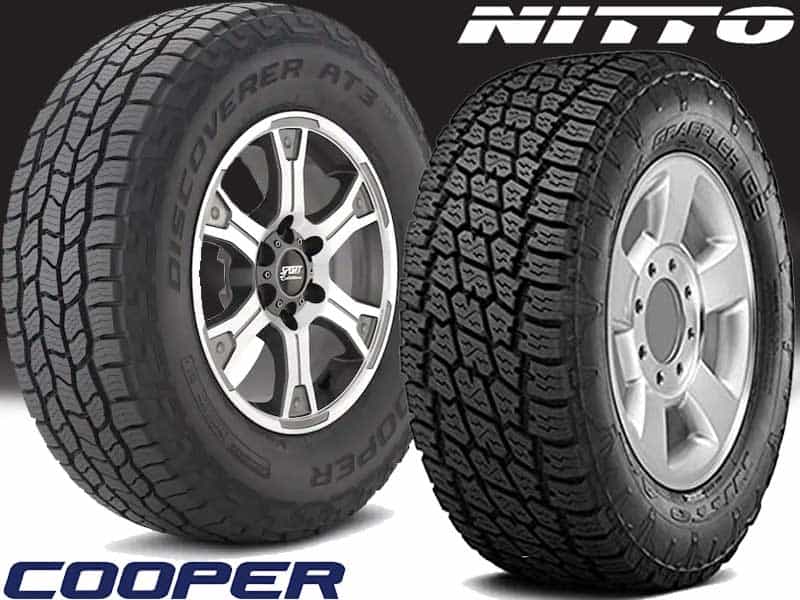 These variations in their performances came out form their designs as we'll see.
Overview of Both Tires:
With the newer version of AT3, the XLT, Cooper added bolder shoulders and sidewalls, so now the tire is better able to handle off road.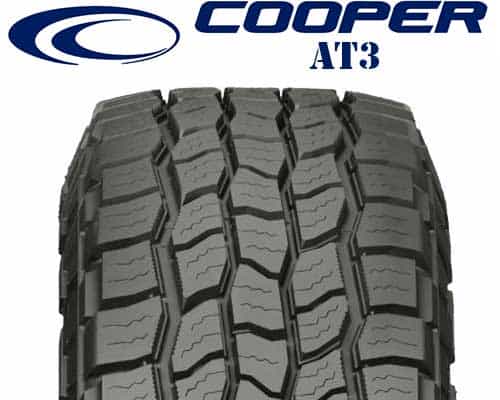 But even with this more open voided tire, they still can't beat the least aggressive version of Nitto Grappler, the Terra G2.
But these tires are not too far behind either. With adaptive traction, durable tread, snow grooves, and saw-tooth blocks edges, the Cooper AT3 still gives satisfactory performances.
On the other side, the Nitto Terra Grappler features 2 very prominent longitudinal grooves from by serrated shoulder blocks.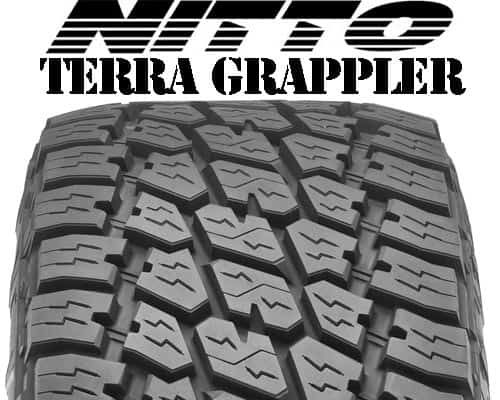 The inner two circumferential grooves have less gaps in comparison.
With these zigzag grooves combined with siping and notched edges of blocks all over the tire, allows it to have amazing biting power.
Which tire has a better traction?
All-terrain tires primarily focus on traction, handling, and stability both in off and on road.
Both tires have amazing traction here but in comparison the Nitto Terra Grappler provides better wet traction and handling combined with more grip on rocks/snow/a little bit of mud. While both tires are equally good at hydroplaning.
Cooper AT3 LXT, has more contact with the road, so it has great stopping distances. Similarly, the squared off design of blocks on staggered shoulders provide more contact during cornering. So the tire also provides excellent handling on dry.
With Terra Grappler, you get notches and biting edges all over the tire, and they maintain a great grip on dry as well. This tire also comes with serrated shoulders, so or corners they also face similar g forces.
But on wet roads, these biting edges along with deep siping allows this tire to be better. Even or corners the tire's notched edges and deeper sipes allows it to have beter lateral traction. On standing water, the web of grooves put great resistance to hydroplaning as well.
Cooper AT3 are also really good at hydroplaning resistivity. Its 4 Aqua Vac Channels as they call it are quite efficient in rapidly evacuating accumulated slush and water, providing a safe ride without the risk of tailgating.
The Nitto Terra Grappler is now also coming with 3 peak mountain snow flake rating, so the tire has better traction on snow as well in comparison.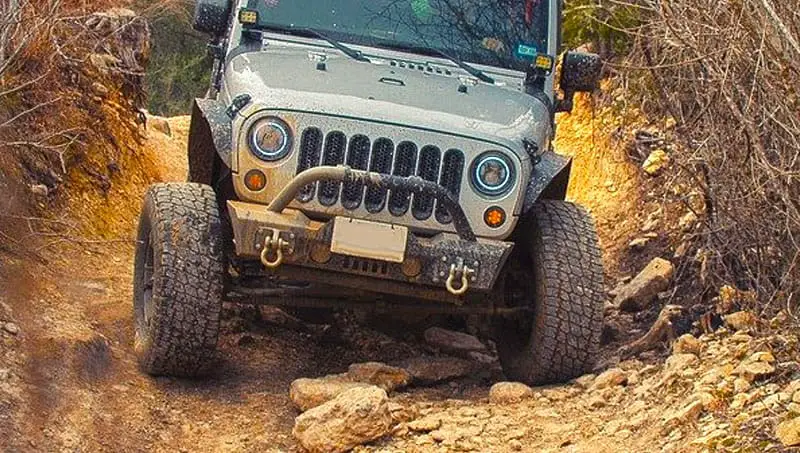 Nitto Terra Grappler also provide great traction on rocks.
The tire with more plys in internal construciton, (2 ply nylon instead of just single ply in case of Cooper AT3) shows better durability.
And the biting edges firmly hug the surface of the rocks in all directions.
Which is more comfortable?
A/T tire primarily focuses on performance related to traction, control, and handling in multiple terrains, and the proposed comfort has to bear the burden somewhere. 
The Terra Grappler G2 has a variable pitch tread block that provides a quiet and smooth ride. Noise has always been an issue with A/T tires, but that's not what you're worried about when off-roading. The reinforced block foundation gives stiffness to the tread to prevent your tire from wobbling. In contrast, the zig-zag grooves edge blocks provide outstanding steering responsiveness and a smoother ride.
Cooper AT3, on the other hand, has a tread design that makes it a lot more civilized on the road when compared with terra grappler; it features the Whispering groove technology.
This provides exceptional cabin noise reduction as well.
Which provides better Tread Life?
The Terra Grappler G2 has a coupling joint that links the outer and inner treads, increasing tire strength and allowing the tire to maintain its shape in off-road and high-speed driving conditions.
Even when the tread wear has set in, the full-depth sipes keep your tire looking excellent while still preserving its water evacuation abilities.
That's why the company offers a 50,000 miles warranty on LT-metric and flotation sizes and 65,000 miles for hard metric sizes.
(This tire is one of Nitto's first A/T tires to include a Treadwear warranty).
Side Note: Even though Nitto claims that wet traction remains the same even after a certain degree of tread wear, we observed some instances of hydroplaning after 20,000 miles.
In comparison, the Cooper AT3 has deeper tread (averaging on 16/32″ compared to Terra's 15/32″). So its gonna take some time to last longer. But the tire's absense of deeper siping would let the tire suffer on wet quicker in comparison.
Cooper offers a 60,000 miles tread-wear warranty and a 60-day satisfaction warranty.
So Whats the Verdict?
Well, the Cooper AT3 is lacking behind in traction, but gives better on road comfort and great resistance to hydroplaning. The tire is also cheaper. But both tires have equal value to money ratio. As the Terra Grappler would last a little longer and would also provide you with great off road traction in comparison.
So in the end it comes down to your choice, if you go off road more, go with Terra Grappler. Otherwise if you are staying on road mostly, you can go with the other, and have a more comfortable ride instead.
Compare Nitto Terra With Other Tires: