Both the General Grabber ATX and the BF Goodrich KO2 look quite similar, but only form the central area of the tread. As on shoulders, the BFG KO2 gets to be very wild, as those blocks helps a lot in all sorts of rugged terrains.
Like on mud, although the interlocking central ribs of both tires are not good at self-cleaning, the BFG KO2 offers full depth notches and bigger traction scoops which dig through more efficiently. It's tread also offers bigger sidewall lugs in comparison, which provide better forward momentum even when its aired down deep in mud.
General Grabber ATx sides are much simpler in comparison.
Differences in their Design:
BF Goodrich KO2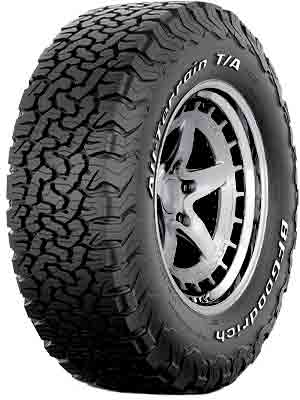 General Grabber ATX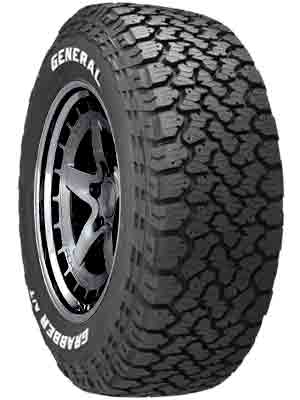 Both tires have very similar central parts while having very different shoulder designs.
In case of BF Goodrich KO2, two different block designs are seen here. Where both are more rugged with vigorous cuts in them.
One block has a lateral cut design which is also stepped making the shoulders staggered. The following block has a cut at an angle. (These alternating block designs form a jagged pattern enhancing overall tire's grip).
Both these blocks then join together to from a tougher looking sidewall in KO2.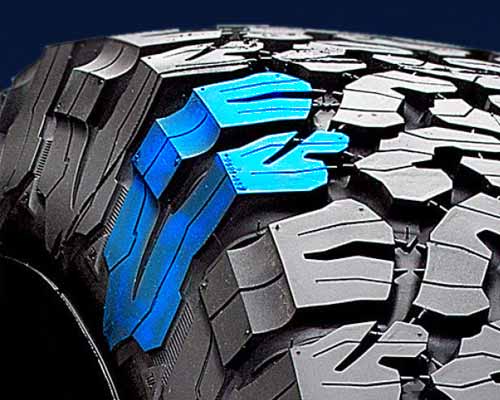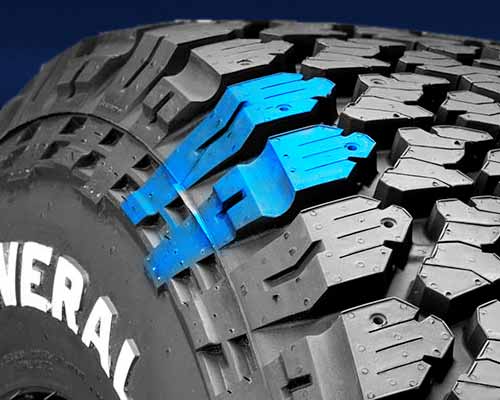 In case of Grabber ATX, these shoulders are serrated too but they are not as aggressive overall. These blocks are very similar in design as well. But they do differ slightly on the sidewall where one has a step to it (just like KO2) and the other one has a plain sliding design with a longer slot in it.
Coming to the central area of both tires, they look very similar here.
Both tires have angular blocks that are arranged in an interlocking position with each other. These blocks (in both tires) also have similar designed 3d siping as well as notches.
If we talk about differences, the KO2 blocks are a little skinny in comparison. They also have teeth poking out on their sides.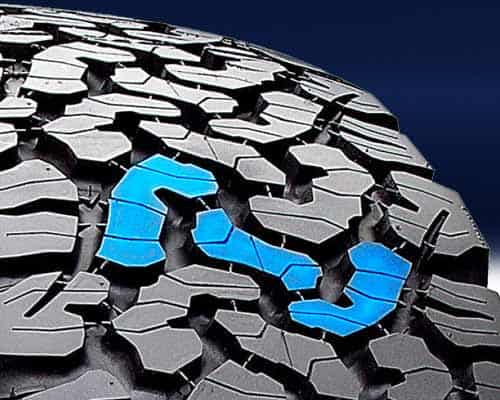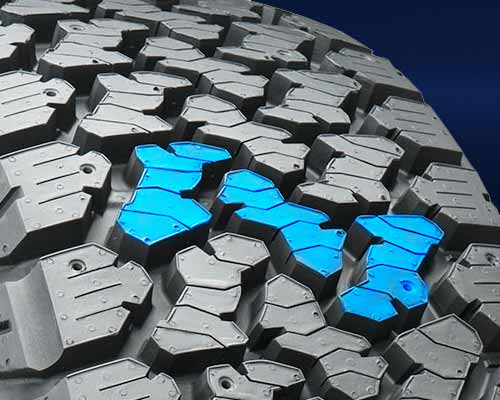 Here the blocks of the Grabber ATX are bulkier, have smaller notches and more sipes per block. They are also seen with stud holes.
If we talk about construction of these tires, both of them are made out of same silica based compound where KO2 has a overall harder/firmer material.
And internally, the General Grabber has 2 steel belts inside a 2 ply casing of polyester wrapped with 2 plys of nylon.
And in case of BFG KO2, the tire has same 2 steel belts but they are covered with 3 plys of polyamide with 2 layers of nylon.
So you get 3 ply sidewalls with KO2. This makes this tire very tough.
They actually dropped it from 10,000 feet to prove how tough it is.
BFG claims that KO2 is their toughest tire ever made till date.
On Road Performance
Comparatively the General Grabber ATX wins if we talk about on road dry and wet traction this is due to its larger footprint and more siping.
This tire has higher contact patch that allows it to have higher grip while moving on dry roads.
Its shoulders are also compact compared with its rival so they provide more confident experience while cornering on dry surfaces.
Wet handling of this tire is also commendable due to higher contact patch from shoulders side plus the presence of long sipes on shoulder lugs. (Sipes are more in number too here).
On the other hand, the BFG KO2 aggressive design allows this tire to have one of the shortest braking distances on gravel surfaces.
And on wet these tires have higher float speeds as they allow more water to evacuate through their grooves.
But on asphalts, they can be better especially when it comes to wet roads as these tires would loose traction more frequently.
Side Note: A better pick for On-Road would be Cooper AT3.
Mud Traction
Mud is simply all terrain's worst enemy. And you can't expect the same performance out of these tires as you do with Mud terrains.
Having said that, the BFG KO2 showed remarkable performance in comparison here.
Not only they offer wider grooves allowing more mud to evacuate, but they also have edged shoulder blocks with deep incisions in them. They further join in to the sidewalls of this tire which are also stronger with bulkier lugs as well.
These shoulder blocks and sidewalls cut through the surface of the mud and the serrated shoulders scoop up the mud out of the tire, maintaining friction and traction.
In case of Grabber ATX, their staggered shoulders also help in scooping the mud out but they are not as aggressive as the KO2.
Similarly its narrower lateral grooves will allow lesser mud to evacuate at a given time.
So overall, this would tend to get packed with mud losing its grip.
Snow Traction
In terms of snow both tires performed equally as good.
Both tires have full depth sipes that go all the way to their base.
And both tires have sufficient notches on their blocks to grab the surface of the snow.
That's why both of these tires are awarded with 3 Peak Mountain Snowflake Rating.
We can confidently say that the General Grabber ATX is the best snow tire for money.
Traction on Rocks
On rocky terrain, with BFG KO2 you simply have more confidence because of their durability.
You can throw anything in front of these tires. May it be stones, roots, dirt, or even sharp rocks and they would crawl their way out through them with no trouble.
With 3 ply sidewalls the tire is just built tough.
Another advantage that the KO2 has here is its aggressive serrated shoulder design. The deep cuts in its shoulder blocks bite in to the surface of the uneven rocky surface.
The alternating length and width of these blocks also make a zig zag groove pattern. And that along with the interlocking hook shaped blocks in the middle allow this tire to have more lateral traction in comparison.
On other hand, the Grabber ATX is not too far behind here as well.
The tire still performs great with its bold angular blocks and voids which are enough for a satisfactory biting over the uneven surface of the rocky mountains.
Besides the shoulders the Grabber has a very similar design with interlocking blocks.
So they act in the same way and provide the tire with the same kind of lateral traction, much needed on rocks.
Both of these tires also go great when it comes to high speed gravel, with their cut resistance tire material and bold stone ejectors (although a little bigger on Ko2).
Take Home Points
Considering the price of the Grabber ATx, the tire is definitely worth it. The tire is very comfortable on road with good amount of traction. And off-road things are not that bad either.
Of course it can't compete with the BFG KO2 in terms of durability.
Both tires also give you good miles warranty as well.
| | | |
| --- | --- | --- |
|   | ATX | KO2 |
| Durability | High | High |
| Treadwear mileage warranty | Up to 60,000 Miles | 6 years/50,000 miles |
| Workmanship warranty | 72 months/ 2/32nds Wear | 6 years |
Compare General Grabber ATX with its competitors:
Compare BFG KO2 with other AT tires: