Both tires are measured under the same size. Where the tread depth of Nitto Recon Grappler (15.9/32") is greater than KO2 (15/32″); so you get deeper grooves on Recon and wider grooves on the BFG tire.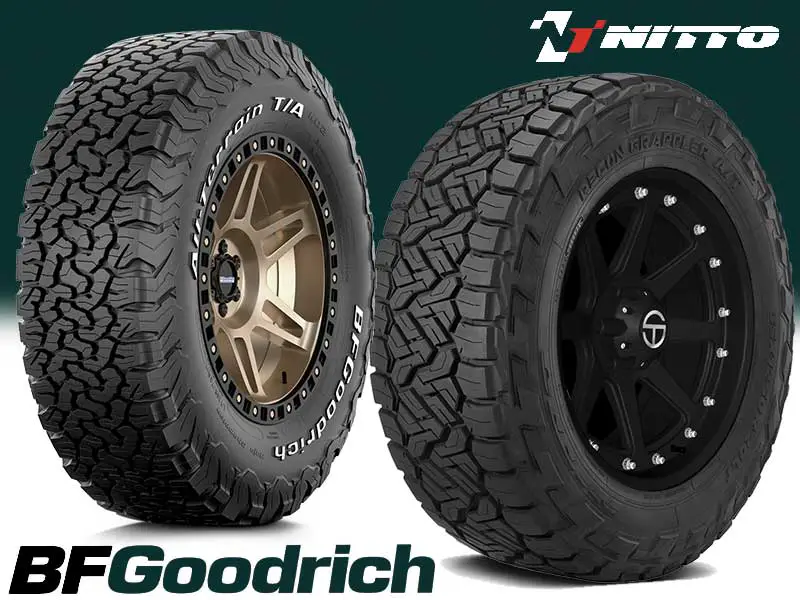 These tires are made for rugged conditions and extreme weather, and they grip well on snowy and muddy surfaces. Both KO2 and Nitto Recon Grappler are A/T tires; they both are built for all terrains traction. KO2 is the improved version of KO by BFGoodrich and Nitto Recon is released by Nitto with improved features. These tires are well-known for their off-road traction, however, there is so much more you need to learn about them and that's why here we will be comparing both tires to give you a clearer picture.
Comparing Nitto Recon vs BFG KO2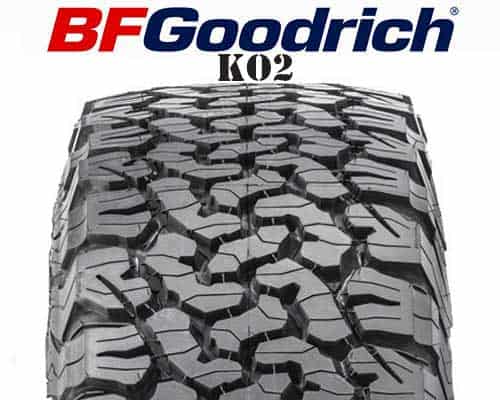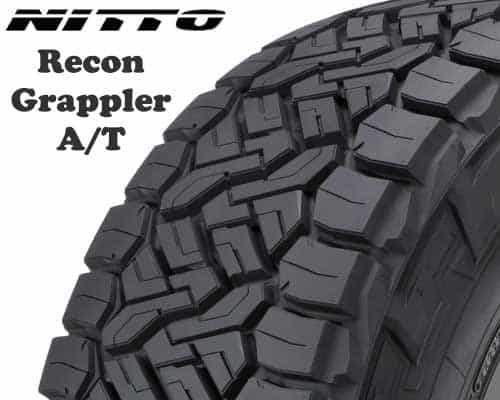 Grappler is designed with aggressive and rugged patterns. It features staggered shoulder lugs, stone ejectors, alternating grooves on shoulders, and step block edges to improve off-road traction and performance. The bold sidewalls make it stand the crowd, the assertive and bold sidewalls help the tire run smoothly during off-roading. The tapered block edges in the grappler fortify the block foundation, while the lateral zig-zag helps in traction. Additionally, Recon Grappler also has a variable tread pattern to reduce cabin noise. It has a distinct arrangement of wide and narrow grooves that helps it to reduce noise while performing.
On the other hand, KO2 is also built with more focus on off-road traction. Despite being an A/T tire, it also runs smoothly on the mud.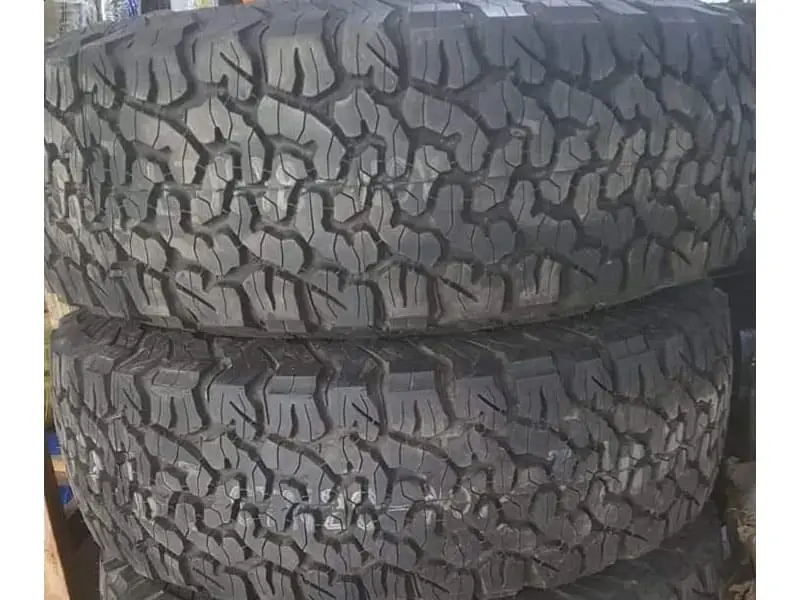 3D track sides, a serrated shoulder design, and an upper shoulder sidewall in KO2 aid off-road traction and make it suitable for the mud and snow terrain. It has numerous bold stone ejectors laced in its grooves to help while moving on rocky terrains. However, as compared to Grappler, it doesn't feature a pitch tread pattern to reduce cabin noise.
On-Road Traction Comparison
Nitto Recon Grappler comes with enhanced tread block rigidity to reduce flex for better dry performance. It has both wide and narrow grooves arranged in such a pattern to improve its contact patch with the road; resulting in better on-road traction. As its grooves are narrow compare to KO2 so it has more contact patch which means more of the tread is in contact with the road that improves the grip.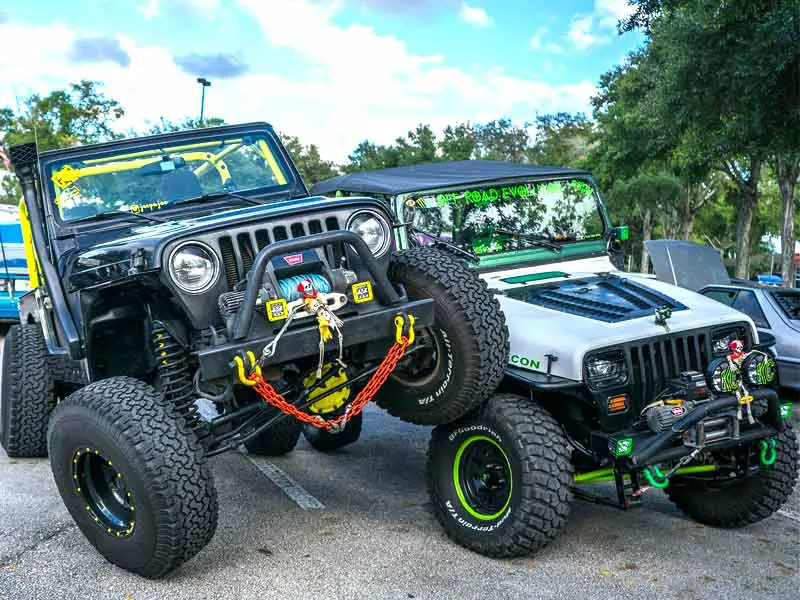 On the other hand, BFGoodrich KO2 is more focused on off-road traction. Working with wider grooves, KO2 does not prove to be suitable for on-road driving compared to its competitor. Due to the wide grooves, it has less contact patch which means the area of the tire in contact with the road is less compared to the Recon Grappler. Consequently, the grip of the tire is less, decreasing its traction.
Off-Road Performance Comparison
Grappler does not have as wide grooves as of KO2 but its grooves are deeper which helps it perform well on muddy and snowy terrains. This is because the snow/mud parties fit into the grooves and when the tire rotates the particles are thrown backwards clearing the path of the tire and improving its traction. This tire also performs well on ice as it has more contact patch with several sipes that wipe away the water from its way. Grappler has stone ejectors but they are not as good as of KO2 and due to the deeper grooves, they aren't able to perform well on the rocks.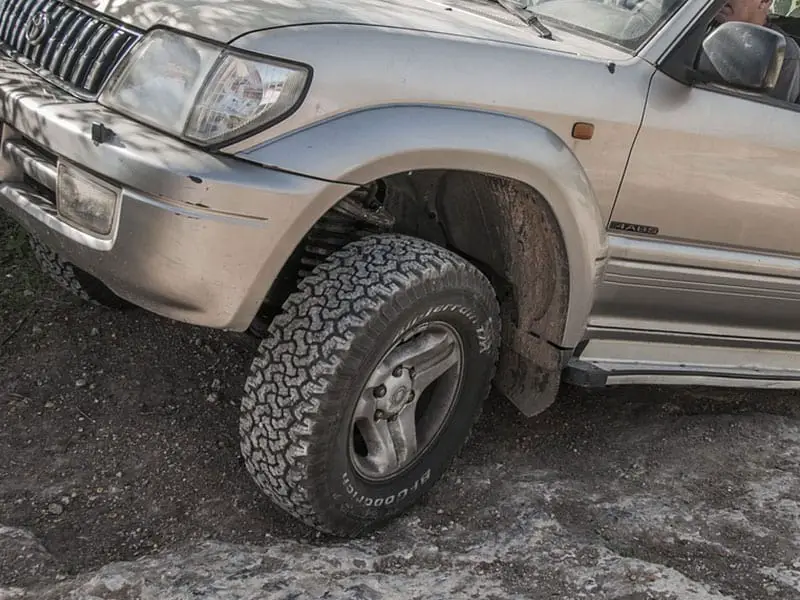 KO2 has wider grooves compared to its competitor. These wide grooves allow it to move on snow and mud by throwing their particles backwards. But this tire cannot move on deep snow as the grooves aren't deep enough to handle heavy snow. KO2 has bold and various stone ejectors placed in its tread pattern, these ejectors help the stone/pebbles from getting trapped in the grooves and help the tire to move easily on the rocky grounds.
Comfort Comparison
Despite being an A/T tire, Grappler is manufactured with keen attention to comfort quality; hence, it is more comfortable. The variable pitch tread block ensures a quieter and smoother ride. It features zig-zag groove edge blocks working on outstanding steering response. Additionally, the reinforced block foundation is built on rigidity to prevent the tire from wobbling.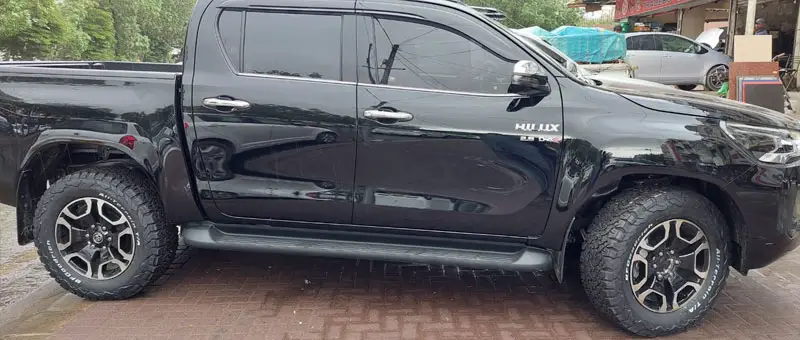 On the other hand, KO2 doesn't feature any technology to reduce sound. Due to the wide grooves of KO2 it is much noisier than Grappler as more air is trapped in between the grooves and the air particles collide with walls creating a lot of noise. KO2 is comfortable while driving off road as it has wide grooves which gives the feel of a lesser inflated tire and very less jerks are felt in the cabin.
Treadwear and Durability
A/T tires are more liable to wear than any other tire family. Running off-road is the main concern here. Both Nitto and BFGoodrich have accepted this flaw and invented several technologies to work on them. While launching the successor of KO, BF Goodrich has claimed that KO2 is 20% stronger than KO. The new core guard technology and increased rubber thickness make the tire more durable and prevent bruises and tears.
Moreover, the Tri-guard technology, twin steel belts strengthened by nylon, and polyester cord sidewall increase the life and make it strong against wear and tear. The stress on the tire is evenly distributed by interlocking tread design to promote even wear.
On the other hand, its competitor, the Recon Grappler provides better durability. The stone ejectors elongate the tire life by protecting it from the drilling action. It also has a reinforced block foundation to maintain rigidity and reduce flex. It also prevents the tire from forming bubbles on the sidewall and wobbling.
Proving its worth, Nitto Grappler is backed by a 55,000 miles treadwear warranty. KO2, on the other hand, comes with 50,000 miles and a 60-day warranty.
Price Comparison
When it comes to choosing a tire, price is the least of anyone's concerns. However, it still holds its importance. Nitto Grappler is more expensive than KO2.
Quick Summary
By observing both BFGoodrich KO2 and Nitto Recon Grappler, we have concluded the following results:
KO2 has its wider grooves made for mud and snow traction along with stone ejectors that help to move on rocky terrains.
Grappler performs exceptionally well on snow and mud.
When it comes to comfort, KO2 is better during off-road drives. While Grappler leads during on-road conditions.
Nitto Recon Grappler is proven to be more durable.
When it comes to affordability, KO2 is less pricey.