The new tire of Nitto is a hybrid of a hybrid tire. As this tire's a mixture of Toyo RT and the Nitto Ridge Grappler. (FYI: Toyo and Nitto are a part of a same company). But the tire is marketed as All Terrain, just like the BF Goodrich KO2.
Here the Recon Grappler's sharp design allows it to have a good bite on ground. While the good old BFG KO2 with their interconnected grooves provides traction from all sides, besides being more durable off the two.
Let's start things off with their tread design.
Side By Side Comparison
Nitto Recon Grappler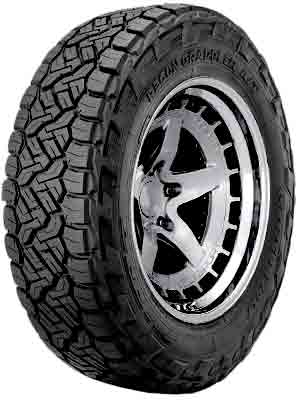 BF Goodrich KO2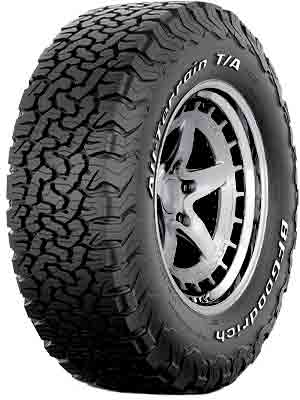 Starting with the shoulder blocks on BF Goodrich KO2, they are very aggressive, as it features 2 unique blocks styled with deep full depth notches, adding to the blocks uneven shape.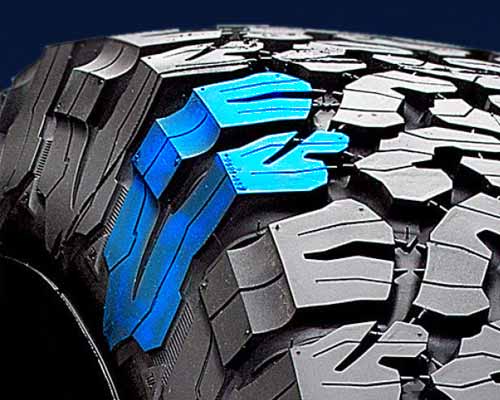 These are staggered with one having a nice scoop on it (for pick up dirt/mud), and the other with simply a sharp edge.
Both these blocks combine below in sidewall and form a sharp cut in between. These side lugs are also more aggressive in comparison.
On the other side, the Recon Gappler has quite straight forward shoulder blocks, with plain squared off design.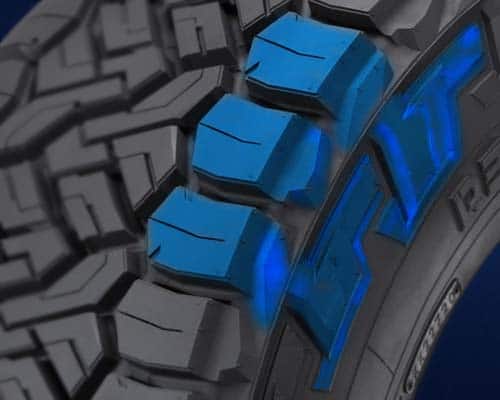 Again 2 different styles are seen, but you really have to look for it. One block has a cuts on sides and the other has a proper stepped edge to it making these shoulders serrated.
Its shoulder are quite boring compared to its inner design which simply looks futuristic.
The central part shows 3 different blocks (colored) which make a triangular shaped (barely) larger block.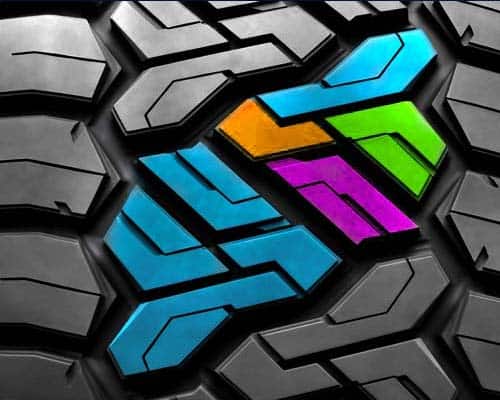 The smaller blocks make sharp edges and cuts in between and the 2 larger blocks combined form a slanted zig-zag lateral groove.
Together they give a pretty tough bite to the ground.
Its pattern really remind of it's other family member, the Ridge Grappler, they both share the same silica rubber composition as well.
On the other side, if we look at the KO2's central area, you get to see a very simply worm like 3 blocks which cover each other, making an interlocking pattern.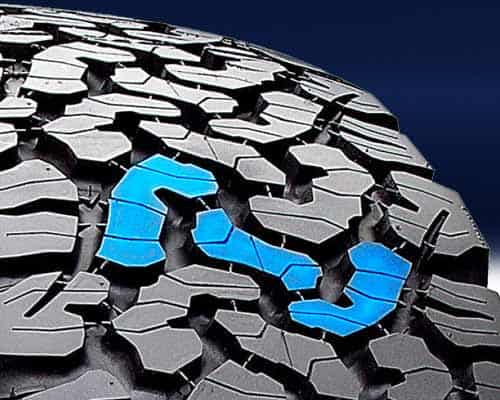 The doesn't make any proper lateral or longitudinal channels and its pretty uniform.
But the blocks are still sharp with notches and off set sides in them. They also have sipes which go all the way deep. Giving this tire the extra bite needed as they they can move/wiggle, dividing the blocks further.
Other design specs of these tires:
| | | |
| --- | --- | --- |
| | KO2 | Ridge |
| Average weight | 55.3 lbs | 64 lbs |
| Average Tread Depth | 15/32″ | 16/32″ |
| Sidewall Construction | 3 Ply | 3 Ply |
Durability
A/T tires are more liable to wear than any other tire family. Running off-road is the main concern here.
So these tires have to be tough.
And BFG says KO2 is their toughest tire ever.
While launching the successor of KO, BF Goodrich has claimed that KO2 is 20% stronger than KO. The new core guard technology and increased rubber thickness make the tire more durable and prevent bruises and tears.
The twin steel belts strengthened by nylon, and 3 ply polyester cord sidewall make this tire very durable.
On the other side, the Recon Grappler also provides a powerful inner construction of polyester casing with high tensile steel belts covered with jointless cap plies.
The tire also provide with 3 ply sidewalls protecting the most vulnerable part of the tire in a similar manner.
So with tough design both tires would provide a long lasting life with their reinforced block foundations to maintain rigidity and reduce flex.
But in case of KO2, the overall wearing is more even, as the stress on the tire is equally distributed due to its interlocking uniform blocks. The deep siping of the tire also help here (which go all the way to the tire base) and they don't loose their traction values even with the wear.
Still Recon is the first tire ever to have a Nitto's warranty which is actually even more than the BFG KO2.
They are is backed by a 55,000 miles tread-wear warranty. While the BFG KO2, on the other hand, comes with 50,000 miles warranty.
On-Road Traction Comparison
On road, both tires performed great but they vary in a lot of on road factors.
Recon has a blocky sides and more straight forward groove channels making this tire more comfortable on dry roads. The tire also has better hydroplaning resistance and lesser noise (as it has pitch reducing tread in it).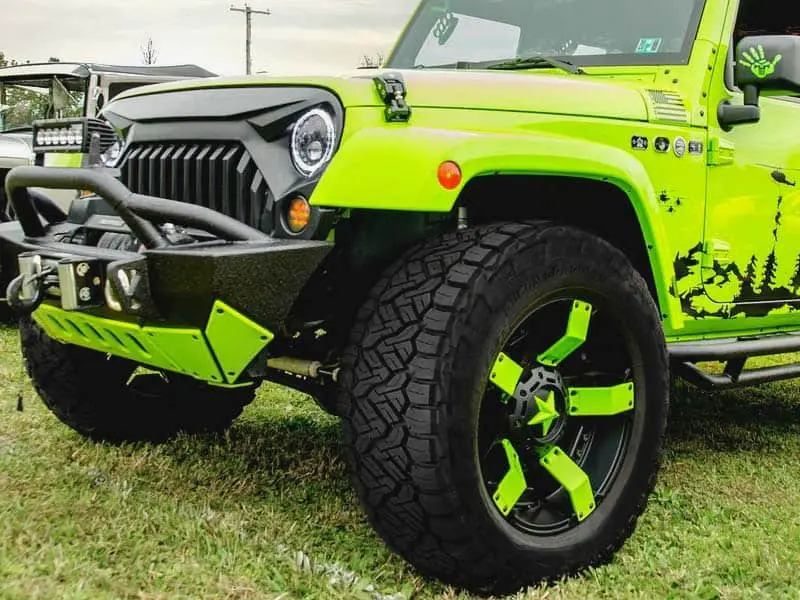 On the other hand, the BFG KO2 gave almost similar performance. Great hydroplaning, great wet and dry grip.
But they lacked a little in the handling department (on both wet and dry roads). On dry roads handling felt a little stiffer (comparatively), and on wet, the tire often lost traction.
The tire's overall wet handling can be improved (they progressively loose grip on sharp corners, and vehicle stability system/traction controls often have to kick in).
But the good thing about this tire is that it gives you amazing tread life as its siping is deeper (wearing wont loose the traction capabilities).
And despite the heavy construction of the tire, its weight is considerably smaller than the Recon, and because of this the tire also gives better millage than Recon (although not so great when compared to others).
Off-Road Performance Comparison
Recon Grappler provides great bite on off road terrains.
But they are still less aggressive compared to KO2 where you see multiple variations of deep cuts, allowing this tire to shed more dirt and mud out of its way.
Recon Grappler on the other side, although has staggered shoulders, but still has a very simply blocky design without much going on, so they aren't able to cut through their path like its competitor.
The KO2 also have bold stone ejectors combined with the triangular ones that are strategically placed between the tread blocks and they expel debris that would otherwise lodge itself in between.
On the other side, with Nitto Recon, with its smaller stone ejectors carry the same trend.
So with less aggressive overall shoulder design, this tire mostly gets most of its traction from its central area, where there are a lot biting edges as we saw in the design section.
Still both tires are chip resistant and provide great performance on gravel and dirt/stones even with high speeds. Both are tough with 3 ply sidewalls and provide equal safety from sharper rocks.
Which tire is more comfortable here?
Despite being an A/T tire, the Recon Grappler is manufactured with keen attention to comfort quality, and out of the two it provides with lesser noise and more comfort overall.
The variable pitch tread blocks ensures a quieter and smoother ride. It features zig-zag groove edge blocks working on outstanding steering response.
Additionally, the reinforced block foundation is built on rigidity to prevent the tire from wobbling.
On the other hand, KO2 is also surprisingly quieter given their aggressive design.
But these tires have stiffer sidewalls which feel very bumpy compared to Recon.
Still the tire is comfortable while driving off road with its wider grooves.
Quick Run Down of What we Discussed:
KO2 has its wider grooves made for mud and snow traction along with stone ejectors that help to move on rocky terrains.
Grappler performs exceptionally well on road.
When it comes to comfort, Ko2 is better during off-road drives, while Grappler leads during on-road conditions.
Both tires are equally durable.
And when it comes to affordability, KO2 is less pricey, although still very expensive when we look at other tires.
Compare BFG KO2 with other All Terrain Tires: